Human resources and hiring teams are tasked with recruiting only the best for your organization — from recruiting and hiring to onboarding and more, there's a lot going on behind the scenes with your company's recruiting efforts.
A large part of those efforts revolves around talent relationship management (TRM), and it's crucial to the growth of your business.
Talent relationship management sounds similar, but it's a unique approach to recruitment all its own. And, at Lever, it's the guiding philosophy behind everything we do and build.
Let's take a closer look at what modern talent relationship management entails and explore why it's important for the success of your TA team and organization at large.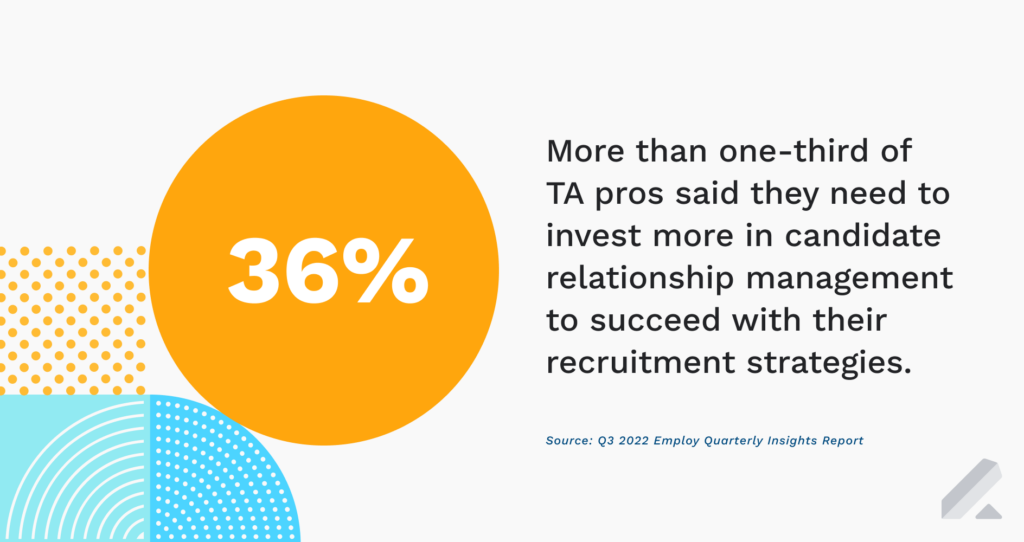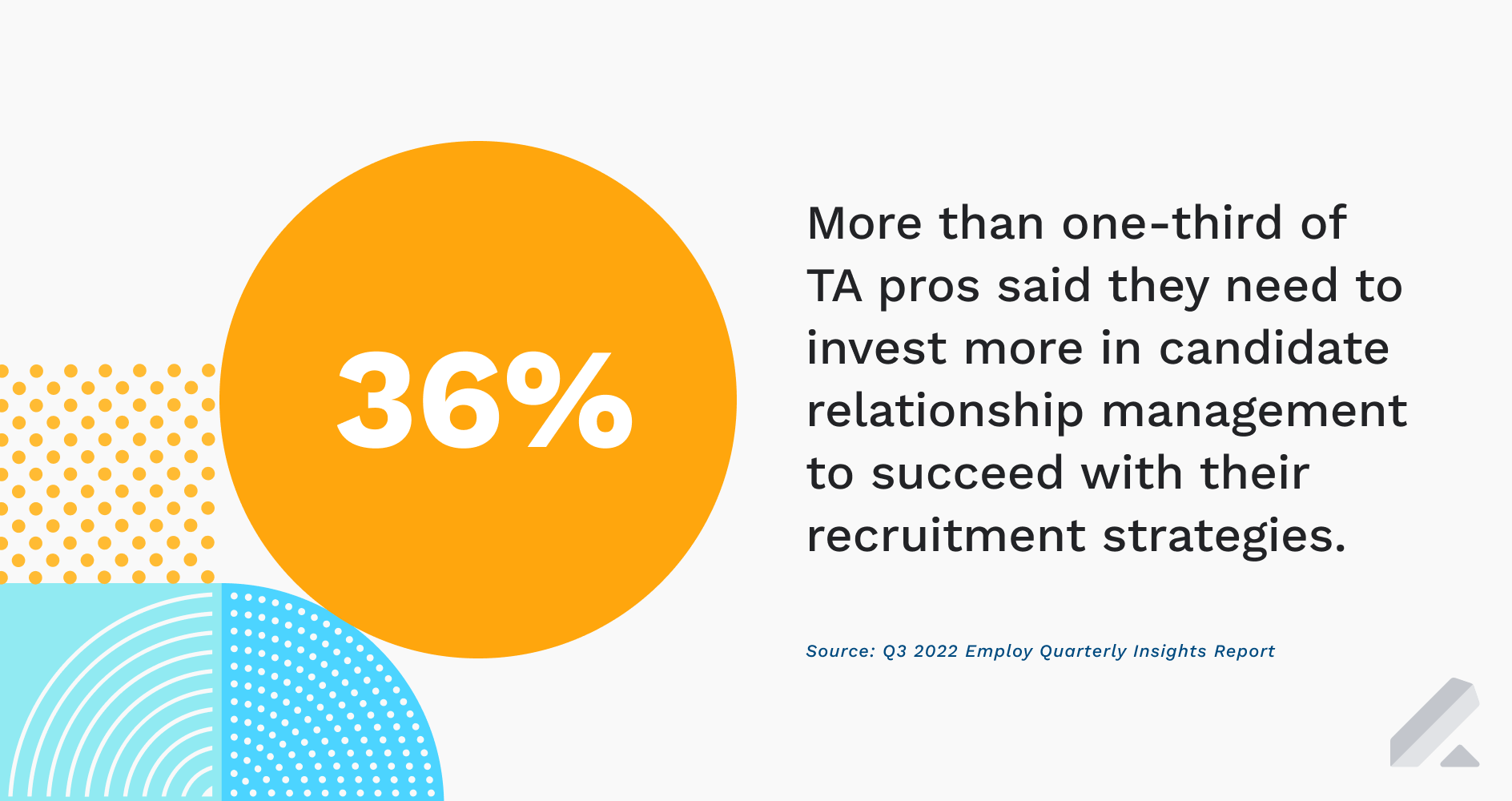 What is Talent Relationship Management (TRM)?
Talent relationship management refers to the consistent process of attracting and retaining the high-quality employees your company hires — including developing their skills, engaging them in their work, and finding ways to leverage existing talent to drive internal mobility.
The primary goal of talent relationship management is to build a dedicated, motivated workforce of employees that will stay with your organization for the long haul.
To achieve that, more recruiters are beginning to leverage TRM solutions or software.
Just like CRM solutions help sales teams develop customer relationships and drive customer retention, TRM solutions help talent teams build relationships with candidates and retain their interest beyond the hiring cycle.
TRM solutions act as a platform for recruiters to manage talent relations and continuously connect with candidates, however, they also act as a central repository for candidate info.
If this sounds similar to what an applicant tracking system (ATS) does, then you're on the right track — but a TRM can do so much more. As you might've suspected, there are some key differences between the two types of talent acquisition solutions. 
TRM vs. ATS
While hiring teams often use terms like TRM and ATS interchangeably, there are key differences that help distinguish between these two hiring solutions. 
ATS
An ATS tracks applicants for your company. These programs act as a database for resumes and candidate information and have features that automate portions of the hiring process.
An applicant tracking system can be used to post openings to job boards or corporate websites, automatically screen resumes, and send interview requests to candidates.
TRM
A TRM solution acts as a central database for candidate information, just like an ATS, but this information is generally more complex and may take up multiple forms or fields.
Processes automated by a TRM platform are more sophisticated and more interactive than traditional ATS solutions.
Some of these are email marketing, resume parsing, utility reporting, social media integration, and mobile application management.
They also offer collaboration tools and automate the process of maintaining candidate relationships beyond the hiring cycle.
Here are a few of the core differences between an ATS and TRM:
TRM is more candidate-

centric,

allowing you to personalize your approach and place the right talent in the best

roles.

TRM solutions include email and InMail tracking to ensure you measure all communications with talent at

scale.

TRM can help your company scale key recruiting tasks with better automation and more

integration.
Both ATS and TRM solutions serve to automate portions of the hiring process, enabling users to save time, organize candidate information, and increase their efficiency.
However, a TRM solution offers features that assist in communicating with candidates throughout the hiring process and beyond — the single most important difference.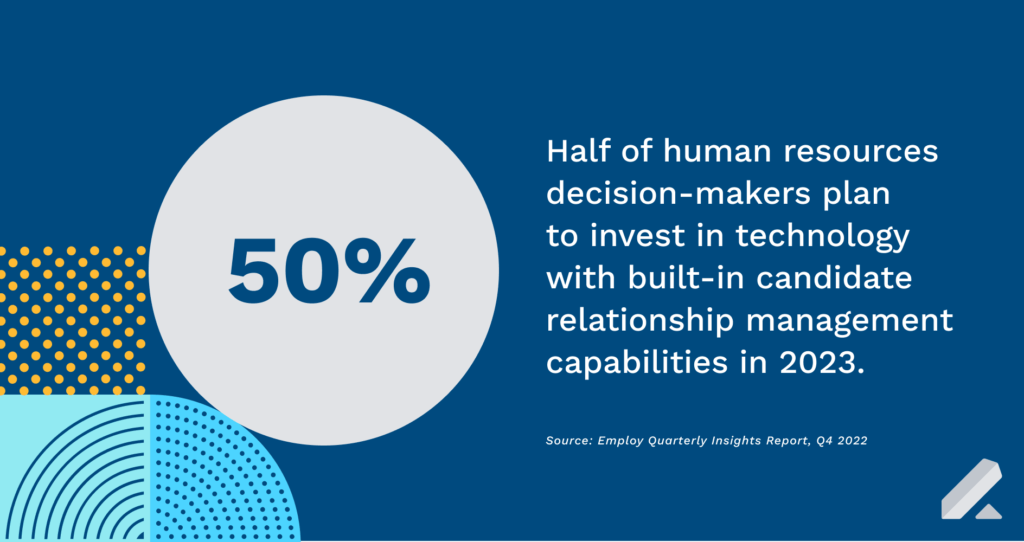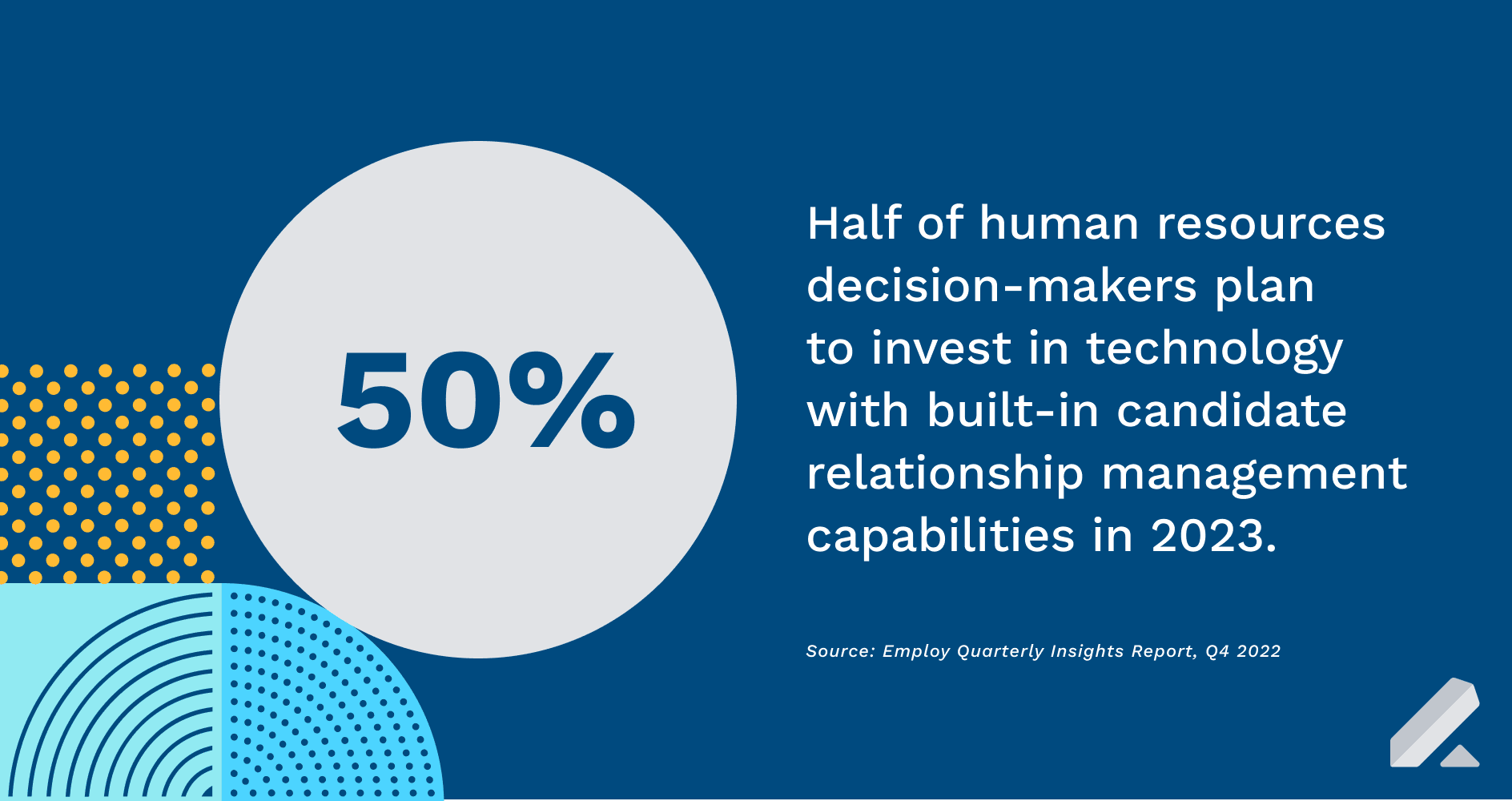 Why effective talent relationship management matters
You've heard it before: The best asset your business has is its people.
However, for many organizations, talent management begins and ends with recruitment—once a candidate is successfully hired and onboarded, the buck stops there.
True talent relationship management extends beyond this phase to nurture employees and allow businesses to maximize on their potential.
That's because there's a strong connection between talent management and organizational performance. Studies have found that companies with the ability to attract and retain talent —coupled with an effective talent management strategy — can outperform their competitors.
Why is that? Well, it comes down to three components of talent relationship management.
Talent allocation
Think of talent allocation as internal mobility, where your org moves existing talent based on key business objectives or priorities. Companies that can quickly and strategically reallocate talent based on priorities that shift or change are in a better position to excel at talent management.
Add to that the benefit of keeping talent in-house and providing opps to move up within their company, and talent allocation gives both employers and employees incentive to grow.
Candidate and employee experience
As we mentioned earlier, human resources and hiring teams play a large role in both recruiting and nurturing candidates as they move from applicant to new hire.
But, more than that, HR departments have to be involved in more than just the new hire stage. They're also a key stakeholder in your employees' experience.
When HR is involved in talent allocation, upskilling, and linking existing talent back to business objectives, there's a greater chance that the organization as a whole will succeed in effectively managing talent (both new and existing).
Knowing how important both candidate and employee experiences are for attracting and retaining talent, it makes sense that HR be involved in the entire process.
HR is strategic and aligned
The third component of TRM is aligning your HR team with your business's objectives and priorities. When HR and hiring teams take a strategic approach to talent management, the likelihood of employees being leveraged in a positive, beneficial way increases.
After all, hiring top talent is one thing, but keeping them is an entirely different 'ballgame' altogether. You'll need to ensure your HR teams are aligned with your company's objectives when making strategic hiring and internal mobility decisions.


The role of talent relationship management
Talent relationship management solutions are fairly new in the hiring world, but talent relationship management is a principle as well as a solution.
In short, a TRM mindset is essential to for orgs looking to leverage and keep top talent. And that's key, since the competition for that top talent has never been fiercer.
In a candidate-driven market (which 90% of recruiters say we're in), the relationships that you build with top talent will play a crucial role in your ability to recruit and keep that talent.
The world is changing quickly and one of the biggest shifts is the need for a candidate-centric hiring approach. Organizations who can win candidates' trust and keep it, even through rejection, will win at talent acquisition in the years ahead.
Other reasons why recruiters are harnessing talent relationship management include: 
Keep up with the competition: Hiring, developing, and promoting top talent strengthens your organization and allows you to better tackle changes to your business and industry long term.
Drive innovation as you grow: Whether it's new technology or changing business needs, employees that can pivot and grow with your business empower your entire team to solve challenges and innovate for your market.
Build more engaged teams: Employees who are given opportunities to grow and develop are more likely to remain with your organization, engaging in their work while driving key results for your business
Reduce turnover: Disengaged employees are costly, especially when new hires churn soon after they've been onboarded. Managing talent effectively can help mitigate turnover, especially when you consider that 63% of companies find retaining talent is harder than sourcing talent
Create a strong employer brand: Attracting the right candidates involves building an employer brand that employees trust and get behind, which is why talent management is so crucial. It can help you consistently improve your employer brand when positioning your company in the talent market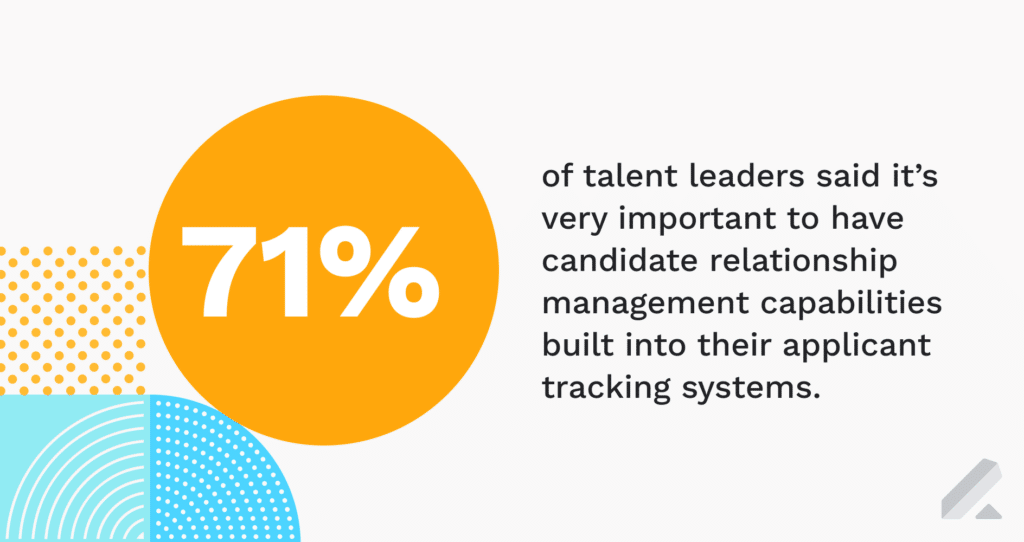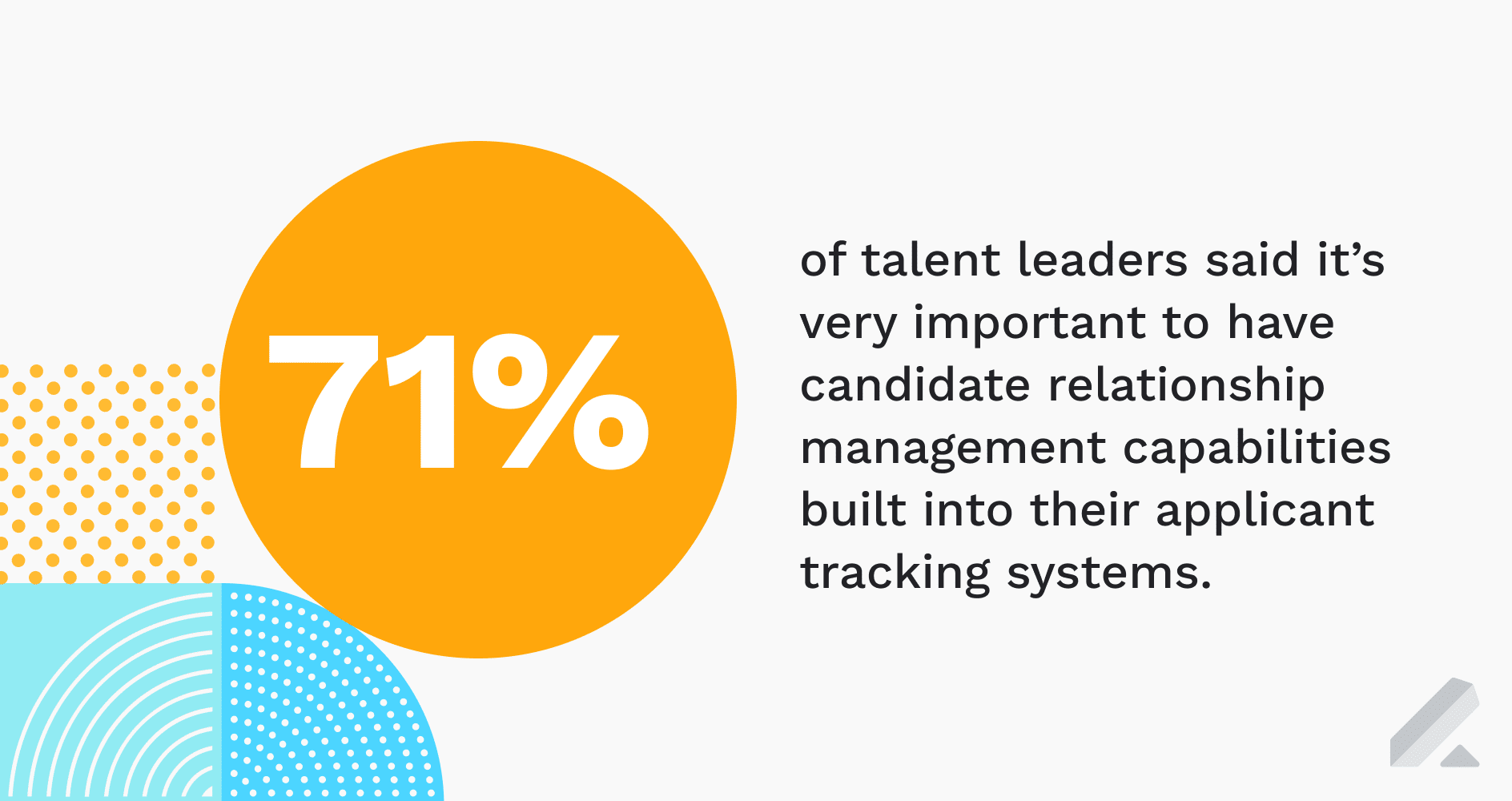 The benefits of recruiting with a TRM solution
TRM solutions are invaluable tools for recruiters, thanks to their advanced searching and parsing features, as well as the greater level of candidate data detail offered. Here's just a taste of how a TRM can make your recruiting and candidate engagement seamlessly integrated.
Executive hiring
TRM solutions are highly advantageous for recruiters who hire on the executive level. Executives generally hold their jobs for longer, which makes the automated communication features of TRM the perfect tool for nurturing relationships with these candidates.
Given the demands on executives, it is important for both recruiter and executive to know what they're getting into, and a strong relationship will absolutely aid you in these discussions.
Niche roles
Recruiters who hire for positions that have important requirements or experience nuances will love the ability to create specified talent groups with TRM.
When small details mean the difference between a qualified candidate and a semi-qualified one, this expanded data collection will ensure that only suitable candidates are presented to clients. 
Social media hiring
The ability for many TRM solutions to support social media integration is a delight for recruiters who use professional networks or social marketing for job promotion and/or candidate sourcing.
A strong employer brand is built on a strong social media presence, and TRM software makes posting to these networks a breeze.
Additionally, these solutions can empower the employee referral programs of clients, making it easy for employees to share jobs with their online contacts and networks.
The real meaning of TRM
TRM is ultimately about maintaining crucial candidate relationships and this essential practice is being empowered by the next wave in candidate tracking solutions.
Instead of just tracking candidates, TRM software gives you the tools to engage with these candidates and lay the foundations for a successful hire in the future. 
Download our eBook to learn how to build a talent relationship management strategy that helps you better connect with and convert qualified candidates.