Building a robust talent pipeline is one thing. Leveraging said pipeline by unearthing already-qualified candidates in your database (and reducing the need for outbound outreach) is another. Just ask cloud data integration company Talend.
Using LeverTRM as its ATS + CRM enables Talend's talent acquisition team to easily identify prospective hires it already knows. That includes "silver-medalist" candidates.
Who are silver-medalist candidates?
Silver-medalist candidates (a.k.a. runner-up or silver-medal candidates) are those who made it to the final round of a hiring process but 'lost' to "gold medalists" (i.e., those who got the jobs). Some companies forget about these silver medalists after they hire new employees.
But, as our new eBook on automated candidate nurturing points out, many recruiters smartly stay in touch with these individuals. Why? Because new job opportunities will eventually open up down the line for which these former candidates could be perfect fits.
Think about it:
With net-new sourced candidates, recruiters can learn important details about them (e.g., career interests and ambitions, specific skill sets, past and current jobs). However, this recruitment process — from gathering basic info about their job search to actually interviewing top talent — is often time- and labor-intensive.
With silver-medalist candidates, recruiters can tap into rich notes, insights, context, and other data they already have stored about past job-seekers they interviewed. Everything from intel on their candidate experience to which hiring managers thought they were a good fit for the initial role in question is available to recruiters and other stakeholders charged with making future hiring decisions.
Sourcing new candidates will always be a part of your recruiting efforts.
Today's most successful talent management strategies, though, entail going back to the well to see if almost-hired applicants in one's database fit the bill for existing and upcoming openings.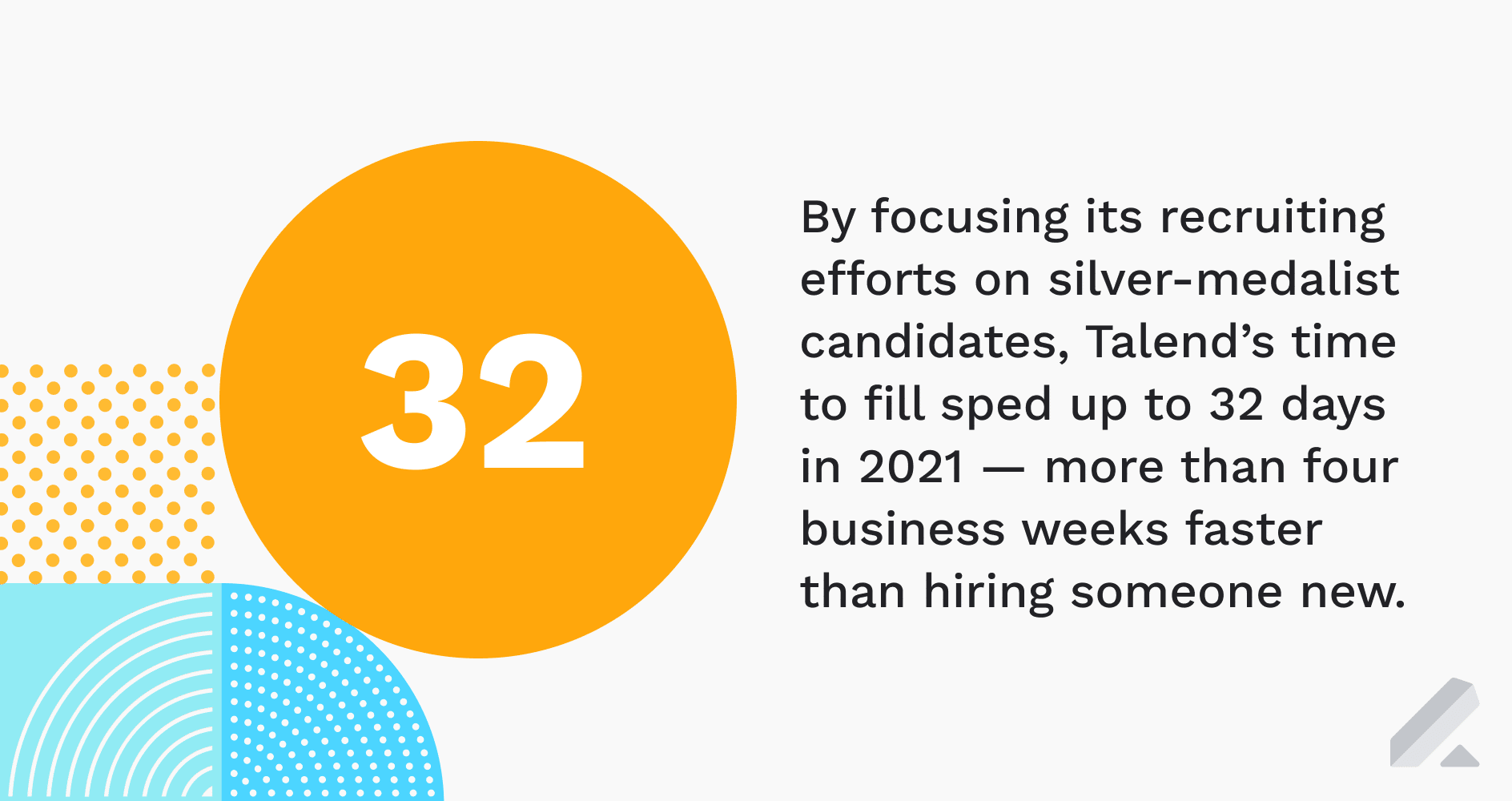 Why Talend regularly turns to silver medalists in its robust (and growing) talent database
Let's go back to Talend. The company faced a few key challenges with its hiring efforts prior to onboarding LeverTRM. Notably, the growing cloud-integration business needed to:
Regarding this last goal, Talend was determined to leverage its robust talent pipeline.
"The mindset we're developing is, when we invest in a candidate … [they go] through the process and we get to know this person," said Talend VP of Talent Acquisition Lance Sapera.
"If they end up being hired, great. If they don't, but we see them as a good fit for talent in the future, how do we stay connected with them and have them readily identifiable?"
Talend created custom tags so its TA team could efficiently filter through candidates. One such tag — "Consider for Future Roles" — made it simple for the business to search through these candidates' history and makes it easy to nurture a relationship with those individuals.
Just as importantly, though, the company can now review the historical records associated with this talent in minutes and determine which, if any, candidates are worth revisiting.
"We had one person join who was a silver medalist three times," Talend Global People Marketing Manager Jon Hehir indicated.
"[He was a] great candidate who didn't quite fit any of the roles we had available [at the time]. We were honest with him, and we worked together to figure out if anything was the right fit."
Jon added Talend wound up nurturing a relationship with this particular silver-medalist candidate for two years. The company ultimately created a new role that was perfect for him.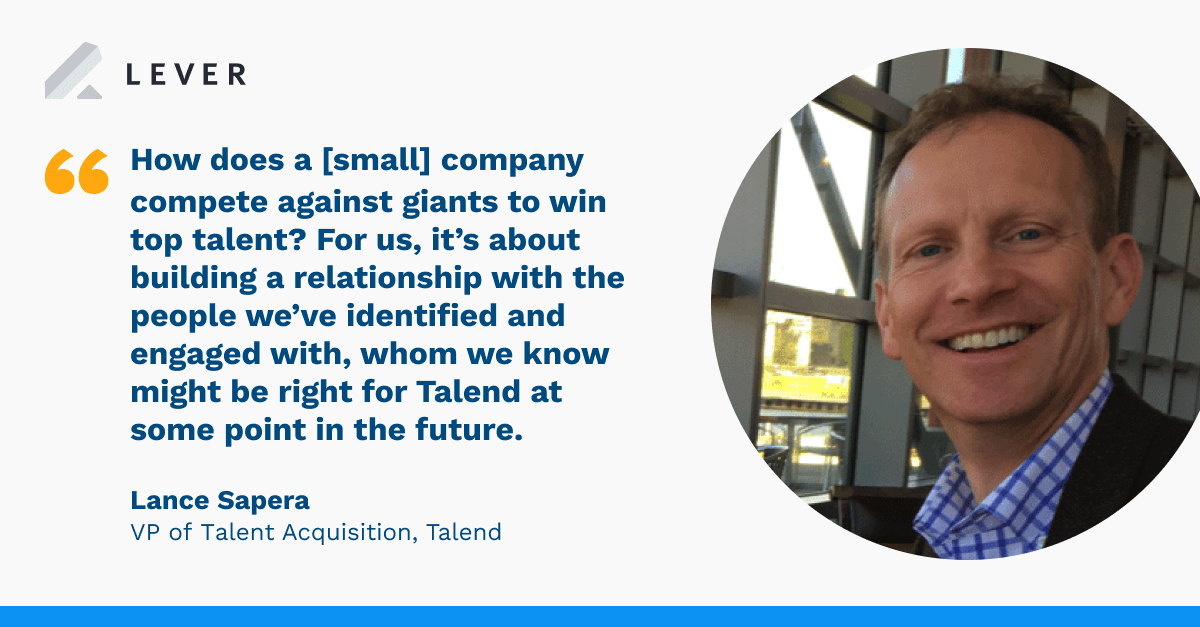 Accelerate your time to fill — and hiring strategy at large — with silver-medalist candidates
At the end of the day, LeverTRM was (and remains) critical to Talend's long-term candidate-nurturing approach. Our natively integrated ATS and CRM capabilities has helped the business:
Speed up its average time to fill by 32 days — 46% faster than before it used LeverTRM
Increase the response rate for its EEO and Global Diversity Survey to 91% in 2021
Fill three-quarters of its roles from existing talent in its pipeline — including 23 several silver-medalist candidates — over the past couple of years
LeverTRM helps companies like Talend improve several crucial talent acquisition metrics: from time to fill and hire and conversion from recruiter screen to offer acceptance rate.
But our platform also eases the daily sourcing burden on modern TA teams, as they can build an extensive talent pool and better relationships with candidates they already know.
So, you've seen how one business takes advantage of LeverTRM. But the question remains:
How can your TA team rediscover top talent with ease and, at the same time, lessen your reliance on outbound outreach on social media, community boards, and other go-to sourcing avenues?
The answer is twofold:
1) Evaluate your existing ATS and, if you have it, CRM to determine if you can capably (and quickly) identify silver-medalist candidates and nurture them with intelligent automation.
2) If your current systems lack these capabilities — and, in turn, your recruiters are required to constantly source outbound candidates, revamp your tech stack by adding a complete talent acquisition suite with ATS and CRM capabilities like Lever.
It's only when you have such a solution that enables you to craft personalized, thoughtful email nurtures; measure the success of your outreach to silver medalists (and other candidates of interest in your database); and optimize accordingly based on that data that you can scale your recruiting efforts and meet your quotas.
Download our exhaustive eBook on candidate nurturing today to learn how your TA org can engage and convert silver medalists like Talend's talent acquisition team.