The number of cities and states across the United States to pass laws requiring employers to list the salary ranges in job listings continues to grow by the month.
Colorado passed a measure in 2021 to compel employers to feature salary ranges on job listings and job seekers understand compensation tied to listed roles.
New York City was quick to follow suit with its own similar ordinance around fair pay practices by forcing employers to feature salary band info in online ads.
As of January 1, 2023, Maryland, Rhode Island, California and Washington state now have regulations that mandate companies disclose salary information too.
These measures (and others likely to come soon) have caught C-suites' attention.
Many executive teams now ensure their organizations abide by the salary transparency laws, even before similar rules are passed in their operational areas.
But, there are other benefits of pay transparency beyond mere compliance.
3 benefits of salary transparency
We've already discussed the high-level pros of pay transparency, including how sharing salary details helps companies better attract candidates and retain employees.
However, there are three other not-as-well-known benefits of salary transparency for your talent acquisition team, your business at large, and job seekers.
1) Job candidates can see you make a concerted effort to be transparent
A 2022 Indeed survey of 1,500 U.S.-based professionals found 75% of them are "more likely to apply for a job if the salary range is listed in the posting."
More than half of respondents said they would even apply for a position at a business they have never heard of as long as a clearly defined pay range is included in the listing.
"[Job candidates] feel more respected and apply more when there is the information," Equal Pay Negotiations Founder Katie Donovan told CNN.
"It's like 'OK, they are treating me like a human being,'" Katie added.
Job seekers are smart. They know what they are worth based on their experience and expertise. The least employers (like yours) can do is be open and upfront with them about what pay you are willing to offer for certain roles to make their job searches a little easier.
"[Salary] transparency reflects well on job seekers and helps to build trust by sharing the range," Insperity Manager, HR Services Erin Lau told Fast Company.
"Since there are no deep, dark secrets about how the company compensates its workers, it might attract more highly skilled workers," Erin added.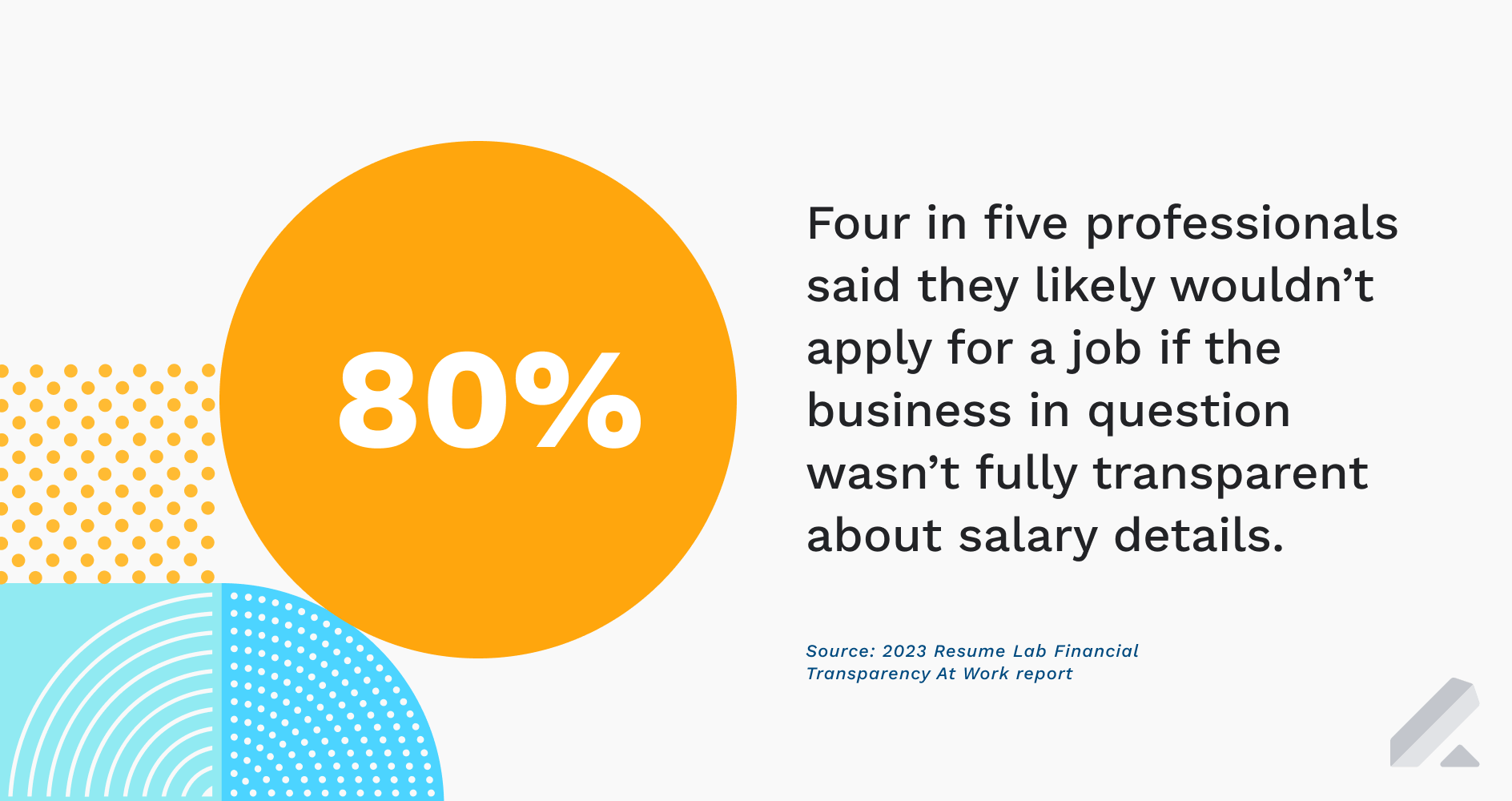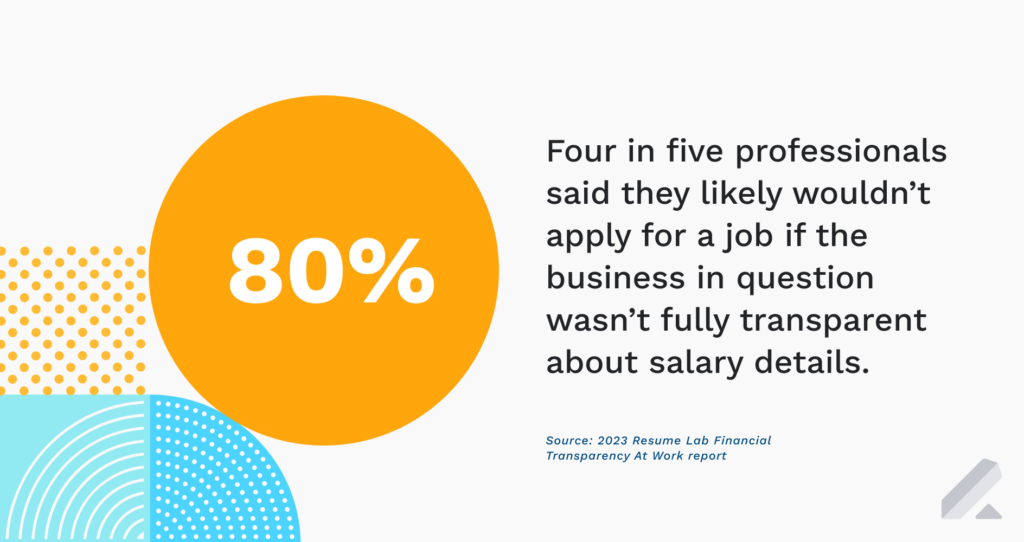 2) Your recruiters can focus on candidates who "accept" a given pay range
It may sound counterproductive to decrease the number of candidates in your talent pool.
However, a hidden benefit of salary transparency is it deters applicants who are uninterested in a given role due to (what they deem) low pay from applying for it.
Candidates who do find the salary band for an available opening appealing (or, at least, acceptable) are the only prospects talent specialists want to engage further about a role.
In other words, recruiters don't want (and can't afford) to spend their valuable time speaking with candidates who will only end up pulling out of the recruitment process because they think the pay for the role in question would be negotiable.
There may be certain positions for which recruiters and hiring managers are given the green light from leadership to negotiate salaries and bonus structure with strong-fit candidates.
But, those instances are rare.
"Recruiters are only effective when they engage and build relationships with candidates who confirm the listed salary band offered for a given role is in their desired range," said Lever Sr. Product Marketing Manager Roy Reif.
"Speaking with prospects who either aren't aware of the defined salary range or think they can get an employer to adjust the compensation for a position only leads to wasted time for both recruiters and job seekers," Roy added.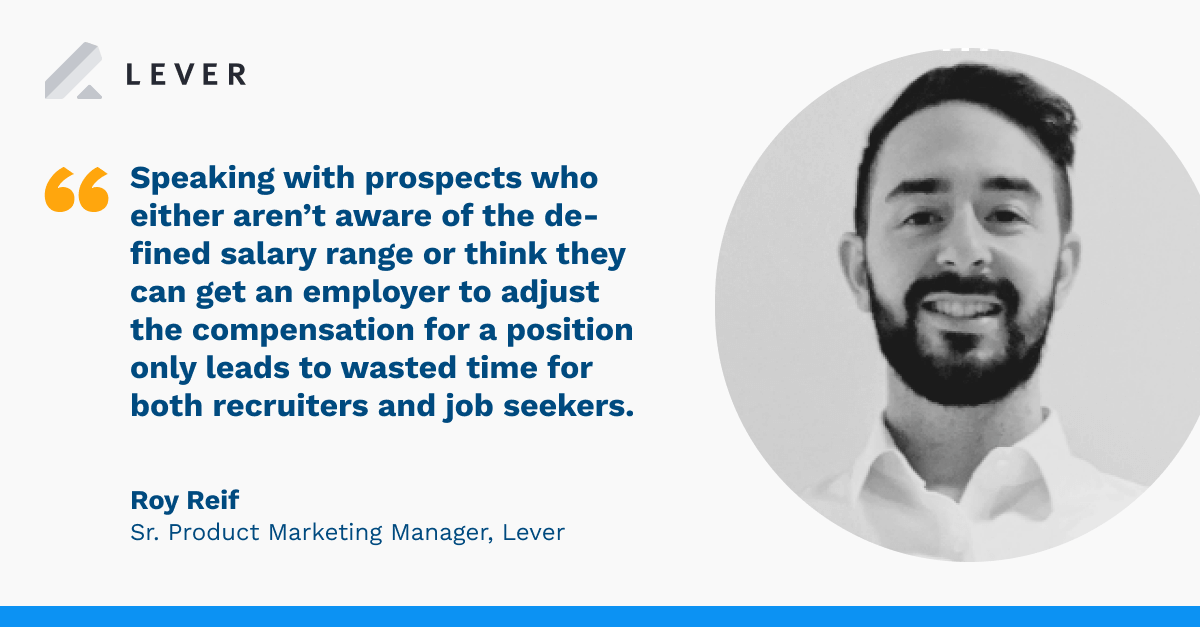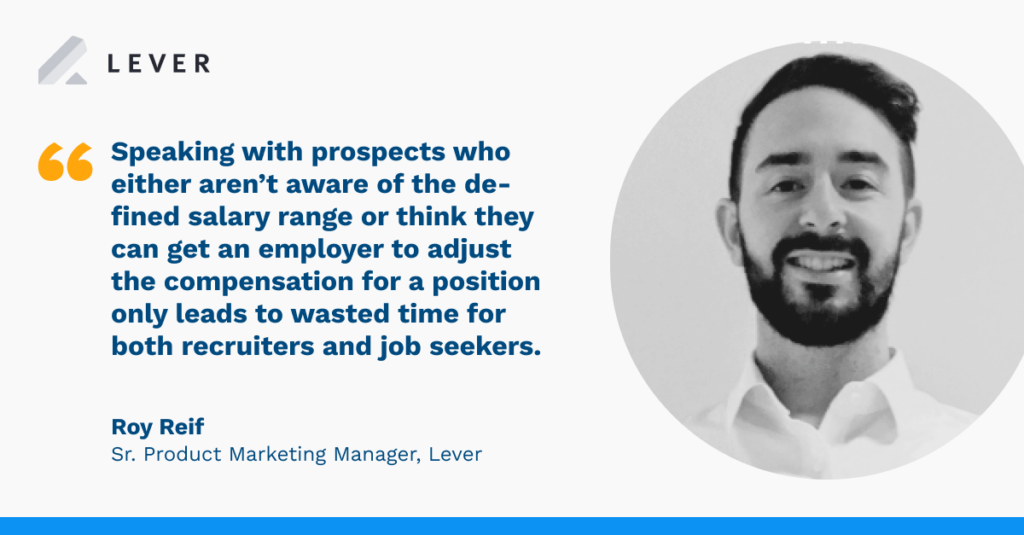 3) Your C-suite can use data to gradually refine pay offered over time
There may be certain open positions across your business that don't attract as many applicants as desired after implementing salary transparency measures.
However, these application declines aren't a total cause for concern.
These application "slumps" actually present an opportunity for your CEO, CRO and CHRO to dive deeper into your company's pay-related data to determine if compensation changes could lead to higher application rates.
Companies with LeverTRM can analyze which roles and teams have received the most and least applications over a given period (e.g., the last month or quarter):
Let's say a Lever customer discovers the number of applicants for their Account Executive and Customer Success teams pale in comparison to those for Marketing and Sales.
Their talent operations manager can use the Advanced HR solution add-on in LeverTRM to merge talent acquisition data with their workforce analytics. This sync between TA and HR systems gives them a holistic view of all data tied to recruiting and hiring activities.
Ops managers can also speak with recruiters to get a complete picture of the recruitment process (e.g., what they hear from candidates regarding their experience and thoughts on the company, including the compensation offered for roles they interviewed for).
If the ops manager sees a correlation between salary bands for open roles (i.e., more candidates move forward in the recruitment process and accept offers for higher-paying roles versus lower-paying jobs), they can share those insights with their C-suite.
Executives can then determine if changes should be made to compensation offered for the roles and teams that see the most "abandoned" candidates.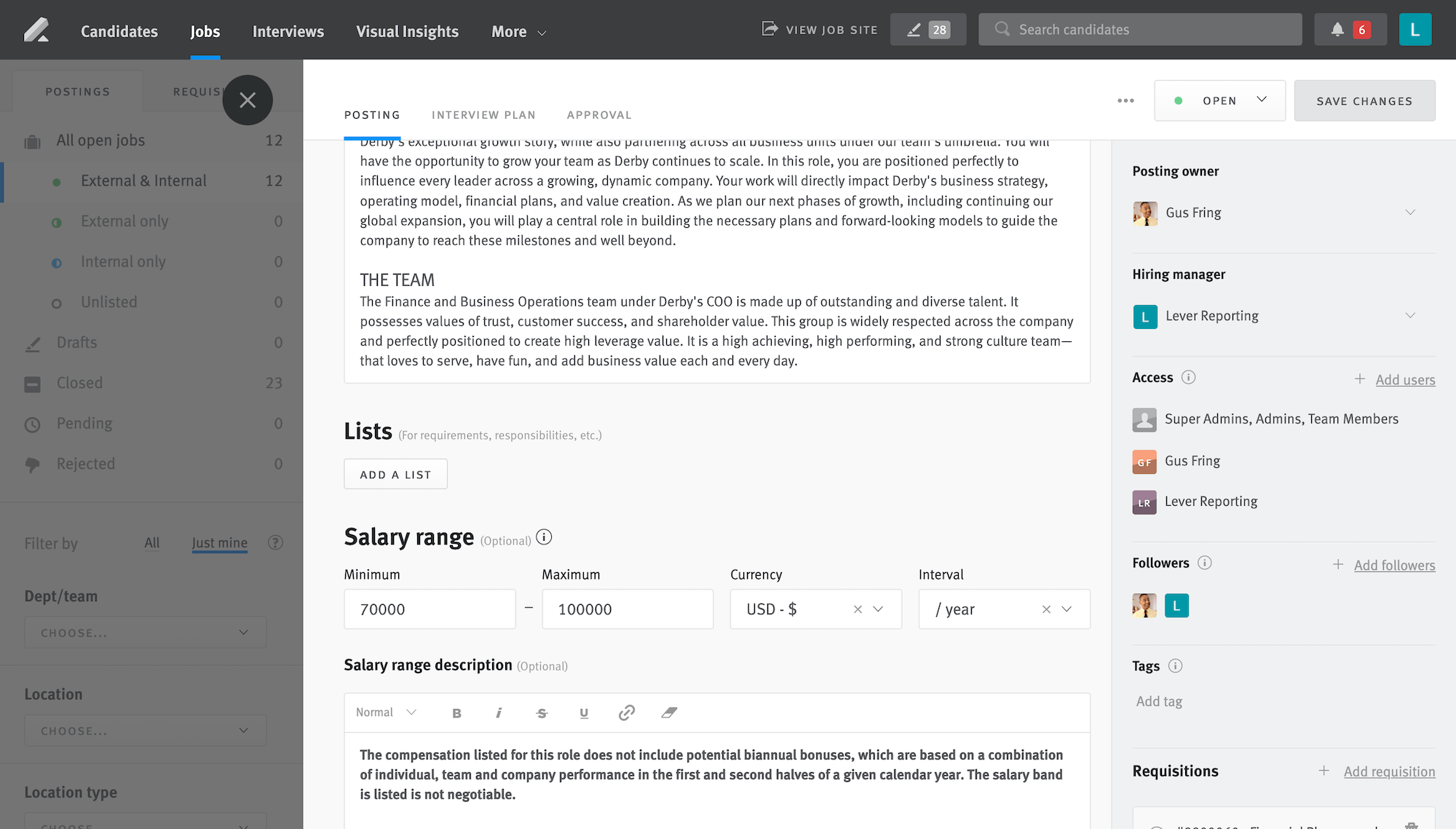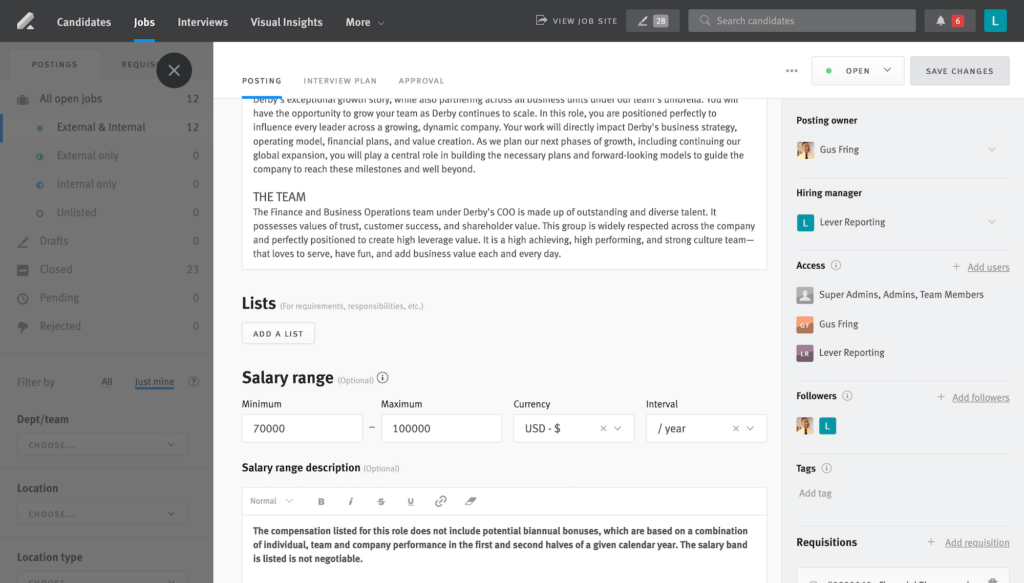 How salary transparency in job postings helps Lever customers convert more candidates
These benefits make a compelling case for greater salary transparency. The question now is, "What can we do as a business to be more transparent about pay with candidates?"
The ideal starting point for your transparency efforts is your job postings.
Talent teams that have LeverTRM can assign defined salary ranges to each role they list on internal and external job boards. This provides customers substantial flexibility.
Recruiters who use our complete ATS + CRM solution can set up custom fields through their Lever APIs when posting to their Lever-hosted career sites and to LinkedIn and Indeed through our direct integrations with the career-centric channels.
Specifically, LeverTRM users can select a minimum and maximum range for salary bands and select the correct currency based on where a given posting will be published.
"This functionality isn't just about helping Lever customers become and remain compliant with pay transparency laws," said Roy.
"It's also about helping our customers show candidates they are forthright when it comes to disclosing compensation they think is fair and competitive for roles across their business," Roy added. "This can help them generate more applications and more high-quality hires."
Lever customers can assign salary bands to job postings with ease. Learn how LeverTRM can help you implement fairer recruiting and hiring practices at your business.