Human resources teams invested in advanced technology, like human capital management (HCM) solutions and full-cycle recruiting platforms, amid the global COVID-19 pandemic.
Specifically, they invested in tech that helps them track key HR metrics tied to their workforce.
But, securing HR software is only the first step to making the most of HR analytics.
HR Acuity CEO Deb Muller wrote for HR Executive how human resources and talent acquisition leaders "must take the next step and use this [HR] data to drive decision-making, ensure access to reliable insights and effect meaningful change" across their orgs.
Translation: Don't just collect a wealth of HR data for the sake of it.
Implement dedicated processes around your tech that enable your HR and TA teams to take action on the analytics offered in your software's HR metrics dashboard.
Only then can you and your C-suite make smarter decisions with long-term workforce planning.
Covering the basics: Common HR metrics
There are a few basic HR metrics you already know plenty about and work hard to improve:
Headcount: This is obvious. Human resources must know the number of new hires made recently and total number of employees. They also need to see how those figures compare to leadership's growth targets for the year. Why? To ensure they fill open roles (and on their C-suite's preferred timeline).
Cost per hire: It is critical to know how much money it takes to hire a single worker. It gives them insight into the expenses associated with adding individual employees over time. This data helps their C-suite refine their headcount planning (i.e., increase or decrease based on the average cost).
Time to hire: This is a metric HR, recruiting, and hiring managers are all responsible for. The latter two groups need to source, engage, and advance candidates quickly through the funnel. The former must monitor the time this process takes, on average: from screen to offer acceptance.
These metrics, along with others, like onboarding and operational efficiency, are table-stakes.
But there are many others for HR professionals to monitor. Notably, ones that help them measure employee engagement, sentiment and performance — and give talent acquisition insights that can help them adjust their recruiting strategies.
7 key HR metrics that matter to leadership
Human resources tech expert Josh Bersin succinctly explained the value of HR analysis tools — and the dynamic data they provide related to core HR metrics:
"When you see analytics showing that turnover in the Minneapolis office is 25% higher than other locations this quarter or diversity measures in sales are 10% higher than in manufacturing, you will want to know why these variations occur."
Here are seven HR metrics that matter to your C-suite — and how your talent acquisition team can leverage the data to inform their sourcing, nurturing, and interviewing activities.
1) Workforce diversity
Human resources can share diversity data with leadership to give visibility into how the organization is progressing towards increasing representation in the workforce.
If diversity goals are not met, HR can recommend sourcing changes to recruiters to ensure they identify and engage a more diverse array of candidates (e.g., suggest new sourcing avenues).
How TA can leverage this HR metric: Many talent leaders request sourcers reach out to passive candidates with diverse backgrounds and post job listings on career communities where diverse talent engages often. A talent pool bereft of diverse candidates means one or both sourcing approaches need fixing.
2) Pay equity/comparison ratio
A concerted focus on DEI is a must for HR and leadership. But it's equally important to track pay equity to ensure employees of all backgrounds receive equal pay for their work.
Regular pay-equity audits conducted by human resources can help your CEO and CFO make salary adjustments for specific roles and business units.
How TA can leverage this HR metric: Let's assume your org ensures workers get "like-for-like" pay for their work. (Great job!) That detail — along with offering competitive pay, as it relates to the rest of your industry — can help you get more applicants who, when reading your job postings, see pay equity is a focal point for your company.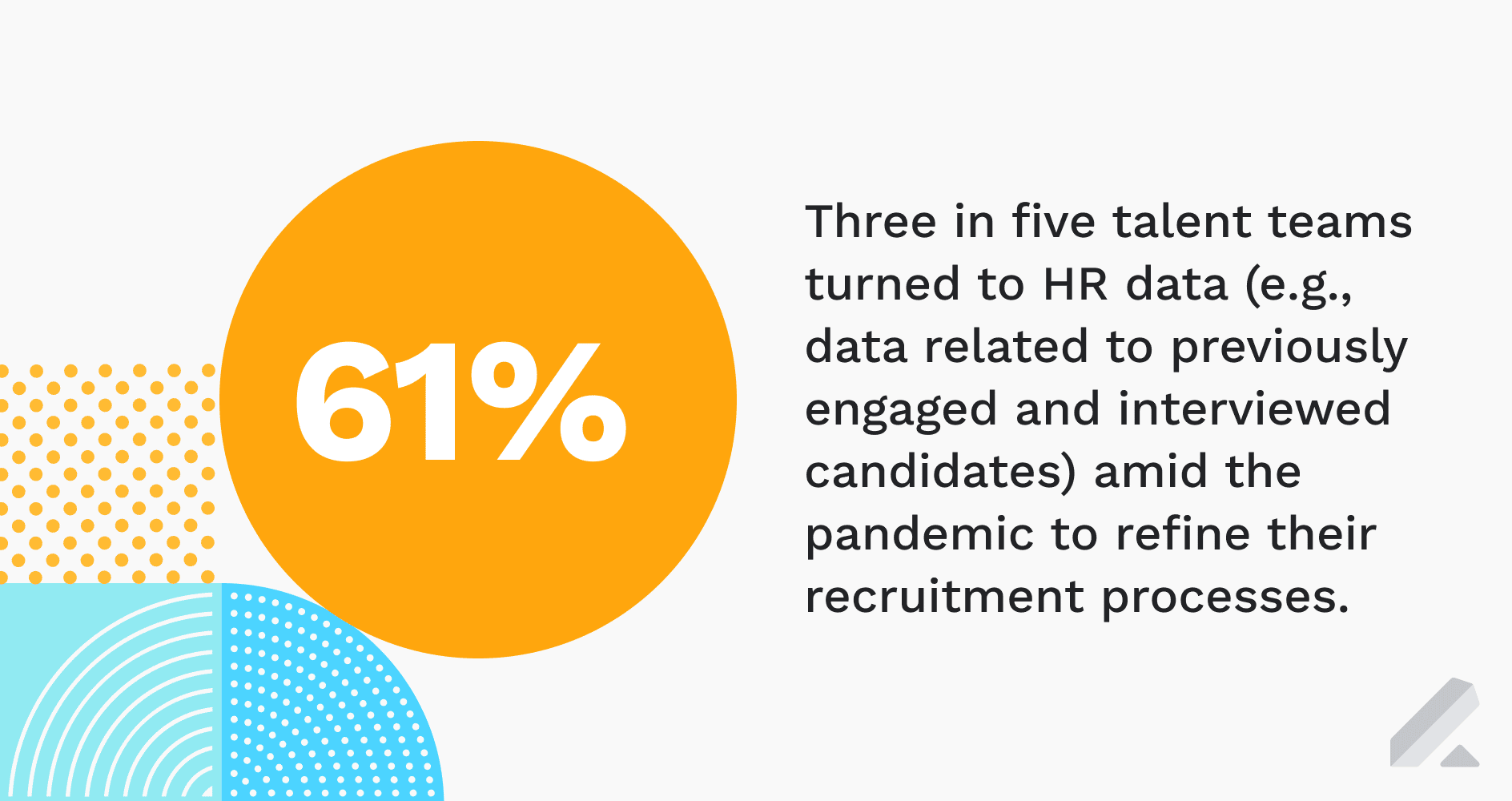 3) Employee Net Promoter Score (eNPS)
Sending eNPS surveys quarterly is critical to track and gradually improve employee satisfaction. But you shouldn't just aim for a high promoter score.
You should also want qualitative feedback that shows your C-suite is making decisions workers approve of related to DEI initiatives, compensation, job satisfaction, and company culture.
How TA can leverage this HR metric: You likely send NPS surveys to prospects after the interview process and use their feedback to improve your customer experience efforts.
But you can also use eNPS survey results to inform your recruitment messaging (e.g., share high worker satisfaction ratings on your careers site and in job postings).
4) Employee performance
Employees can rate their satisfaction with their roles and the business. But HR directors and team leaders can also evaluate workers' recent performance data.
For instance, they can use the progress (or lack thereof) with quarterly key performance indicators (KPIs) to determine whether certain employees deserve a raise or promotion.
How TA can leverage this HR metric: Poor performance ratings — whether it be from a high absenteeism rate or low time-to-productivity rate — may lead to letting a low-performer go. This means a new requisition that requests a backfill for a given role is likely.
Your talent team needs to know about this to ensure enough qualified candidates for the position are added to your talent pool so they can engage them if/as needed.
5) Revenue per employee
As AIHR noted, this human resources metric is one that "does not operate in a vacuum." It requires context (and a lot of it) for business and HR leaders to make sense of it.
Your turnover rate, industry, and business size must be considered when determining your revenue per employee (the total revenue divided by the total number of workers).
How TA can leverage this HR metric: Human resources can relay headcount needs to TA based on the company's average revenue per employee. For instance, though not always the case, a high revenue per employee could mean high worker burnout (or the potential for it).
Using this info, the talent team can then focus on sourcing candidates for certain teams where personnel is stretched thin (even when no requisitions are open) so they are ready to present prospects to hiring managers when the time comes to hire for said team.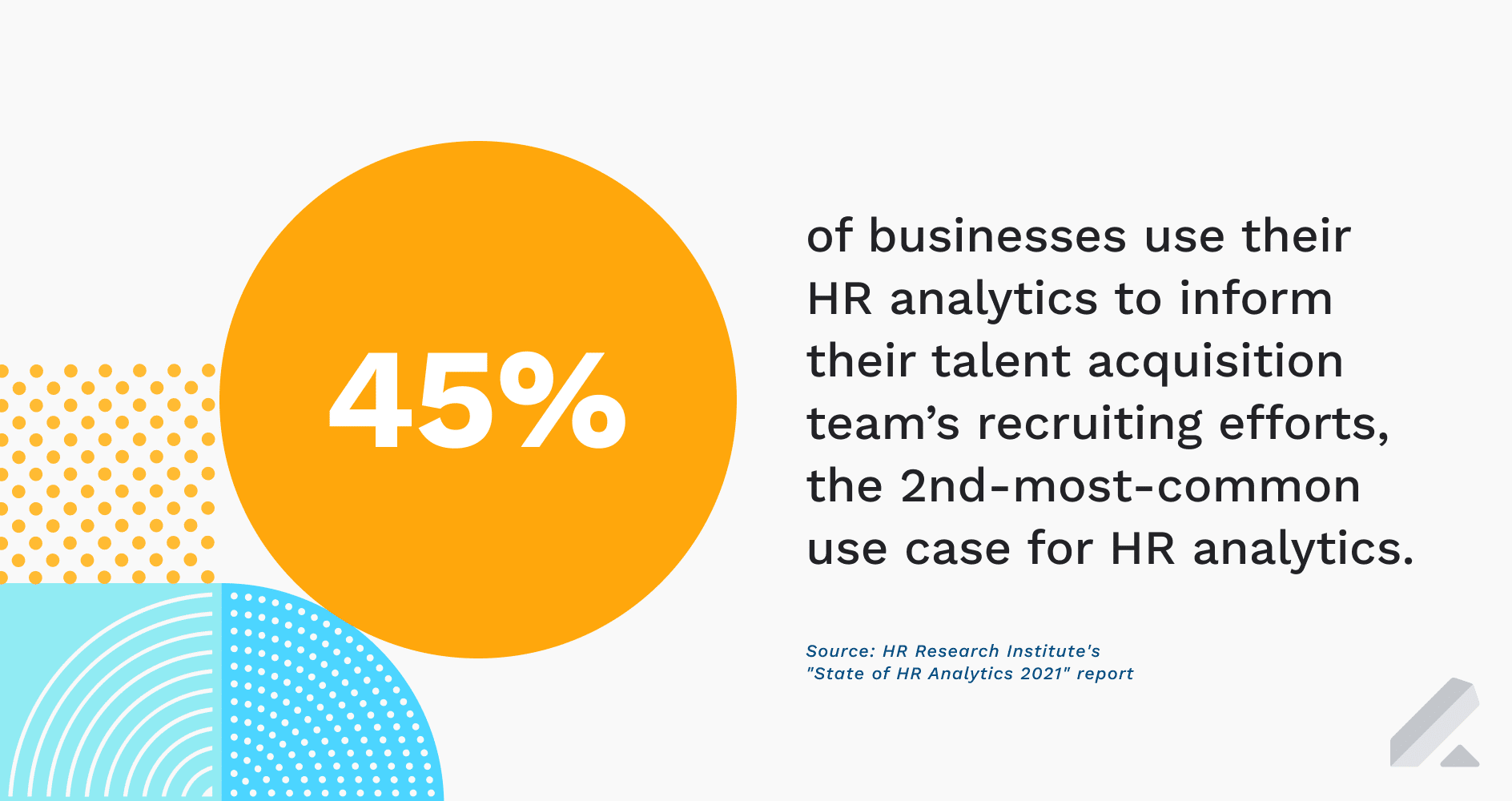 6) Employee engagement
"While the 'Great Resignation' has prompted endless workplace change, one constant proved to be the desire to feel wanted and appreciated at work, and creating meaningful workplace change will encourage employees to stay around longer," Lever Cofounder and CEO Nate Smith recently wrote for BenefitsPRO.
And he's right.
Tracking employee engagement — especially the reasons workers do or don't engage — can help HR craft a plan with leadership to engage staff members who are likely disinterested in contributing to the company culture through org-sponsored events and activities.
How TA can leverage this HR metric: Hiring for culture fit isn't ideal. Hiring for culture add is. Hiring managers often tell TA to look for prospects who have joined (and even led) culture-themed endeavors (e.g., employee resource groups, team off-sites and lunches) at past companies, when sourcing for candidates for their open roles.
Abiding by this request can help satisfy hiring managers' (and likely even execs') preferences.
7) Retention/attrition rate
Knowing the worker attrition rate by date range and for each business unit and location can give human resources insight into what causes attrition and what can be done to reduce it.
They can then share suggestions with leadership around how to boost retention.
For instance, if eNPS surveys show dissatisfaction with internal mobility, HR could recommend the development of more defined upward career mobility paths for employees on each team.
How TA can leverage this HR metric: The average time employees work for a given employer is certainly a factor job seekers factor into their job search today.
Does your business have high retention? Put that data point front and center in targeted candidate nurture emails and other recruitment marketing collateral to pique the interest of passive prospects and generate more applications.
Download our 2022 Talent Benchmarks Report to learn how LeverTRM users improved key metrics related to their recruiting: from sourcing and nurturing to interviewing and offers.