Job seekers increasingly want employers to provide equal pay for equal work, offer the market rate for roles of interest, and disclose compensation in job postings.
Failure to do all three can negatively impact organizations' ability to attract top talent. But, today, new pay transparency laws have made the latter especially crucial.
A 2022 Adzuna survey found one-third of job candidates need to know the salary range for roles to decide if they want to move forward with the interview process.
"Pay disclosure laws are going to quickly become the norm," Lever Cofounder and Advisor Nate Smith explained in a Q&A with CFO Dive.
And these laws are likely to spread beyond California, Colorado and New York City soon.
That makes it critical for businesses of all sizes to prepare — if they haven't done so already — for these measures and adjust their pay-related policies accordingly.
This preparation helps with compliance. However, a bonus of this work is the potential for more active candidates to gravitate to employers that are open and upfront about pay.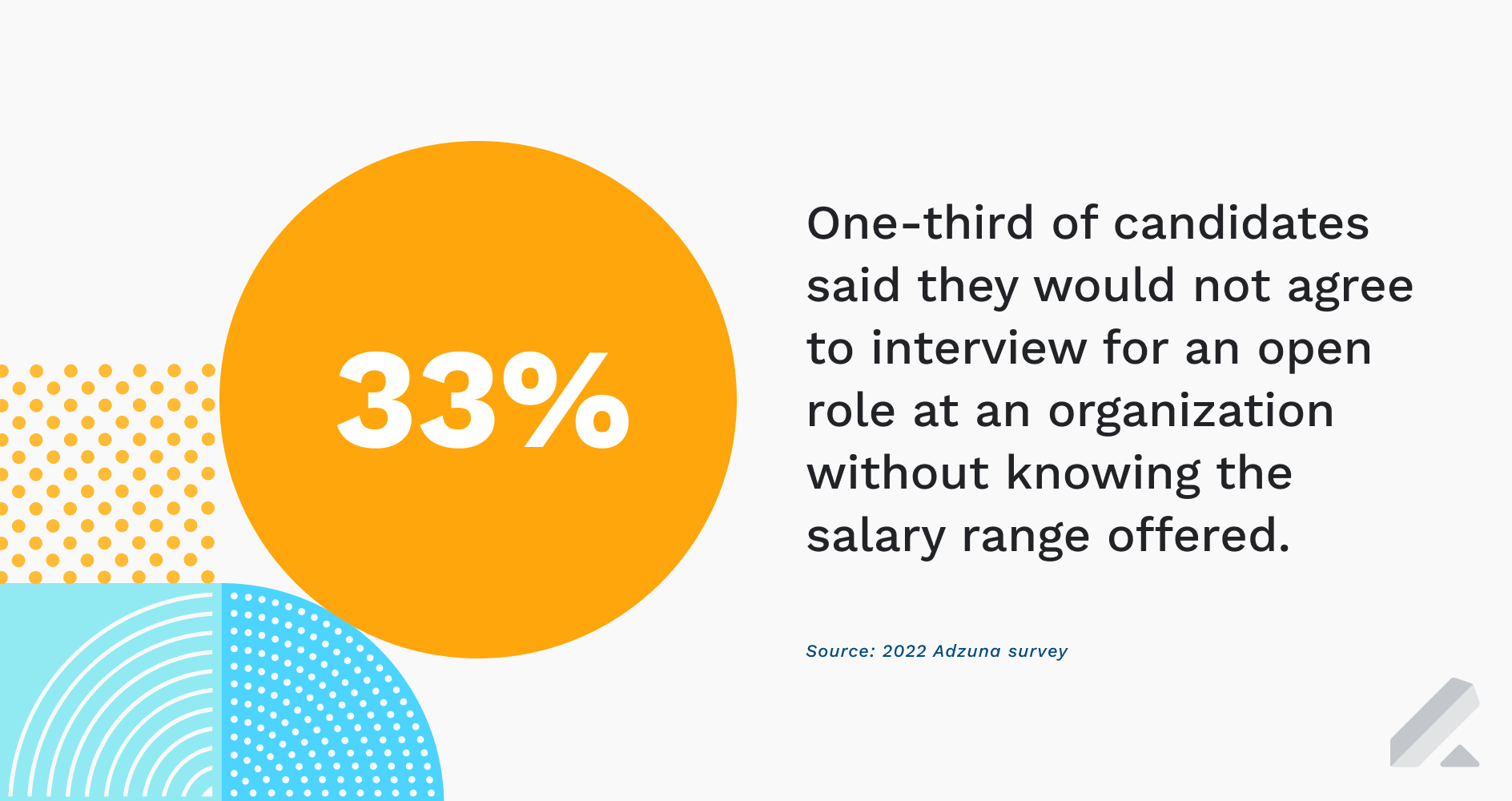 Why pay transparency is a hot topic today
"I just want to know how much I'd make in this role" is an oversimplification about why pay transparency has been and remains such an important matter among job seekers.
But, pay transparency is top of mind with candidates (and employers) because pay equity is paramount for job applicants and gives insight into the practices of the company.
Wage gaps and pay inequities
A recent Pew Research survey found young female professionals are starting to "out-earn" their male counterparts in certain cities across the United States.
But, a PayScale report found women earn 82 cents for every dollar a man earns, on average, while white men continue to make more than workers of other genders and races.
Moreover, 69% of BIPOC women said their orgs "have addressed opportunities to advance" internally, compared to 79% of white men, a study from The Harris Poll found.
This race and gender pay gap has led to ongoing frustration by non-white, non-male individuals who want to know the salary (or at least salary range) for open roles and that their pay for similar (if not the exact same) work is in line with that of their would-be male colleagues.
"You don't have to be an expert to know that a wage gap exists," Salary.com VP Consulting David Turetsky recently told CNBC. "But there's a gap of people who think it's important versus organizations actually doing something about it."
Rising cost of living
Our 2022 Great Resignation report on internal mobility and employee retention found more than half of Millennials and Gen Xers in the workforce would rather work for a business that pays a high salary than gives them a sense of purpose.
The latter certainly matters to employees today.
But the rising cost of living in the U.S. (along with sizable student loans and general economic uncertainty) has led many professionals to place greater priority on the compensation offered by their employer rather than job satisfaction.
Competition for talent
The above reasons are the main ones why pay transparency is a focal point for job seekers. But employers are thinking more about pay disclosure — and not just because of recent laws.
Businesses with lofty growth goals know the "war for talent" never truly ends, even amid "down" economic periods. Orgs understand they need a competitive differentiator to convince potential candidates to engage with them instead of competing employers.
Employers can distinguish themselves from others is through compensation transparency. For instance, they can share pay info with prospects in job postings and discuss salary, bonuses, and other benefits with engaged candidates early on in the recruitment process.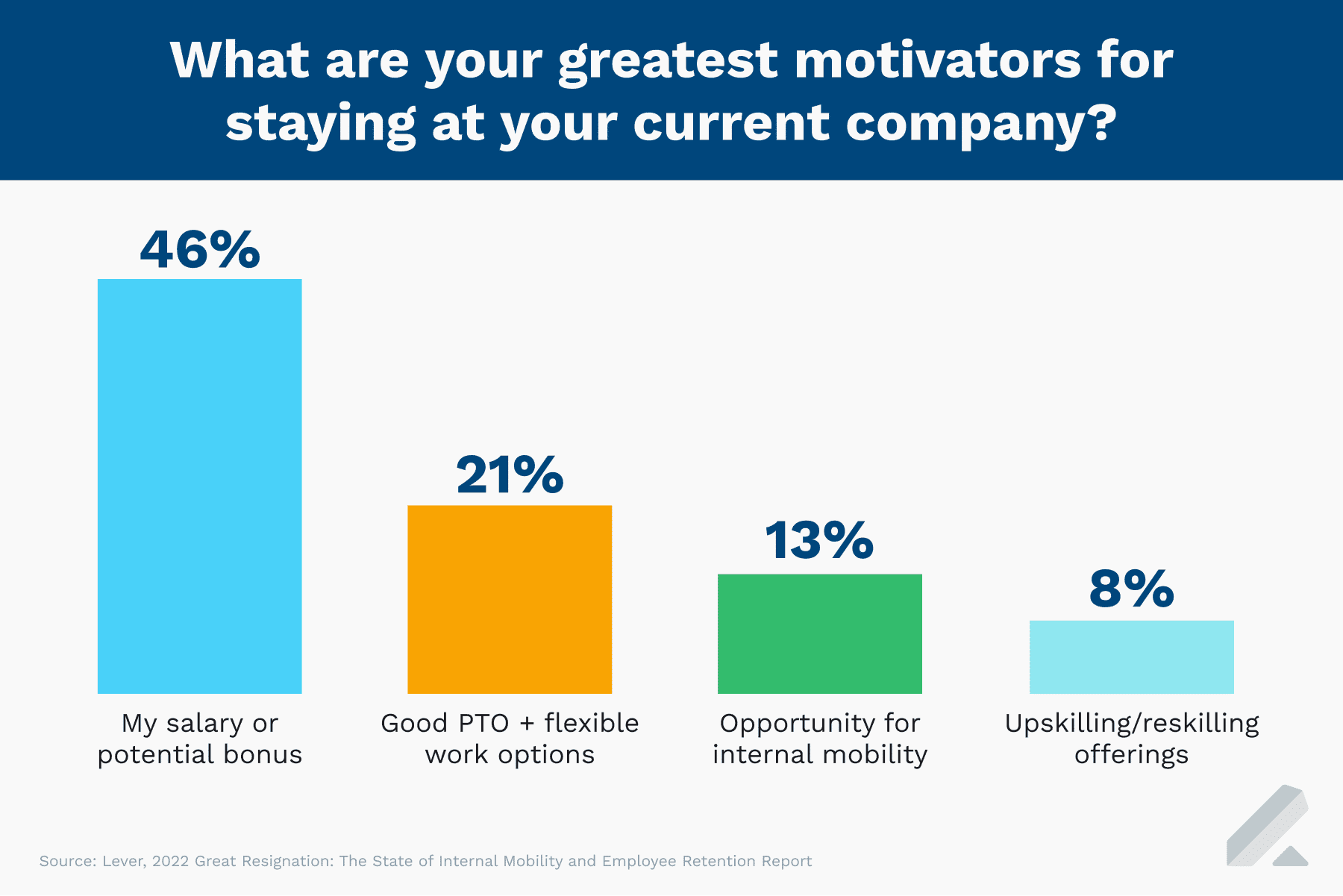 How your talent team and organization can benefit from pay transparency
Pay transparency (or the lack thereof) is clearly a deciding factor for job seekers:
Candidates appreciate employers who share pay-related details. This openness about compensation entices prospective candidates to apply for jobs with these orgs and engage with recruiters who reach out to them about roles.
Conversely, many job seekers distrust companies that don't proactively supply salary details in their public job listings and career pages. This lack of explicitness leads many job seekers to avoid seeking jobs with these employers.
The good news for employers (regardless of size or industry) that are transparent about pay is there are trickle-down benefits, so to speak, for their talent acquisition and human resources teams as well as their employer brand at large.
Salary transparency can help you attract highly qualified candidates
One in six employers saw a rise in applications after implementing pay transparency initiatives that disclosed salary in job postings, a 2022 Wilson Towers Watson survey found.
This increase in applicants may be a primary driver behind half of the survey respondents saying they have plans to be more transparent about salary in the year ahead.
HiBob CEO Ronni Zehavi told HR Executive pay transparency can "[instill] trust in candidates who will perceive your employer brand as transparent, confident and objective."
An added pro of pay transparency is it "give[s] CFOs an opportunity to directly address whether or not compensation is a fit for someone," Nate explained to CFO Dive.
In other words, finance leaders can gradually accrue data tied to candidates to determine whether candidates are being offered fair pay, based on insights that detail which prospects push back on salary, negotiate pay, and outright accept offers.
These insights can then be used to adjust compensation across business units and locations and inform changes to the types of candidates recruiters should advance in the funnel.


Sharing compensation data with employees can help you retain them
Providing context around compensation data is vital. Consider employee performance:
Managers can use quarterly or biannual review cycles to share details about potential pay increase and bonuses for their team members based on their individual performance.
Knowledge of a path to a promotion and salary bump due to strong work can help retain workers and prevent them from leaving for what they may perceive as a better job.
This greater retention also means a reduced burden on talent acquisition to backfill roles. They can instead focus on filling net-new roles and analyzing their recruiting efforts.
Of course, there are many other factors that impact employee retention. Employers need to account for other aspects of the business, including company culture, in addition to pay transparency (and, relatedly, fair pay for employees).
"Focusing only on compensation or … cultural factors won't stem the tide of attrition," McKinsey analysts recently wrote. "Business leaders must pay constant attention to both."
The point is making all employees aware of salary information and related compensation data can alleviate any concerns they have about being underpaid for their role or compared to other colleagues on their teams.
Watch our webinar with Pave and ThinkHuman to learn how business leaders can build equitable compensation strategies that help their orgs attract and retain talent.