The quality of the hiring manager-recruiter relationship makes a world of difference.
When a recruiter and hiring manager aren't aligned, the process of finding the right person to fill an open role will take longer than it should practically every time.
Recruiters end up engaging and bringing in candidates the hiring manager doesn't think are ideal fits.

In turn, job candidates suffer from a poor, unorganized interview (and overall recruitment) experience.

And, at the end of the day, odds are decent that the prospect search will end up back at square one.
The good news is there's one simple step that can make the process a lot more efficient: A well-run, highly coordinated hiring manager-recruiter kickoff (or intake) meeting.
6 tips to execute a flawless hiring manager-recruiter kickoff call regarding new requisitions
Here are six critical components of running an effective hiring manager-recruiter kickoff.
1) Set the intention.
The hiring manager isn't just doing you a favor by finding time in their day to meet. Finding a great candidate is in both of your best interests. It can be helpful to remind your hiring manager that you're on the same side.
You can do this with something as simple as letting the hiring manager know how excited you are to help them find the right person for their team.
2) Be mindful of their time
Be cognizant of the fact that a hiring manager intake session or recruitment kickoff meeting is only one of the many things a hiring manager has to do in a day.
Be concise, and come prepared with an agenda for the intake session so the hiring manager knows exactly what you will cover, and what will be needed of them to best help you throughout the preparation and recruitment process.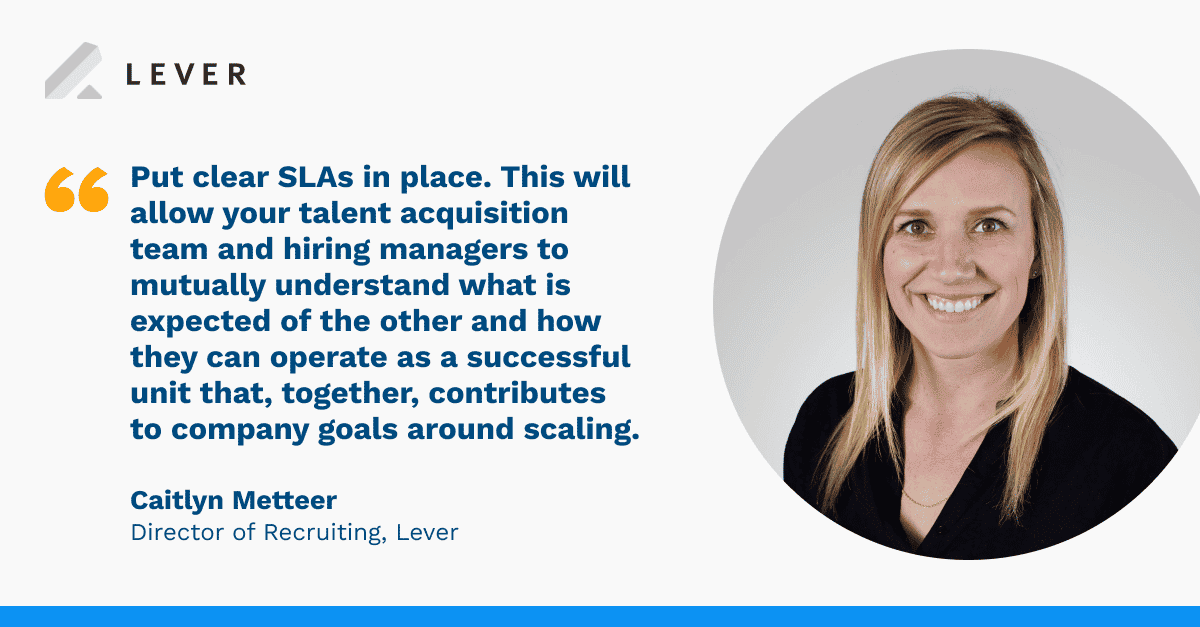 3) Gain an understanding of the role
Learning all about the role is vital. The key questions Amanda says you should ask include:
What would the eventual hire's responsibilities and expected impact on the team/business be?

Why is the job exciting? What specific job listing language can/should we use to generate buzz?

Who would the candidate be working with in their day-to-day and in what kind of capacity?
You'll need this knowledge to advise your hiring manager on writing an impact job description (or write it yourself, depending on the company) that will attract the right candidates, and to successfully engage candidates during their initial screens.
4) Get examples
While you have the hiring manager's attention, take the opportunity to review both good and bad examples of candidates. During the recruiter and hiring manager meeting, go through a few resumes together (if you have any) and source a few candidates on LinkedIn.
By doing this, everyone will be on the same page regarding what a promising prospect looks like from day one, ensuring a more intelligent candidate search
5) Define the interview process
Set expectations for the interview process right from the get-go:
Who's doing the phone screen – the recruiter? Hiring manager? An individual contributor?

How long should the interviews be? And who needs to be on the interview panel?

Who is covering what type of interview? And who has the final decision-making power?
These are all questions you absolutely need to ask hiring managers to make sure the process runs smoothly and ensure each candidate has a great experience.
When it comes to making your interviews as seamless and consistent as possible, it helps to have a tool that will help you structure them.
Lever's interview kits helps you set up a consistent process to let you compare candidates apples to apples. You can quickly schedule interview panels, leave clear instructions, insert a scorecard, and more to gather all the information you need.
6) Discuss logistics
It's the recruiter equivalent of doomsday to get all the way to an offer stage with a candidate, and then to find out you don't have permission to extend it.
The best case scenario (still not good) is that you need to get approval from the right people and you delay the process by a few days. The worst case scenario is that you can't give the candidate the package they're asking for and you lose them altogether.
Save yourself huge headaches down the line by sorting out logistics like compensation, equity, and start date at the very first hiring manager intake session.
Watch our headcount planning webinar to learn how HR, hiring managers, and talent acquisition can work together to develop a recruiting game plan together.