Writing effective job descriptions
As a recruiter, you've written your fair share of job descriptions. And chances are, you've been tasked with writing the 'perfect' description. You know, the one that sets your company apart from the competition and attracts the best talent.
It's no easy feat, creating a job description like that. In fact, while 72% of managers believe they create effective job descriptions, just 36% of candidates agree. Not only that, but most job seekers will spend a mere 14 seconds deciding whether to apply to a role based on the job description.
It's fair to say that you have a brief window in which you can capture a candidate's attention and convert them from job seeker to applicant and, ideally, your next best hire. However, many recruiters don't know where to start when writing a job description that's impactful, inclusive, and effective in recruiting top talent. The struggle is real.
In this guide, we're going to break down everything you need to know about writing the most effective job description—including impact descriptions. Whether you're a recruiter, talent acquisition leader, or hiring manager, you'll walk away with tips, best practices, and the tools you need to craft descriptions that attract the right talent.
72% of managers say they've hired the wrong person for a position at one time or another.
What is a job description?
At a high level, a job description outlines the duties and responsibilities of a role for which a candidate is applying. Traditionally, these descriptions have followed a simple formula:
A brief introduction to the company and its history
A summary of the open role, with a generic set of tasks or responsibilities
A list of 'requirements' (like education, work experience, and hard skills)
Today, many recruiting teams have adopted a narrative or storytelling approach to job descriptions, attempting to give candidates a glimpse into the company and culture of an organization to which they're applying.
Unfortunately, these same descriptions can start off well-intentioned but quickly become forensic. Think of those job descriptions that are embroiled with too many qualifying details, leaving job seekers confused as to what they'd actually accomplish while in the role, or the potential to grow within the organization.
It's important to remember that, despite most job application processes now being digital, candidates are still human beings. Job descriptions can be the first 'touch point' a job seeker has when exploring an open role with a new company, which means poorly written and executed descriptions can make or break your recruiting efforts. Consider that 58% of candidates feel clear communication is critical for a positive applicant experience, while 53% say clear expectations are also crucial.
PRO TIP
Whatever the role, make sure your job descriptions are written for people, not robots! Descriptions that sound human, and use a more conversational tone, are more likely to engage candidates and keep their interest.
Why traditional job descriptions don't work
Traditional job descriptions hurt more than they help organizations. Hiring teams have to market their companies and roles to candidates in growing talent markets, all before they even begin sourcing, engaging, nurturing, and recruiting the right people for a role. In this sense, a job description is just as critical for engaging talent as every other component of your employer brand.
Relying on a list of to-do's or daily tasks puts organizations (especially smaller ones) at risk of alienating talent that is in high demand among the competition. It's no longer enough to summarize what a role entails—hiring teams now have to woo and convince candidates that their role, their company, and their culture are a great opportunity for them.
Generic descriptions could apply to any company
With all the work hiring teams have, it's easy to rely on generic job descriptions. This can be true for organizations of all sizes, but especially smaller companies without dedicated recruiting teams, which are more likely to rely on these generic job descriptions.
Your candidate pipeline doesn't know about your organization's incredible culture, the exciting projects you're working on, or the importance of your mission. Only you are able to make the unique value of your organization shine through.
A generic job description that fails to give candidates insights into what they can accomplish, the impact they can have, and the contributions they can make to your organization is just that—generic. This description could apply to virtually any company and doesn't give your hiring team an upper hand in differentiating your employer brand from that of the competition.
Generic descriptions focus on benefits to the company, not the candidate
You can easily get caught up in creating job descriptions that focus solely on your expectations for a new role. When you've got several open roles to fill, or are on the cusp of a hiring surge, you need to act quickly and work to reduce time to fill (among improving other recruiting metrics). But hiring is a two-way street, and it's important to step back and consider what you can offer top talent. Companies hiring in today's competitive talent market need to set themselves apart from other businesses.
PRO TIP
If you assume that those all-star candidates you're contacting on LinkedIn have already heard from 4 other recruiters this week, ask yourself: What makes our role stand out from similar roles in the market? How are we positioning potential impacts and contributions? Why would this role be more attractive to a candidate vs a competitor's? How transparent and inclusive is our job description? And, what about this role would be the most attractive to the right candidate?
Why are job descriptions important?
In addition to job descriptions being a necessary recruiting 'tool,' they're also a single source of truth or information for candidates looking to apply to your company.
Job descriptions accomplish two core things for both recruiters and job seekers:
Company: job descriptions allow you to communicate your needs and expectations of a role, establishing a clear understanding of what you expect of the person in the role and what they can accomplish
Candidate: job descriptions provide context and insight into what a job seeker can expect from the role and the company, and act as a source of truth
Job descriptions also help you ensure that you're attracting and nurturing the right talent—especially if your organization wants to hire with an internal mobility program or strategy in mind. Without an effective, impactful, and inclusive job description in place, you may be delivering a poor candidate experience where job seekers look at salary and benefits before impacts, contributions, and values, applying to the role for the wrong reasons.
But wait, there's more!
Job descriptions support accountability
Whether it's an annual performance review, strategizing the career agility of your people, or evaluating roles and responsibilities, an effective job description will act as a manager's source of truth, too. For example, a poor or vague job description can make it more difficult for a manager to evaluate an employee's performance, determine how they can help the employee upskill, or determine where the employee can contribute.
Job descriptions lend to productivity
If a candidate clearly understands the specific needs, demands, and expectations of a role, there's a stronger likelihood that they will be more productive in that role when hired. Confusion around what an employee should be doing day-to-day, the impact they can have, or the contributions they can make can quickly lead to disengagement and poor performance—something costly to both the employer and the team at large. As Cangrade note, making it clear what a role will entail beyond hard skills or core competencies is crucial in helping candidates relate to and understand a role better.
Now that we've covered what job descriptions are and why they're important for recruiting, let's dive into how you can write an effective job description—one that is impactful and inclusive, too.
Jen Rifkin, Director of Customer Success at Cangrade
For the ultimate job description, you need to start by determining what skills are needed to be successful in the role. Pinning down the soft skills your candidates need and then incorporating them into your job description widens your funnel, reduces bias, and increases the likelihood that you find someone that has what it takes to succeed and who will stay. This isn't always straightforward, but it's worth the time investment.
Elements of an effective job description
You may be wondering, "what should a job description include?" A well-written job description is an opportunity to position both your company and its culture as a great place to work. Never mind that an effective job description is a must-have for attracting talent—it's also key to providing meaningful information that contributes to a positive candidate experience for job seekers.
As you'll see later in this guide, our team here at Lever uses impact descriptions to attract candidates. However, there are a few core elements of an effective description that also lend to engaging talent with your open roles. Let's break those down.
Opt for clarity over cleverness with job titles
It's not uncommon for companies to use flowery language and fun adjectives to describe a role, but when applied to job titles, this language can quickly become confusing, misleading, and potentially discriminatory. Instead, focus on being as clear and straightforward with job titles as possible.
Example
Let's say you're hiring a visual or graphic designer. A job title like 'Rockstar branding specialist' sounds interesting but may actually attract the wrong candidates with its ambiguity. Instead, a job title of "Visual Designer" is much more clear for candidates. Clarity over cleverness is your best friend when it comes to job titles.
Speak to candidates like humans
Similar to job titles, you can get stuck in the weeds when creating your job descriptions. Company or industry jargon, along with confusing phrases, unnecessary information, or offbeat humor, can make it difficult for candidates to understand what a role is asking of the right hire and what's expected of them. It's better to be clear and concise, with some conversational tone peppered in.
Writing hack
Here's a copywriting tip that can help you humanize your job descriptions: write your first draft, then read it aloud and eliminate any unnecessary words, terms, phrases, or sentences that take away from the clarity of your message. Writers refer to this practice as "killing your darlings," a lesson from American author, William Faulkner!
Avoid falling into the list trap
We mentioned above that one component of the traditional job description is a list of tasks and skills that employers typically ask of their ideal candidate. But these lists are generic and don't provide the right context for candidates.
Instead, focus on outcomes. We talk about this later on in this guide (so keep reading!) but candidates shouldn't just clearly understand what they'll do day-to-day; they should also know the outcomes and impact they can have in the role. For example, you can forego a list of daily tasks in favor of outcomes or accomplishments.
If you do need or want to provide a list of skills needed for a role, expand on why each skill is necessary or how a candidate with these skills could help grow your organization.
Sell the benefits for the candidate (not the company)
One of the greatest challenges with traditional or generic job descriptions is that they sell the benefits of the role for the company and not the candidate. It's more important that your descriptions highlight how the candidate can contribute to the organization, what they can learn and achieve, and how the role will ultimately benefit their goals, too.
This isn't a question of listing benefits or perks, but showcasing things like learning and development, growth and leadership, impacts and outcomes, and more.
Highlight your onboarding plan
While it's nice to give insight into your company and what a day in the life of an employee there looks like, many job seekers will wonder what life looks like post-hire. This is different from your interview process (which you can also highlight in the description). An onboarding plan gives the candidate more context as to what happens in their first 30/60/90 days at your company, and often, within their first year!
We do this with our impact descriptions—such as explaining what a candidate can achieve, the type of projects they'll work on, and how they'll be evaluated in their first 1-6 months at Lever.
Example
"Within 1 month, you'll participate in our company's onboarding program and complete your first starter project."
What to avoid when writing job descriptions
Just as there are specific elements to include in your job descriptions, there are also elements you should avoid. A poorly written job description can cost you top talent, so here are a few key things to be wary of when crafting your job descriptions.
Discrimination in your descriptions
Most job descriptions today include equal opportunity disclaimers, however, these don't foolproof descriptions. In many cases, they can be added to job postings as an afterthought, even when the descriptions may include unconscious bias. The language you use is crucial, and not just in regards to race or gender. Keep in mind that candidates and job seekers are growing increasingly more aware of biased job descriptions and postings.
Reminder
Language in job descriptions can be biased towards more than just gender and race; it can also discriminate against candidates within certain age groups, or those with seen and unseen disabilities.
Ignoring internal mobility
Internal mobility, which refers to the movement of existing employees between roles both vertically and laterally, is becoming more popular in companies looking to recruit not just for the short term but the long haul. In recruiting, hiring teams can factor in the potential future mobility of candidates when assessing skills, experience, and knowledge that may benefit a role down the road. Ignoring this potential could also cost your organization winning talent.
Focusing on skills over impact
We've all seen it: the job description with the endless list of required skills or experience, but no mention of potential impact or growth. It's the type of description that efficiently alienates talent while ensuring your job descriptions appear exclusionary of candidates from various backgrounds. Instead, you want to focus on impact, outcomes, and performance.
Our job descriptions do just that—they focus on impact rather than skill sets alone. Using LeverTRM, our recruiters can create job descriptions that highlight the impacts a candidate can have on both our customers and within our company.
When we create a job description for a job posting, we lead with the impact first, followed by outcomes and performance. Once a posting is live, relevant stakeholders on our team can follow it so that everyone needing a line of sight into the performance of a job posting has one. In LeverTRM, postings can automatically tag applicants so you can report on and rediscover them later!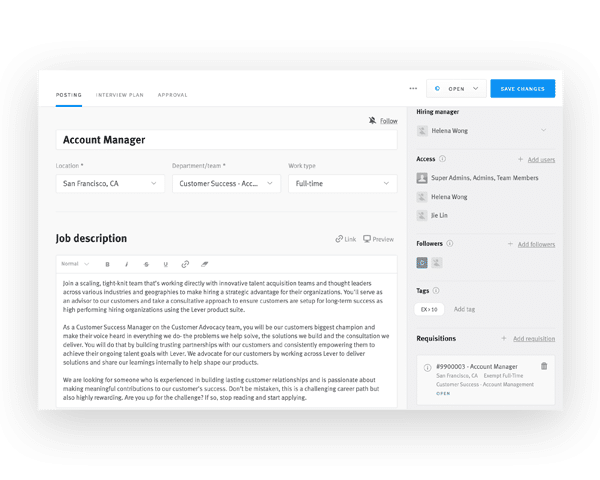 The core elements we've just walked you through are important for getting an outline of a job description together. But how can you write impactful and inclusive job descriptions that attract talent while driving diversity recruiting? We'll show you!
How to write inclusive job descriptions
Recruiters and hiring teams know the talent market better than anyone. After all, you're working to source, engage, and nurture talent every single day—not just new talent, but existing employees, too. With this knowledge, you're able to provide insights into things like salary expectations, competitor recruiting, internal mobility, and much more.
What about inclusivity, though? From the perspective of diversity, equity, and inclusion (DEI), inclusive job descriptions give further insight into organizational culture and a company's approach to DEI. If a job description is a candidate's first real look inside your company, then the description must be inclusive of all.
A diverse workforce benefits everyone—and it's not just good for your business, it is good business. Let's consider a few facts about diverse workforces that showcase why diversity recruiting is crucial:
It's fair to say that diversity recruiting can have a substantial impact on the success of a company—and what better place to start than with your job descriptions? We're going to walk you through 6 tips to help you write inclusive job descriptions.
1. Start by addressing gender coding in your recruiting messaging
Gender coding refers to signals, such as words, phrases, or traits, that have been historically associated with or attributed to either the male or female gender. Gender coding occurs in recruiting messaging far more often than you may think and can create a false impression as to who the ideal candidate is for a role.
It can be a tough pill to swallow, but if your job descriptions are 'coded' too heavily towards any gender, it can influence who does or doesn't apply, effectively alienating talent right out of the gate—regardless of skills or qualifications.
By addressing gender coding first, you can better craft descriptions and job postings that don't skew towards a specific gender, even unintentionally.
Take Hypercontext, for example. The company forgoes the traditional 'fit' aspect to focus on inclusive language that welcomes all applicants, not just those from specific backgrounds, perspectives, or prescribed genders.
Hiba Amin, Senior Marketing Manager at Testbox
At Hypercontext, we approach job descriptions with internal mobility and external inclusivity in mind. For example, we include language that combats any apprehension candidates have, especially those who would be categorized as POC or womxn. It's no secret that minorities are less likely to apply to roles that they're qualified (or nearly qualified) for because we find ways to convince ourselves that there are better candidates out there. That's definitely been the case for me many times throughout my career. So, to combat this we use excerpts like the following to ensure that our JDs are always inclusive both to internal employees and external candidates.
This leads us to our next point…
2. Use gender-neutral language
We talked about humanizing job descriptions earlier on in this guide, and the same lesson goes for the language you use in your descriptions. While we all have preferred pronouns, leveraging gendered pronouns in job descriptions is a sure-fire way of excluding pools of candidates who may otherwise be qualified for the role. For example, if you're hiring a Senior Developer, language like, "He will design, code, test, and implement our solutions" gives job seekers the impression that the role is geared towards male applicants. Instead, "You will design, code, text, and implement our solutions" helps you avoid gender bias while also giving the impression that you're speaking directly to the candidate.
"Gender coding" refers to signals, such as words, phrases, language, or traits, that have been historically associated with or attributed to either the male or female gender. Gender coding occurs in recruiting messaging far more often than you may think and can create a false impression as to who the ideal candidate is for a role.
3. Use inclusive language, too
Gendered pronouns are not the only words that can subtly yet quickly deter candidates from applying to a role. How you phrase your job description can also have an impact—for example, it's not uncommon for certain terms or job titles (like that example of a 'Rockstar' we used earlier) to signal male-dominated cultures, while seemingly harmless language like 'ambitious' or 'competitive' can alienate women candidates. Being cognizant of how language can implicate bias towards certain groups or genders can help you avoid crafting discriminatory descriptions.
4. Forego requirements and 'must-haves'
The notion that there is a 'perfect' candidate for every role is outdated and disregards a person's ability to learn new skills, adapt to a new environment, and adopt knowledge as they go. In reality, most of the 'must-haves' listed in job descriptions are nice-to-haves or skills that can be learned while in a role. In the case of inclusivity, focusing too heavily on requirements or necessary skills/experience can alienate top candidates.
The core elements we've just walked you through are important for getting an outline of a job description together. But how can you write impactful and inclusive job descriptions that attract talent while driving diversity recruiting? We'll show you!
Did you know that women have been found to only apply to jobs where they meet 100% of the listed requirements, whereas men will apply if they meet just 60%? Consider removing "must-haves" or requirements from your job descriptions and replacing them with results or outcomes instead.
5. Remember that diversity includes disabilities, too
When focusing on making your job descriptions as inclusive as possible, don't forget about candidates with physical and cognitive disabilities. It's not uncommon for a job posting to include language that's inclusive of age, race, or gender, but exclusive of those with disabilities. For example, stating that a candidate "Must be able to lift 50 pounds" is exclusive, while "Moves equipment up to 50 pounds" removes the 'how' aspect and focuses instead on what needs to be accomplished in a role. Ensure your job descriptions aren't alienating talent with disabilities—seen and unseen.
6. Drop the jargon
Job descriptions littered with jargon (whether industry or company-specific) can be problematic when sourcing talent from different avenues, especially outside of your primary industry. Many candidates have transferable skills from other industries they may assume won't convert based on the language you use. A rule of thumb is to avoid using jargon altogether, but if you have to—for example, if you're hiring for a role that requires the use of specific tech or tool types—spell out things like acronyms or describe the jargon in plain speak for candidates.
So far, we've covered quite a bit about job descriptions in this guide. But we're not finished! We want to show you how our teams at Lever approach job descriptions to attract and engage talent, both through inbound and outbound recruiting. Earlier in this guide, we mentioned that we use impact descriptions—and you can, too.
Jen Rifkin, Director of Customer Success at Cangrade
A large part of a job description is the skills needed to perform the job. If you're only looking at hard skills though, your talent pool significantly decreases. Focusing on soft skills in your job description widens your talent and applicant pool, reduces bias, and can boost retention by attracting candidates that have the soft skills to be successful in their future role.
Recruiting with impact descriptions
Let's take a look at what impact descriptions are, how you can create impact descriptions, and how you can measure their efficacy in your own organization.
Start with an impact description framework
Recruiters practice both inbound and outbound recruiting—and job descriptions are part of these hiring strategies. It's inevitable that candidates will need a job description, regardless of whether they came to our company through a job posting or your hiring team engaged them through outbound initiatives. But how do you create job descriptions that serve both types of recruiting?
The answer: impact descriptions. With impact descriptions, you can better source, engage, and nurture talent that you want to attract and hire. As both sourcing and nurturing are essential components of talent relationship management, a framework for how you develop impact descriptions can help with inbound and outbound recruiting.
Caitlyn Metteer, Director of Recruiting at Lever
Back in 2014, we came together as a company to determine more broadly what it feels like to be recruited at Lever. Of course, job descriptions were a focal point! We wanted to ensure that, when people read our job descriptions, they were given a holistic understanding of what it would feel like to be part of Lever, as well as that role over the course of their tenure with us. Through that process, impact descriptions were born.
What are impact descriptions?
Job descriptions are one of the least evolved 'tools' in a recruiter's arsenal, not for lack of trying to modernize them, but because they are often focused on the company rather than the candidate.
At Lever, we believe there's a better, more effective way to leverage job descriptions for recruiting top talent—impact descriptions!
Impact descriptions focus on outcomes, impacts, and performance rather than a rigid set of tasks or responsibilities. In other words, impact descriptions emphasize the impact an employee can have and the contributions they can make instead of focusing solely on what they'll do in their day-to-day.
Impact descriptions show potential impact and outcomes, whereas job descriptions show requirements and tasks.
When creating impact descriptions, we take an outcome or performance-based approach which identifies two important dimensions of a role:
What is the candidate expected to own, teach, learn and improve once they're in the role?
What should a candidate accomplish, and when? How will the candidate's career progress throughout the year?
How to create an impact description
The first step in creating an impact description is to understand the role you're hiring for and who your ideal candidate is. Each role you recruit for will inevitably have a desired set of skills, experience, and qualifications, but it's important to keep in mind that you're hiring for impact and potential future mobility, not just short-term needs.
Before drafting your first impact description, your hiring team should consider what the candidate will own, and what they'll improve upon or drive, if hired into the role. Asking questions like, "What will this person be responsible for? What would they be the primary owner of?" is a good place to start.
Reminder
Impact descriptions must still be inclusive and follow the tone of your company culture. The language you use, and how you create your own impact descriptions, should prioritize diversity and inclusivity.
Match and showcase motivators
Once you understand the role you're hiring for and who your ideal candidate for the role is, you can move on to the next phase of crafting an impact description: motivators.
Motivators are qualities or opportunities that candidates look for in a role and organization that push them to search for new job opportunities. For example, some candidates are motivated by growth, development, and leadership opportunities, while others see incentives in joining a team where they have more autonomy and stability in their role.
Impact descriptions allow you to showcase these motivators to better align with the type of candidate you want to have apply, versus those that may not be the best fit for the role. Clearly linking these motivators to the role can help your hiring team more efficiently review candidates with aligned motivations.
Get specific (and avoid ambiguity)
The more clear and specific your impact description is around goals, impacts, and outcomes, the better. Traditional job descriptions are intended to 'weed out' the wrong candidates for a role, whereas impact descriptions empower you to attract the right people to the right roles and get candidates excited about joining your company.
When drafting your impact description, ensure your needs, expectations, and the role's potential impacts are clearly defined so that candidates have a firm understanding of what they can accomplish in the role.
58% of candidates feel clear communication is critical for a positive applicant experience, while 53% say clear expectations are also crucial.
Draft your first impact description
Now that you know what role you're hiring for and why; the ideal candidate you need for the role; the key motivators you'll showcase, and a few best practices for specificity, you're ready to write your first impact description.
Focus on providing details around what the candidate can expect to own and drive in the role, and the team they'll be joining. Remember, you want to avoid lists of tasks and requirements in favor of outcomes and impacts.
Using this framework, recruiters can more effectively communicate not just expectations of a role, but what a candidate can hope to achieve and the contributions they'll be able to make just within their first 6 months alone.
Evaluating your impact descriptions
Evaluating how effective your impact descriptions are can give you insights into how candidates feel about your descriptions and what improvements or updates you can make along the way. Depending on how you share these descriptions—via inbound or outbound recruiting efforts—you may receive feedback from candidates that helps you iterate on the descriptions over time.
Monitor unqualified versus qualified candidates
Receiving a large number of underqualified candidates for a role can indicate that your impact description isn't defined clearly enough. For example, you may need to better highlight growth opportunities, or more clearly explain your company culture. Similarly, if you're receiving lots of applications from otherwise terrific candidates who would be better suited for other positions, that may indicate that the outcomes, impacts, and expectations in your descriptions aren't clear.
In this case, you'd want to pay close attention to conversion rates as a key recruiting metric.
One quick way to determine whether your impact descriptions are driving your desired recruiting objectives is to look at conversion rates. For instance, recruiters with Admin status in LeverTRM can monitor overall application trends via Lever's Conversion Rates report. The recruiter can hover over the percentage of candidates archived in the New Applicant stage to see why a candidate didn't move forward.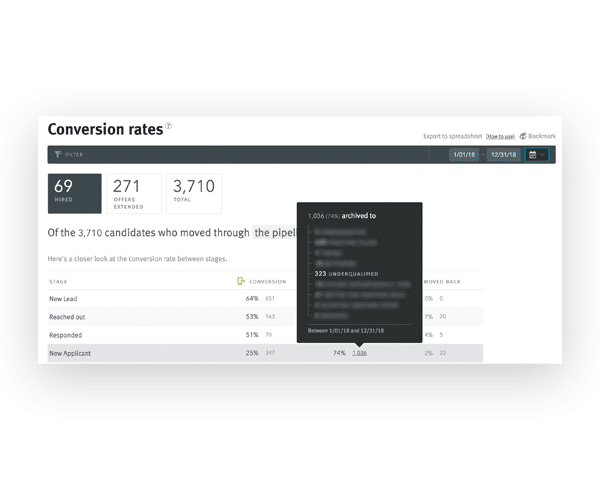 Finally, collect feedback from candidates and hiring teams alike
If your recruiters are as obsessed with data as we are, then you're likely already collecting insights from candidate feedback and input from your hiring team. When using and consistently improving your impact descriptions, close the feedback loop between your candidates, your hiring managers, and your recruiting team! Here at Lever, for example, we send candidate feedback surveys to applicants and make sure to flag and record feedback so that our recruiters can see how candidates are reacting and where we can make improvements.
Collecting feedback from candidates is crucial to consistently improve your recruiting process. At Lever, for example, we share feedback surveys with candidates that ask them about their entire experience, from applicant to interviewee and beyond.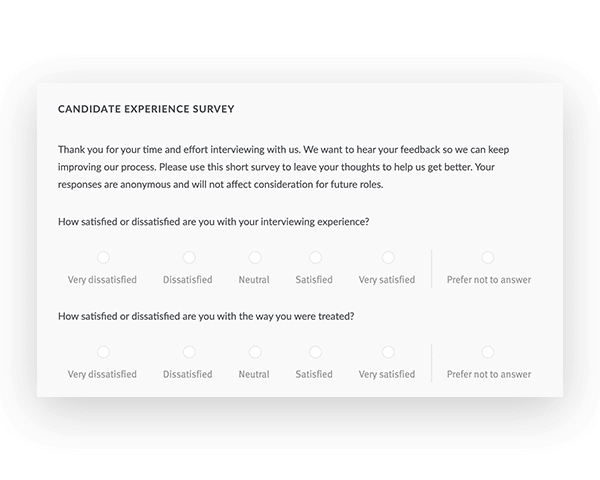 Make waves in recruiting with impact descriptions
If you're ready to transform your everyday job descriptions into impact descriptions that drive results for your recruiting, download our free impact description guide. You'll get our top tips for crafting the perfect description and have everything you need to attract candidates and nurture top talent for your organization.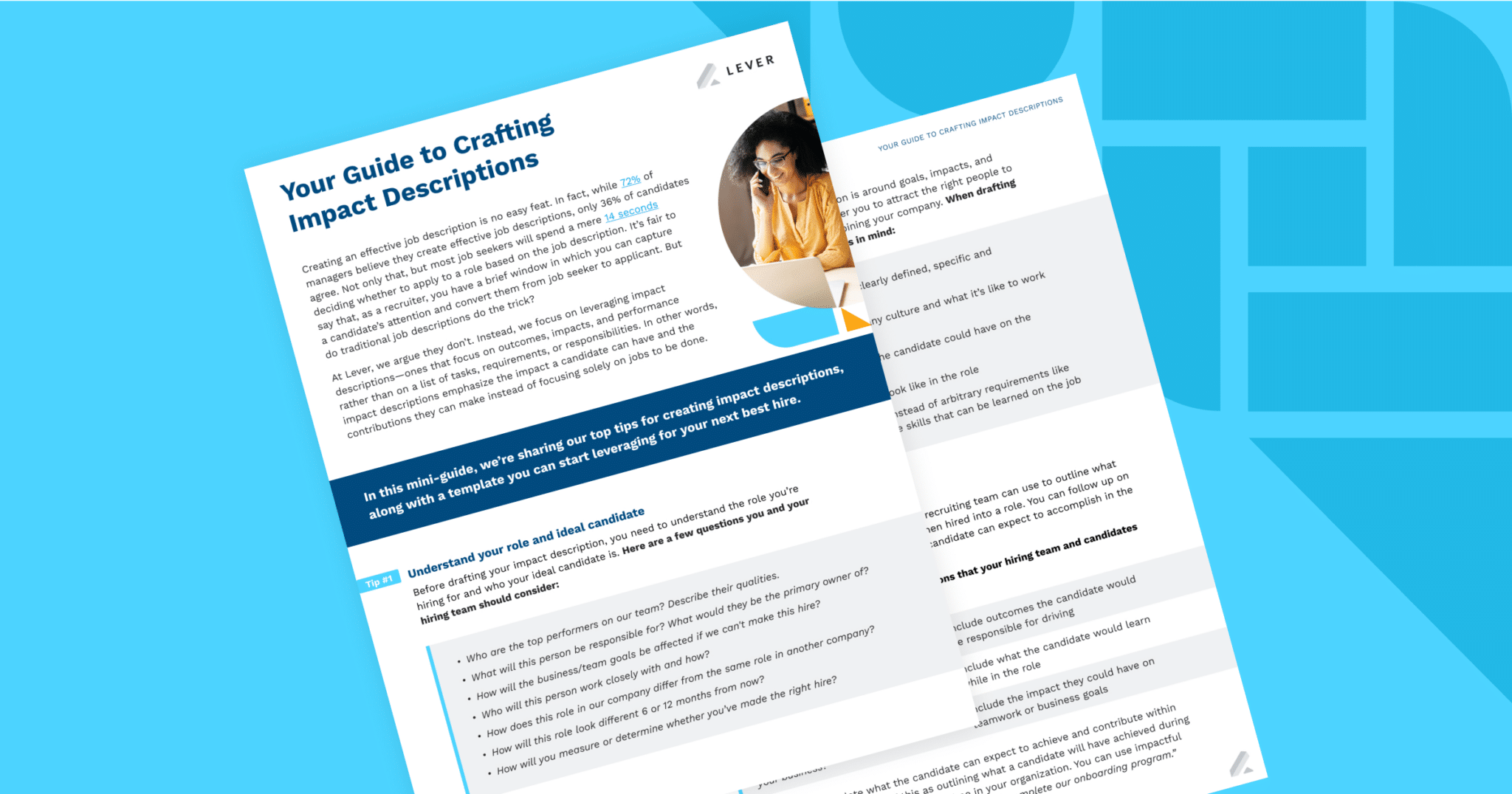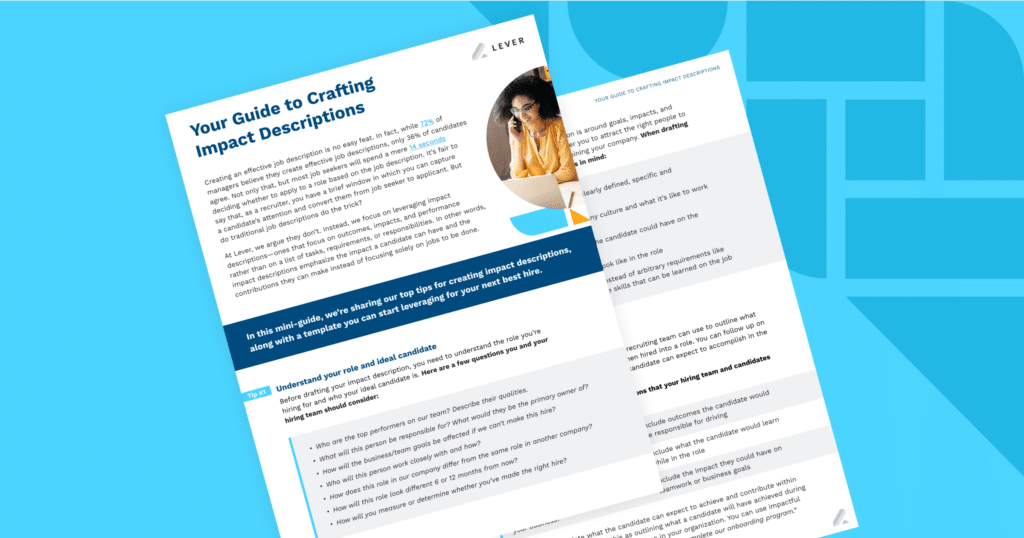 EBOOKS
Your Guide to Creating Impact Descriptions