You know your candidates' names, backgrounds, previous employers, and contact information as well as their past and current interview stages. But that's just your side of the recruiting story.
These details don't reveal anything about these job-seekers' candidate experience (CX).
That is, you don't know if these individuals had a great candidate experience (e.g., enjoyed meeting with the hiring manager and interview panel) or a poor candidate experience (e.g., found the application process confusing or overly complicated).
According to Starred Customer Success Manager Sophie Kraanen, "That's why CX deserves a closer look."
As Sophie noted in her recent Lever Ascend session, securing feedback from job applicants and sourced candidates in your talent pool (and even individuals you ultimately hired) regarding their interview experience and your recruiting process at large can supply you valuable (see: actionable) insights that can help your entire talent acquisition team improve its approach.
Why candidate experience is now an essential metric your talent acquisition team must monitor
Whether you measure candidate experience or not, if you have open roles, you are — by default — providing a CX, according to Sophie. But if you don't have processes and technologies in place to help your measure and analyze the recruiting metric, you can't improve the candidate experience.
Standard metrics only tell one side of the recruiting story: as Sophie calls it, "the not-so-human side."
Recruiting is very much a "human-to-human industry," Sophie relayed in her Ascend session. Therefore, lacking intricate CX data for each candidate in your database means you don't know much about their experiences. Similarly, you don't know what they might be telling others in their social spheres about your business.
As Sophie stated, failing to gather candidate-experience data (and, ideally, in a single source of truth accessible to everyone in your TA organization) and routinely evaluate said data is "not only impacting your employer brand, but also your bottom line."
Translation? Constantly improving CX is now a must. That means collecting and combing over data for the full-cycle recruiting process: from when you find candidates in the midst of their job search to when you make a final decision regarding their candidacy for the roles in question.
The good news, per Sophie? "You don't need to be a data scientist to analyze your data."
For example, talent teams that use Starred, which provides feedback software for recruiting orgs, can send Candidate Net Promoter Score (CNPS) surveys to each person they interview.
In her Ascend session on CX, Sophie shared an example of a Starred customer with a solid CNPS score. As the company scaled, though, it started to see its score decline:
The business didn't change any hiring processes or alter its website (e.g., career page) in any way. Something was wrong — but its TA org recognized it could be fixed.
So, the talent team "started slicing and dicing their data," analyzing down to the individual recruiter level to determine what the core issue causing this decline may be.
The end result? The team discovered some new recruiters to the company were responsible for most of the lower CNPS scores. The TA director recognized more training was needed for those recruiters in order for its CX to improve.
Candidate-experience data will reveal different things for different talent orgs. But, as Sophie noted, you can only grow metrics like CX and CNPS when you measure and analyze them — and often.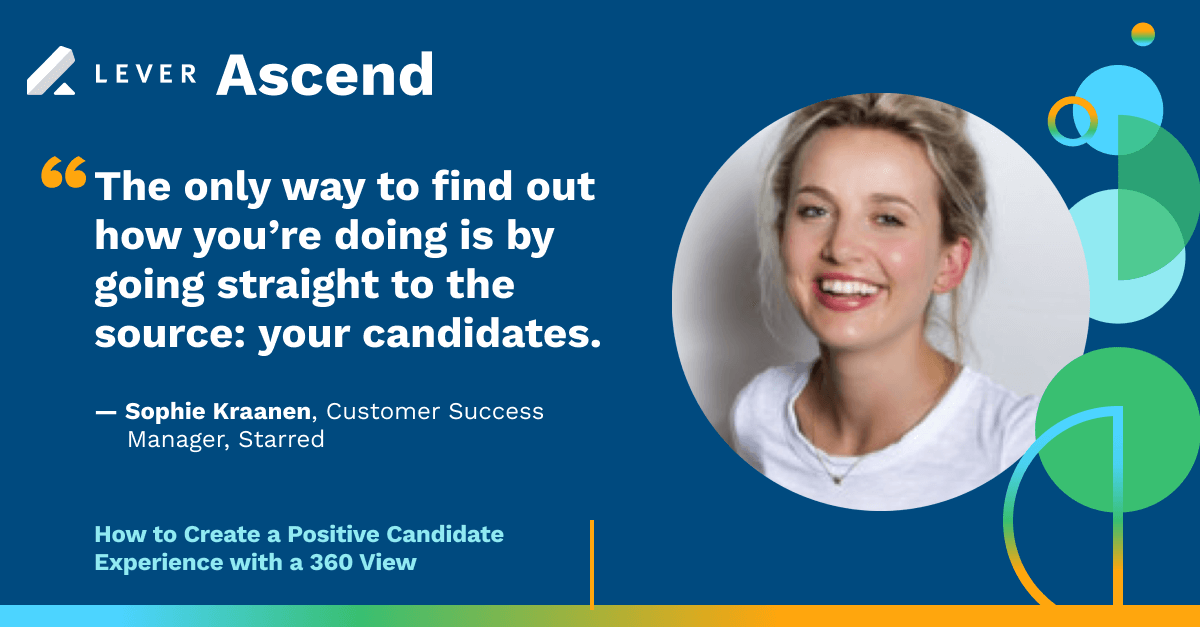 How failing to focus on CX — and adopt leading TA tech — can hurt your recruiting strategy
A barrier that prevents many talent teams from sending candidate-experience surveys and collecting a wealth of CX data is the use of legacy applicant tracking systems and/or other disparate TA tools.
For instance, many old-school ATS lack functionality that enables TA professionals to automate CX-survey delivery to candidates. What's more, they don't have built-in analytics capabilities that helps talent orgs easily and efficiently assess the results of those surveys, store the data in per
Leading ATS — or, better yet, a complete talent-acquisition suite with traditional ATS features as well as a candidate relationship management (CRM) platform, like Lever — offer recruiters and other TA specialists the ability to send customized candidate-experience surveys to applicants and sourced candidates.
Consider Lever customers. They can tailor the questions as needed based on role, region, or department in a matter of minutes. Just as important, they can configure and automate how and when CX surveys trigger to candidates, thus ensuring they never send one out at the wrong time.
Ultimately, they can collect a wealth of quantitative (e.g., numeric satisfaction ratings) and qualitative (e.g., general views on interactions with recruiters and interviewers) using Lever's automated CX surveys.
Regardless of the TA technology you use to improve the candidate experience and gather CX data, Sophie stated it's essential to take action on that data — and get as granular as possible.
"The way you treat your candidates matters," Sophie told the (digital) Ascend crowd. To elevate your CX efforts, Sophie said talent organizations must do three things, in particular:
Ask the right questions in CX surveys: The sole CNPS survey question in Starred is set in stone: "Based on your experience, how likely are you to recommend others apply to our company." In Lever, though, you can ask an array of different questions regarding candidates' experience in each stage of the recruiting and interview process and even allow them to offer open-ended responses.
Gather data in a streamlined, automated fashion: Leveraging manual spreadsheets is no longer an ideal (or efficient) means of collecting and reviewing candidate-experience information. You need talent-acquisition technology that automates most of your core recruiting processes, including and especially candidate nurturing and CX-data collection.
Take proactive measures against CX data: Insights are only valuable to your TA team when you use them to adjust your talent-acquisition processes and day-to-day activities.
The primary takeaways from Sophie's talk: Don't just take a look at your overall CX feedback and CNPS score. Segment responses by region, recruiter, department, and other 'buckets' to boost your TA team's data-driven decision-making and identify areas for improvement in your recruiting strategy.
Prioritizing candidate experience now essential for TA teams
With richer context regarding your 'promoters' (e.g., talent that gives you the highest CNPS score) and those who had underwhelming or so-so candidate experiences, you and your TA team can more capably and effectively determine what should and shouldn't change in your strategy, per Sophie.
From the language you use in job descriptions, to the cadence of automated email-nurture campaigns, Sophie stated taking initiative on CX data to enhance weak points in your TA program is how you can provide an across-the-board, positive candidate experience to every job-seeker whom you recruit.
Watch Sophie's entire Lever Ascend session to find out how you can better analyze the candidate experience and use your in-depth CX insights to refine your recruiting strategy top to bottom.