Companies have made concerted efforts to create diversity, equity, and inclusion (DEI) programs in their workplaces in recent years. Efforts that — when executed well and align to the business strategy, values and company values and mission statement — are resonating with employees.
However, despite this focus on DEI, recent SHRM Institute research shows many orgs, including small and scaling businesses, lack the necessary investment in and resources for successful and sustainable DEI initiatives focused on: revamping their hiring practices; adding more diverse talent across their workforce; and creating safe, welcoming and fair work environments.
Lever's 2022 State of DEI report also found 48% of employees said DEI training provided by their leadership team felt more like a checkbox on their company's diversity goals.
(In other words, not a legit effort to realize a more diverse workforce comprised of people of different races, genders, gender identities, sexual orientations, and other traits.)
These C-suites' efforts didn't reflect a sincere and devoted willingness on their part to improve DEI in the workplace and ensure groups of people from various backgrounds were given equal opportunity both in the recruitment process and to excel and advance within their orgs.
The takeaways from this research?
Many workers do believe their companies are making considerable progress with DEI. But, there are seemingly just as many workers who also think more can (and should) be done to address problems with their DEI programs. Including and especially the:
Lack of transparency about how the programs are run and how decisions are made
Feeling programs are tokenistic or performative rather than genuinely committed to DEI
Sense programs benefit those are already in power rather than marginalized groups
Your org's respective DEI programs — including those tied to your your diversity recruiting and hiring and internal mobility efforts — need the proper structure (i.e., a dedicated Chief Diversity Officer and DEI committee said CDO runs) and backing of your leadership team to succeed.
That begs the question: What can you and your talent team, human resources department, and executive staff do to aid the collective efforts of your DEI committee to realize a more diverse, equitable, and inclusive workplace in the months and years to come?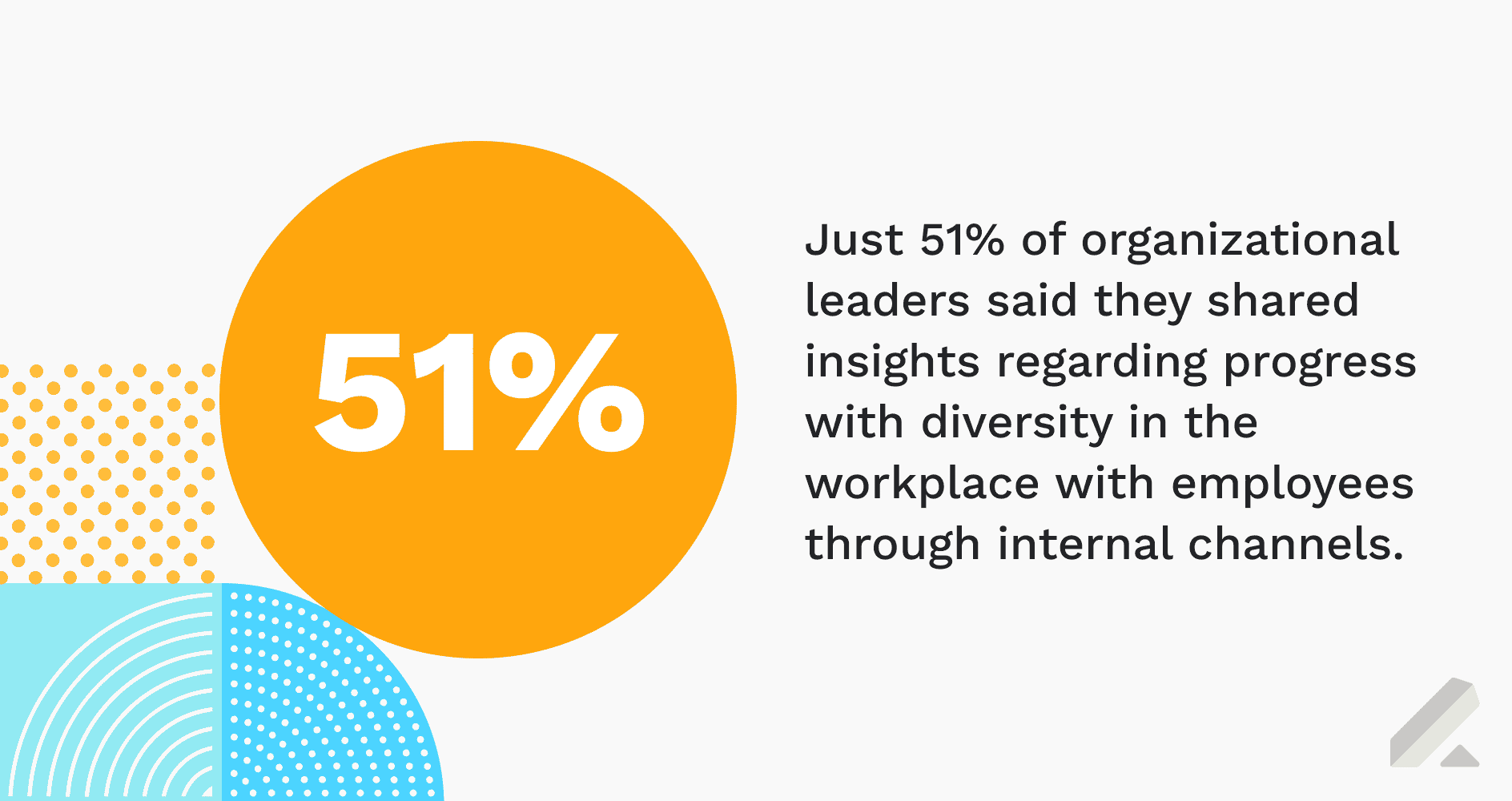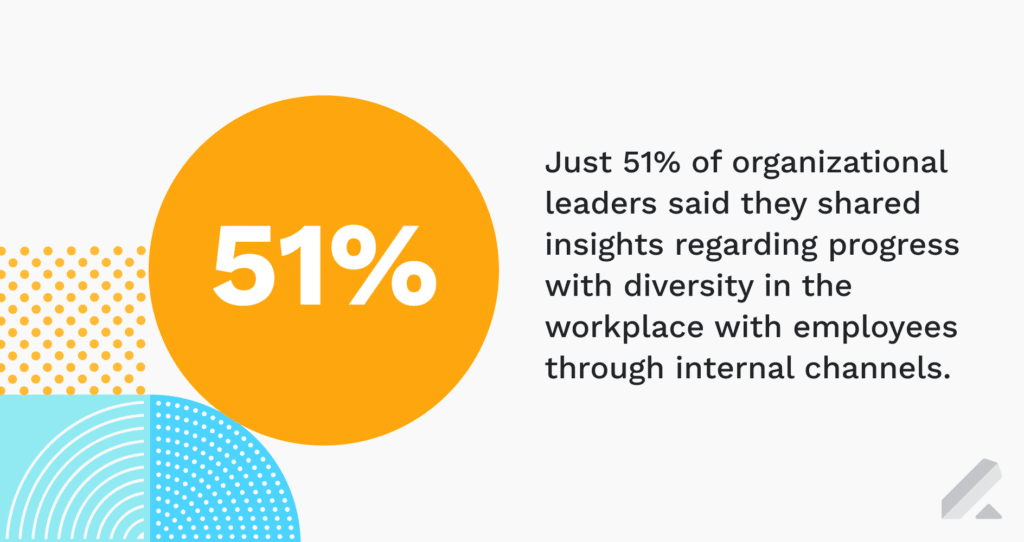 What today's workers think about their orgs' DEI programs (and progress with them)
Before we offer advice and insights regarding how you can implement new DEI programs (or modify existing ones) to ensure your workforce approves of your direction with them, it's worth taking the time to understand their current sentiment of DEI efforts at large.
Generally speaking, workers are mixed on whether their company's DEI programs are effective, with some feeling that the programs are helpful and others doubting their effectiveness.
Speaking with Fast Company, Maximum Communications CEO Ayana King said DEI programs are usually only impactful when they are strategized and carried out from the leadership team.
"The most effective way to ensure [DEI] program success is through a top-down approach in which leaders demonstrate and communicate the value in diverse, inclusive, and equitable workplaces," said Ayana.
Our State of DEI report found that, whether started by someone in your C-suite or a DEI committee member, implementing strategic DEI programs that are constructed based on (and regularly optimized around) the opinions and suggestions of your entire workforce is essential.
And that requires C-suites to implement a truly empathetic leadership approach.
"It's clear that one of the biggest changes companies must make when it comes to DEI is to shift their approach to lead with more empathy," per the report. "With so many employees feeling hesitant to bring their full selves to work, companies need to ensure that they are leading with empathy."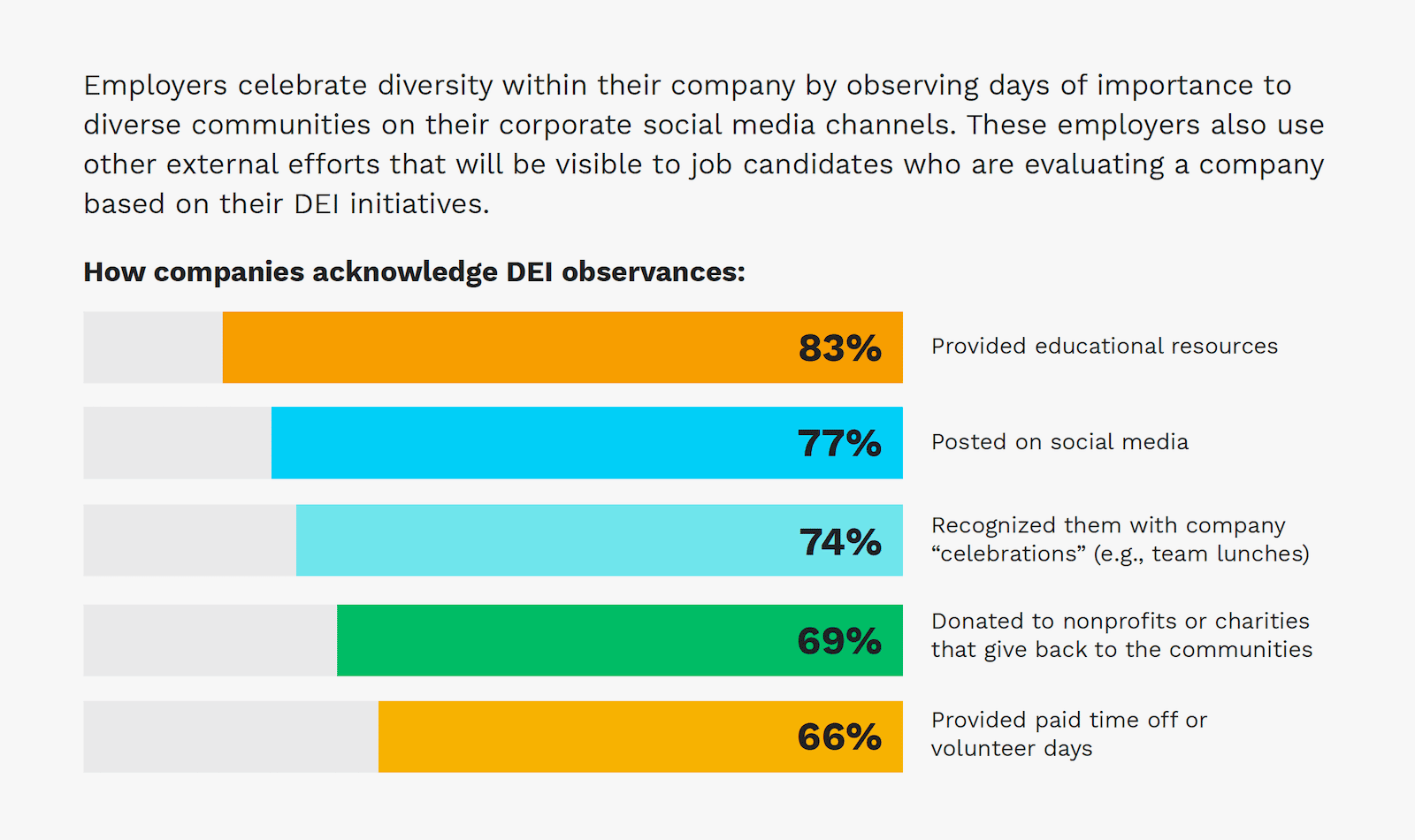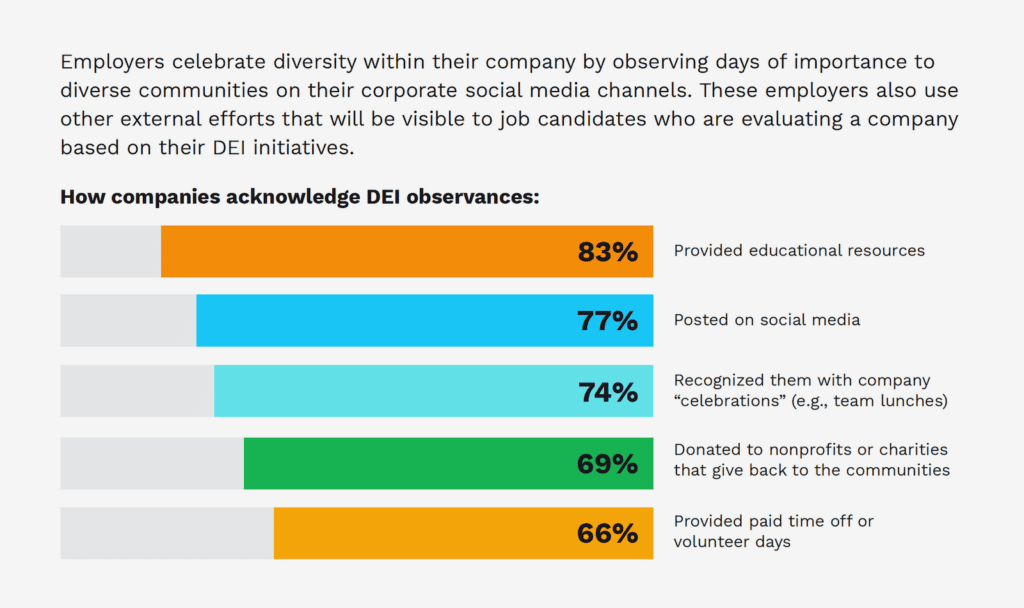 Benefits of DEI programs: The positive impact of diversity, equity, and inclusion initiatives
Put plainly, the pros of diversity, equity, and inclusion programs are many:
They can help create a more diverse and inclusive workplace where employees feel comfortable and respected. Ideally, it will also become an essential aspect of the hiring processes for the company.
What's more, dedicated DEI programs can help improve an org's bottom line by attracting and retaining top talent from underrepresented groups.
Companies with above-average diversity in leadership teams saw an increase in innovation by 19%, while diversity-driven companies saw a 14% higher share of the revenue from new products.
Despite these many advantages to DEI-oriented initiatives, companies face certain challenges when implementing DEI programs in the workplace. For instance, employees may feel that their company needs to do more to support diversity or that the program needs to meet their needs.
One specific example? Employee resource groups (ERGs).
Today's DEI leaders must prioritize the creation and support of ERGs. These groups are made up of likeminded individuals and, in some instances, allies of a given group or cause tied to an ERG.
To create safe spaces for employees to both meet and share concerns, thoughts, ideas, and opportunities that can help them thrive personally and professionally, executives must work with closely their DEI leader and committee.
By doing so, they can see what communities exist within the business that would likely benefit from having a dedicated ERG that brings together workers and, in turn, enhances the culture.
Moreover, DEI programs can be costly and time-consuming to implement, and there may be resistance from management or other employees. In order to be successful, DEI efforts must have buy-in from all levels of the org: from upper-level management to entry- and mid-level employees.
As Alphabet CEO Sunday Pichai said, "A diverse mix of voices [across one's business] leads to better discussions, decisions, and outcomes for everyone." Notably, diversity throughout an org leads to greater innovation and productivity. (Translation? A better bottom line for businesses.)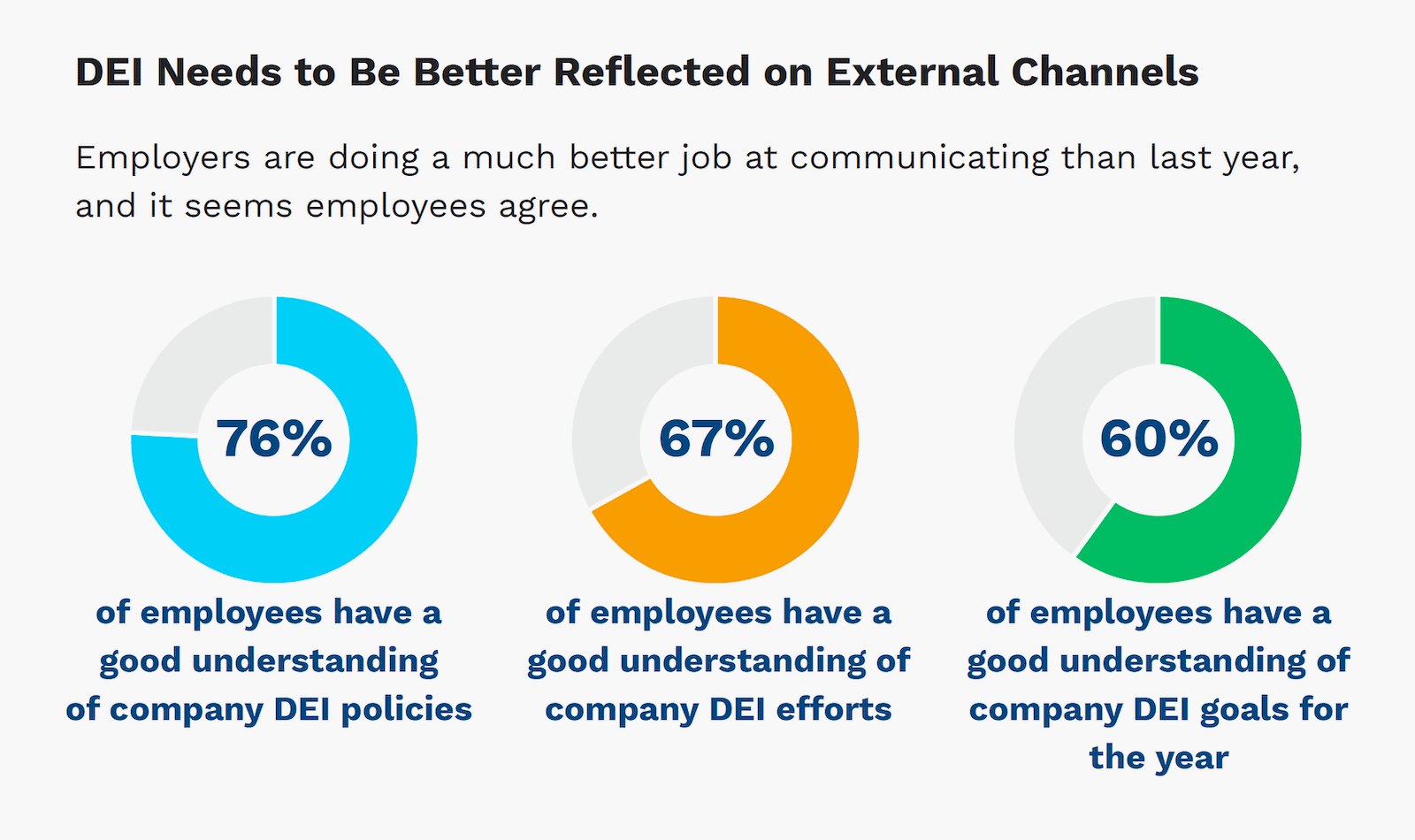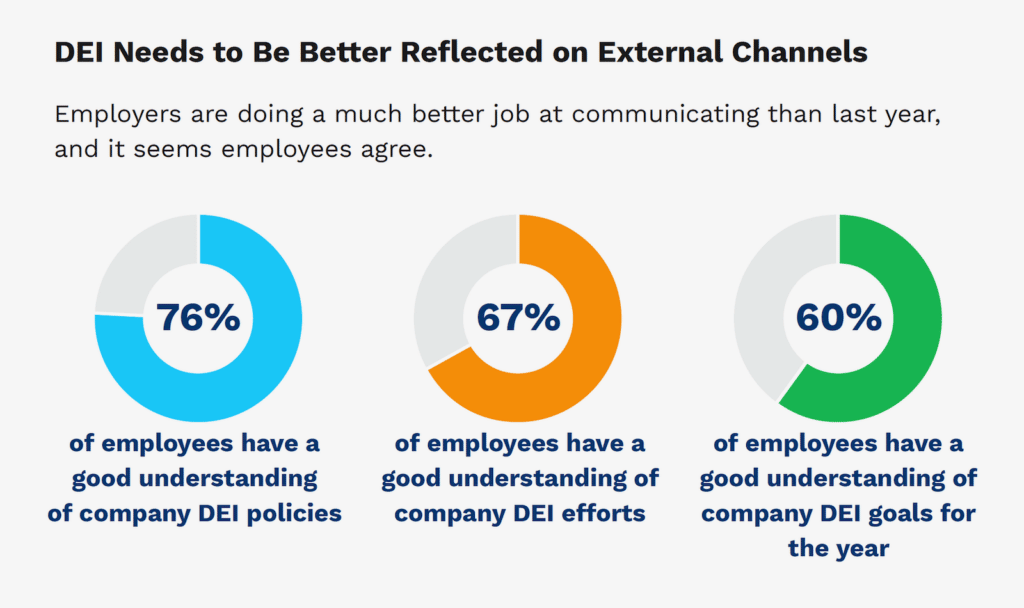 How to implement more effective DEI programs
In order for your company's DEI programs to be more effective, they need to be tailored to the specific needs of your business as well as your workplace culture.
Whether it's through ongoing diversity training or standalone, ad-hoc meetings with each department, DEI programs are necessary to better attract and retain employees and build an enviable company culture that bolsters your employer brand reputation.
Some best practices to follow when creating new DEI programs for your business include:
Create measurable goals. When you create measurable goals for DEI, you can define your organization's needs and set a quantifiable standard for success.
Identify and address fixes to internal inclusion problems first. Knowing and offering solutions to systemic issues around inclusivity at your organization can show you, your DEI council, and your e-staff care about making progress.
Create a safe space for sharing. Allow employees to share stories, thoughts, ideas, and recommendations in a welcoming environment. This helps create a long-term culture of positive interactions around diversity and inclusion.
Make the leadership team accountable. Diversity leaders need the support of their C-suite to achieve their OKRs associated with their DEI programs.
Arguably the most important best practice revolves around intent with DEI programs.
"If you set your intention from the beginning, it builds a framework you can fine-tune as you go along," Harness.io Chief People Officer Luan Lam recently told CIO.
Ultimately, the success of your org's DEI programs depends on your performance against predefined KPIs tied to each program, the level of buy-in from leadership and employees, and the execution — and regular optimization — of your DEI initiatives.
"You can't really know how well you are doing at building the inclusive environment … if you don't set goals and measure your progress against them," CIO's Christina Wood wrote.
Find out how Visual Insights in LeverTRM can help you improve your diversity recruiting and hiring efforts. Schedule a demo of our complete ATS + CRM today.