A growing number of companies no longer require college degrees as a prerequisite to consider potential candidates for certain roles and teams. But campus recruitment remains a top priority for many organizations across industries.
The National Association of Colleges and Employers' (NACE) Job Outlook 2022 Spring Update survey found employers polled intended to hire 31.6% more new college grads from the class of 2022 than from the class of 2021.
Undergraduate and graduate students are a primary hiring target for many businesses — and perhaps an increasingly important one, given the number of experienced professionals who quit amid The Great Resignation.
That makes it critical to have a well-constructed campus recruitment strategy.
Campus recruitment: Much more than simply visiting actual college campuses
We get it. "Campus recruitment" implies talent acquisition specialists must physically attend career fairs and other university-sponsored recruiting events to speak with students for entry-level positions and internship programs.
However, that's not the case.
Many companies with a dedicated campus recruiting team within their overall TA team send recruiters to in-person gatherings at local colleges.
But, their campus recruiting efforts also entail digital marketing activities to attract top students at institutions of higher learning worldwide.
Another 2022 NACE survey found many employers have blended college recruiting approaches that involve offline programs and online activities to attract undergrad talent.
Several employers said they planned to engage students for paid and unpaid positions in the fall semester, not just the spring semester when many students graduate and typically begin looking for employment opportunities.
This type of hybrid campus recruitment strategy is how you and your team can bolster your talent pool with candidates you can engage in the near term for active roles and months down the line if and when new roles emerge.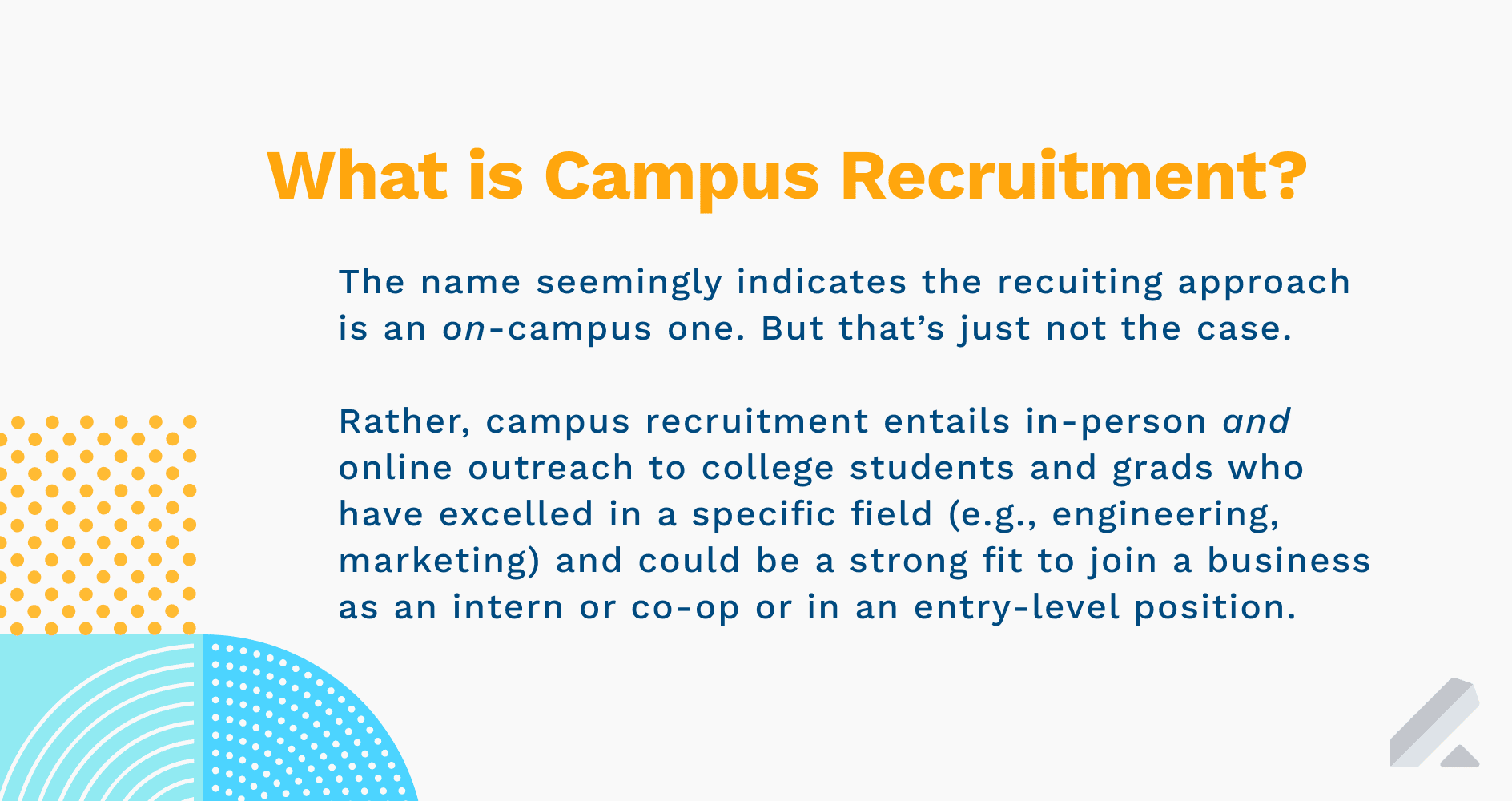 How to build your campus recruitment strategy
Want to bolster your talent pipeline with undergraduates who could be strong fits for upcoming internships or part- and full-time roles at your business?
Here is how you and your TA team can identify potential candidates at colleges and universities through a mix of both in-person and online engagement.
Build relationships with college professors and leaders
Few know the currently enrolled students you may want to consider hiring better than their professors (particularly those who often work with students one-on-one).
Develop relationships with professors at colleges or universities where you allocate campus recruiting resources. Similarly, connect with other educators and department heads at these institutions whose programs and courses align with your business needs.
Let's say you're a software firm with engineering headcount needs. It's great to build a relationship with leaders at schools known for their esteemed engineering programs.
"Professors often have considerable insights regarding their students — particularly top-performing ones — including their proficiencies and professional ambitions," said Lever Sr. Technical Recruiter Erica MacDonald.
"That makes them an invaluable resource for recruiters to tap into."
Another ideal relationship to build at colleges and universities where you and your talent team want to source new candidates is with career services.
This department can connect applicable students with you and your talent acquisition team, based on co-op, internship, or other job-related criteria you share with them.
They can even act as an intermediary with interview scheduling and relay info about your organization (e.g., business model, recent growth, diversity hiring). This info can then (ideally) entice students they speak with to apply for roles at your company.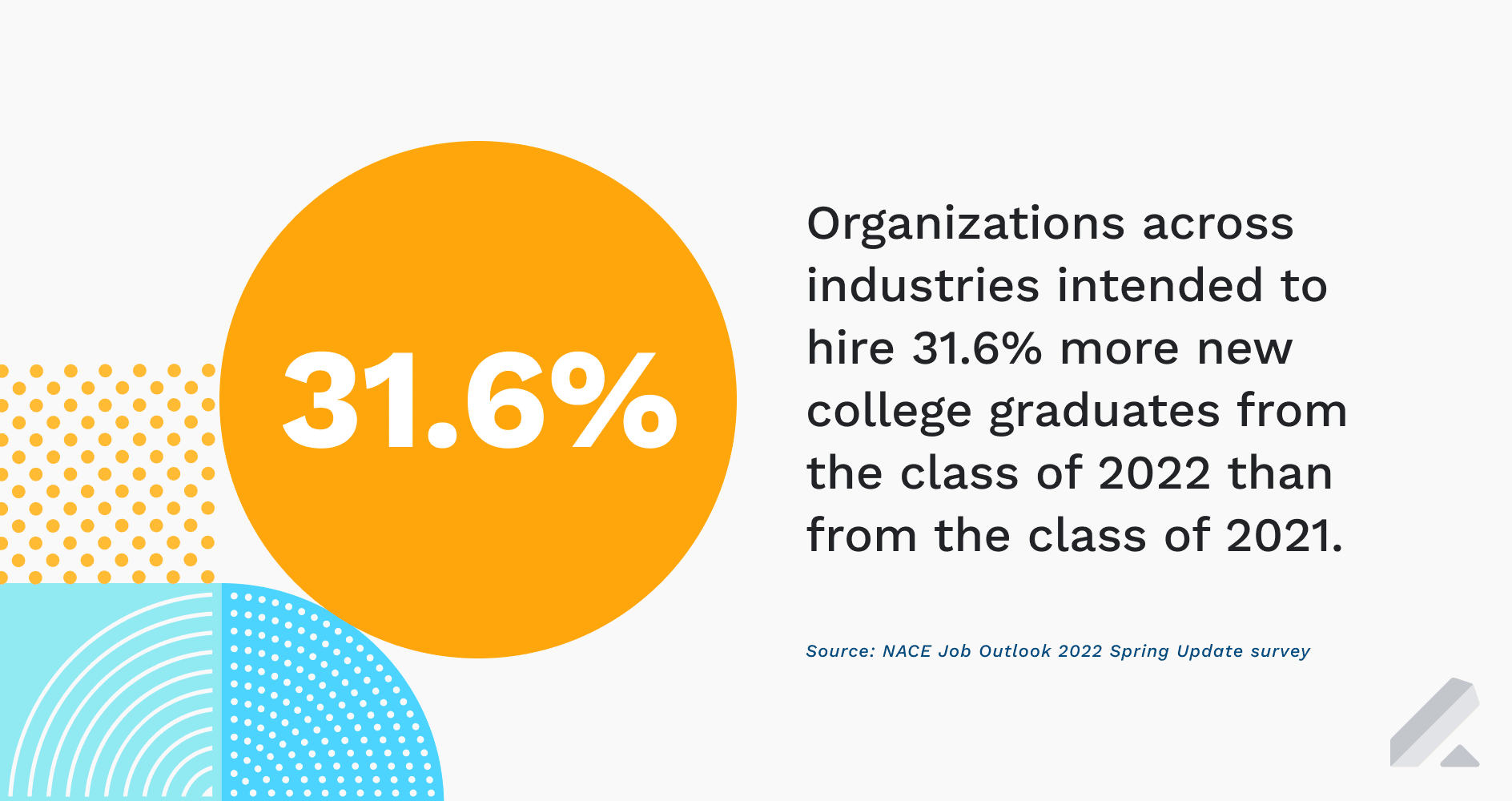 Connect with students of interest via LinkedIn
Some talent teams want to speak with undergrads from certain programs at specific universities that align with their co-op or internship openings.
Other recruiting orgs prefer to target students who have recently created LinkedIn profiles based on their listed skills and experience via InMail.
Both approaches are worth exploring and testing to see which works best for your team. The key is to use the same types of messaging in both recruitment marketing activities:
Explain how the students in question can gain real-world experience in one or more business areas that align with their career interests and aspirations.
Detail your office environment and related benefits (e.g., in-office perks offered, like free snacks; sleek computers and equipment offered to workers).
Note the distinct work-related challenges and problems students of interest will help address and solve in their time with the company.
Relay the potential for long-term employment opportunities to co-ops and interns, should they perform well in their initial role at the business.
"You can certainly leverage other social media sites and career centers and communities to connect with college students as part of your campus recruiting," said Erica.
"But LinkedIn is arguably the most viable online sourcing avenue that can help you and your talent team connect with high-quality candidates — college-age and otherwise — for open roles across your business," Erica added.
You and your talent team likely already spend much of your time sourcing on LinkedIn. However, if you're a LeverTRM user, you can use our Chrome extension to auto-create new profiles for candidates you source.
Now, you can add students whose skill sets, degrees, and other background info matches closely with your needs and preferences for co-ops, internships, and other openings.
Feature co-ops, interns, and employees on your career page
A competitive differentiator for employers who want to hire young, diverse talent is to show off their diverse workforce in campus recruitment marketing collateral.
"Written and video employer brand testimonials from existing employees — ideally, those in different roles, on different teams, and with different backgrounds — can help you show upcoming and recent graduates what it's like to work for your org," said Lever Sr. Technical Recruiter Henry van Benten.
You can spotlight individuals who are currently in your co-op or internship program and employees from those programs who eventually became full-time employees.
For your hyper-targeted campus recruitment efforts, you can even feature employees who attended the schools where you historically source and hire graduates.
If potential student applicants reach out to learn more about your business, you can connect them to one or more alums of their schools who work for your company so they can share what it's like to work there and their career path to date.
College graduates, like many other job seekers, want a sense of purpose with any role they accept. Learn why employee fulfillment is the future of work in our on-demand webinar.