An applicant tracking system (ATS) is widely used by recruiting teams. The best ATS helps them:
Develop and optimize their career sites and job postings to make sure roles resonate with top talent
Identify prospects in career-centric communities so they can build dedicated ATS profiles for them
Automate relevant, timely, personalized messaging to both active and passive job seekers alike
Connect their human resources systems to their ATS to sync their workforce and talent analytics
Review near-real-time data associated with recruiting performance and candidate experience
However, the term 'ATS' gets tossed around so much it's even used by solutions that don't match the actual ATS definition. This leads talent leaders to invest in the wrong tech.
Below, you'll find a complete guide to applicant tracking systems, including insights on what features constitute a legit ATS and how to get the most value from the cloud-based recruiting software to streamline your sourcing, nurturing, and interviewing and hiring process.
What is an applicant tracking system?
The applicant tracking system definition is a user-friendly solution used to track top candidates — those who apply for job openings as well as passive prospects recruiters proactively engage for open roles — through the entire recruiting process: from resume-reviewing and interview-scheduling to feedback-compiling and offer-extension.
Look at the talent acquisition tech stacks for all Fortune 500 companies. You'll find a best-in-class applicant tracking system right at the center, helping their recruiters better identify and engage qualified candidates and talent leaders analyze team performance.
What you won't find in their tech stacks, though, are legacy ATS that deter efficient recruiting and hiring and, instead, prevent TA specialists from being highly productive and collaborative.
As the Lever team stated in our applicant tracking system buyer's guide for talent leaders:
"Old-school ATS help recruiters review applications and resumes and move job seekers through the interview process. They also enable recruiters and other hiring stakeholders to hire for key roles. Once this process is over, though, all that data disappears into a black hole (i.e., becomes inaccessible and unusable for talent teams)."
TL;DR: A leading ATS is an indispensable recruitment and hiring platform every org — regardless of industry, size, or business model — needs to fill key positions across their companies.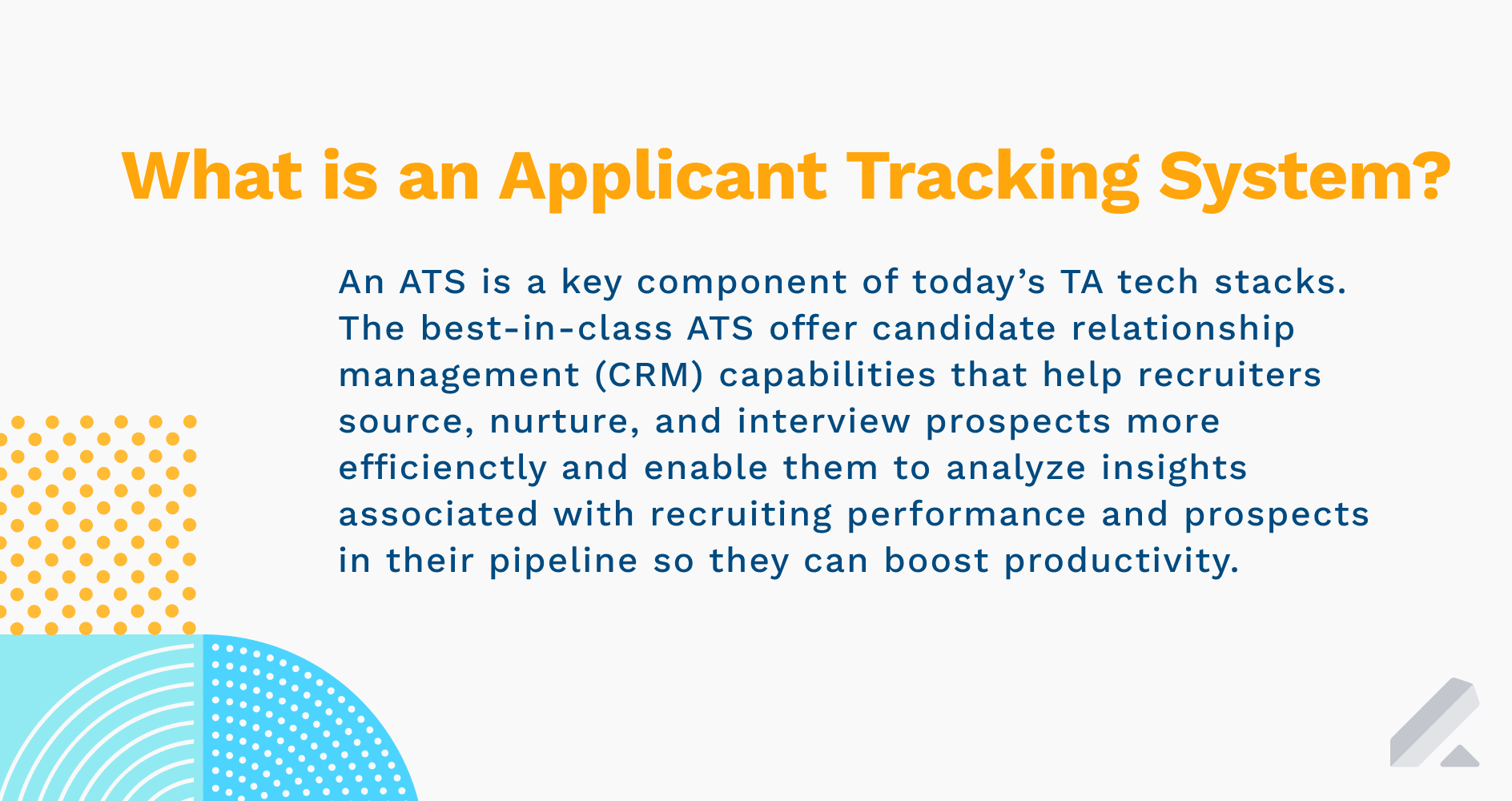 3 biggest applicant tracking system benefits
That's the high-level ATS definition. Here are specific benefits of the recruiting software.
1) Unifies candidate data and details in a single source of truth system
Reliance on disparate tools and spreadsheets to store candidate info is a common pain point for talent acquisition teams worldwide. That said, it's one they can address with the right ATS.
The best applicant tracking systems centralize all data points and info related to prospective (and eventual) hires. This helps recruiters easily discern who's who in their database and, thereby, know which prospects are worth engaging (or reengaging) for certain roles.
2) Streamlines and automates many key day-to-day tasks for talent teams
Not every recruiting activity can be put on 'autopilot' through the use of automation. But you may be surprised just how many of your (and your team's) daily tasks can be automated — and, therefore, how much of your manual labor can be eliminated outright.
Some leading ATS providers, like Lever, help recruiters implement rules and workflows and, in turn, streamline their requisition, job-posting, and offer approvals.
3) Improves communication and collaboration among hiring stakeholders
Disconnect and poor communication between recruiters and hiring managers leads to missed KPIs and frustration on the part of all parties (including members of the C-suite).
That's one big reason the ATS came to be. It ensures talent specialists can liaise closely with other hiring stakeholders to stay on the same page about things like which open reqs are top priority at a given moment and where candidates of interest are in their funnel.
Features of leading applicant tracking systems
While ATS are considered essential solutions for recruiters and hiring managers to use in their joint efforts to convert premier prospects into new hires, not all ATS are the same.
If you're looking into onboarding a leading ATS — ideally, one that also offers robust candidate relationship management capabilities (CRM) — to replace your existing recruitment platform, you'd be wise to invest in one that offer the below features and solutions.
[View even more must-have features to look for in prospective ATS here.]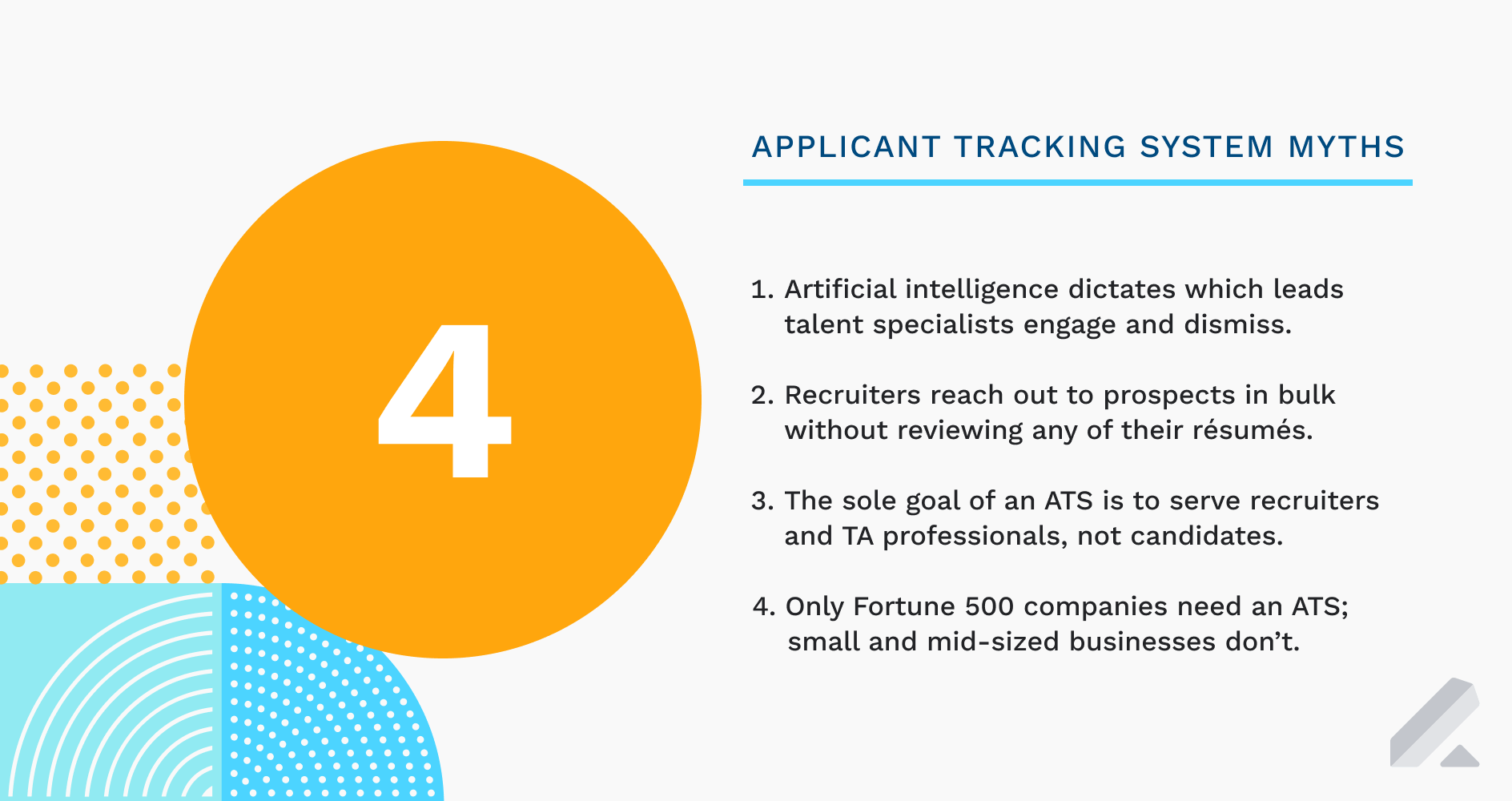 Intuitive UI to help track tasks/candidates
Any software provider, irrespective of their target audience (e.g., recruiters, marketers, sales reps), knows the value of an easy-to-navigate user interface, in terms of helping said audience easily find the screens, filters, and info what they need to thrive with their duties. And yet, not all of these vendors offer such an intuitive UI.
Any ATS you consider getting must have an instinctive, visually compelling UI for recruiters.
Job application and resume review feature
Consider Lever. Our ATS + CRM has Fast Resume Review. This allows recruiters to sort through applications and resumes swiftly and archive and advance talent quickly and efficiently.
Ability to universally post to key job boards
Many applicant tracking systems connect with popular job boards like LinkedIn, Glassdoor, and Indeed and niche job communities like AngelList and GitHub. Not all, however, enable universal posting to each of these platforms in a few simple clicks.
Interview-scheduling/-tracking capabilities
Managing the interview schedules for both candidates and interview panelists used to be a nightmare for recruiters and candidate experience specialists charged with owning and organizing the interview cycle.
That's not the case anymore — as long as you have a top-rated applicant tracking system.
For instance, Lever customers can use Easy Book, which enables prospects to pick days and times for interviews that align with openings in interviewers' schedules, thanks to a direct sync with their calendars (e.g., Google, Microsoft Outlook).
Analytics capabilities to track entire funnel
Recruitment dashboards that show real-time progress with pipeline growth, job listings, open requisitions, operations, interviews scheduled, offers extended/accepted, and other facets of your recruiting: That's what a first-rate ATS helps talent teams track with ease.
Candidate experience and DEI survey tools
Understanding the diversity of your prospects and experience they have with your recruitment process is simplified with an ATS that helps you deliver DEI and CX surveys to candidates and evaluate insights related to those surveys in one of the aforementioned dashboards.
Built-in nurturing with customizable templates
As our talent-nurturing eBook for recruiters explains, "Well-timed, bespoke communications with candidates has proven to be a competitive differentiator for talent acquisition teams." But it's only a big differentiator with an ATS that has built-in nurture functionality and pre-set templates you can edit and reuse for multiple roles/teams.
Direct integration with other recruiting tools
As noted, the best ATS connect to key HR systems. But they also integrate with integral tools that help you conduct background checks, collect e-signatures from new hires, liaise with interviewers, carry out video interviews, and execute on other vital recruiting tasks.
Download our complete ATS Buyer's Guide to get insights into the eight specific steps you and your org must take to pinpoint the right recruiting platform for your talent team.