The business climate and labor market remains a tough nut for employers to crack in 2023:
On the one hand, Employ's Q1 2023 Quarterly Insights Report found half of professionals are not actively looking for new work, but are open to hearing about job opportunities.
On the other hand, layoffs and hiring freezes remain prevalent in several sectors — notably the tech space — which means much of the aforementioned talent is likely to stay in their current roles and delay exploring new opportunities until economic conditions improve.
Despite the downturn much of the world is experiencing, hiring will inevitable pick back up (as it always does). That means companies must be prepared to resume their active recruiting efforts to connect with qualified candidates who can help them achieve their growth goals.
In this instance, though, driving down their average cost per hire — that is, compared to their previous cost-per-hire data — will likely be more paramount than ever for these organizations, many of which have tightened the purse strings amid the still-ongoing market downswing.
Your business may be in the same boat as other employers today.
If that's the case, you need a more cost-efficient talent acquisition strategy that helps you both reduce your recruiting costs while still bringing onboard top talent to fill key roles.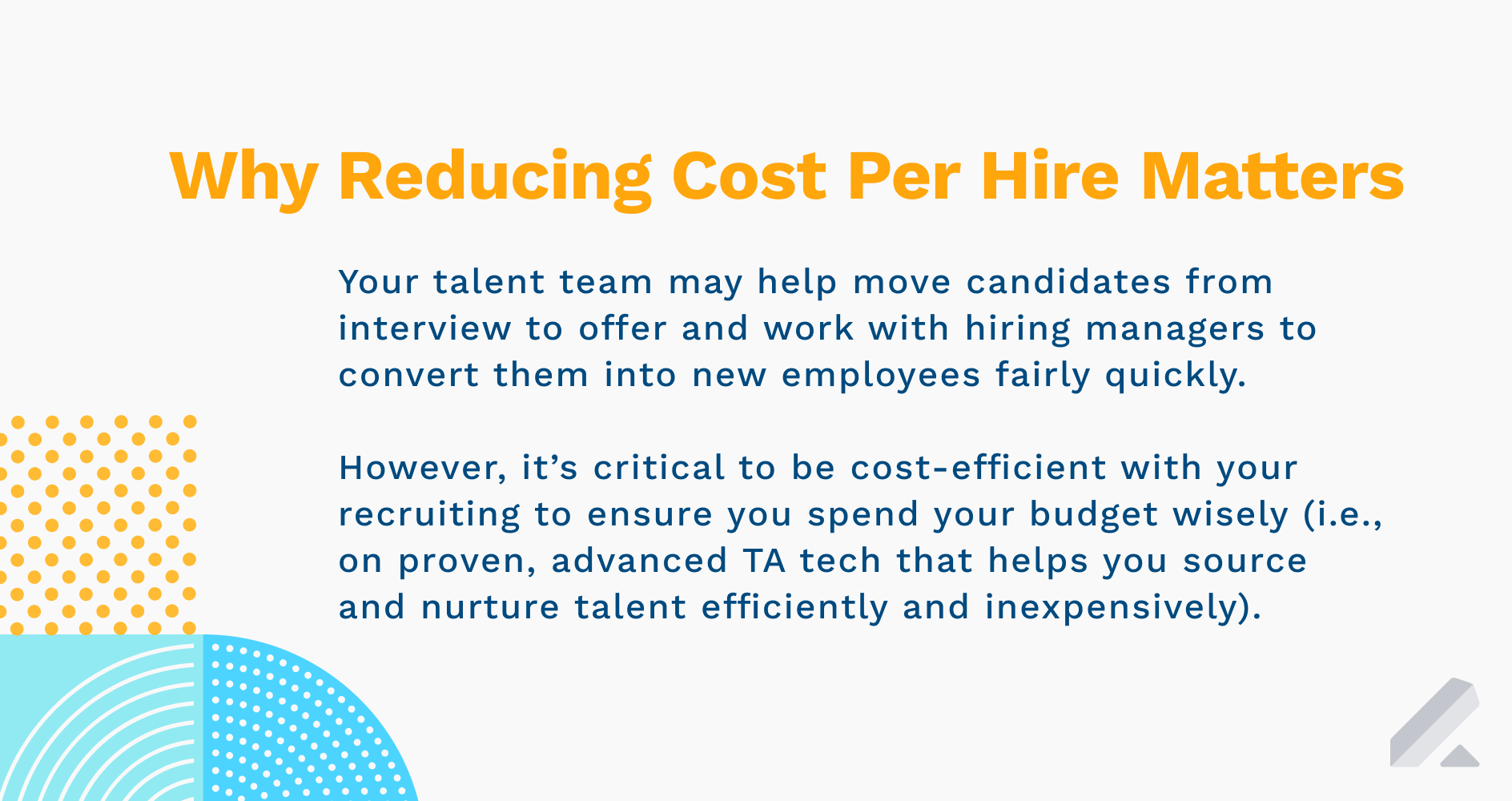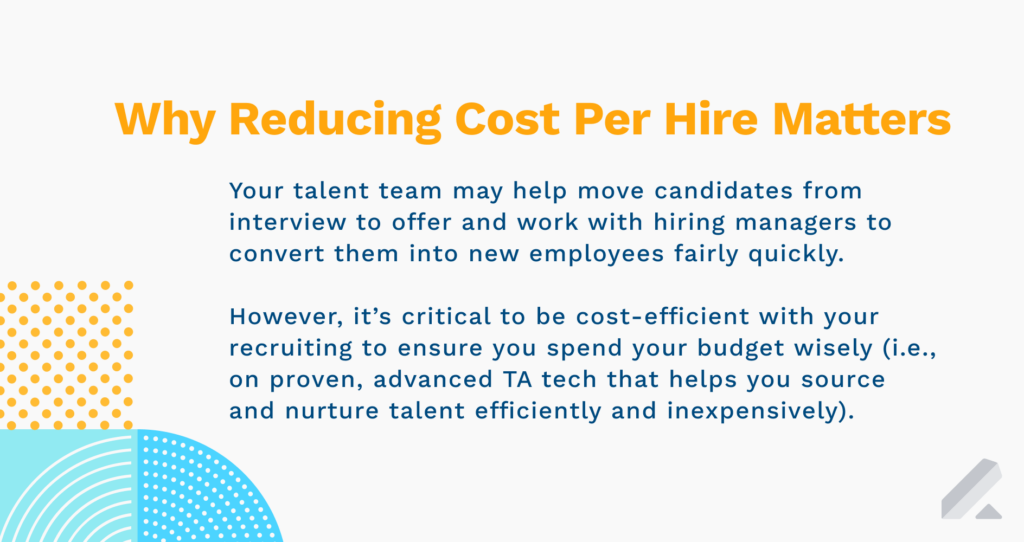 How a high average cost per hire can hinder your recruitment process and hiring efforts
The cost-per-hire formula is fairly simple: It's the total amount of internal and external recruiting costs divided by the total number of hires made (usually analyzed monthly).
A variety of internal and external costs associated with your TA strategy contribute to your company's average cost per hire:
From agency fees, to travel costs (e.g., to attend on-campus recruitment functions, job fairs, and other in-person events where job seekers often attend looking for new work).
On the human resources management side, there are also expenditures such as relocation expenses for new employees that impact to your org's overall cost per hire.
This combination of charges tied to your recruiting and hiring can add up.
That makes it vital to routinely track and attempt to lower your external and internal recruiting costs (and improve other crucial recruitment metrics) to execute a more economical talent acquisition approach for your business.
A few negative consequences of failing to regularly reduce your cost per hire include:
Wasting money that could be better spent within TA
Investing in recruiting tools that don't lead to more productive output for recruiters. Spending time sourcing candidates on job boards and career communities that historically don't yield many high-quality hires. Using an unproven recruitment process outsourcing (RPO) firm.
There are many tactics and tech TA orgs execute and onboard today that hurt their company's ability to increase their total number of hires made and lead them to waste valuable team budget — budget they may not get from leadership again, due to poor hiring ROI.


Not being able to work and close open requisitions quickly
When a recruiter allocates too much time, energy, and money to filling one role assigned to them, they, in turn, neglect other positions they've been appointed to fill.
Without calculating their cost per hire to discover the real, total cost — financial and otherwise — spent to fill each role, TA specialists risk falling behind on work, failing to add headcount to teams that perhaps desperately need it, and angering hiring managers.
Losing your talent acquisition team's "seat at the table"
Establishing clearly defined recruitment KPIs, monitoring the progress made around key recruiting metrics (ideally, in advanced recruiting software with built-in, dynamically updated analytics), and ensuring their team takes action on that data has helped many TA leaders get a seat at the decision-making table with other C-suite members.
In short, these talent acquisition leaders risk losing that seat, if their cost per hire continues to rise and their recruiters' efficiency and output continue to dwindle.
3 expert ways to reduce cost per hire (and realize a more cost-efficient hiring process)
Here are three best practices that can help you diminish your hiring expenses.
1) Be transparent about pay offered for active roles
Getting postings to in front of the right group of active candidates is certainly difficult.
But, you can boost clicks on your listings and applications for your open roles by listing your salary band ranges — something job seekers increasingly want and that can help you stand out from employers that don't list this pay data.
"The quality of applicants should be better [when you list pay], because they are more informed and can better determine whether or not they even want to apply," WTW Director, Talent and Rewards Mariann Madden told SHRM.
Because of these higher-quality (and possibly a higher quantity of) candidates applying, you can spend less time sourcing, more time engaging interested and qualified prospects, speed up your time to fill, and reduce your cost per hire.
"You have 4 to 8 seconds to catch a candidate's attention, whether they're looking actively or passively," technical recruiter Erica Thomas recently recently told CNBC.
"People want to know the bottom line: how much they'll be paid."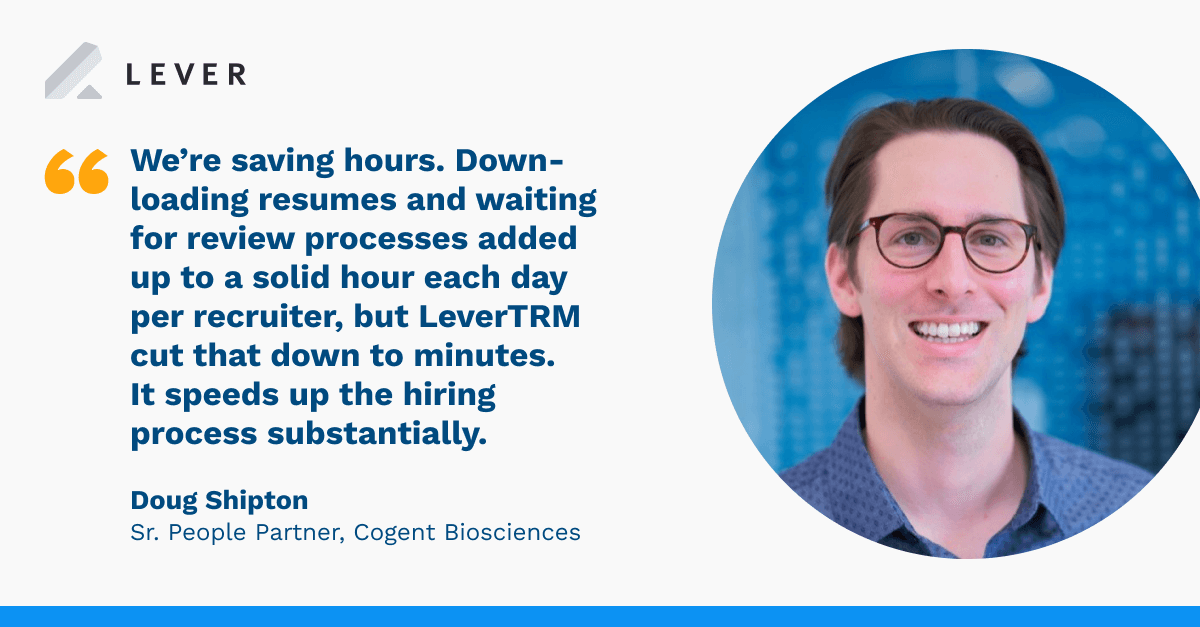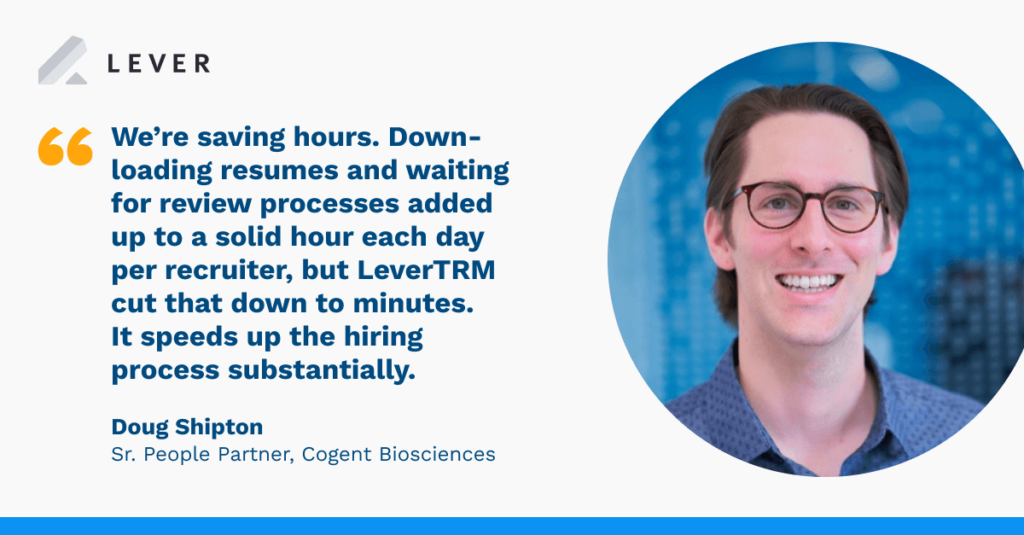 2) Assess the output of your TA tech and RPO firm
Let's start with your primary talent acquisition technology of choice.
Legacy, difficult-to-navigate ATS software is a big contributor to high cost-per-hire averages for many orgs. That's because these solutions have archaic database setups and lack advanced candidate relationship management (CRM) capabilities.
Conversely, an advanced, easy-to-use ATS system like LeverTRM has native sourcing, nurturing, interviewing, rediscovery, automation, and analytics functionality that streamlines many (if not most) important recruiting processes for TA teams.
This streamlined "back-end" work allows recruiters to spend their time where they should spend most of it: reaching out to and speaking high-value, likely-to-convert leads.
As for RPOs, there are different "flavors" of these firms that often specialize in sourcing and/or nurturing candidates for specific industries or types of hiring needs.
For instance, some RPOs help with high-volume hiring for manufacturers, seasonal hiring for retailers, and executive hires for enterprise orgs.
Knowing your company's headcount needs, product roadmap, and growth objectives for the foreseeable future along with your talent team's current bandwidth can help you and other hiring stakeholders at your business know which kind of RPO you need to aid your TA team.
NXTThing RPO shared a list of the five distinct criteria you and other tech and financial decision-makers must consider when evaluating recruitment agencies.
3) Put analytics at the forefront of your TA strategy
We'll make this best practice short and sweet:
It's (well past) time to use talent analytics — not feeling or gut instinct — to make intelligent, bias-free decision-making about which candidates to engage, advanced, archive and extend offers to, if you haven't already adopted such a data-driven approach.
Merging your recruitment and HR analytics in a single source of TA truth like LeverTRM enables talent leaders, operations managers, and specialists alike to analyze all elements of their collective and individual recruiting efforts.
"Accumulating data for the sake of it won't do your talent team any good," Snowflake Head of Marketplace Kieran Kennedy noted in our talent acquisition analytics maturity eBook.
"Measurement is the backbone of any successful data-driven approach, whether it's marketing or recruiting. Ensure whatever recruitment platform you use enables you to leverage your data to achieve tangible goals."
One such goal? Driving down your average cost per hire.
Implement a more cost-efficient recruiting approach with LeverTRM, our complete, native ATS + CRM solution for talent acquisition. Chat with the Lever team to learn more.