Our best-in-class ATS and CRM helps talent teams of all sizes achieve excellence — both from an operational standpoint (i.e., recruiting efficiency, collaboration, speed) and with their distinct hiring needs (i.e., meeting headcount quotas and helping their businesses scale).
And yet, we know we must continually optimize and enhance our talent acquisition suite to make it even more impactful and effective for TA teams.
With that in mind, here are all the new features and updated capabilities from our Fall 2022 product release that can help our customers improve their recruiting and hiring strategies and grow and scale their organizations as desired.
More triggers, conditions and actions are now available in Automation Hub
Lever customers use automated workflows to tackle many key tasks (and, simultaneously, reduce the amount of manual, labor work in their day-to-day).
But we also know many TA teams with our solution need more options regarding workflow triggers (i.e., the conditions, or rules, that lead to a desired action).
We've augmented our Automation Hub with additional triggers and actions.
Our latest upgrades empower recruiters, recruiting coordinators, hiring managers, and other LeverTRM users to put more work on (relative) autopilot and allocate more energy to sourcing, nurturing, interviewing, and building relationships with candidates.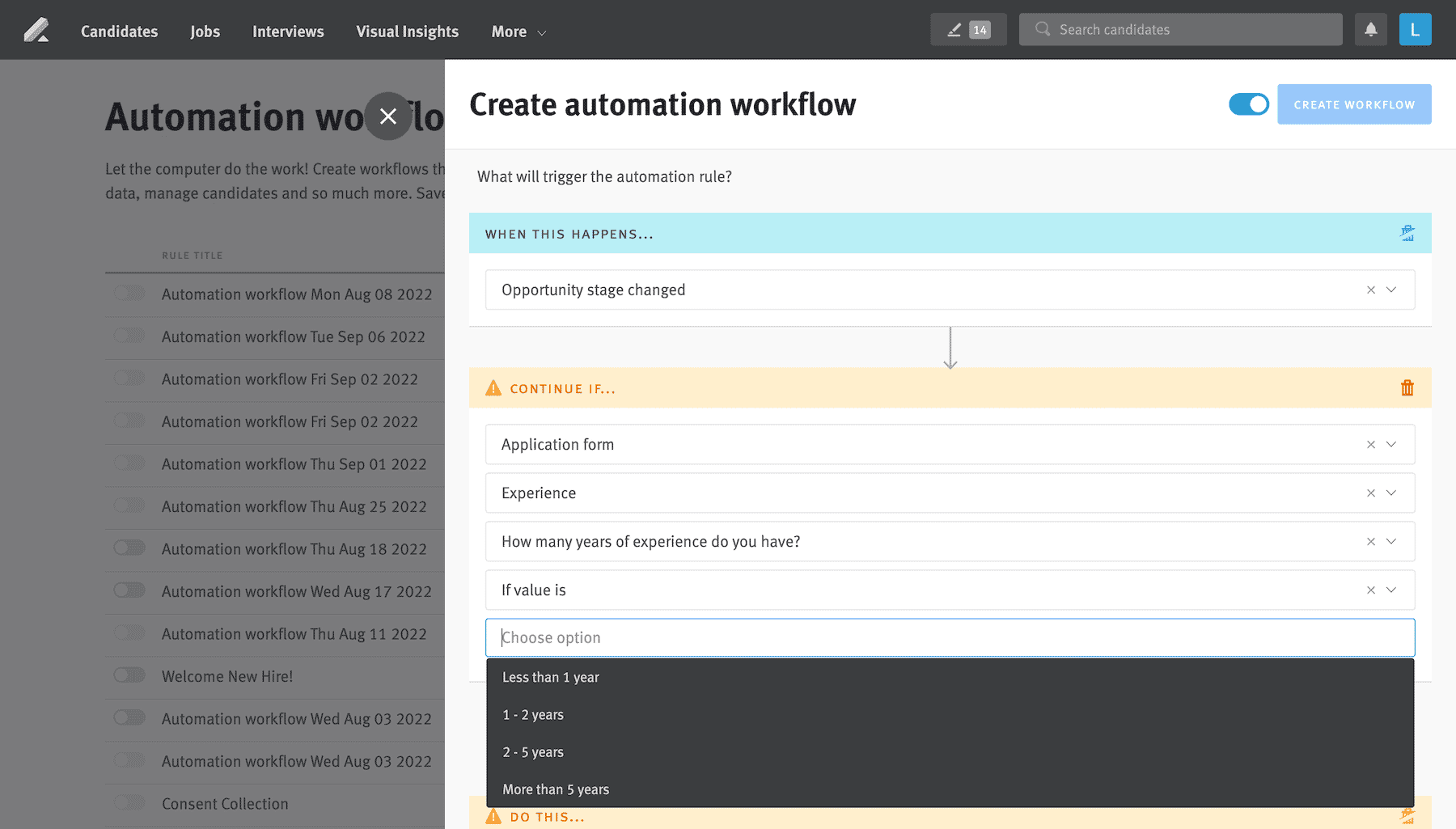 Our hybrid requisition management feature provides greater requisition flexibility
Creating and editing requisitions in one platform only to have to import them into another solution can be a hassle for many talent acquisition teams.
Our new hybrid requisition management functionality simplifies and streamlines this process for our customers. Specifically, it enables customers the flexibility to generate and modify requisitions in Lever while still allowing for new reqs to be created and edited via the API.
A pronoun field can now be added to Lever-hosted job pages and postings
Job seekers rightfully want to select their correct pronouns when applying for roles.
Similarly, TA teams want to give applicants the option to do so and note the proper pronouns in the profiles created for all prospects to provide them with a premier candidate experience.
All of this is now possible in LeverTRM.
Our new pronouns field allows LeverTRM users to document candidates' preferred pronouns. This ensures they refer to prospects correctly throughout (and, for those who are ultimately hired, beyond) their recruitment journey.
Pronouns are also visible in interview invites so hiring stakeholders who speak with candidates know the correct way to refer to them in and after interviews.
Offer field placeholders allow LeverTRM users to input custom calculations
Customizing offer field inputs in offer letters manually isn't efficient (or, for large talent organizations, scalable). Lever customers can optimize their offer process — and eliminate tedious, one-by-one updates to offers — by leveraging our new offer field calculations.
Our new offer field placeholders in LeverTRM perform addition, subtraction, multiplication, and division and calculate remainders.
This ensures offers automatically show the correct salary, bonus and stock option info.
That means recruiters don't have to worry about calculating compensation packages or exchange rates. All of that can be done within the offer letter template itself, thanks to our new calculations functionality.
Snowflake data sharing enables lever customers to blend their TA data sets
Lever customers can now also provision Snowflake data sharing directly from Lever. This reduces the need for our customers to manually export data to the data warehouse to glean greater insights into their strategy.
Snowflake helps many enterprise TA teams with Lever query data in the former. In addition, it sends more intricate reports using blended data (from Lever and other sources) to other business leaders and hiring stakeholders.
The Talent Leader dashboard provides a real-time summary of team activity
Visual Insights is the premier talent analytics solution for TA teams today — one countless Lever customers use daily to transform their recruitment models for the better.
The latest dashboard added to Visual Insights is our Talent Leader dashboard. This dashboard offers a holistic view of the entire talent team's real-time activity related to pipeline movement.
The dashboard also provides historical data for time to hire/fill and updates regarding which postings and requisitions have closed the fastest and have remained open the longest.
This data enables talent leaders to easily understand where their team stands with its collective recruitment efforts and share top-level stats to the broader organization.
Lever job postings can now be categorized as remote, hybrid or on-site
The remote work revolution is here to stay. Many companies — including Lever customers — continue to afford work-from-home and hybrid work opportunities to employees.
That means recruiters must denote which roles are remote, hybrid, and on-site to ensure candidates easily and quickly discern employers' preferred locations for available positions (and don't waste time in their job search).
Lever customers can now list remote and hybrid as the primary "Location type" instead of actual, physical office locations. This posting detail will also reflect on Lever job sites and integrated job boards as well as through Lever's APIs.
Several new integrations, including JobTarget, were added to our partner ecosystem
As with every quarterly Lever product release, we've added a number of new, direct integrations to our expansive (and ever-growing) partner ecosystem.
A notable addition featured in our Fall 2022 release is JobTarget.
Our new JobTarget integration allows Lever customers to automatically publish public postings to popular job boards and aggregators like Monster and ZipRecruiter.
Prospective applicants who click customers' job postings featured on these platforms are redirected to their Lever-hosted job site to apply for open roles.
We have also expanded our job board and advertising offerings included in our partner integration ecosystem. Some new additions this quarter include:
Talent.com: Applicants who apply for Lever-hosted roles featured in Talent.com's job search platform have their Lever candidate profile status auto-updated immediately after applying.
Instahyre: Our customers can get curated lists of top candidates through Instahyre. Files featuring talent of interest can sync directly into Lever, where new profiles will be created for those prospects.
Jobsora: The global job search engine syncs seamlessly with Lever. Applications submitted for Lever roles hosted in Jobsora are sent right back to Lever so recruiters can review them promptly.
Get more insight into these ATS + CRM updates (and our TA suite at large). Schedule a demo with our team today to learn how LeverTRM can elevate your team's performance.