New recruiting trends emerge seemingly every few months. And talent acquisition professionals need to keep up with them to stay ahead of the curve — and the competition.
Talent leaders and recruiters must stay on top of the latest news, predictions, insights, best practices, hybrid work rules, hiring processes, and employer branding (among many other areas) to recruit and hire efficiently in 2024 and beyond.
"The strategies deployed [by talent acquisition and human resources] could impact critical business outcomes for the rest of the decade," said Brandon Hall Group CEO Mike Cooke.
How companies adapt to the (likely continual) uncertain business climate in 2024 will vary. But talent teams must closely monitor recruiting trends as they arise to ensure they're prepared to meet their org's headcount and growth needs in the year ahead.
5 recruiting trends that will impact employers in 2024 (and the years ahead)
"Companies that understand the macro recruiting trends, remain vigilant in the face of competition, and anticipate turbulence will … thrive through an uncertain hiring landscape," according to Employ's Quarterly Insights Report.
With that in mind, here are five recruiting trends that will affect TA teams in 2024.
1) Retention will be a primary focus for companies amid economic uncertainty
"Labor hoarding" is a relatively new recruiting trend (of sorts) among employers.
Essentially, the concept refers to companies of all types and sizes — from mom-and-pop restaurants to Fortune 500 companies — attempting to retain as much of their existing workforce as possible amid ongoing economic headwinds.
Why? Because they understand current market disruptions won't last forever.
They want to be prepared to pick up their growth efforts on the other side of a potential recession. That is a markedly more difficult goal to realize if they lay off many employees to tread water now and have to hire replacement workers mere months from now.
One solution is for employers to offer career mobility paths to retain talent.
"Successful organizations that have high retention have high mobility," Phenom VP Global Strategy Cliff Jurkiewicz said at Lever Accelerate. "They have very engaged employees … and an ecosystem that supports that [mobility]."
Look for employers to revisit their internal mobility programs (or build ones from the ground up if they lack such a program) to give existing employees a path to promotion and entice them to stay with the organization for years to come.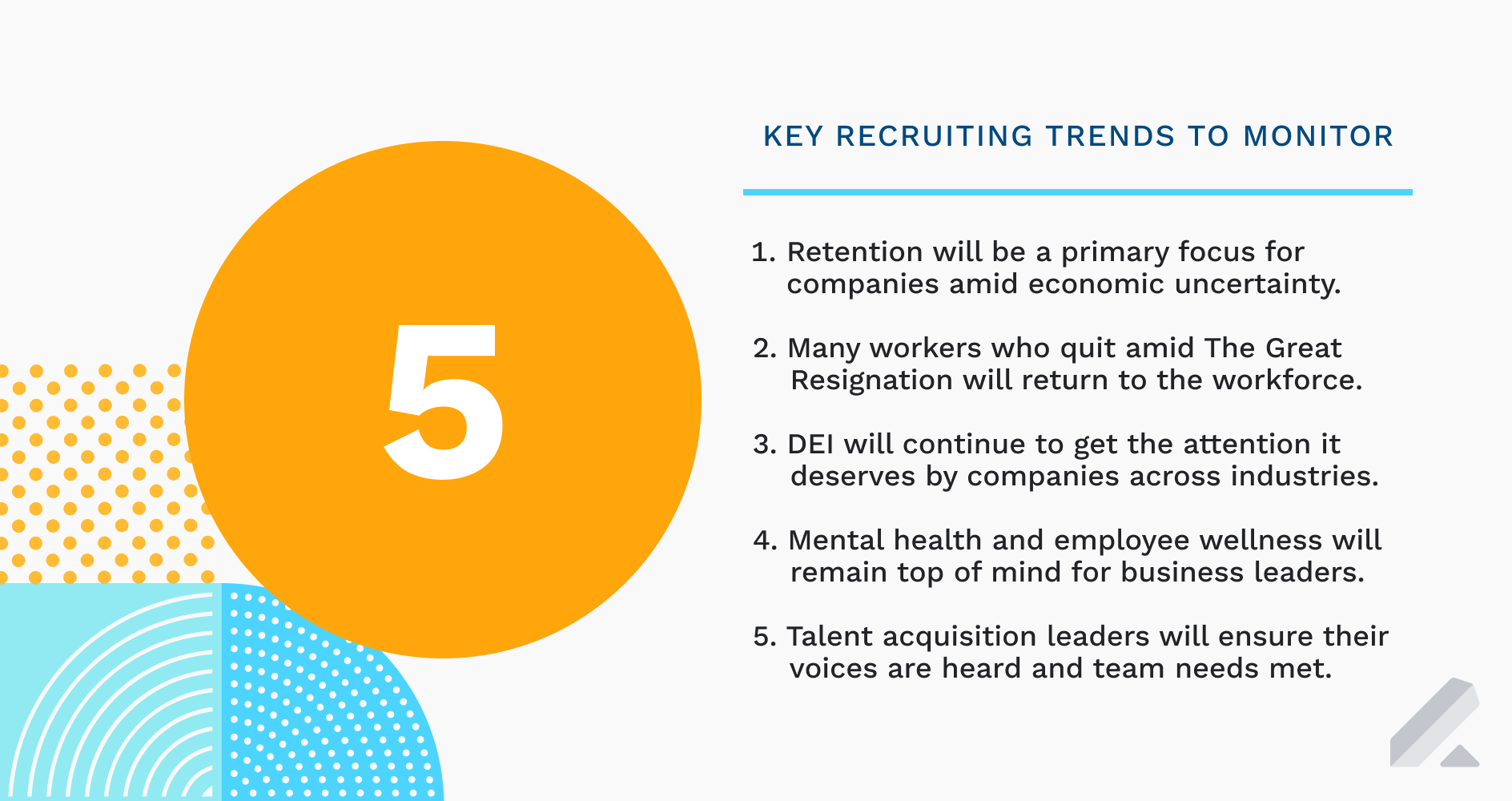 2) Workers who quit during The Great Resignation will return to the workforce
A Joblist report found one in four professionals regret quitting amid The Great Resignation. This could indicate many of these individuals will actively look for new work in 2024.
Additionally, talent teams will obtain a pool of more qualified job seekers to evaluate and engage. It would also alleviate any recent pipeline issues (e.g., a reduced volume of job applications submitted and proactively sourced candidates added to their talent pools).
Of course, just because more active candidates may reenter the job market doesn't mean it will automatically be easy for recruiters to get these prospects in their funnel.
Recruiters must use language in their job listings, on their career pages, and in nurture messaging that shows off the human side of employer brand and company culture — two factors that impact candidates' willingness to apply to roles or agree to interview for them.
Accelerate keynote speaker Claude Silver, the Chief Heart Officer at VaynerMedia, said "a more empathetic and human approach to hiring can drive loyalty and a deep connection to corporate values" among candidates and increase the likelihood top prospects accept offers.
3) Enhancing their DEI initiatives will help employers stand out
No two diversity, equity and inclusion (DEI) initiatives will look the same from one business to the next. But all DEI leaders are proactive in continually improving their work.
Attentive Chief of Staff, Recruiting Cierra Tavarez noted in our DEI-centric Accelerate session how her company has embraced employee resource groups (ERGs) to give diverse employees a community to engage with one another and foster a culture of inclusivity.
"All of our employee resource groups are executive-sponsored," said Cierra.
"They all have funding. I think that's really crucial in encouraging underrepresented candidates to join a space they don't have a lot of info about," she added.
Basis Technologies Director of Talent Acquisition Michelle Michael, shared how her org implemented similar changes to make further strides with their DEI efforts, including:
Hiring a dedicated DEI practitioner to run DEI programs
Providing unconscious bias training to hiring managers
Ensuring they use inclusive job description language
Having diverse interview panels speak with candidates
Sheryl Sandberg & Dave Goldberg Family Foundation VP of People and Culture Katrina Jones added it's vital to remind business leaders DEI isn't "a single line item in a budget."
Instead, any worthwhile diversity, equity, and inclusion initiative is work that deserves ongoing and substantial investment to ensure the organization continues to invest in DEI.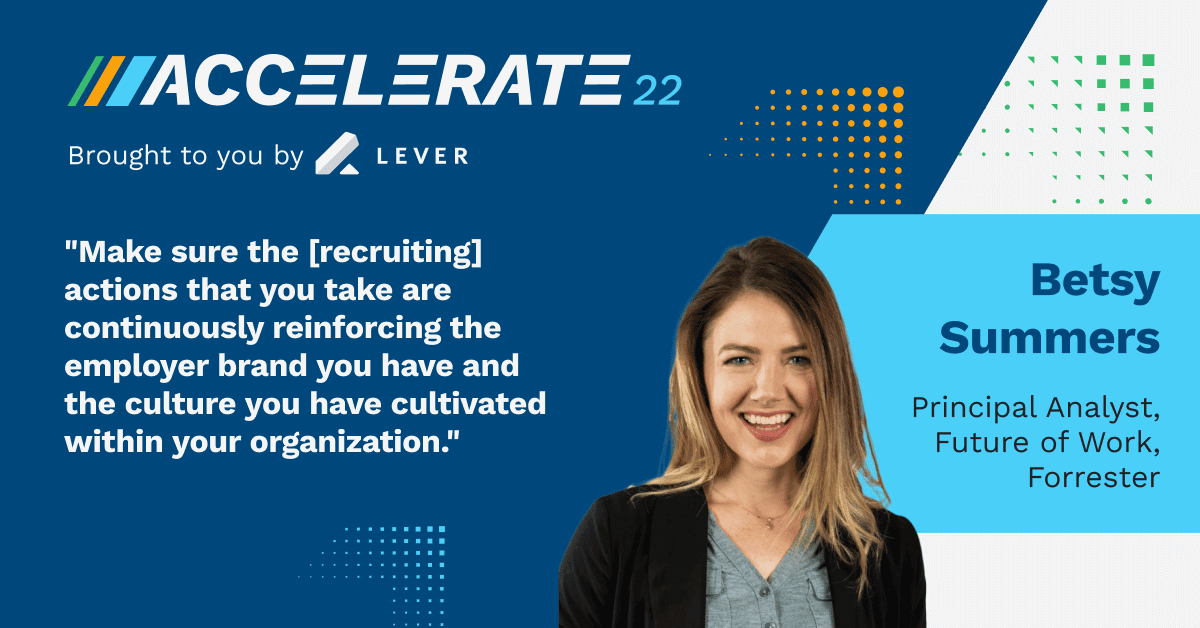 4) Mental health remains top of mind among executives — including TA leaders
The last few years have been tough on everyone — including talent acquisition and human resources professionals. Burnout among recruiters, especially, has been rampant recently.
Unfortunately, it hasn't gotten any easier for many talent specialists.
Research from SHRM found 42% of HR and talent pros experienced severe fatigue from their jobs in 2021-22. One of the main drivers behind this burnout was the laundry list of tasks assigned to them, on top of meeting lofty hiring quotas and filling key roles across their orgs.
Executives must ensure their workforce has the resources to address mental health issues or concerns. That said, HR and TA leaders must also be proactive in taking charge of their well-being, said Think Human Leadership Coach, Facilitator & Community Catalyst Aja Smith.
"It's about understanding your work style," Aja shared at Accelerate.
"The stressors as well as the energizers. I think having open communication about that and around any healthy boundaries that might apply to you is ideal. But, then it's also our responsibility to create systems around them to uphold those."
Given the strenuous nature of their work — especially amid "down" periods when there are hiring freezes, candidates are scarce, and layoffs loom large — it's vital that HR and talent pros pay close attention to the personal well-being of their recruiting staff, Aja added.


5) Talent leaders will ensure their voices are heard and team needs met
Building concerted candidate relationship management (CRM) strategies that help companies build and maintain relationships with candidates is how many talent acquisition leaders can prove their teams are focused on the long-term growth aspirations for the business.
But to execute effective CRM strategies, TA leaders need buy-in from leadership regarding both prospective tech investments as well as their overall recruiting approach.
Color Head of Talent Rob Anderson said talent leaders must be direct and assertive and have data to back up their case when pitching new recruitment solutions, in particular.
"Present your options and your tradeoffs," said Rob. "But if the debate isn't going anywhere — like if you're presenting these options, and you're still getting pushback — just say 'Go get this done for me. No one wants to hit hiring goals more than me.'"
Watch our Accelerate sessions on demand to get even more insights from TA and business experts that can help you prepare your recruiting and hiring strategies for 2024.