"As employers face significant skills gaps, HR leaders must work hard to ensure they not only keep the workers they have but also find ways to add critical skill sets without hiring new people," Employ SVP People & Talent Corey Berkey recently wrote for Forbes.
Corey noted the best way for human resources (and people managers) to do just that — at least during periods of economic uncertainty and tight labor markets, as we've experienced the last couple years — is to prioritize workforce retention over headcount expansion.
And one of the premier ways to retain employees (especially high-performing ones) is to create a culture of talent development — one that includes on-the-job learning opportunities for all staff members and, in turn, sets them on their desired, long-term career path.
The benefits of such continuous learning initiatives are clear for employees and employers:
Employees can get the mentoring and general education they need to level-up their current skill sets, gain net-new expertise, and use all learnings to advance professionally.
Employers reap the benefits of a more productive and satisfied workforce that helps them realize their target revenue and growth goals tied to their overall business strategy.
A "bonus" third party that benefits is talent acquisition. While a focus on talent development plans may mean a lessened need to source and engage candidates for open roles, long term, such a program gives TA teams a powerful source of recruitment marketing collateral.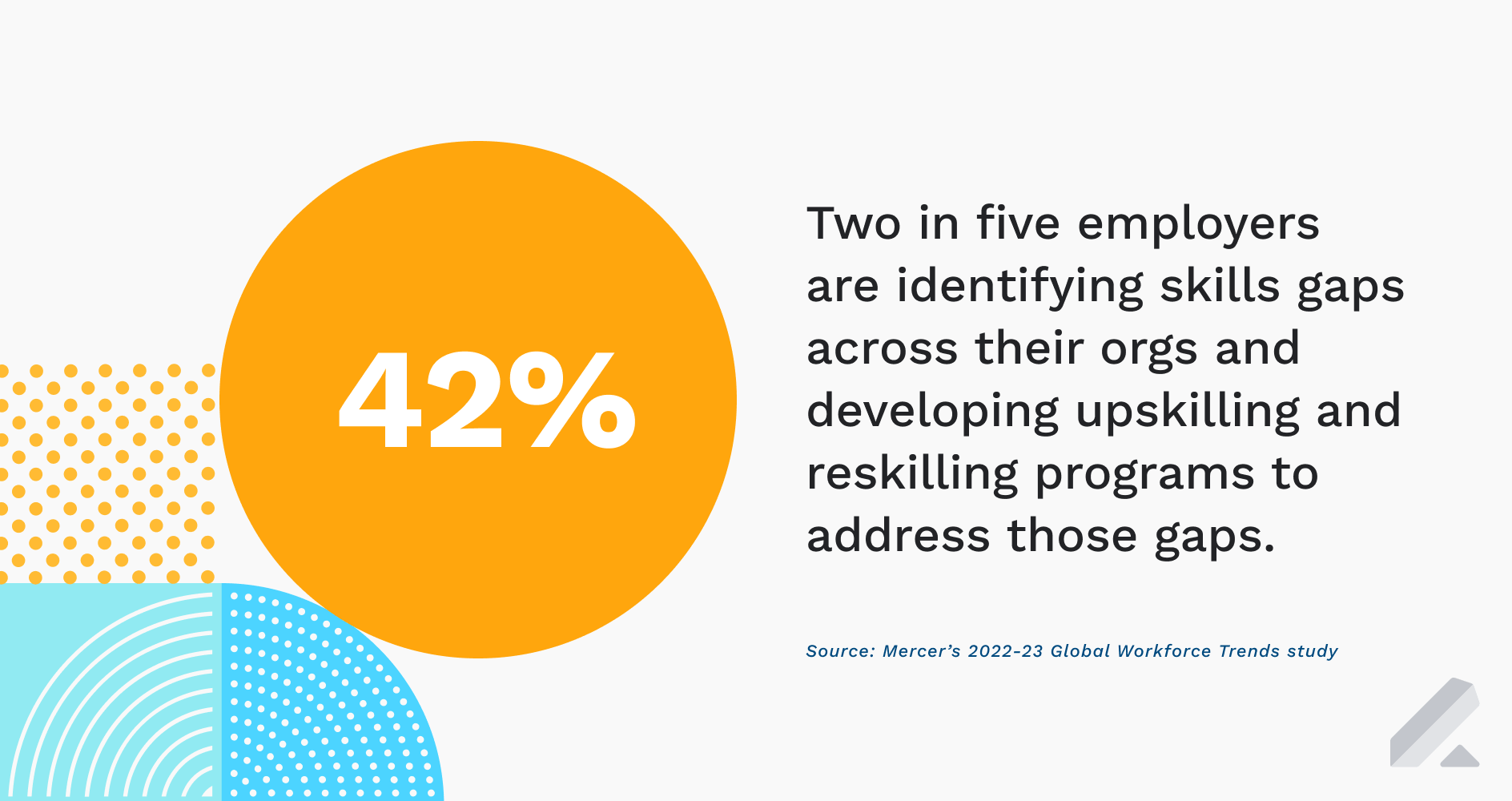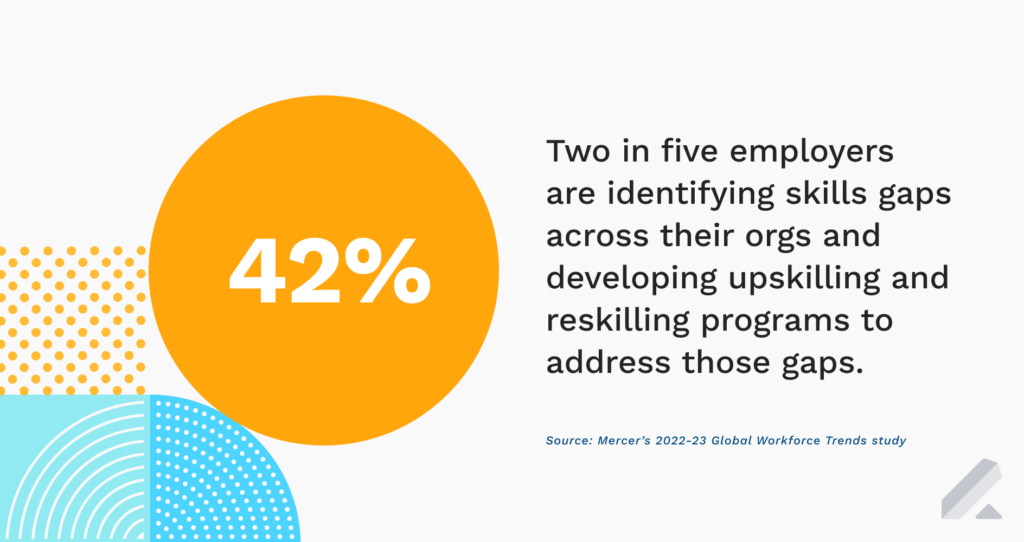 Why employers of all sizes and across industries are investing in talent development strategies
Your company, like so many others, has likely paused hiring since at some point in the last few years. You may have even conducted a round of layoffs or two to rightsize your business.
"Down" periods like this are never ideal for employers. But, they do afford executives, HR teams, and people managers an opportunity to empower their workforce by offering dedicated talent development programs that provide resources that help employees grow.
Recent data points to talent development becoming a bigger priority for many businesses — and companies seeing substantial ROI from these employee engagement efforts:
Despite these benefits, LinkedIn's 2023 Workplace Learning Report found just 15% of employees have been told by managers they should explore new career opportunities within their org.
Meanwhile, just 26% were encouraged to learn new skills for their current roles.


What the top talent development programs entail
Given talent development's sizable role in hiring and retaining top talent (more on the former shortly), it makes sense for all companies — from SMBs to enterprises — to create talent training programs to future-proof their workforce from a revenue and retention perspective.
That begs the questions, though:
What do the top talent development programs look like? And what kinds of educational opportunities should you incorporate in our workforce training?
There are two foundational elements any successful learning and development initiative must factor in to effectively upskill and reskill employees and put them on the path to promotion. (Or at least to take on other lateral roles that provides them with meaningful work to tackle.)
1) Skills-based training — with a concerted focus on DEI
With a skills-based hiring approach, "organizations develop and implement policies that allow workers to leverage transferable skills from roles that are disappearing towards new tasks and responsibilities," a 2023 PwC and World Economic Forum report found.
The modern skills-based training process can essentially can be broken down into three steps:
1) Identify skills gaps across one's organization. This is usually accomplished by execs and HR leaders speaking with people managers.
2) Ask each manager about which direct reports of theirs have expressed interest in gaining/learning new skills that align with said skills gaps as well as which members of the workforce already have the requisite expertise that aligns with those gaps.
3) Engage the relevant employees who do have the ideal proficiency tied to job openings about their interest. And, at the time same time, ask those who don't yet have the know-how take take on new positions to take part in skills-based training.
A critical component to keep top of mind when implementing this talent development program is to ensure it's highly inclusive of and equitable for ensure all employees — particularly those in historically underrepresented groups — so every member of your workforce gets fair access to training (and, in turn, career mobility) opportunities.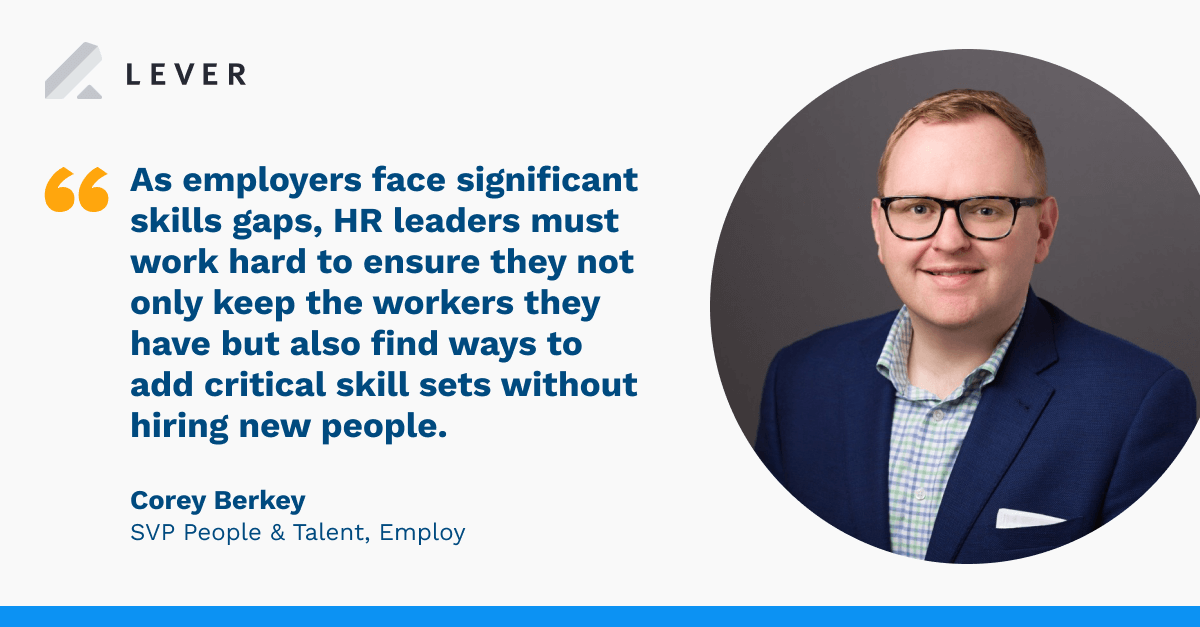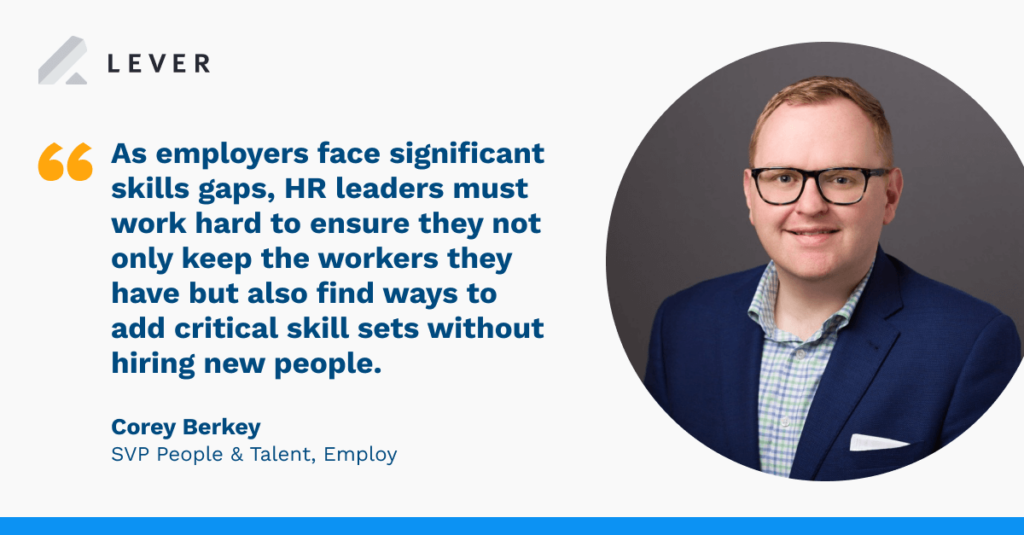 2) Career pathing, networking opportunities, and mentoring initiatives
An increasingly vital part of modern talent development strategies is providing employees with both clearly defined career paths related to all roles across the business and connect them with colleagues so they can skill-share and receive guidance from willing mentors.
Whether you're a software provider, manufacturing firm, or professional services agency, chances are your staff wants to know what the typical upward mobility trajectory is for their positions, either based on how past employees have been promoted or, if their roles are fairly new, what their management team has decided is the most realistic path to promotion.
So, share what exactly they need to accomplish at work to elevate into newer (likely higher-paying) roles so they can create an action plan with their manager for the months ahead.
As for networking and mentoring, both provide workers with mini communities, of sorts, they can tap into to gain new knowledge, learn about others work histories, and generally discover how they can be proactive in advancing their careers and realizing their professional ambitions.
Dedicated mentors, in particular, can act as on-the-job coaches for employees who express a desire to get hands-on training and discover what other internal job opportunities exist.
"Employees want jobs with the opportunity for advancement," journalist Kara Baskin recently wrote for MIT Sloan School of Management's blog. "Companies can start by helping employees find and prepare for new internal opportunities and offering feedback and coaching."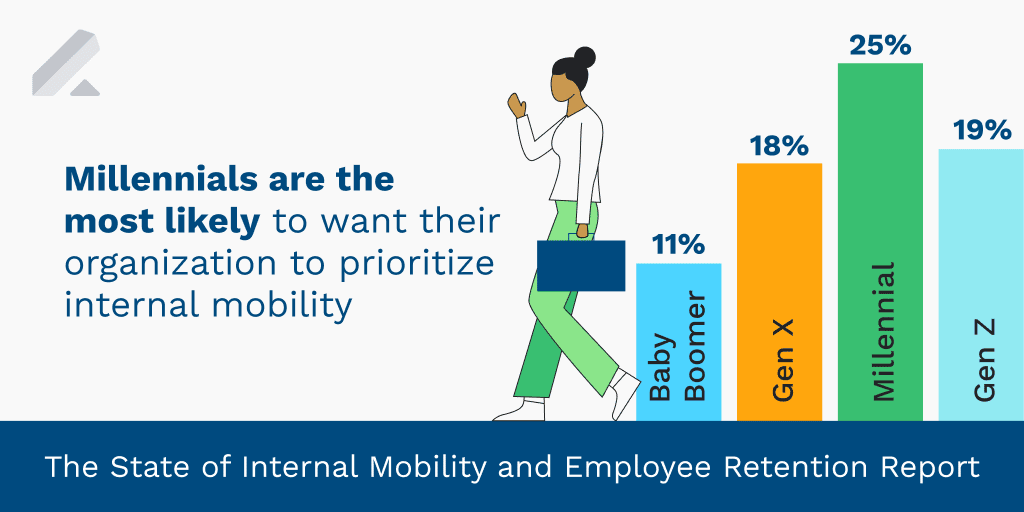 How prioritizing talent development can help you attract and hire more qualified candidates
"This is all great, but I work in talent acquisition. How does putting a talent development plan in place impact my ability to attract, engage, and hire external candidates?"
That's a fair question. It's also one that has a simple answer:
When your business fosters a culture of learning, engagement, and transparency, more employees are enticed to stay at the company and explore new work options.
In turn, worker satisfaction goes up — along with retention — which gives your TA team the perfect kind of recruitment marketing messaging to include in your public-facing job postings and on your career site and about page.
When active job seekers who land on your site or posting discover how happy your workforce is (ideally via written and/or video employee testimonials), thanks to your talent development and mobility programs, you can better persuade them to apply.
In other words?
Your recruitment org may not play a part in your company's talent development strategy. (Save for any team members who decide to partake in training themselves).
However, ongoing workforce training and subsequent promotions of employees nonetheless affects how your employer brand is perceived publicly and how many people apply for roles.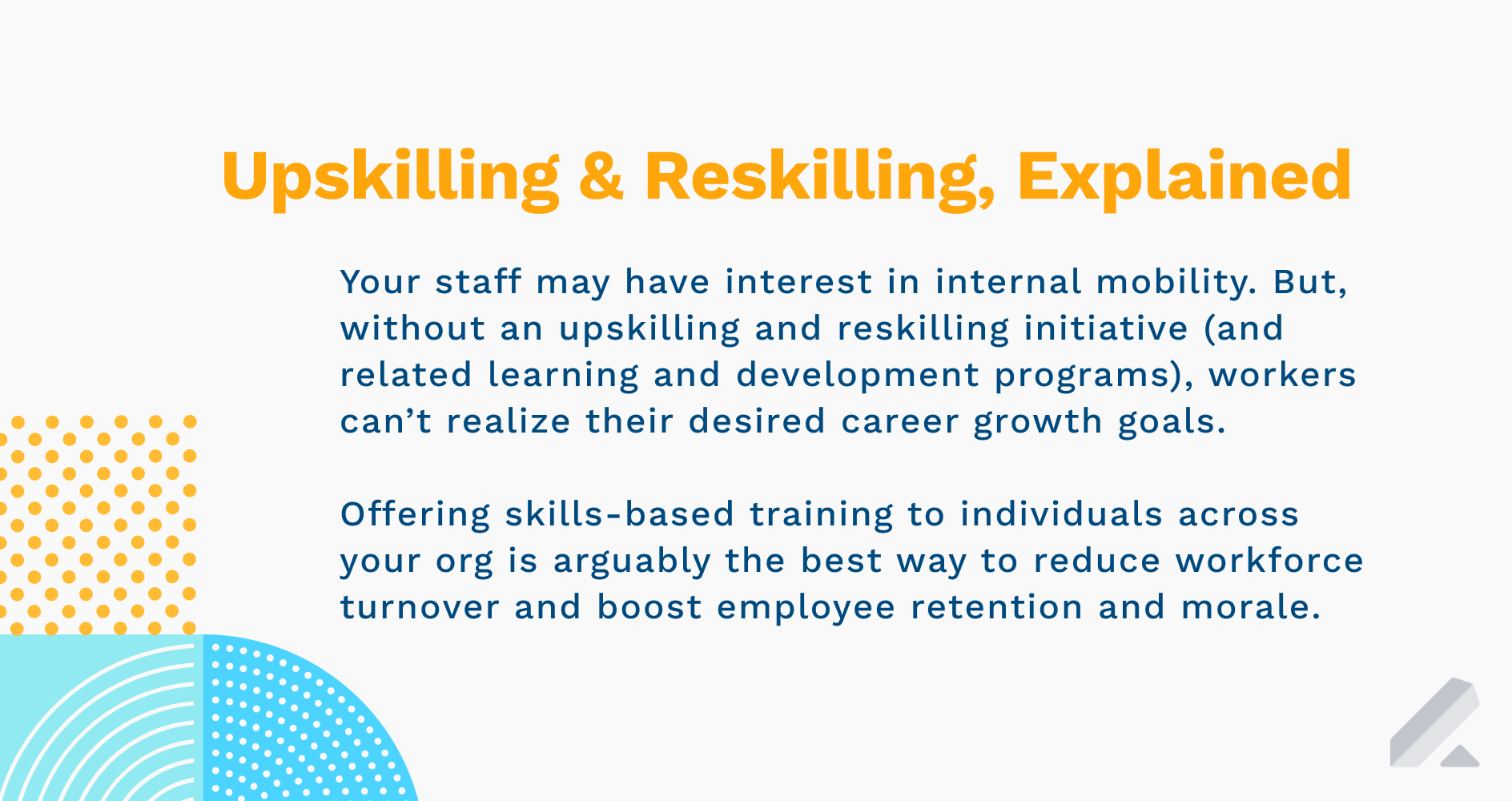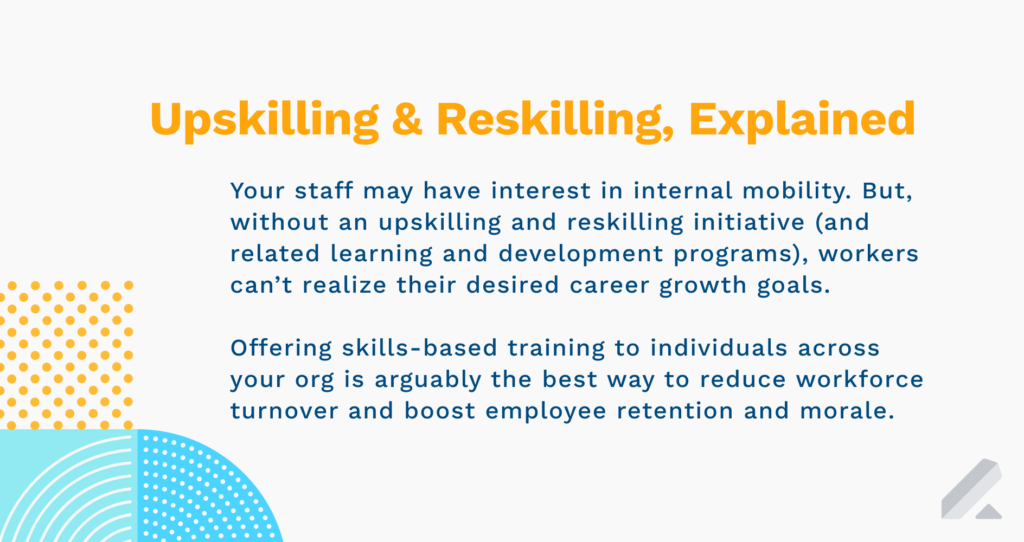 Seeing a steady stream of applicants added to your candidate database is certainly ideal.
That said, your hiring team won't be able to capitalize on this growth without an intuitive and advanced recruiting platform that makes it easy to engage prospects, track their status across the hiring funnel, and "advance" top talent in your funnel quickly and efficiently.
That's where a best-in-class applicant tracking system (ATS) can help.
With a leading ATS in your HR tech stack, you can "ensure you're sourcing candidates faster, which allows for organizations to compete on speed," Corey recently shared with Forbes. Per Corey, that's "a major difference in the ability to fill open roles and drive the business forward."
Consider LeverTRM.
Our solution helps talent teams build relationships with both external and internal talent. That means they can not only easily pinpoint outside candidates who fit the bill for opening, but also ID existing employees — like, say, those who partake in talent development programs — whose new skill sets and background in general make them a strong fit for certain jobs.
Discover how your HR team can more easily identify internal candidates for open roles with our complete ATS + CRM solution, which features an intuitive, searchable talent database.