Tools
7 Recruiting Email Templates to Nurture Top Candidates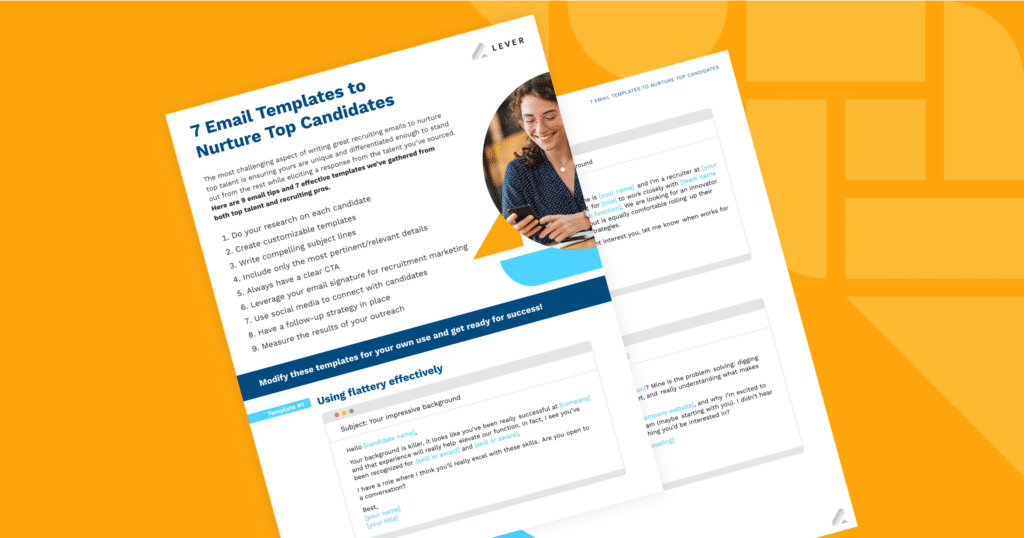 From developing eye-catching subject lines to writing compelling copy, there are many facets of email nurturing to consider when trying to get candidates engaged and convert them (i.e. move them into the interview process).
The key to crafting high-converting nurture campaigns is to use recruiting email templates that help you progress good-fit prospects of interest through your hiring process and turn those great candidates into new hires.
Our recruiting email templates for recruiters enables you and your TA team to:
Understand how to best communicate with candidates using customizable templates (like those offered in our applicant tracking system)
Keep candidate experience top of mind when crafting emails to leads, like those that promote and update them on the status of open roles
Write sourcing emails for cold candidates to help you gauge their interest and, later on, determine which long-term nurture to add them to
Move qualified and engaged candidates through your funnel, offer them the positions in question and add this top talent to your workforce
While your candidate rejection email templates and those that tell applicants you received their application are fairly cut and dry, these sourcing templates can help you better resonate with prospects of interest.
Get your free copy of our recruiting email templates today to learn how you can send candidates email that advances them in your recruitment process and gets them to eventually accept an open role at your business.
Download free eBook