resources
The 2021 State of Diversity, Equity, and Inclusion (DEI) Efforts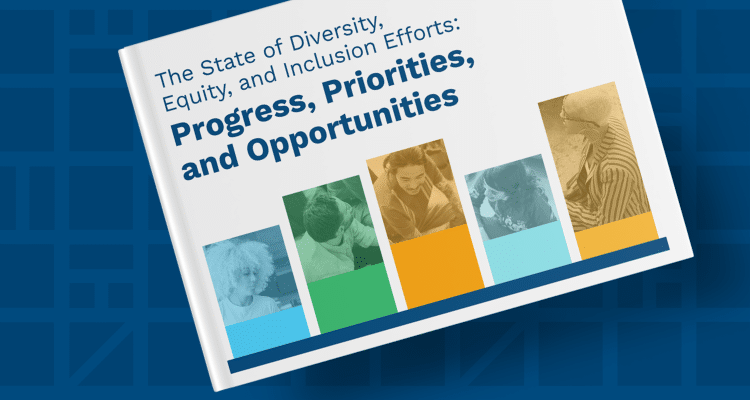 Diversity, equity and inclusion (DEI) has grown from being a buzzword among organizations — including and especially those in the Fortune 500 — to a must-address action item for Chief Diversity Officers and other executive leaders.
Organizational accountability around DEI initiatives has become a top priority among companies across industries, who now understand the benefits of increasing diversity (i.e., hiring more individuals from underrepresented groups).
As our State of DEI Efforts report found, an inclusive and equitable company culture and a work environment in which all members of the workforce are seen and heard is critical to employee experience and long-term business success.
We surveyed more than 500 HR decision-makers and 1,000 other professionals to learn what DEI efforts their orgs have implemented.
Specifically, we asked these individuals how diversity-related projects and programs, like DEI training and employee resource groups (ERGs), have been communicated company-wide and the gap between their C-suite's perspective around DEI versus those of their employees.
Some key findings we found in our diversity, equity and inclusion survey include:
57% of employers are looking at their hiring efforts to meet their DEI goals
43% of employers say it's difficult to find diverse applicants for open roles
57% of employers are highly confident that they will achieve their DEI goals
29% of employees say their orgs are making progress with their DEI efforts
View all of the findings from our in-depth report around companies' diversity initiatives and DEI work, and use the data and insights to help your business build a more diverse workforce and renew your commitment to DEI.
Download your free copy of our special State of DEI report today.
Download Free Report