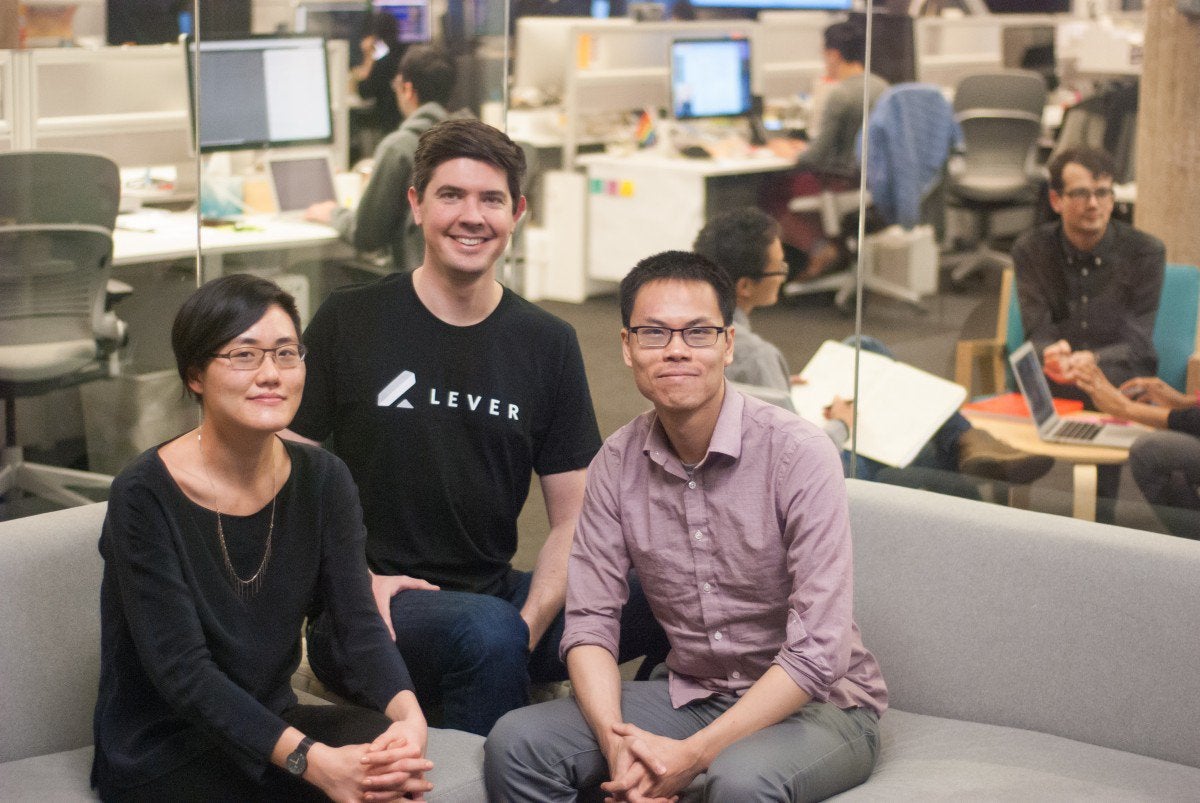 Lever Co-Founders Sarah Nahm, Nate Smith and Randal Truong
It's my pleasure to announce that Lever has closed a $20 million Series B investment round led by Scale Venture Partners. As reported in Forbes, we're excited to put these funds towards growth and further innovation in ATS software. This announcement follows a year of tremendous progress. In 2015, we more than tripled our team size, shipped hundreds of code releases, and grew our customer base to over 700 amazing companies.
For any startup, a Series B is a significant milestone – a reminder of the evolution of the company, a moment to recognize how far we've come. With so much ahead of us, I want to reflect on our most formative decisions and achievements from this epoch at Lever, those which have shaped our journey so far, and which will determine who we will become.
Dared to be different

I knew when founding Lever that the world needed software that could match the urgency and importance of talent within organizations. Why is it that recruiting is an incredibly creative and innovation-hungry industry, but recruiting software has been largely stagnant for decades?
The industry's reception of Lever has been galvanizing. Analysts note that Lever "feels like the future," and "was designed from the ground-up to be different than every other ATS on the market." Our CRM-meets-ATS approach empowers companies to pursue the highest quality talent, helping our customers to stand out with a hiring process that is, simply put, more human.
As the stakes rise, there's always pressure to compromise, to be safe, to dilute your vision. I'm proud that we are a company daring to be different because recruiting deserves innovation.
Channeled our users for innovation

For any and all innovation we have brought to this space, we owe a debt to the passionate talent leaders and recruiters who have inspired us. Lever has always been a user-centered company, meaning that every feature we've ever built has originated in the voice of our users. We have so many incredible people to thank for their insights, their patience, and their passion.
I'm thrilled to have welcomed Netflix and Eventbrite on board in recent weeks as customers who are thought leaders in the talent industry in their own right, and hundreds of other companies whose input continues to inform our product roadmap.
As technology partners, we must support the broader revolution taking place as the entire recruiting profession elevates to new strategic importance. Lever must help recruiters meet the new demands of their roles – whether it manifests through data-driven insights or real-time collaboration – and define our success by their success.
Forged strong partnerships
It's an honor to be backed by so many partners who share our vision, not least of which, a world-class investor team. Since our Series A last October, Matrix Partners has propelled us forward, helping us to deliver powerful, yet beautifully simple products to a deserving market. We couldn't be more excited to have them renew their support in our Series B.
Now, we welcome Scale Venture Partners who will bring tremendous growth-stage expertise to the table. From their arsenal of talented partners, Lever is fortunate to be adding Stacey Bishop to its board of directors. She's impressed me with her analytical rigor and I can't wait to tap into the insights she's accumulated from 16 years in venture capital in Silicon Valley.
In addition, this year we launched our first partnerships to tie Lever into the greater talent ecosystem, from the new generation of sourcing and referral tools, to HRIS platforms like Namely and Zenefits, and even an integration with Slack. It's an inspiring set of peers, each with a unique vision. We are collectively transforming the future of work.
Built an inspiring team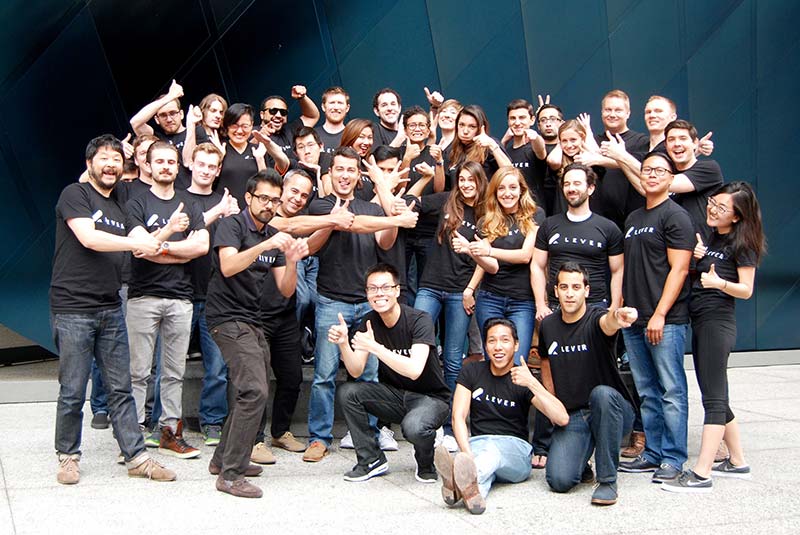 Finally, a world of thanks to the team who got us to this achievement and who supported each other along the way. I'm wowed every day by their dedication and integrity. This milestone has meant big, unprecedented goals over the past year. Every single individual at Lever has impressed me with their ability to rise to any challenge, and with the incredible results they deliver time and time again.
Leveroos: whether you've been here for three years or three weeks, you are part of how we got to where we are today. And you are a part of where we're going next. We have built an amazing foundation, and we have much yet to achieve. Fundraising hasn't proven our success – we must prove it through the value we deliver to the world.
You've joined this team to be part of the mission to help companies build human-centered organizations where people can do their best work of their careers. It is a big, but worthy calling, and I'm excited for our shared journey ahead.