While you and your family and friends are (rightfully) taking advantage of the warm (well, sweltering is more like it) summer weather, we at Lever remain hard at work to further enhance our already-best-in-class ATS with candidate relationship management capabilities.
The latest evidence of our ongoing innovation can be found in our Summer 2023 release.
Here are some brand new additions and changes to LeverTRM that can help our customers further elevate their recruiting and hiring performance in the months and years ahead.
A fully customizable and intuitive Career Site Builder to better attract active talent
Today's job seekers want a clear picture of the type of company a prospective employer is before submitting an application for a role of interest.
A premier way to better tell your organization's story, relay what makes your business a great one to work for, and showcase your employer brand in a compelling manner is to develop a customized career site tailored to your brand.
Enter Career Site Builder, our brand new, easy-to-use feature that enables anyone on your hiring team — regardless of tech-savviness — to create a highly stylized, on-brand careers page that features your org's color scheme and primary font as well as any messaging and multimedia you think would entice active candidates to apply for open roles.
A more streamlined referrals experience for both talent acquisition teams and referrers
Employee referrals play a sizable role in employers' hiring success today.
But, if potential referrers can't easily submit applicants in their networks to your talent team, and your TA org can't easily manage said referrals, your program isn't likely to fall flat.
Knowing our customers' need (and desire) for a structured referral management solution — one that benefits their talent teams and referrers — we've created an entirely new, more streamlined referrals experience in LeverTRM that scales with the hiring needs of growing orgs.
Employees can quickly and efficiently refer associates for job openings, while recruiters can easily see when newly referred prospects are added to their talent pool and label leads as referrals accordingly to make it easy to provide payouts to referrers down the lines.
A new, easier-to-navigate Visual Insights landing page to find relevant data and dashboards
Visual Insights continues to enhance our customers' data-driven recruiting strategies today.
In addition to regularly adding new dashboards and updating existing ones (more on the latter shortly) to our built-in talent analytics solution, we've also adjusted the main Visual Insights "homepage" to make it easier for talent leaders, specialists, and operations managers find the data and insights they need to further advance their data-centric hiring strategies.
The most popular and recently access dashboards each TA team members uses now populate on the main Visual Insights landing page.
Moreover, we've simplified our sidebar dropdown navigation to enable LeverTRM users to access the most relevant screens and data visualizations tied to their entire team's and individual recruiters' respective pipeline progress.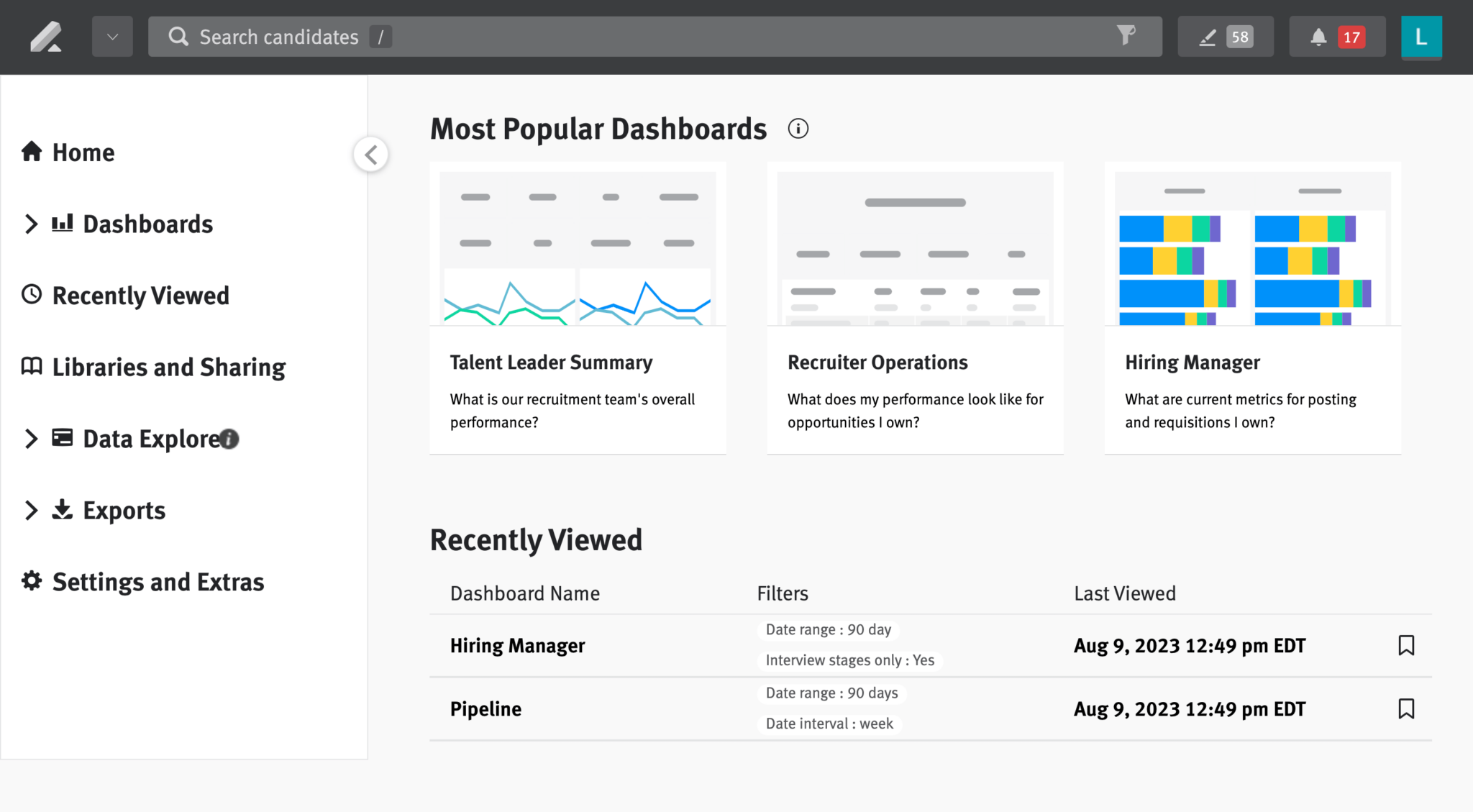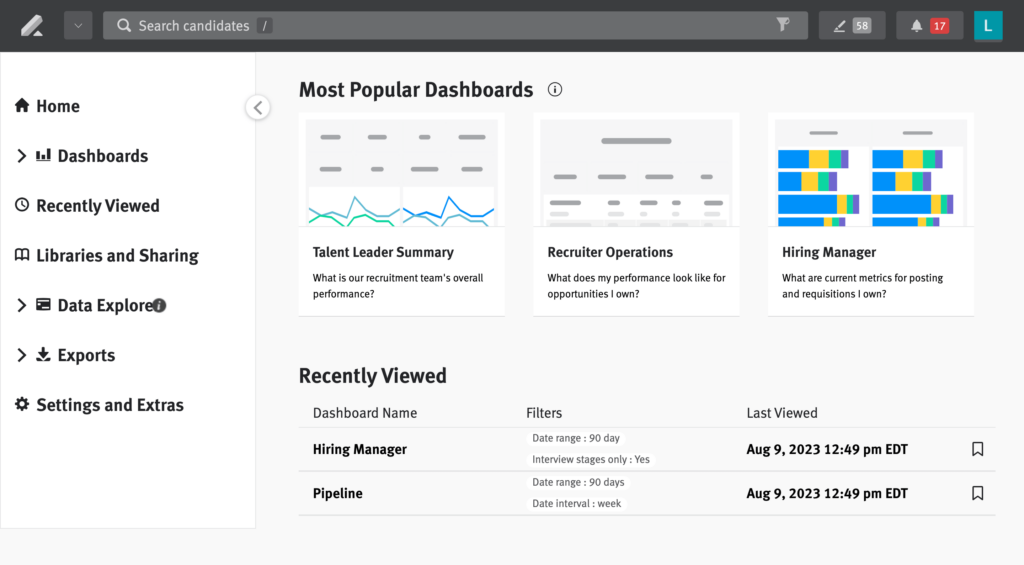 Recruiter Operations Dashboard updates, including the ability to compare data sets
Talent operations managers are essentially charged with keeping their company's talent acquisition "machine" operating at a high level.
Aside from training TA team members on how to use the latest and greatest tech (read: LeverTRM), they also need to conduct regular deep-dives into data tied to every element of their org's recruiting and hiring activities.
Our Recruiter Operations Dashboard in Visual Insights already offered rich, real-time insights into several facets of customers' talent strategies.
Now, the dashboard resource offers even more data of interest to ops administrators — notably, time-to-hire and time-in-stage data.
With a more granular view into how each recruiter performs in terms of pipeline speed, they can offer data-backed recommendations that can expedite each TA specialists' recruiting cycles (and help them fill critical roles more quickly for hiring managers).
Enhanced candidate search and filtering to make it easier to rediscover top talent
Resurfacing previously engaged candidates — both applicants who interviewed for openings and passive prospects proactively sourced — is a crucial talent acquisition success today.
Now, our team has made it easier than ever for our customers to find existing talent in their database whose skill sets and background match open and upcoming roles.
Specifically, we've enhanced the search and filter functionality in LeverTRM, including new boolean search fields, a new phone number search, and four new filters for application questions, average rating, skill, and location — all of which can help drive down the amount of time it takes recruiting teams to scour their database for qualified candidates of interest.
A brand new direct integration with ADP Workforce Now to streamline hiring
Data infrastructure alignment between TA and HR systems is more important than ever to accelerate the hiring process and efficiently move top talent from interview to offer.
With that in mind, LeverTRM users with ADP Workforce Now as their all-in-one HR software of choice can now automate candidate field sync to improve field-matching accuracy.
In other words? Fields are now aligned between our ATS + CRM solution and the widely popular human resources platform, making it easy for the two solutions to share key data with one another.
Once a new hire is made, all available info for said individual stored in LeverTRM's dynamic candidate profiles pre-populate in ADP's New Hire Wizard, enabling a seamless transition to onboarding and the creation of comprehensive employee profiles for the new workers.
In addition to implementing this ADP Workforce Now connection, we've also added more than 20 new partners to our expansive (and always-growing) integration ecosystem, including):
Canditech: Hiring teams can send Canditech assessments directly to candidates from LeverTRM and have results and comments sync back into our ATS + CRM.
Verified First: The background check and candidate verification tool helps Lever customers initiate, monitor, and manage hiring-related screens with great ease.
candidate.fyi: Keeping engaged candidates in the loop regarding the latest steps in the recruiting process and decision-making is a cinch, thanks to this integration.
Book a demo with the Lever team today to learn all about these Summer 2023 features and functionality and discover how our ATS + CRM can help you scale and grow your business.