When it comes to attracting top talent (and, more specifically, competing with other companies for top-tier candidates), enterprise recruiting orgs have the necessary resources at their disposal often unmatched by their small and medium-sized competitors.
Their bigger budgets and bandwidth, along with well-constructed employer branding, helps enterprise businesses and their TA teams secure countless applications from active job seekers as well as proactively reach out to passive prospects across job boards.
But with so many requisitions to fill at any given time, enterprise recruiting is complex.
And with so many business units (often in multiple time zones) needing roles filled, it can be hard for enterprise talent teams to achieve true alignment with HR and hiring managers.
So, how can enterprise recruiting teams get the most out of the talent-attraction process?
To find out, we sat down with Beacon Lane Consulting Founder and CEO Elaine Davidson, an authority with 20-plus years of experience in global corporate talent acquisition.
5 enterprise recruiting challenges — and how to solve them with the right tech and processes
Here are Davidson's top-five enterprise recruiting challenges — and solutions for TA teams.
1) Lack of proper requisition prioritization
"Not only is the aim to hire the best candidates, but the need to attract the right candidates for the right position is critical," Elaine said. "Unfortunately, many organizations don't start at the beginning: assessing true hiring needs and budgeting for them."
Without clear prioritization, HMs operate from a firefighting mindset. The result? A conflicting list of open roles all competing for recruiters' attention. (Not conducive quality hiring.)
The solution: Implementing a workforce plan
"A consistent, formulaic approach to prioritization of requisitions will help business leaders be very deliberate about what requisitions they approve and take action on," according to Elaine.
That's where having a workforce plan as well as strong forecasting skills helps.
2) Moving too fast when implementing tech
"The biggest mistake heads of talent acquisition make is trying to implement a solution without first defining, developing, and outlining their entire recruitment process — the way it should be in it's most aspirational state," Elaine stated.
Hasty ATS implementation without due consideration can be worse than no tech at all. Especially for enterprises, whose workforce already likely uses multiple tools daily.
The solution: Involving key stakeholders early
"During this phase, more mistakes are made when key stakeholders don't have a seat at the table in developing a functional enterprise recruiting process," Elaine said.
Be sure to involve the right talent acquisition decision-makers in your recruiting and hiring technology decisions early on. Doing so will ensure you empower your TA team to work smarter, not harder, and realize stronger output in their day-to-day.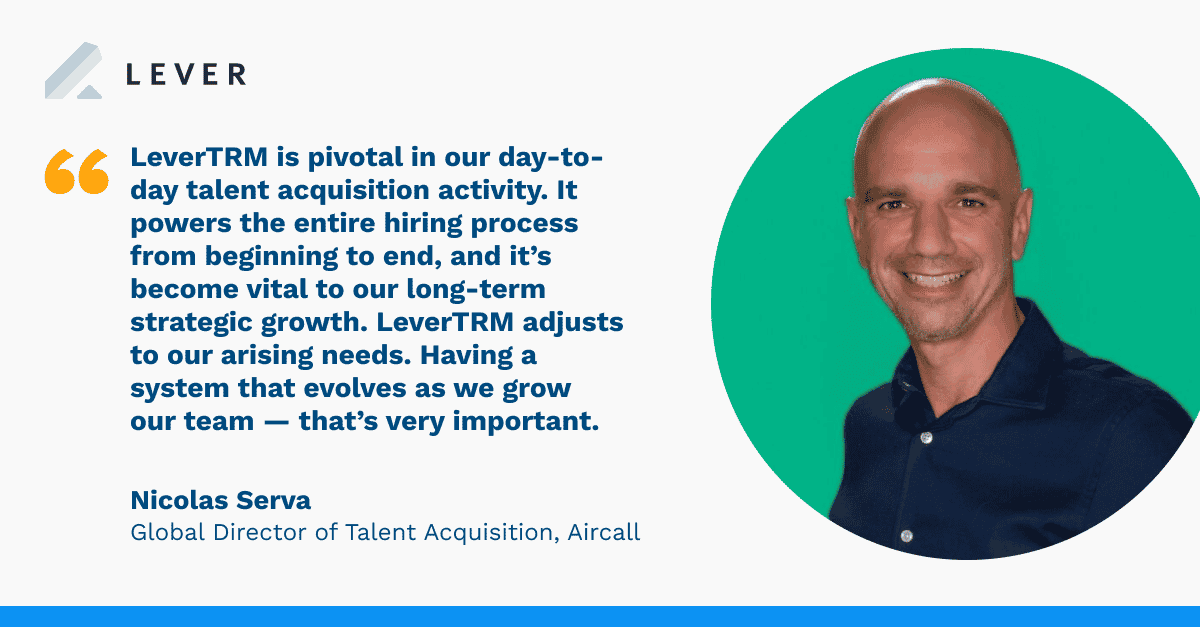 3) Skipping regular process 'health checks'
"At Beacon Lane, our method of achieving recruiting excellence begins by stripping everything away, even if just for a moment," Elaine added. "You have to get back to the basics before you can build a standard, stable recruiting function, which is necessary if the organization wants to achieve an iconic level of recruiting excellence."
Because the average enterprise is usually so complex, it can be difficult to hit pause and benchmark the recruiting process from beginning to end. But it's exactly this kind of guided approach that can help maintain a strong recruiting process across locations and countries.
The solution: Conducting diagnostic of strategy
"The details matter," Elaine noted. "It is so important to conduct a comprehensive diagnostic of your end-to-end recruitment process along the global, enterprise recruiting framework."
Most orgs, she added, start their initial diagnostic with requisition creation and end with 'pre-boarding.' Workforce planning and onboarding are key as well. However, Elaine said they often need to be part of a 'phase two,' since they are big, cross-functional endeavors.
4) Supporting recruiters to work efficiently
"One of the biggest mistakes I see being made is not hiring the wrong recruiters, but not effectively supporting your recruiting team," Davidson relayed. "Even as companies grow desperate to find the right talent, the HR and recruiting budget is often the first one cut."
A recent The Predictive Index survey found the second-biggest priority for CEOs is talent strategy. But, as is often the case for larger orgs, this prioritization is often easily ignored, due to other initiatives in play.
The solution: Building strategic business partnership
"It takes buy-in from the top to achieve recruiting excellence," per Davidson. That's where elevating your team's value and thinking strategically like a business partner is critical. You can make it easier through regular, concise reporting of your team's progress.
5) Looking at talent as a short-term solution
With pressure to fill roles yesterday, enterprise recruiters often get trapped in a cycle of hiring just to fill. But even if your company has great brand recognition and multiple workplace awards, you still need to focus on creating a world-class candidate experience.
"Don't look at candidates as just short-term solutions to your talent shortage," Davidson said. "Look at how they fit with the company overall and where they might make a good fit in the future. Treat people as you would want to be treated.
"In fact, over-deliver on and exceed candidate expectations. They will remember."
The solution: Delivering an authentic process
"Cultivate talent with a longer lens," Elaine noted. "Make sure that, even as you automate your hiring process, you don't lose the human touch that makes people want to work for your org."
In the market for a new enterprise recruiting solution? Speak with our team about LeverTRM for Enterprise. We'll explain how our complete ATS + CRM can help your enterprise TA team.