I recently had the pleasure to sit down with Chewy Associate Director, Talent Acquisition Marketing & Sourcing Andrew Levy. In addition to his current recruiting role, Andrew has also held talent acquisition jobs at Glassdoor, Autodesk, Uber, and WeWork.
I couldn't wait to ask him my burning questions around talent attraction. More specifically, what it will take companies to scale hiring, especially if faced with tough challenges like a recession, and the biggest keys to attracting and retaining top talent.
Talent attraction tips and tricks from a recruiting expert to help with attracting talent
Here's a recap of my Q&A with Andrew, in which he shared insights on connecting with passive job seekers ready to leave their jobs, getting buy-in for marketing budget, and making the most of relationships with TA-centric partners and vendors.
Q: What is one thing you wish you'd known sooner that's made the biggest impact on your ability to recruit top talent?
Andrew: All of you employment brand and recruitment people out there know this problem. There are endless vendors after your attention. I wish I had learned tricks for managing the volume of vendor relationships and getting the most out of them early in my career.
My approach today? Realize you don't have to manage tons of individual vendor relationships at a time. You can build one or two 'aggregated' relationships through agencies. This is particularly true for recruitment marketing with partners like Appcast or Recruitics.
The time savings is enormous.
I actually think that programmatic advertising across the web and on social media is the single most impactful thing a talent org can do to recruit top talent. It takes the guessing out of your media partnerships by focusing on funnel data and what it tells you.
Q: What's a common misconception that stands in the way of 'greatness' for recruiters and recruiting teams?
Andrew: This is more of a trap that recruiters fall into. We tend to look to the shiny, cool stuff to solve all our recruitment problems. By this, I mean those cool, new point solutions that you can bolt onto your ATS to optimize little issues in the recruitment process.
These vendors can sometimes be more hassle than they're worth because of all the work they take to implement, roll out, and maintain. What's more, these small pieces of tech often don't solve the root cause that is preventing you our your team from being great.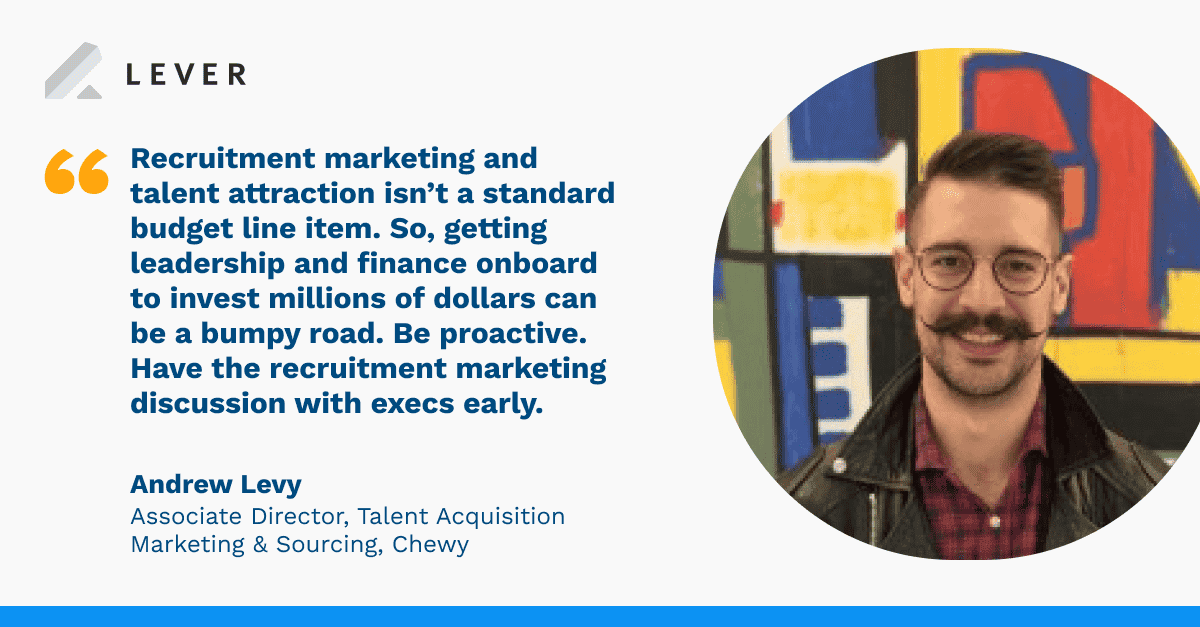 Q: What can orgs learn from how unicorns (and soon-to-be unicorns) recruit?
Andrew: I do think unicorns have a willingness in their cultures to break a lot of things and fail frequently. I'm glad I spent many of my professional years growing up in unicorn companies.
I was afforded the space, budget, and support to try so many (some zany) experimental recruitment marketing tactics that failed so badly I should be embarrassed. But I'm not.
Where I've worked, leadership at all levels fostered and encouraged this break-fail culture. You learn to be resilient to stay positive when things don't go right. Fail-break culture is great. I think a lot of companies can and should adopt from unicorns.
Q: What advice do you have for companies as they grow their recruiting function?
Andrew: As you scale, invest in supporting functional groups within talent acquisition like operations, analytics, employer branding, recruitment marketing, and program managers.
There is so much stress on recruiters. It can be a brutal job — thankless and repetitive. It's vital to build out the other functions within TA to support recruiter's needs and limit stress.
Recognize that fact and allow space for your recruitment teams to work on passion projects. That can go a long way toward retention and happiness. You need to let people grow and test and innovate to prevent burnout, especially as orgs grow.
Aside from supporting work-life balance and streamlining hiring processes, that's my top tip.
Q: What types of chats should TA leaders have with their C-suite regarding scaling?
Levy: Scaling is expensive. When you get to a certain size, scaling requires a lot of headcount and supplemental programs within TA like recruitment marketing. The costs for marketing alone can grow to become one of the largest line items in the company's HR budget.
Recruitment marketing and talent attraction isn't a standard budget line item. So, getting leadership and finance onboard to invest millions of dollars can be a bumpy road.
Be proactive. Have the recruitment marketing discussion with execs early. Don't get caught needing six- or seven-figure investments for talent attraction that's not budgeted anywhere.
Also, the sooner recruitment leadership knows headcount, the sooner they can right-size the team and supporting staff. For example, if you enter Q1 without a headcount plan in the hands of the TA director, your company is not going to hit its hiring goals and the business might slow down. That's not good for anyone.
Watch our webinar with workplace culture expert Eric Termuende to learn how to build a talent acquisition strategy focused on talent attraction and retention.