While tools and techniques for a more physically distanced hiring process are quickly available, the emotionally beleaguering nature of an uncertain and unstable market can wreak havoc on implementation.
However, progressive small steps can align key hiring stakeholders to achieve goals in an environment that may soon become our new normal. By leveraging enhanced communications strategies, virtual interviews, virtual onboarding and other methods to manage the overall experience, your organization can dig into a more cadenced, fluid hiring process that not only meets new goals, but perhaps even exceeds expectations.
WEAVING EMPATHY INTO CANDIDATE COMMUNICATIONS
While the protocol for tailored and strategic candidate interactions always has been important, it perhaps is more so now, as communications take on the weight of the coronavirus crisis.
"I believe that empathy is essential as we go through this stressful experience together. Putting ourselves in other people's shoes and imagining what they're experiencing helps us to react to difficult situations with kindness and compassion," says Ashley Cheretes, Cigna's Head of Employer Brand and Recruitment Marketing in Managing the Candidate Experience During the COVID-19 Crisis.
Cheretes emphasizes that thinking like a candidate enables the type and timing of support needed during these times of uncertainty. "In the coming weeks and months, people will need even more transparency and clarity than usual." 
Here are Cheretes' top tips for effective and orderly crisis communications:
Partner with marketing. Leverage crisis-communications content for candidate interactions that the marketing team may already have prepared for the employees/company-at-large. This will ensure a consistent, "one-brand" approach to the COVID-19 issue.
Focus on communicating change + answer FAQs. This requires recruiter education and prep around the hiring process to ensure that they, in turn, can effectively lead the way for candidates. One method is to write up a summary of changes, available through email and/or other digital channels to manage expectations.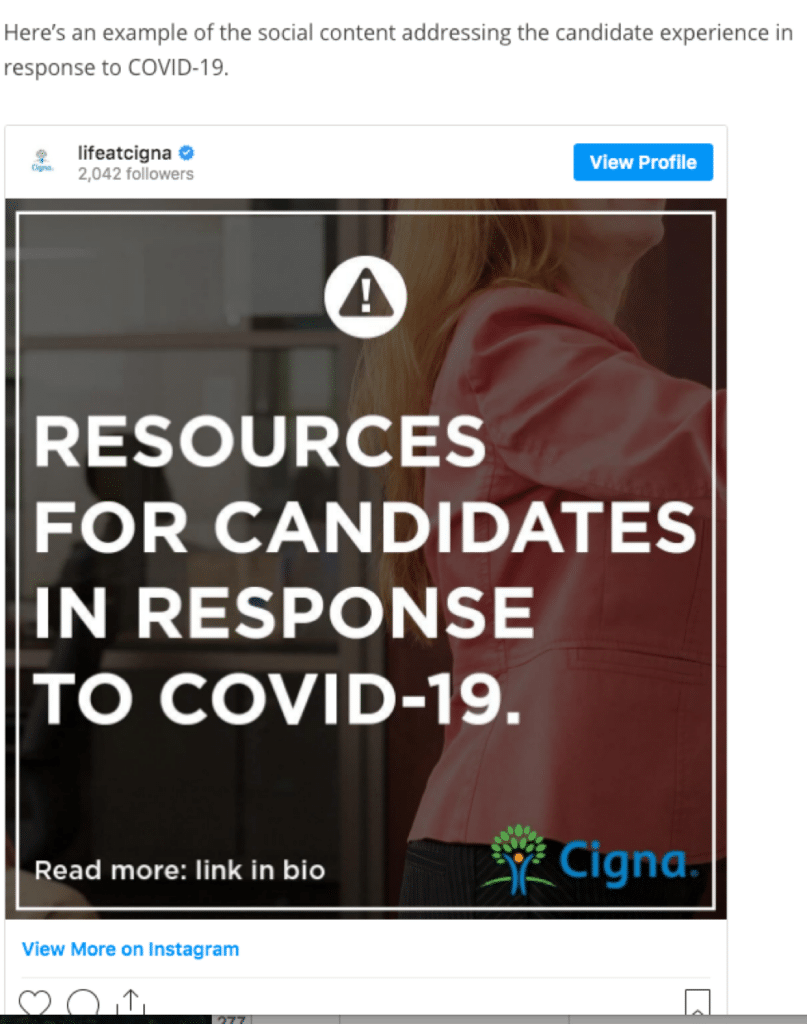 Build a Landing Page to Centralize Messaging. Directing candidates to this repository may be as easy as a link from the career site's home page.You may also wish to reference it through social networking channels. Essentially, this is an organic, "living" document emoting the candidate experiences. "Our goal is to inform candidates so they feel a sense of calm when it comes to the status of their application—which will be strongly appreciated at a time when there are so many uncertainties elsewhere," says Cheretes.
Moreover, when a hiring process has been put on hold, swift, clear and empathetic communications to inform affected candidates will help maintain a nurturing relationship amid uncertainty. In all communications, continual collaboration between hiring management and marketing is integral in ensuring consistent tone and messaging.
EXCELLING AT VIRTUAL INTERVIEWING STRATEGIES
Exhibiting flexibility–through your actions–to adapt interviewing and onboarding strategies to the unknowns exudes your corporate culture and value proposition. 
How Flexibility Enhances Culture
 "A couple of weeks ago, our first wave of clients were allowing some candidates to opt out of onsite meetings and made it comfortable for them to do so," says Atta Tarki, author of Evidence Based Recruiting and CEO of specialized executive search firm ECA in Fast Company's How COVID-19 is Changing the Recruiting and Hiring Process.
A particular concern for people switching jobs right now is whether their new boss will be understanding when scheduling disruptions arise. If helpful to employees, some companies also are enabling delayed start dates.  "By accommodating different comfort levels, companies aren't just saying they have a good culture; they're showing it," continues Tarki.
Enabling Virtual Access Across All Interview Processes
Whether the hiring company is a commercial enterprise, a consultancy or a start-up accelerator program, the virtual interviewing process is being amped up to incorporate more than just the Q&A. A platform for completing employment paperwork, delivering presentations and equipping multiple, concurrently functioning rooms for panel interviewers all are needed to accommodate various interview scenarios.
In Early March, Amazon began canceling most in-person interviews and instead establishing virtual interview portals connecting candidates with recruiters, according to SHRM's article, Job Interviews Go Virtual in Response to COVID-19. This same portal also enabled candidates to fill out necessary documents and participate in video interviews.
Kathy Albarado, the CEO of HR outsourcing and talent acquisition consultancy, Helios HR, has moved the in-person interview and presentation portion of the interviewing process to video. 
"Intel Ignite, a 12-week accelerator program led by Intel in Tel Aviv … announced the 10 startups that will constitute its second cohort which is scheduled to start on April 19, and revealed that the entire final interview process for selection day was carried out remotely," according to Paul Sawyers in the VentureBeat article, Startup Accelerators Forge Ahead With New Virtual Programs.
They filtered 200 applications for the Intel Ignite program to just 16, "which were grilled over live video by more than 50 Intel executives, VCs, entrepreneurs, and others from across the tech ecosystem to arrive at the final 10. 'There were 16 startups, 5 physical rooms with large screens, webcams, Jabra speakers, disinfecting gel, and 60 judges using Zoom,'" Tzahi Weisfeld, Intel Ignite's general manager, told VentureBeat.
IMMERSING NEW EMPLOYEES VIA VIRTUAL ONBOARDING
Once a candidate is hired, the onboarding process is becoming virtual, too, and the biggest change is in the new management style it requires, says Arran Stewart, cofounder and chief visionary officer for the automated job-matching site Job.com, in the aforementioned Fast Company article.
"Onboarding is about bonding and managing emotions day to day, and when you're dealing with working remotely, it creates a challenge," says Stewart. "Onboarding is quite personal. How do you help someone new to the company feel immersed with the business and a part of it?"
"Some companies are using VR technology to give candidates a tour of the facilities," says Tarki. "And regular videoconferencing is important," in order to give a new employee a sense of immersion in the business.
Providing clear direction and leadership further melds the new employee with their team, helping bridge the gap of onsite accessibility. "You may only speak to someone 15 or 20 minutes when before you spent the entire day sitting just a few desks away," says Stewart. "You need to offer plenty of resources and information, with scheduled conversations through video. You need to introduce a routine into their lives."
People working from home is a new status quo, according to Stewart, who adds, "We will have long-tail repercussions to the changes in behavior, and some companies will flourish and new ways of working and new technologies will emerge. In the next 12 months, the recruiting landscape will look quite different."
MAKING IT EASY FOR HIRING MANAGERS
Purposefully aligning and actively involving ALL stakeholders across your hiring enterprise will help buoy results amid these difficult times, and beyond. Leveraging agile technology will integrate initial sourcing with hiring and onboarding. Centralizing easy-to-implement resources and tools will ease managers' stress, creating a more cadenced, fluid process.
Because the talent relationship lifecycle is a continuum, nuanced communication tools must extend their value beyond recruiters and hiring managers to also support executives and influencers involved in the talent management process for perpetuity.
While some people look at recruiting as a funnel, in reality, it is a circle. Beginning with sourcing, you nurture that relationship. Moving to the interview, you extend an offer. After the hire, the recruiting relationships now convert to employees in your database. But it mustn't stop there. These employees can be hired for their second or even third job within your company, fulfilling your hiring and recruiting needs while simultaneously fulfilling their career advancement goals.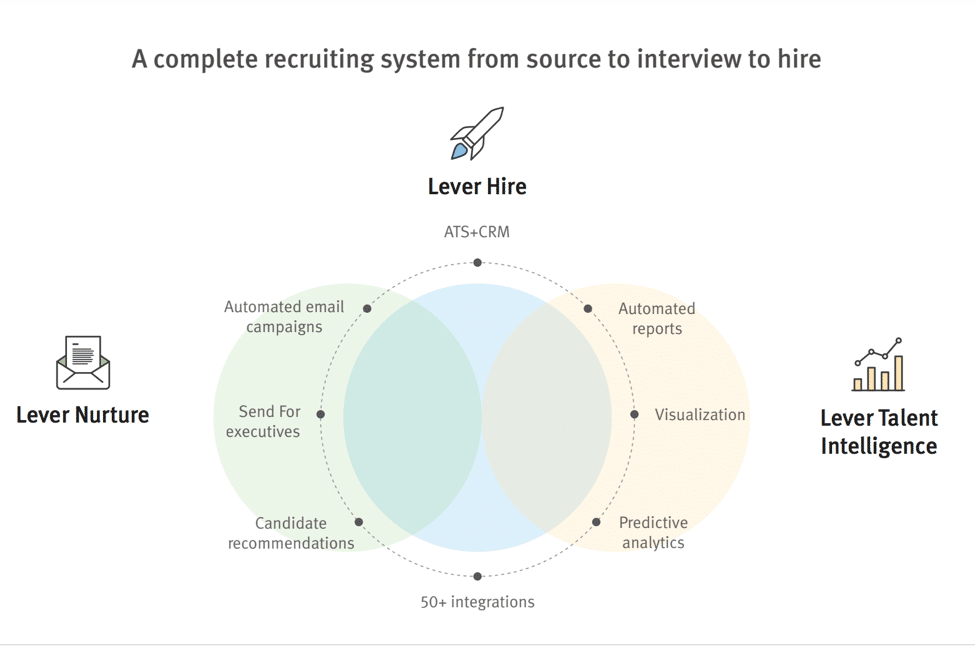 —
Let Lever's modern hiring software, with Zoom integration help simplify your scheduling and hosting of remote interviews. In light of the COVID-19 outbreak, we're extending access to the Zoom integration to all of our customers free through May 31, 2020. Get a demo, today.