The future of work is here. The days of working in an office (at least primarily) are seemingly over, for many professionals across the globe. That includes U.S.-based workers.
To adapt accordingly, companies of all kinds are embracing the remote workforce (or a hybrid version that allows employees to work from home most of the time). They're also adjusting their recruiting practices to find and hire new team members who can help them grow.
One such company is Autify, a Lever customer that recognized it needed new tech to upgrade its recruitment efforts and identify and sign high-quality remote workers worldwide.
The era of virtual teams: How leading companies worldwide build a remote workforce today
The benefits of being a remote employee are many today — particularly for those individuals who used to have lengthy, daily commutes to and from their companies' physical office space.
For business leaders, building and managing a remote workforce presents some challenges:
Ensuring they maintain a focus on employee engagement and company culture
Providing workers with ample face-to-face time with managers and colleagues
Helping remote teams work asynchronously, if needed, to complete vital tasks
That said, the move to remote work also broadens the talent pool from which businesses and their TA orgs can tap into to fill open and upcoming positions across departments.
More specifically, a broader selection of job candidates (i.e., regionally, nationally, or even internationally as opposed to hyper-locally) can help orgs find high-quality prospects.
Take Autify. The Tokyo-based, no-code test automation platform has a fully remote workforce.
After focusing on building out its Japan operation, it turned its attention to hiring employees in other locations around the world. The problem? Its talent acquisition team relied on manual spreadsheets and other dated recruiting processes to identify and hire candidates.
Given its global-growth goals, Autify's leadership team recognized that changes to its talent acquisition technology stack was a must.
"We were hiring for a lot of positions, including sales, customer success, and support engineering," Autify HR Recruiter Yuka Umezawa said. "It wasn't just local. We started recruiting in the U.S. as well."
Because of these international hiring aspirations, Yuka knew an ATS-CRM solution was needed.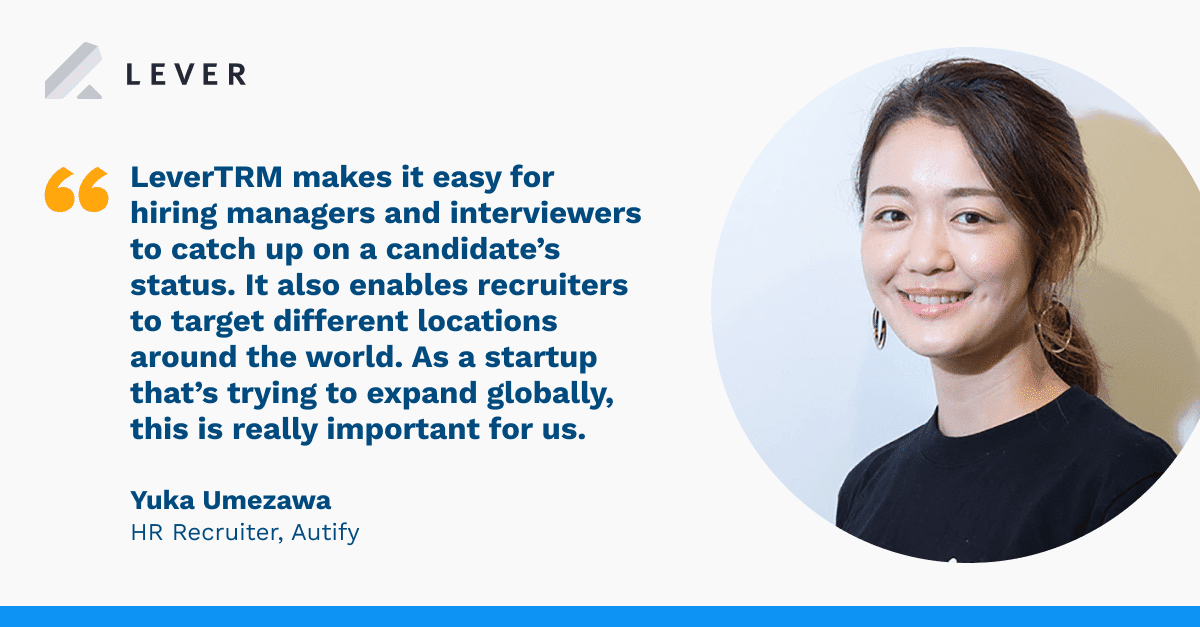 Why Autify turned to LeverTRM to help it scale its remote workforce and grow the business
There were a few key goals Autify wanted to achieve as it related to its global hiring initiative — and our talent acquisition suite has enabled the business to achieve all three.
Goal #1: Scale its global, remote workforce more efficiently.
It's no secret increasing productivity is a main goal for every talent leader today.
Since Autify's recruiters don't work in a traditional office, though, ensuring each talent specialist can use their principal recruiting software to source, nurture, and set up interviews with prospects easily and efficiently became a big priority for Yuka and Co.
That's where LeverTRM, our native ATS + CRM solution, came into play.
"LeverTRM makes it easy for hiring managers and interviewers to catch up on a candidate's status," Yuka noted. "It also enables recruiters to target different locations around the world."
A shared, intuitive user interface from which all recruiters can work from and track their collective and individual tasks and performance was vital to executing its international hiring strategy to perfection and further augmenting its remote workforce, according to Yuka.
Moreover, LeverTRM's direct integrations with recruiting tools like LinkedIn Recruiter System Connect and Wellfound makes it easier to monitor InMail messages, consolidate talent specialists' candidate notes, and stay on top of nurture communications at large.
"As a startup that's trying to expand globally, this is really important for us," Yuka added.
Goal #2: Reduce the amount of time it takes to fill each role.
Accomplishing these tasks more efficiently is important. It's equally critical, though, to carry them out in a timely manner as well, to ensure each Autify recruiter can evaluate and interact with as many high-quality candidates as possible and improve time to fill.
The fact that manual job posting and nurturing took up so many person hours for the team meant it was (well past) time to eliminate use of Excel to keep tabs on and engage prospects as well as update where each job seeker was in their recruitment funnel.
"Hiring for so many positions and roles at once became impossible to do manually," Yuka said.
With LeverTRM, Autify's recruiting and hiring processes have sped up considerably:
In the 12-month period following onboarding our solution, its TA team recruited 41 eventual hires.
This growth equated to a 310% increase in the number of new hires it sourced compared to the year before (i.e., prior to implementing LeverTRM as its central recruiting software of choice).
What's more, LeverTRM has helped her talent acquisition staff hire two-times faster than they ever could with manual-centric recruiting processes and technologies, Yuka relayed.
In short, automating its recruiting efforts and centralizing its candidate data in our platform has empowered Autify's recruiting team to work both smarter and faster.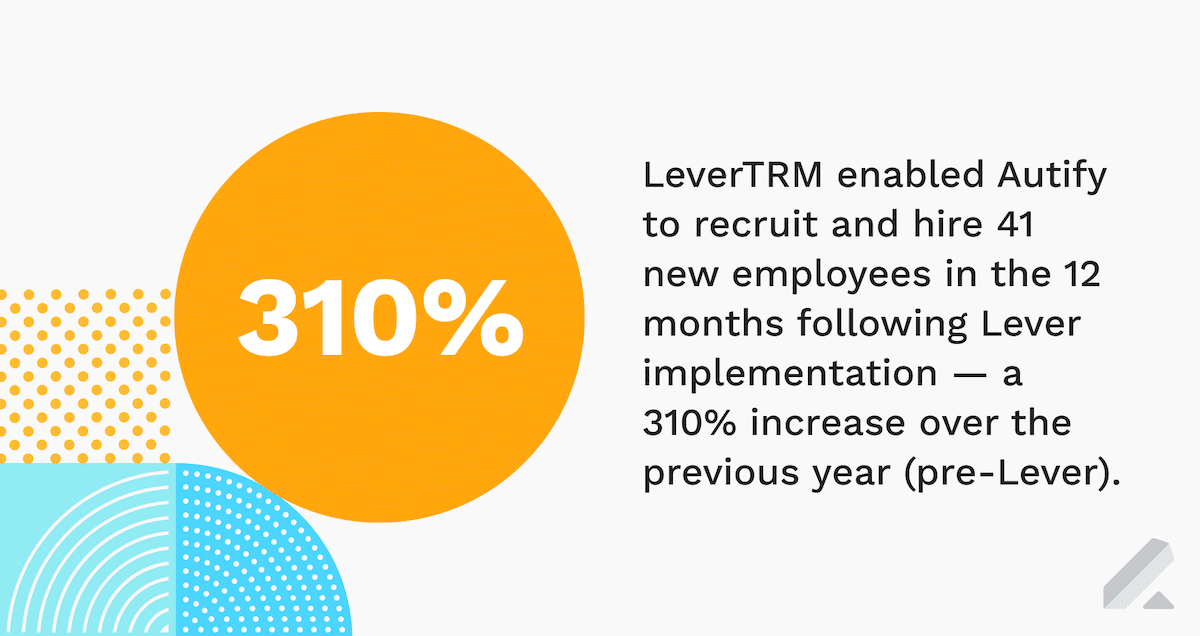 Goal #3: Ensure its recruiting staff could easily use the ATS.
Augmenting crucial metrics like time to hire, quality of sourced candidates, and nurture engagement is important to Yuka and her team. However, ensuring her staff had an easy-to-use platform in place to execute core tasks and elevate these metrics was just as essential.
LeverTRM's analytics was seen as a big differentiator, compared to other ATS software, per Yuka. But our solution was also deemed the most user-friendly by Yuka and her talent org.
Given each Autify recruiter can seamlessly move from one screen to another within our solution (e.g., from analyzing real-time recruiting data in Visual Insights dashboards, to assessing the funnel stage each prospect is in in the Candidates section of LeverTRM), it's easier than ever for the TA org to complete time-sensitive tasks.
"The UI is intuitive," Yuka noted. "It's easy to move candidates to the next stage of the funnel."
Realizing your remote hiring goals with a proactive ATS + CRM solution for your talent team
Making sure all employees maintain a strong work-life balance to avoid burnout. Provide a productive remote work environment for each staff member. Make the most of video-conferencing technology to help workers stay connected and 'on the same page.'
There are many tasks C-suites must tackle to retain their remote employees.
As Lever Senior Manager, Employe Operations Sarah Britton noted to SHRM, providing perks and benefits is "key to not only support a remote workforce but to retain them as well."
As Autify showed, though, the process of finding and hiring top-tier remote employees and scaling the organization is clearly a prerequisite to establishing a retention strategy — and it all starts with investing in, and effectively utilizing, the right recruiting software.
Doing so is your best path to scale your business and improve your core recruiting metrics.
"We couldn't do [so] without LeverTRM," Yuka explained.
Read our entire Autify case study to learn more about how the business executes its global recruitment strategy and continually expands its fully remote workforce with LeverTRM.