"Recruiters need to go the extra mile [today] to ensure success along each step of the recruiting process," Employ SVP People & Talent Corey Berkey wrote for Undercover Recruiter.
Translation? Recruiters must understand how to attract and engage high-quality job candidates through the right types of recruitment marketing channels that convert the most job seekers to result in talent acquisition success.
But, to attract and retain top talent, you also need to recognize the sizable impact a strong employer brand has on your recruiting and hiring.
How your company's employer brand affects your hiring team's talent acquisition efforts
Good employer branding influences how people view your business. We don't just mean candidates. It also impacts customer, partner, and investor opinions.
There are a few facets of your employer branding strategy — one ideally built by your leadership, HR/TA staff, and people managers — that can help relay what your company is all about. (And, in the case of candidates, show them your business is a great place to work.)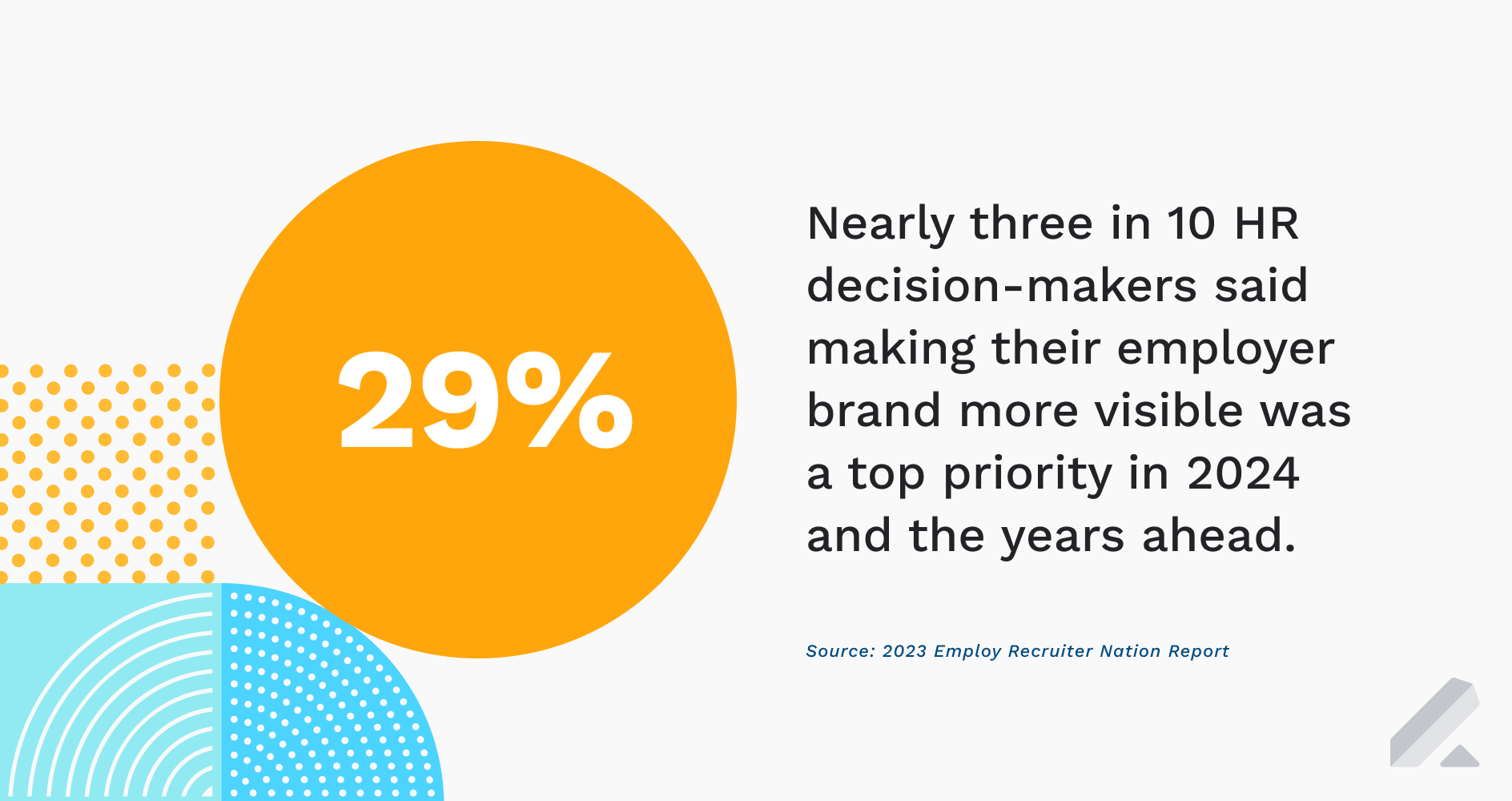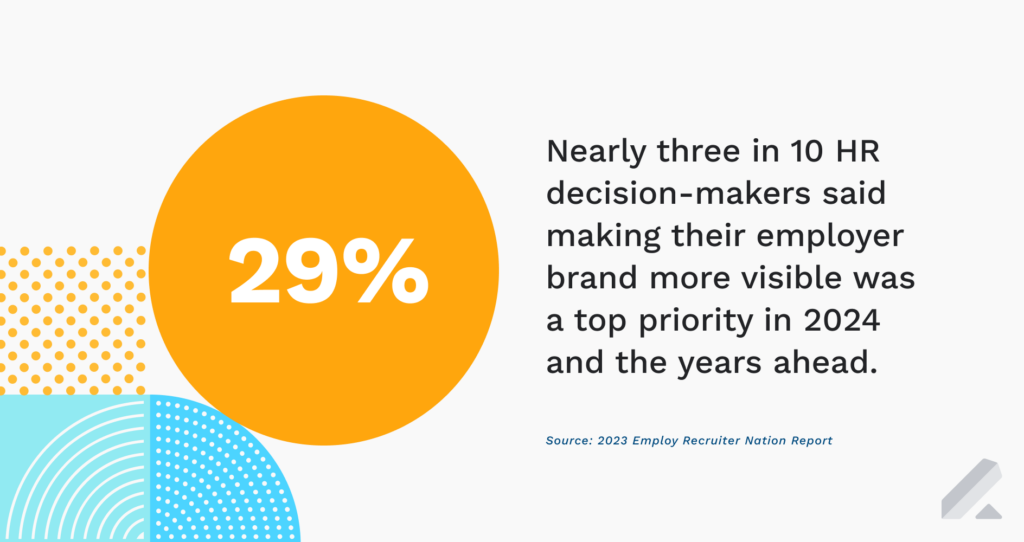 Your "EVP" tells candidates what it's like to work at your company
Your employer value proposition (EVP) "establishes your expectations for performance and behavior and the rewards for meeting them" to applicants and "validates your reputation in the [job] marketplace," Ph.Creative CEO Bryan Adams wrote for Harvard Business Review.
Job seekers want to know what their "reward" for joining an employer would be, in terms of mission, vision, values, connection, compensation, benefits, perks, work-life balance, and internal mobility.
Similarly, potential candidates want to know what would be expected of them by executives and their direct managers, should they join the company.
The clearer your EVP, the more likely active job seekers will apply and the more likely passive candidates will want to learn more about roles that recruiters contact them about.
Your employees' experience can help you attract top talent
Learning about existing employees' experiences via reviews on job boards, social media posts highlighting work they've taken on at your business, and testimonials workers provide on your career site can also affect how candidates will view your company.
In terms of reviews, specifically, recent Paychex research found 76% of job candidates don't apply to companies with negative Glassdoor reviews. This highlights the importance of employer branding efforts geared toward getting members of your workforce now to proactively share their experiences on relevant and popular career communities like Glassdoor.
Your brand's digital presence at large showcases your culture
Speaking of employee experience, a big benefit of employer branding is that it shares how your staff enjoys working at your business is you can highlight both your organization's culture and the relationships employees build with one another to learn new skills and build communities within the business — something many younger job seekers now want from employers.
"While there are numerous ways to attract and retain talent, such as higher wages, more flexibility and better benefits, many agree that workplace culture and … relationships play a major role in determining employee experience," TaskUs CPO Rajnish Sinha wrote for HR Dive.


What it takes to build a best-in-class employer brand that helps you hire top talent
Building an employer brand doesn't happen overnight. It takes time, energy, and — yes — budget to get right. The good news? There's a blueprint your business can follow to bolster your EVP, enhance employee engagement and satisfaction, and — in turn — hire top talent.
A clearly defined mission statement developed by your C-suite
"If prospective hires were to look at your mission statement … what impressions might they have?" business leadership expert Roxi Bahar Hewertson recently wrote for SHRM.
It's a fair question. It's also one too few HR/TA leaders consider when creating their annual recruitment plans (and even when looking for ways to optimize their hiring efforts mid-year).
Your career page may be the first and only place on your brand's website where would-be and eventual applicants land. But, more and more job seekers are checking out companies' About Pages to learn their stance on DEI, social issues, and values at large.
Work with your leadership team to develop a clear and concise mission statement that is featured prominently on your site so all visitors — including candidates — can see exactly what your business is all about and progress you've made in realizing said mission.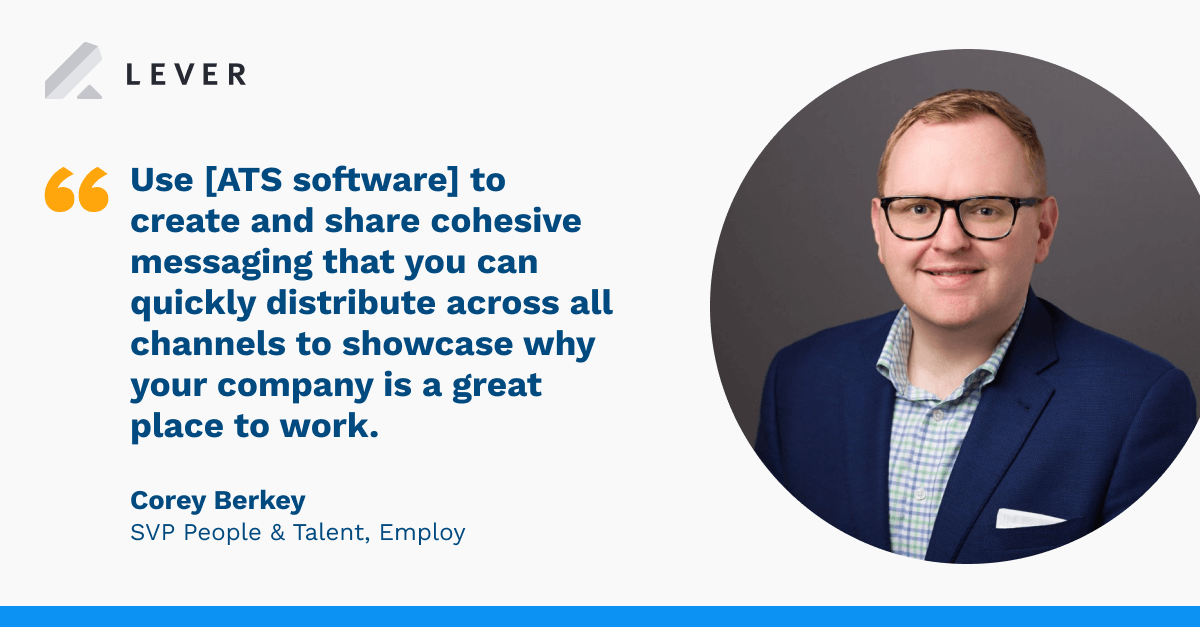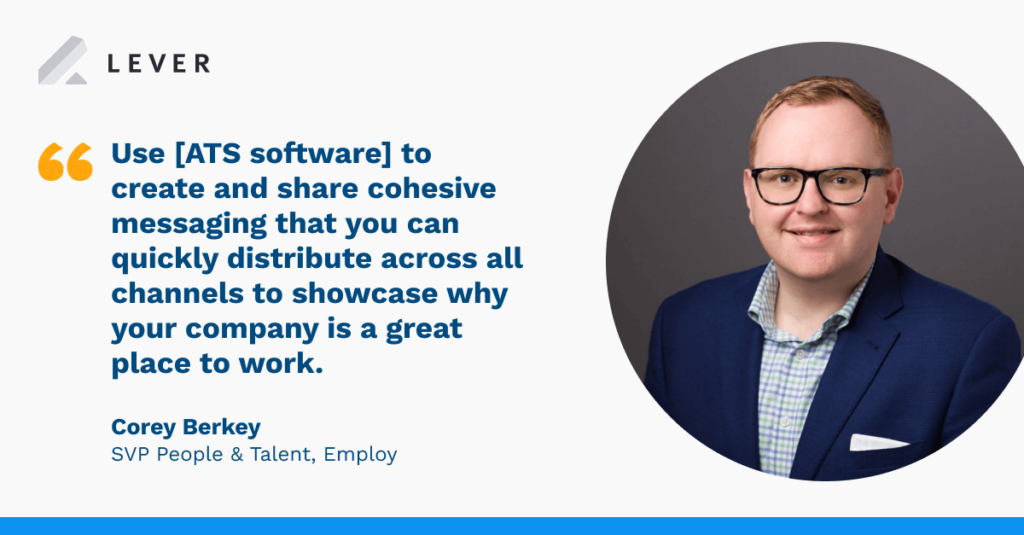 Alignment with your marketing team on brand storytelling
Your marketing colleagues have expertise in crafting compelling content geared toward potential and existing customers. So, it only makes sense to ask them for assistance with developing employer brand messaging that will resonate with your ideal candidate profile.
"[Human resources] teams absolutely need to work with marketing teams or hire a marketing consultant to help them create the right kind of content depending on the 'persona' or audience," human capital strategist Miriam Groom shared with People Managing People.
With an employer brand messaging "framework" co-created with your marketing department, your HR/TA team can have a definitive, go-to guide they can leverage when writing career site copy, impact descriptions, nurture emails, and other recruitment marketing collateral.
A bonus of a dedicated framework is consistency. Recruiters can stay "on-message" in all candidate comms and won't unwittingly position the company in a "wrong" way.
Incorporation of your employer brand messaging everywhere
Knowing what to say on your site and in candidate-facing messaging is a pivotal step to employer branding success. But, without a single solution from which you can communicate with candidates, it is difficult to scale your outreach efforts, bolster your talent pool, and hire top talent quickly and efficiently.
That's where advanced, yet easy-to-use recruitment software like LeverTRM can help.
"Solutions like applicant tracking systems (ATS) and candidate relationship management software (CRM) empower companies to create cohesive brand experiences from one central location," Corey recently wrote for SpiceWorks.
"Use these tools to create and share cohesive messaging that you can quickly distribute across all channels to showcase why your company is a great place to work."
With built-in candidate engagement functionality — including pre-set nurture campaign templates you can modify with ease to send personalized, on-brand emails to job seekers — and a customizable career site feature, you can scale your talent outreach efforts and ensure your employer brand messaging is front and center in all external communications.
A combination that can help you position your business as a leading place to work today.
Need tech that helps you promote your employer brand throughout the recruitment life cycle? Look no further than LeverTRM. Book a demo today to learn about our ATS + CRM.