A series of devastating tech layoffs kicked off 2023. The economic downturn will likely continue to take its toll, with cutbacks possibly spreading to other sectors.
There are well-placed concerns about how these cuts derail diversity in the workforce, as many diversity, equity and inclusion (DEI) committees have lost team members, employee resource group (ERG) leaders and program budgets.
Our latest State of Diversity, Equity & Inclusion report found that 18% of companies decreased their investment in DEI over the course of 2022.
Losing DEI momentum during economic uncertainty can signal a lack of genuine commitment. Job candidates and employees expect to see meaningful actions on social inequities at your company, and they don't put those expectations on hold during economic declines.
Our DEI report also found that more than half of the job seekers include DEI as a factor in evaluating potential employers.
Even though your business may be tightening budgets, making meaningful, ongoing progress with DEI is still critical. Your company can't afford the cost of employee disengagement and attrition due to inaction with diversity programs.
Despite the realities of the economy, your organization has a duty and responsibility to maintain momentum with your DEI efforts today.
Here's how some top companies are retooling their approach to DEI and what you can learn from them to increase the diversity of your workforce.


Changing how you source and engage talent to improve diversity in the workforce
Despite good intentions and the reality that diverse talent is readily available, companies still face difficulties with identifying and hiring them.
In fact, 63% of employers have difficulty finding diverse candidates.
Proven ways to remove barriers and reduce bias to build a more equitable interview and hiring process include:
Using a simple framework to refresh your hiring strategy: We recommend a four-stage process that helps you diversify your talent sources.
Writing inclusive job postings to avoid language that can be perceived as discriminatory: Ensure your listings don't feature language that could be perceived as exclusive. Avoid gender-coding, extreme language (i.e., world-class), stereotypes (i.e., competitive), and unnecessary requirements (i.e., "must come from top-tier schools)."
Replacing educational requirements with relevant skills or core competencies: This helps to encourage people to apply even if they don't meet all of the listed requirements.
Posting to specialized job boards: Many DEI leaders publish listings on job sites specifically geared toward women and the LGBTQ+ community to attract diverse talent. Similarly, eliminate the sources that fail to generate a diverse set of prospective candidates.
Lever's TA team uses our ATS + CRM solution to achieve (and maintain at least) 50:50 gender parity and reduce its average time to fill, which has since fallen to 37 days.
Specifically, our recruiting org uses LeverTRM's pre-built EEO questions and Diversity survey to measure the talent pipeline diversity.
The team also uses features like Lever Chrome extension and Advanced Nurture to engage and nurture diverse candidates in a personalized way.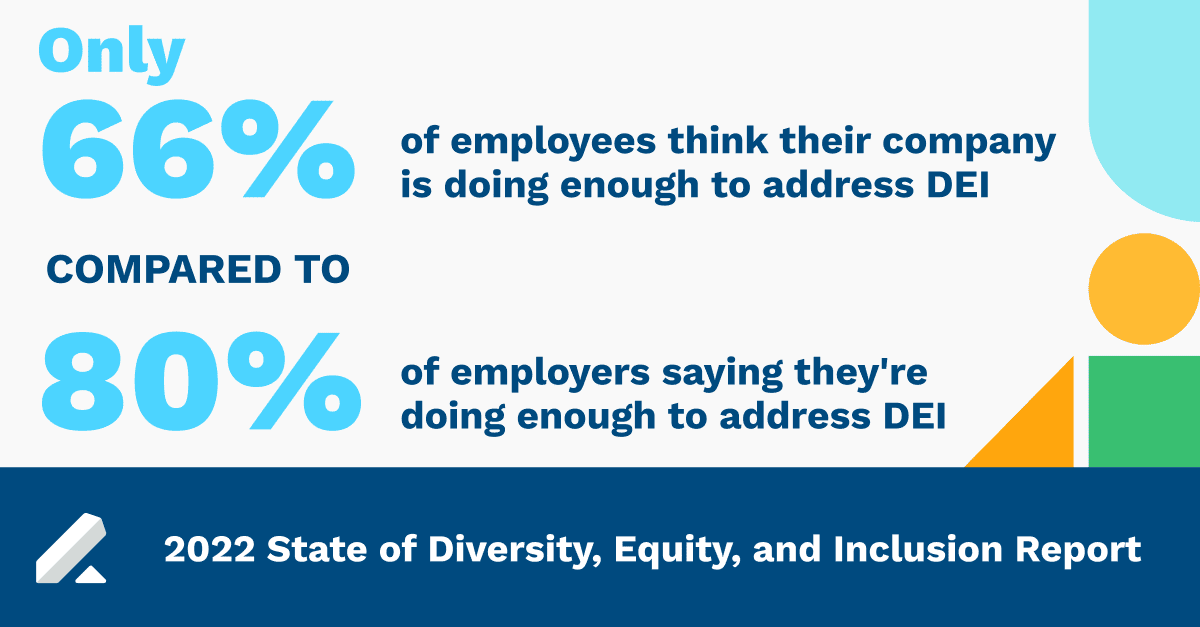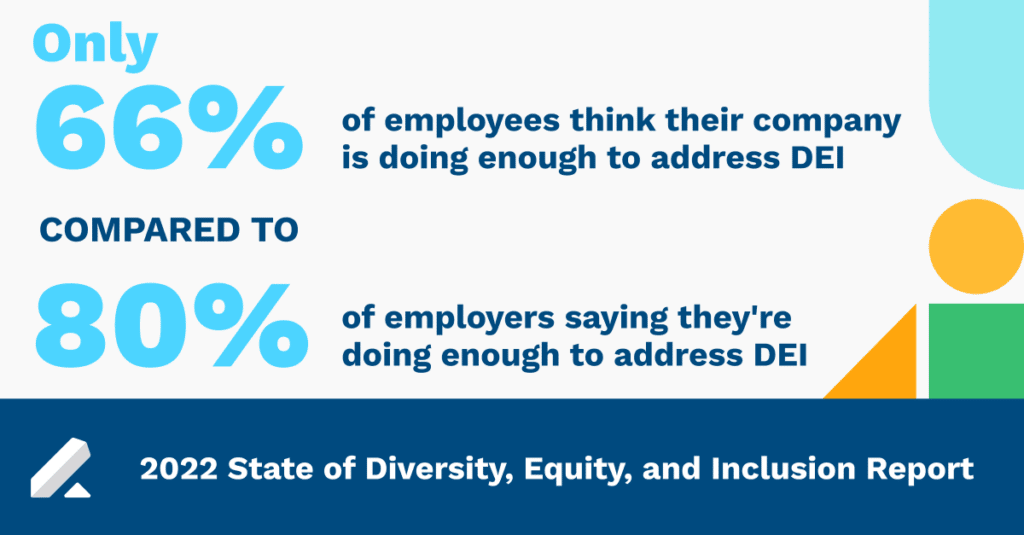 Constantly and consistently communicating inclusive workplace policies is critical
New employees are bombarded with information on policies and processes. The volume could be overwhelming, and it's likely that quite a bit falls through.
Awareness of inclusive policies and benefits is vital to attract and retain talent.
Our DEI Throughout the Employee Lifecycle study found that while 65% of employees know they have a floating holiday policy that allows employees to celebrate holidays other than federal holidays, 35% do not know of this policy.
Today, leading orgs with best-in-class DEI initiatives are revising their onboarding processes to improve candidates' experience during the recruitment process.
Successful TA teams make a point of sharing these inclusive practices with each candidate in addition to adding them to their career pages.
Consider TextNow. The business leverages Lever's integration with LinkedIn Recruiter and Advanced Nurture to move the hiring process in-house.
Besides helping the company save on agency spending, LeverTRM streamlines TextNow hiring and onboarding and enables them to communicate inclusive benefits and policies in job postings and on their Lever-hosted career site.
Here's how you can keep benefits awareness high once employees have joined your org:
Survey your employees quarterly to better understand their awareness level of your org's inclusive benefits and policies.
Create a searchable benefits handbook that allows employees to get detailed info without having to contact human resources.
Ask ERG leaders to communicate relevant benefits with their members frequently (e.g., through dedicated Slack channels).


Getting your executives onboard with DEI to enhance your diversity in the workforce
In an eye-opening revelation, our State of DEI report found that only 56% of companies have executive buy-in for diversity, equity and inclusion-centric initiatives.
Without buy-in from leadership, companies won't be able to make much headway with their diversity in the workforce. And getting executive buy-in isn't just a budget sign-off.
This also includes securing your C-suite's active support for and participation in DEI initiatives company-wide to show they are committed to affecting true, positive change.
This support is especially vital during the economic downturn, when budgets and resources are limited for many business units' needs.
Choosing who gets laid off during "down" periods also reveals leadership's commitment to DEI. For instance, the policy of "last hired, first fired" often impacts diverse employees the most.
By helping the executive team to be more intentional about staff reductions, your company can maintain and showcase a diverse workforce and inclusive culture.
Some execs responded to market disruptions by taking a pay cut. Their workforce likely appreciated these leaders' salary reductions, the goal of which is to prevent the need for additional, unnecessary layoffs across their orgs.
But, only when executive pay cuts are combined with equitable layoff policies will your company make sure that the layoffs don't impact diverse employees disproportionately.
Discover how you can enhance your diversity recruiting and hiring efforts with LeverTRM. Take the tour of our complete, native talent acquisition suite today.