The hiring landscape and overall business climate experienced a 180-degree turn from the start of 2022 compared to the end of the calendar year:
The international economy became increasingly murkier.
Consumer spending and sentiment continued to dwindle.
Many companies ceased hiring and laid off employees.
This ongoing uncertainty is likely to persist in the initial months of 2023.
However, it's vital for TA leaders and their teams to prepare their pipelines today to hire high-quality candidates when economic conditions improve.
To aid organizations in their efforts to withstand these turbulent times and ensure they're ready to hit the ground running with hiring again later this year, we continue to augment our complete ATS + CRM solution with new and enhanced talent acquisition functionality.
Here are the latest updates to our native talent acquisition suite to kick off 2023.
New "bulk" opportunities functionality to rediscover and re-engage archived candidates
Talent teams at large companies need the ability to send personalized nurtures to several candidates at a time to achieve their conversion and headcount goals.
Lever's new bulk opportunities functionality enables our customers to assign archived prospects in LeverTRM to existing opportunities. Once added, these candidates can be automatically added to dedicated nurtures tied to those opportunities (i.e., open roles).
Sending bespoke nurture emails to individual prospects is essential.
That said, this new LeverTRM capability empowers our customers to reconnect with several candidates of interest in their database and, in turn, decrease their need to source net-new prospects to fill open roles.
"The new bulk opportunities functionality in LeverTRM takes candidate rediscovery to the next level," said Lever Sr. Product Marketing Manager Roy Reif.
"By resurfacing and engaging qualified candidates of interest from the past, Lever customers can eliminate hours of sourcing and manual workflows, all while still providing the same level of accuracy for starting new hiring processes or migrating to roles that are better suited for."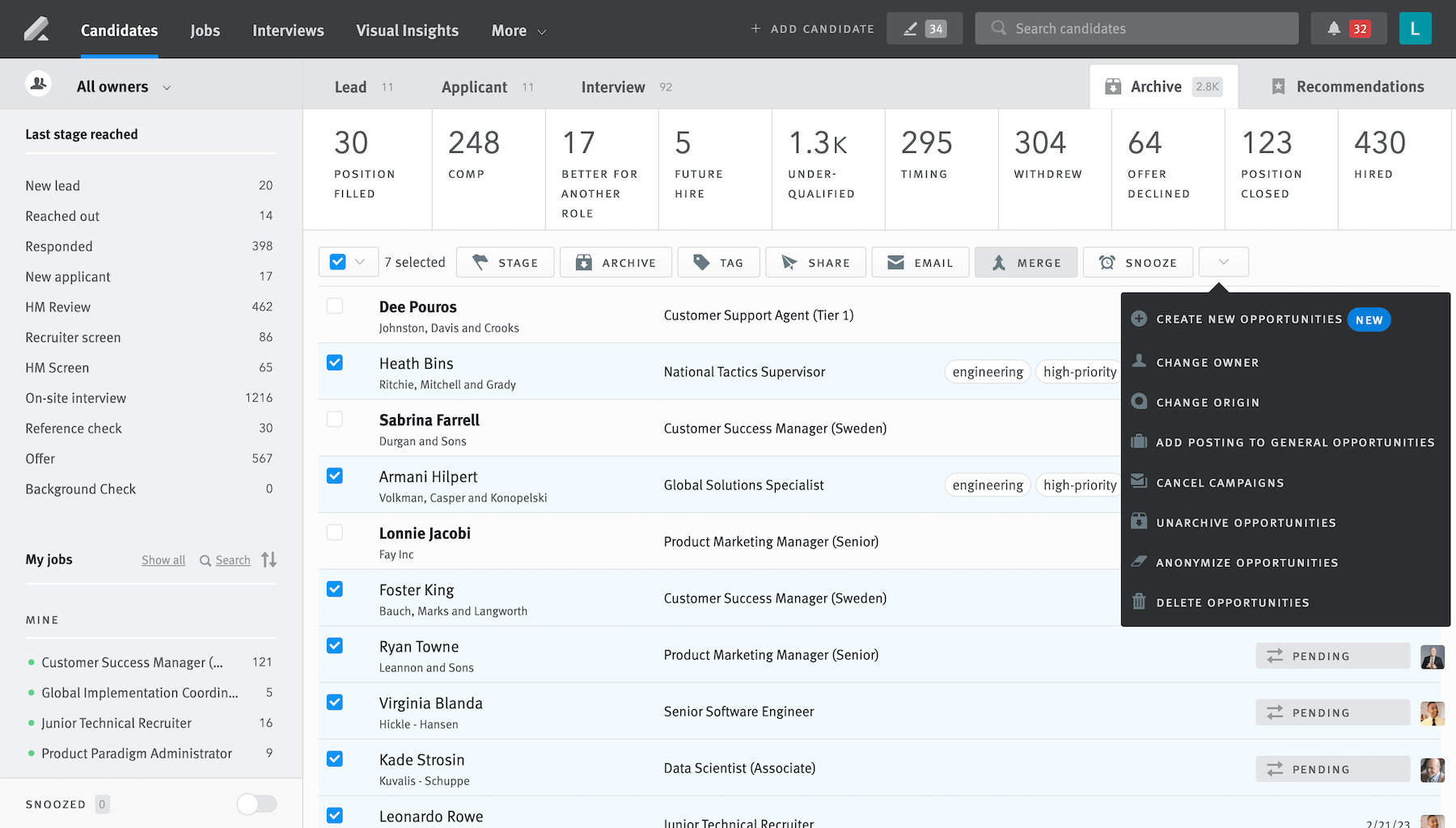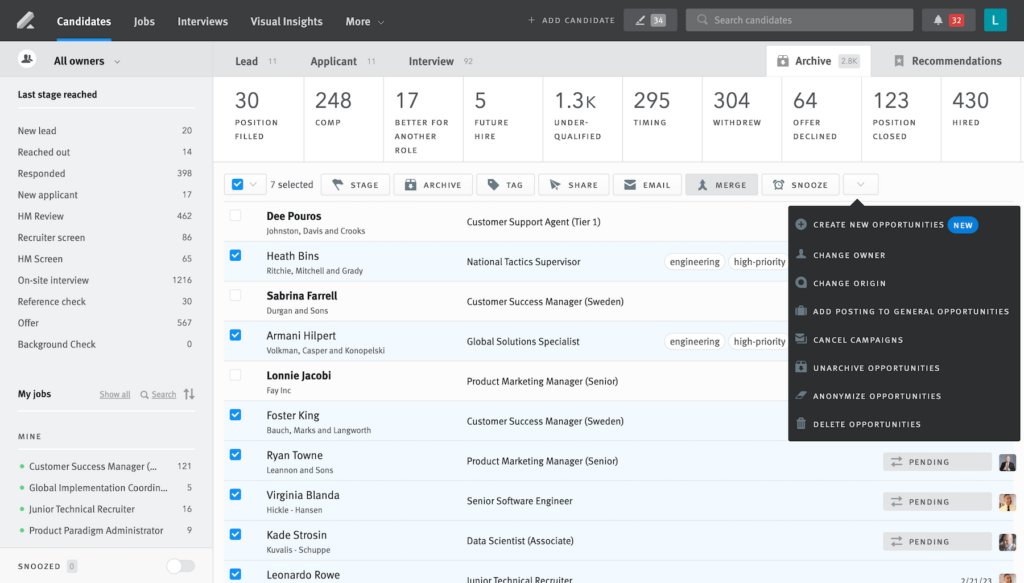 Updated email experience to enable customers to incorporate their employer brand visuals
Generic, plain-text emails may look professional. But, recruiters need nurture messaging to stand out from emails sent by talent specialists at other employers.
The best way to do that is to infuse their visual employer brand into their nurture templates — something LeverTRM now offers talent teams with our native TA suite.
Our updated email experience in our complete ATS + CRM solution offers new, customizable branding options for all Lever customers.
This new employer branding feature helps Lever customers increase brand exposure in their initial outreach and ongoing nurture emails to passive prospects.
For instance, LeverTRM users can now add GIFs and images to their emails, style their email content with new font colors and formatting options, and standardize their branding by importing their own HTML email templates through our source code editor.
New pay transparency input fields to provide salary band information in job postings
Candidates increasingly want to know the compensation offered for roles they discover on job boards and via companies' career sites. Prospects who come across listings without salary details are less likely to apply for those positions compared to ones that do list a pay range.
Our new pay transparency feature gives our customers flexibility to update salary band fields manually or via their Lever APIs when posting to their custom career sites and to LinkedIn and Indeed via our direct integrations with the job boards.
This functionality helps Lever customers show prospective candidates they care about being open and upfront with compensation.
Equally as important, this feature enables our customers to remain compliant with salary transparency laws enacted across the U.S. (and similar measures likely to come soon).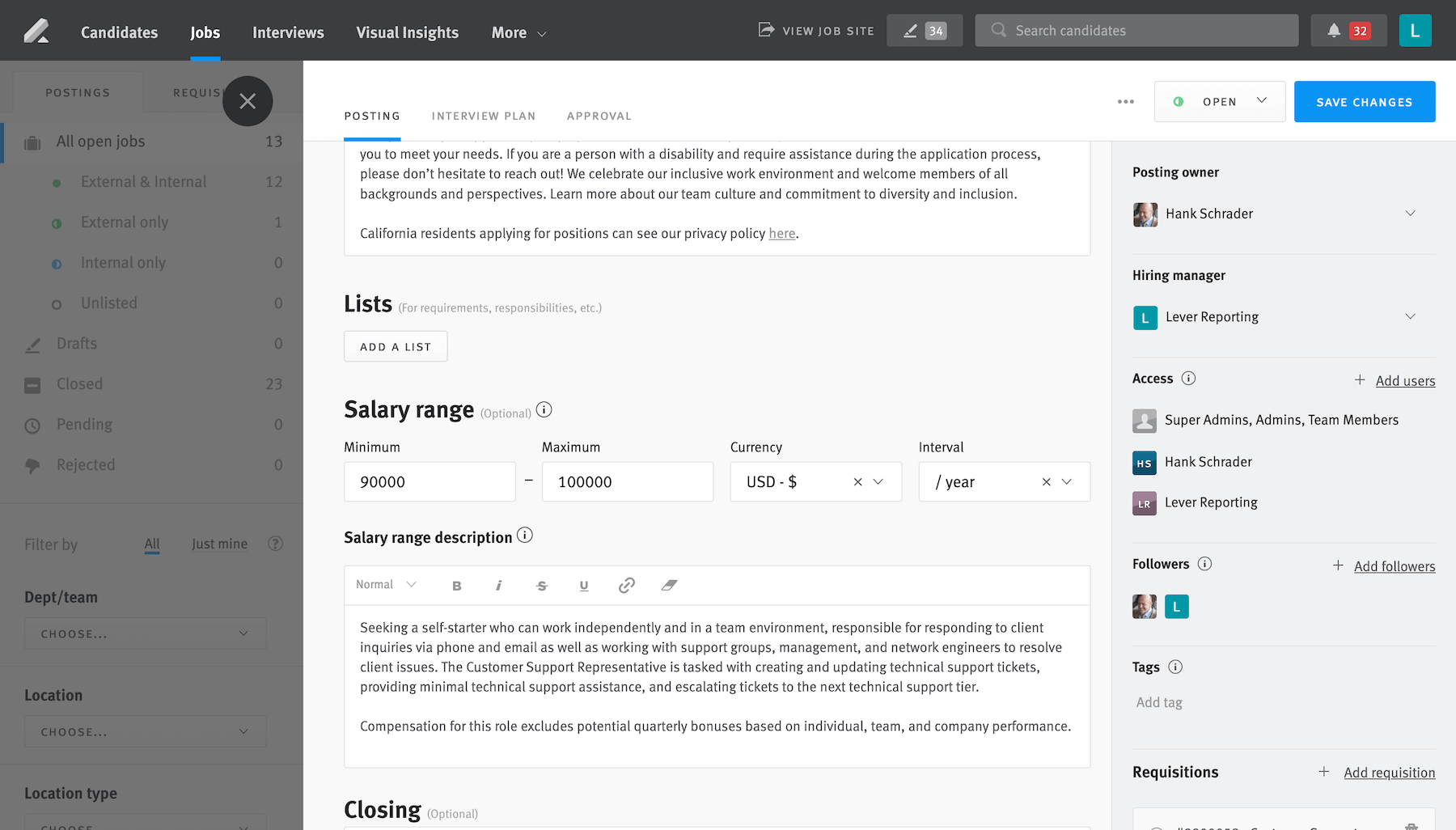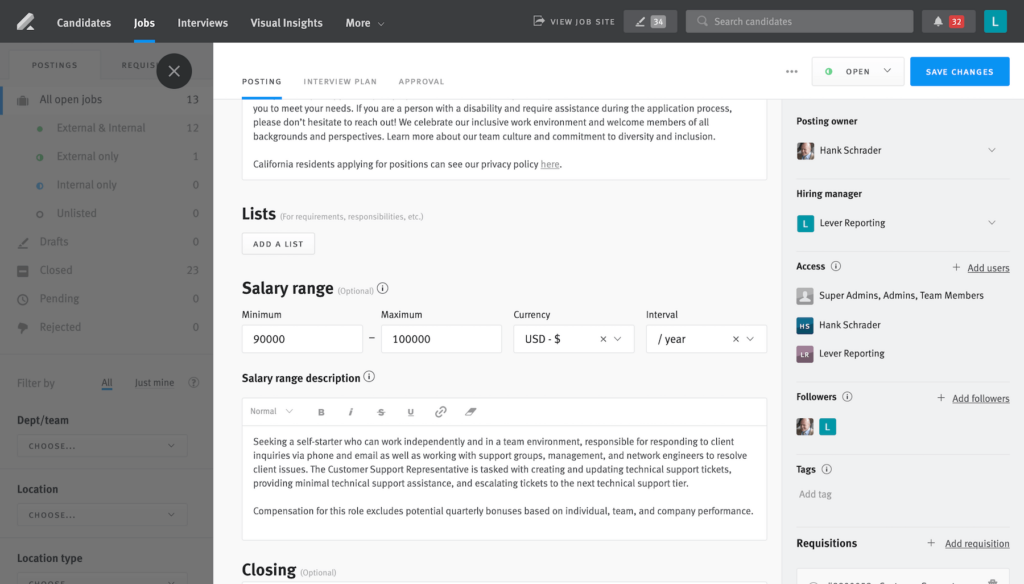 Additional metrics in the Requisitions and Pipeline dashboards offer greater visibility
LeverTRM users continue to leverage Visual Insights to better understand the current state of their recruiting operations, including which roles require immediate attention and where each prospect resides in their pipeline.
New data visualizations and metrics are added to our out-of-the-box talent analytics regularly. As of the Winter 2023 release, additional insights are now available in two of our most popular dashboards in Visual Insights:
Requisitions Dashboard
An "All Requisitions" tile that provides more granular details regarding all filled and open roles has been added to Visual Insights.
This tile view is filterable and downloadable for LeverTRM users. In the Advanced Analytics version of the dashboard, new metrics — the average time for first and last approval and the number of days each requisition has been open — have been added, along with the ability to compare requisitions from one period of time to another.
Pipeline Dashboard
Lever customers can now also get more intricate insight into where candidate conversions occur throughout the recruitment cycle as it relates to advancing prospects from one pipeline stage to the next (e.g., phone screen to initial panel interview, assessment to offer stage).
What's more, our customers can get an at-a-glance view of the total volume of active candidates in their current pipeline and historical opportunities they either archived or hired.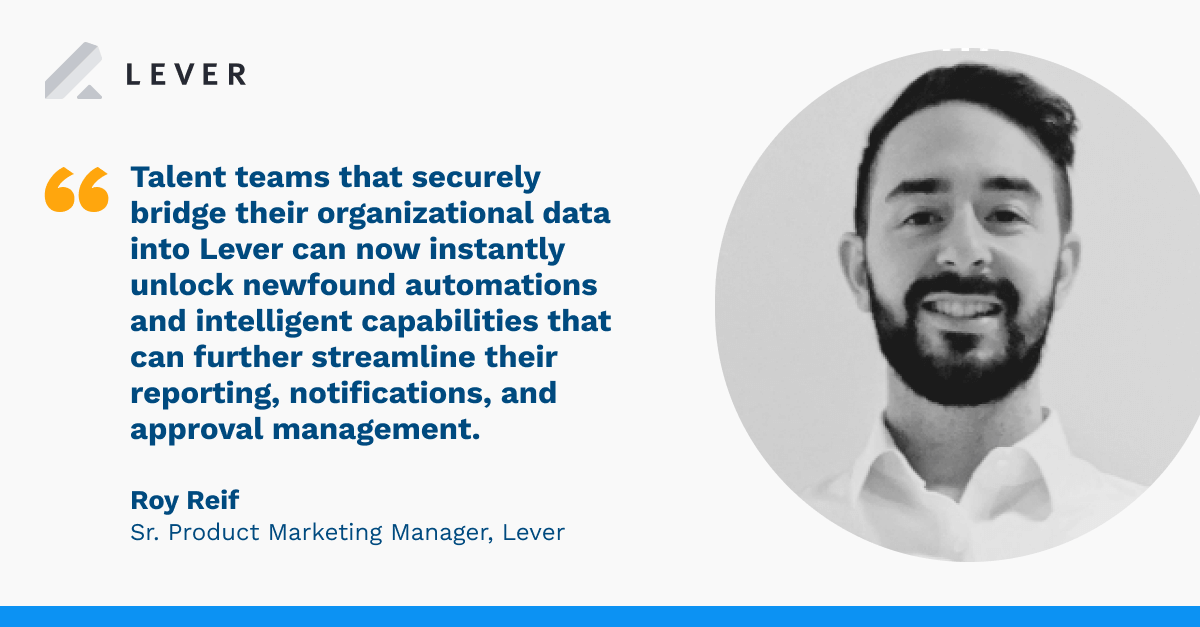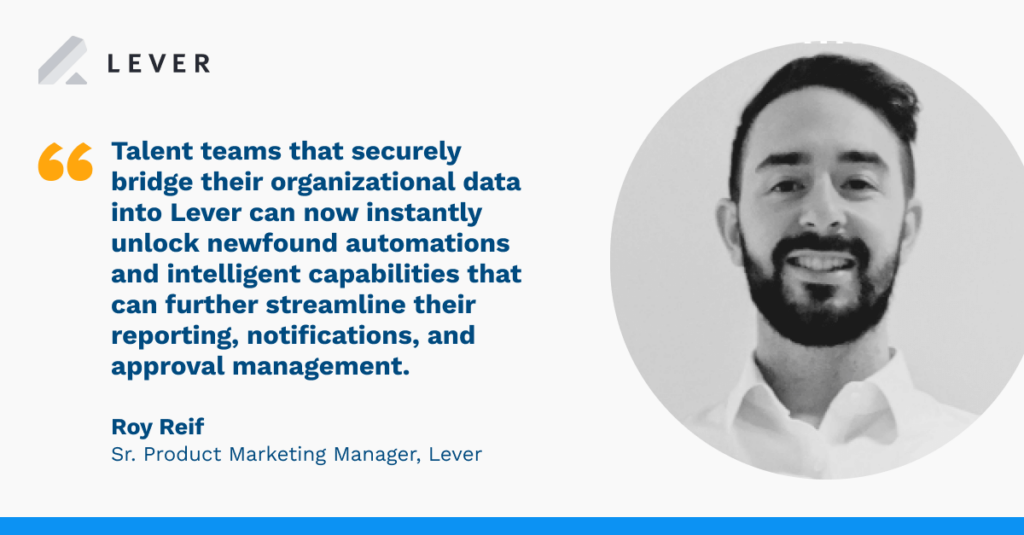 Org structure imports and syncs enable hiring teams to streamline approval processes
Setting up an org chart in an ATS to ensure the proper sequence of approvers for job requisitions, postings and offers shouldn't be done manually.
Our new Organization Configuration feature release allows Lever customers to import and sync their official org structure hosted in their HRIS and related user attributes. Once imported into LeverTRM, customers can provision and de-provision user permissions as needed.
This enables Lever customers to further enhance and streamline their TA approval processes and ensure no hiring stakeholder is accidentally left out of the loop in terms of decision-making regarding which reqs to prioritize and which candidates deserve an offer for active roles.
"Talent teams that securely bridge their organizational data into Lever can now instantly unlock newfound automations and intelligent capabilities that can further streamline their reporting, notifications, and approval management," said Roy.
"The impact of reducing approval wait times and assigning and adjusting user roles is something we know our customers need to continually enhance their recruiting and hiring speed and efficiency."
Many new integration partners added to our exhaustive ecosystem of TA tools
As with all feature releases, we added several popular recruiting tools to our comprehensive partner ecosystem in the Winter 2023 release. These offerings include:
Career.Place: The anonymous candidate screening software ensures prospects meet all minimum qualifications for roles they apply. This candidate assessment tech saves recruiters by preventing resumes and applications from poor-fit prospects from landing on their desks.
Vervoe: A candidate may look great on paper. But, many employers want to test a prospect in some manner to ensure they can actually execute well in a given role. Vervoe offers customizable skills assessments that allow hiring teams to see what candidates are truly capable of.
StepStone: The AI hiring solution's ATSi Apply feature automatically sends candidate info (LinkedIn details, resumes, CVs, etc.) to LeverTRM moments after a prospect applies for an open role. This automated data collection regarding job seekers reduces the need for manual profile updates
Learn more about these ATS + CRM capabilities, and discover how LeverTRM can help you find the right talent today to prepare for tomorrow. Schedule your demo today.