Has employee onboarding fallen off track in your organization? According to a Gallup report, only 12% of employees feel their company does a good job onboarding new team members, leaving 88% of workers with lackluster onboarding experiences.
However, long before a new employee begins their role, their onboarding begins during the interview process. This makes having a strong candidate experience paramount.
Recruiters are key to driving a strong candidate experience that leads to onboarding success, and they can partner with HR to carry a positive interview experience into a memorable and effective onboarding process.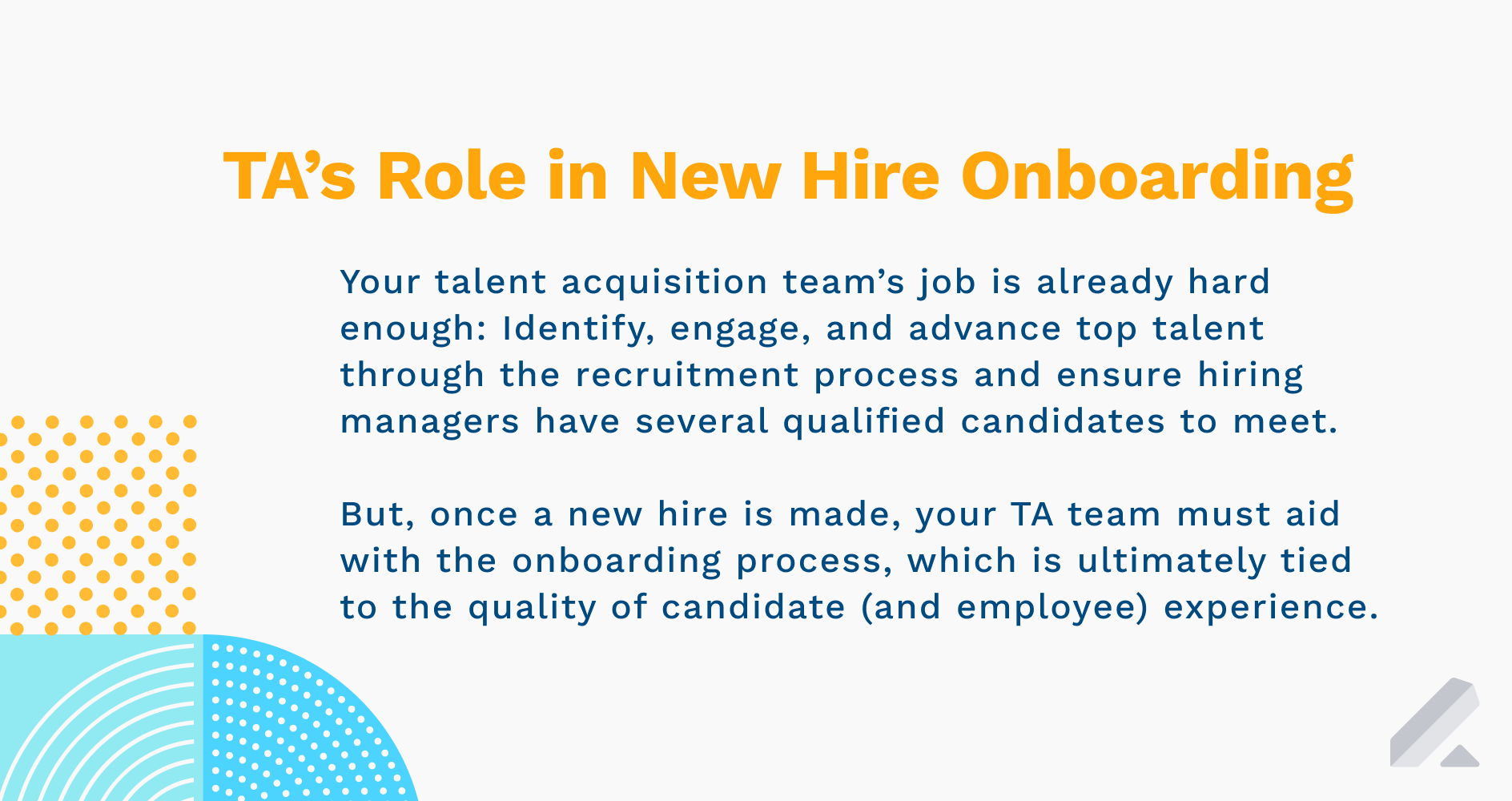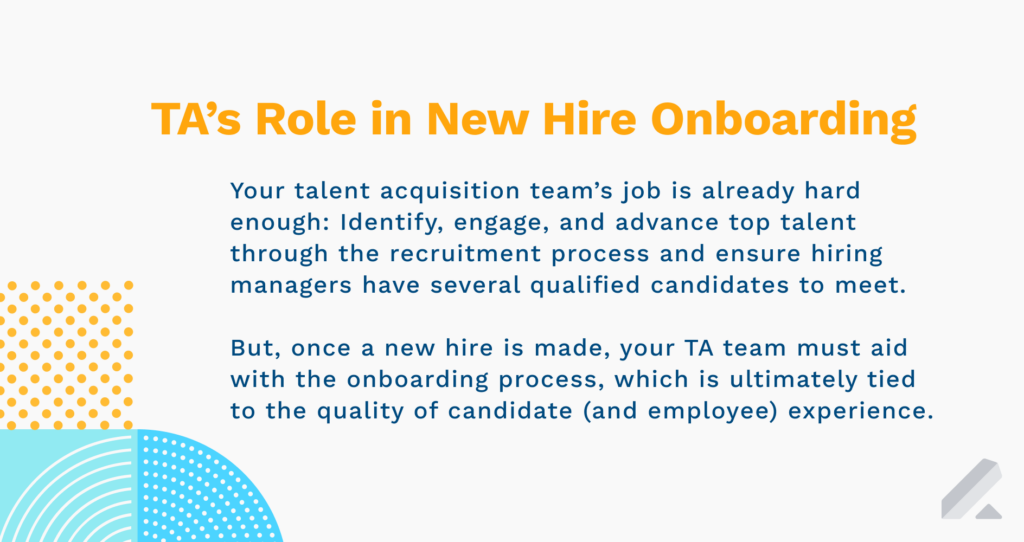 How a coordinated TA-HR onboarding approach can help improve the candidate experience
"We spend a ton of time, energy, and resources on giving our candidates a great recruiting experience," said Sundt Talent Acquisition Manager Jon-Paul Jaramillo.
"But once our candidates signed their offer, that experience started to fade away leading up to their first day on the job. We knew immediately we needed to fix that."
Recruiters know how much candidate experience matters. For example:
CandE reports show that more than one-third of all employers still do not align the performance of recruiters with candidate experience results, which is a missed opportunity. Additionally, a global survey of recruiters that Talent Board recently conducted in partnership with Phenom, a global HR technology company, found that 41% of recruiters said they're not held accountable for meeting specific service-level agreements (SLAs).
79% of candidates share a positive recruitment experience, and 47% a negative one which can adversely impact the employer brand.
Candidate experience doesn't only impact recruitment outcomes – it impacts business outcomes. As an example, Virgin Media lost $6M/year in sales revenue due to a poor candidate experience.
A great candidate experience encompasses strong employer branding, more referrals, fewer withdrawals from the recruitment process, and faster time to hire. A top-tier candidate experience also creates the best conditions for an engaged, productive employee.
As a result, a stellar candidate experience drives a satisfying onboarding experience.
In fact, when the tenants of a good candidate experience are used to drive onboarding, employees are more engaged and productive, and it also drives better business outcomes for the company.
But let's broaden it to how talent teams can provide a premier candidate experience and then aid HR with onboarding to continue that top-tier CX.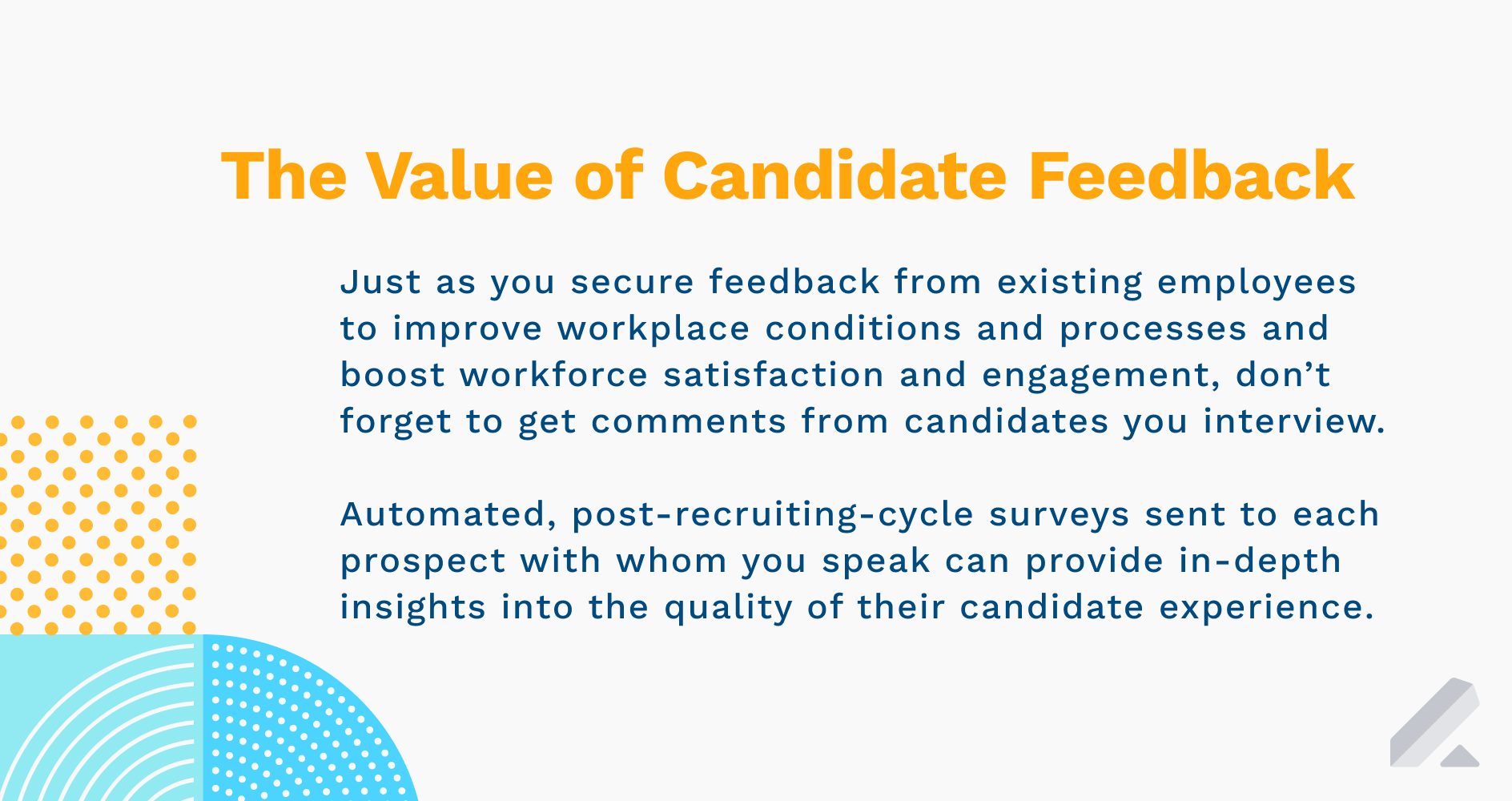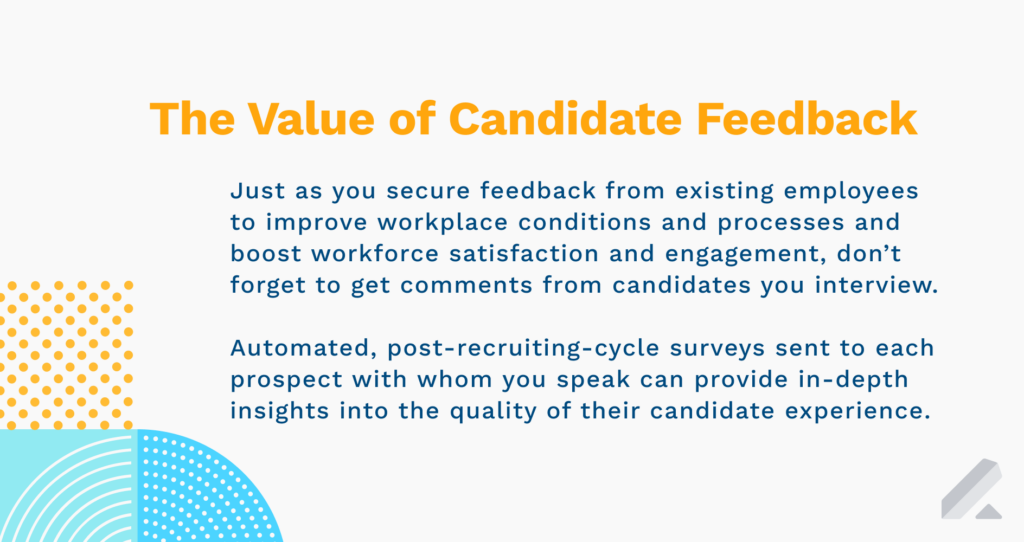 Talent teams can play a pivotal role in the onboarding process
A talent team can provide an amazing customer experience by helping to ensure new hires are properly onboarded.
Onboarding is a critical part of the employee lifecycle, and it's important to get it right. By investing in a strong onboarding program, companies can set new hires up for success and improve the overall candidate experience.
Talent teams can liaise with HR and hiring managers during onboarding to ensure new employees are ready to hit the ground running in their new roles by:
Making sure new hires understand their roles and responsibilities, which allows them to manage their expectations for the new role
Taking the time to orient new hires to your company culture and values (e.g., showing them a video, Slack channel, or social media account to display the company culture)
Ensuring a smooth transition from the recruiting process to onboarding and beyond
By following these tips, you can create an amazing candidate experience for your new hires.
Talent teams play a vital role in creating a positive candidate experience, so make sure you invest in yours today.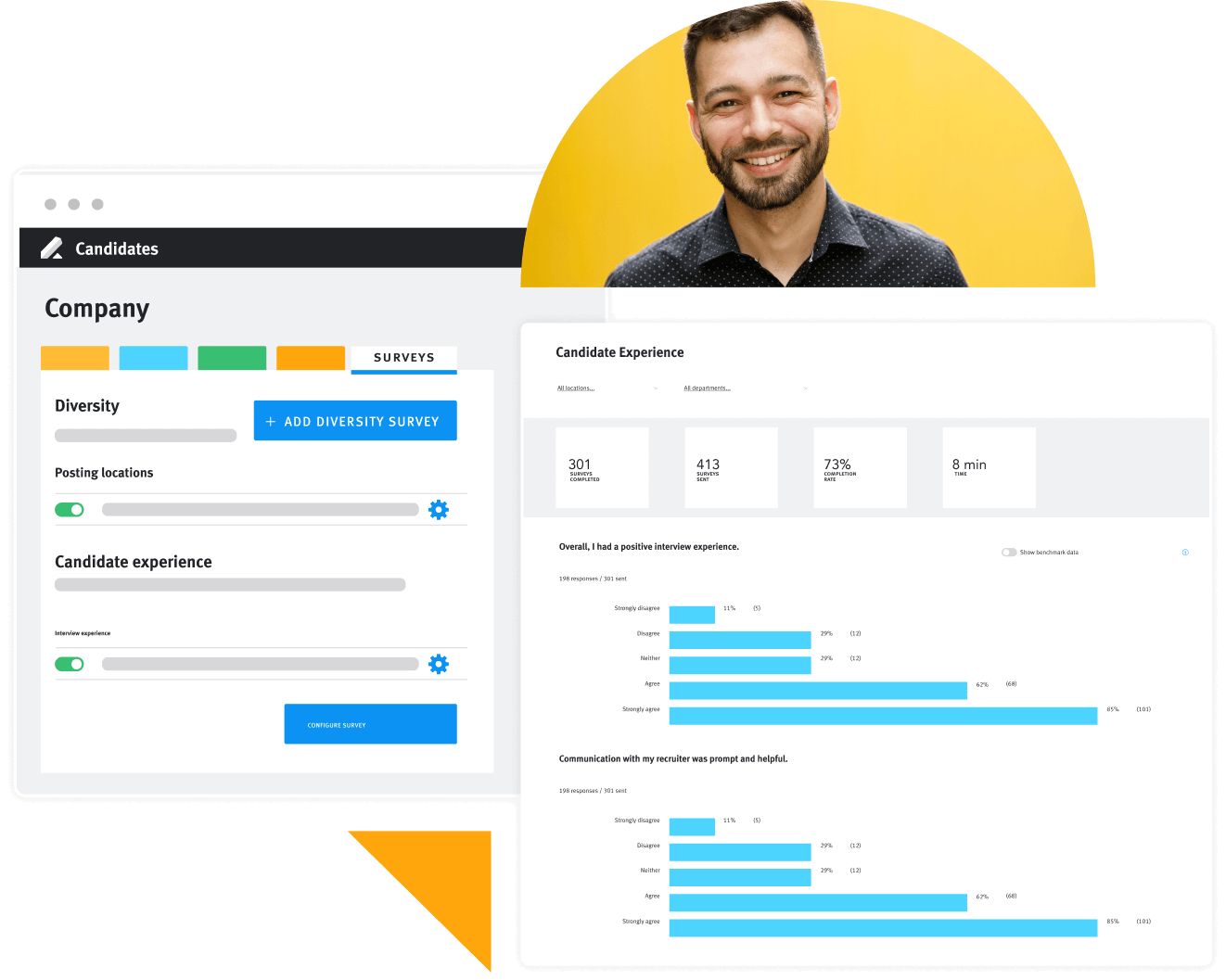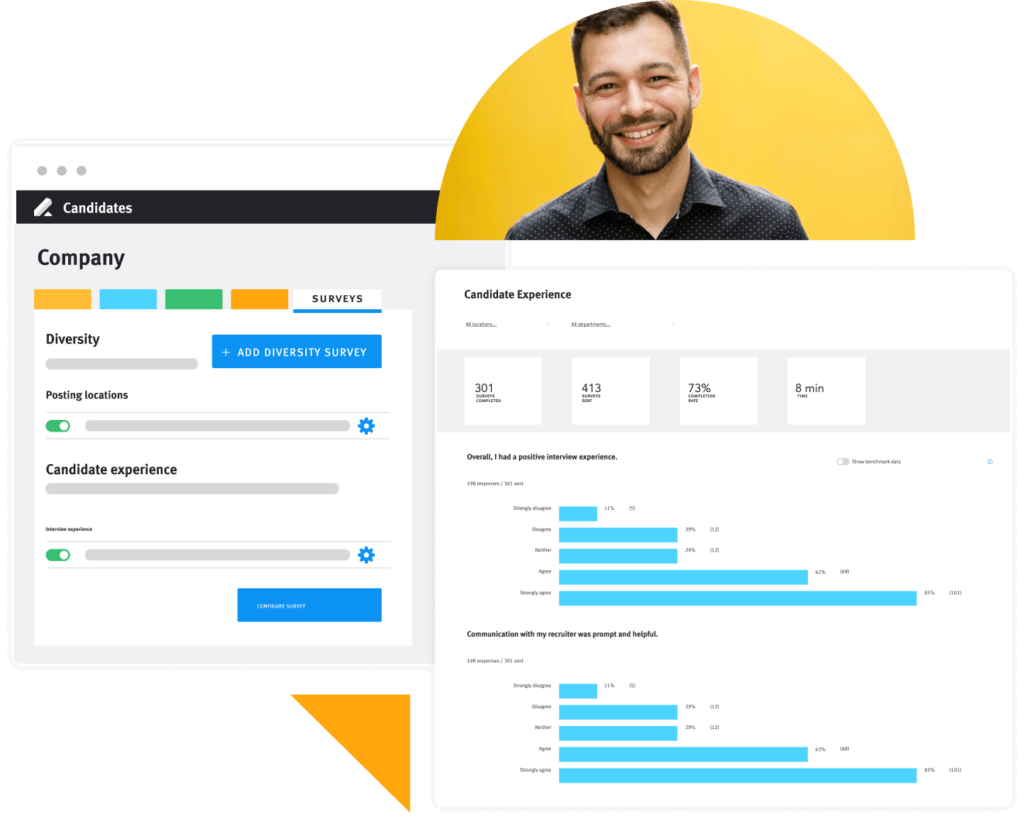 Adding HR tasks to onboarding improves candidate the experience
Adding HR to the onboarding experience can help new hires feel more comfortable and welcomed into their new role. Here are a few ways that HR can make a difference:
Take the time to get to know each new hire and their individual needs. Make sure their needs are met and answer any questions they may have.
Create a personalized onboarding plan for each new hire, based on their position and department. This will help differentiate the hiring process for each new candidate.
Make sure that all of the necessary paperwork is completed before the first day of work. Introduce the new hire to their team and explain what their roles will be within the company.
Get feedback from each new hire after their first week on the job, and make any necessary changes to the onboarding process.
Onboarding is not just HR's responsibility
Onboarding is a team effort and is much less powerful when it's siloed in HR. Onboarding is a team effort. It's much less powerful when it's siloed in human resources.
When onboarding is siloed in human resources, it limits the ability of the rest of the organization to contribute to the success of the new hire. Onboarding is most successful when it's a team effort, with everyone in the organization playing a role in welcoming and orienting the new hire.
That's especially true of hiring managers. But, it's also true of recruiters.
Successful candidates already have an established relationship with you, thanks to all your hard work so far. They're engaged. They trust you. They almost certainly trust you more than any other person in the business, at this point.
That means recruiters are uniquely placed to guide new hires through this transition period.
Recruiters provide continuity — you're the thread that connects the candidate experience to the employee experience. That's a big deal.
Amazon HR Business Partner Kate Pavlina wrote a thesis about best-practice onboarding and found cohesion of experience was one of the major success factors. Upping recruitment's involvement with onboarding isn't the only component — but it could be a powerful lever.
Where recruiters can get involved in onboarding
It's a good bet the important conversations about onboarding strategy are happening, with or without you. Make sure you are involved with the conversation.
We often talk about the idea of an onboarding task force, with representatives from key groups across the business. Someone from talent acquisition should be involved, from strategy onwards.
At its best, a mature onboarding function isn't dictated by HR. Rather, recruitment is involved as a major stakeholder, helping define where you can add the most value. And ensuring you get the input you need from the C-Suite, HR, and hiring managers to add that value.
The end result is a collaborative, cross-functional onboarding team providing a cohesive, seamless experience. Because onboarding doesn't start when a candidate accepts a job offer.
Onboarding starts from the moment a role is opened because any candidate could become a successful hire. That means any moment during the candidate experience could be the start of the employee experience. In practice, this looks like:
Getting comprehensive hiring manager insight into the opportunity and team culture, so the successful candidate has had a consistent, coherent message from their first recruiter contact.
Debriefing HR and hiring managers fully on interviewing candidates – so the candidate/employee experience feels personal and empathetic. Small things like, "so-and-so mentioned you're about to go on vacation" let new hires know you care.
Helping new hires prepare for their first day, just like you'd help candidates prepare for an interview. Being there for any "silly" questions new hires might not want to bother HR with. Welcoming them on their first day – not dropping off after the job offer.
Remaining a trusted point-of-contact for new hires, recognizing they might confide issues to you they mightn't with anyone else in the business. Having a coffee after the first month is an easy action that could have a huge impact.
The candidate experience shouldn't fade away but continue seamlessly throughout the employee experience. That's when your investment into candidate experience pays back most: by delivering engaged, productive new hires who'll deliver more value for the business.
Get even more candidate experience insights and advice in our in-depth CX eBook.