According to human resources technology expert and business advisor Josh Bersin, HR and talent teams have an average of 11 HR systems of record in place today.
It's clear HR and talent acquisition teams can no longer operate in silos, if they want to both scale their businesses and retain top talent — both of which are 'team sports'.
More to the point, talent leaders need a centralized TA suite for their teams that syncs with critical communication and collaboration tools so hiring stakeholders can work more closely and effectively with one another and integrates with their HR systems.
8 popular Lever integrations that help our customers hire smarter, faster, and more efficiently
With that in mind, here are eight of the most popular integrations Lever customers use to connect their recruiting and HR platforms and, in turn, hire smarter.
The Lever-Slack integration sends automated reminders (i.e., quick feedback surveys) to interviews and hiring decision-makers right after a completed interview.
Our Slack integration encourages hiring managers to give their quick assessments, even if they don't have time to complete the entire feedback form, so recruiters can act quickly.
2) AngelList
A key integration we launched that can streamline your daily recruiting workflows AngelList, the world's largest platform for startup fundraising and hiring.
Directly connect with high-quality, active candidates for free by creating a company profile on AngelList. Once you're all set up, you can easily post your open jobs and set your talent filters to quickly match with interested candidates for active roles.
Whenever you match with a candidate on AngelList, a profile is automatically created in Lever.
BambooHR is a leading provider of tools that power the strategic evolution of HR in small-to-medium-sized businesses. its cloud-based system is an intuitive way for growing companies to track and manage essential employee information in a personalized HRIS.
When HR managers use Lever and Bamboo, they have more time for meaningful work. Similarly, executives get accurate, timely reports regarding their workforce, while employees can self-service their time off using a convenient mobile app.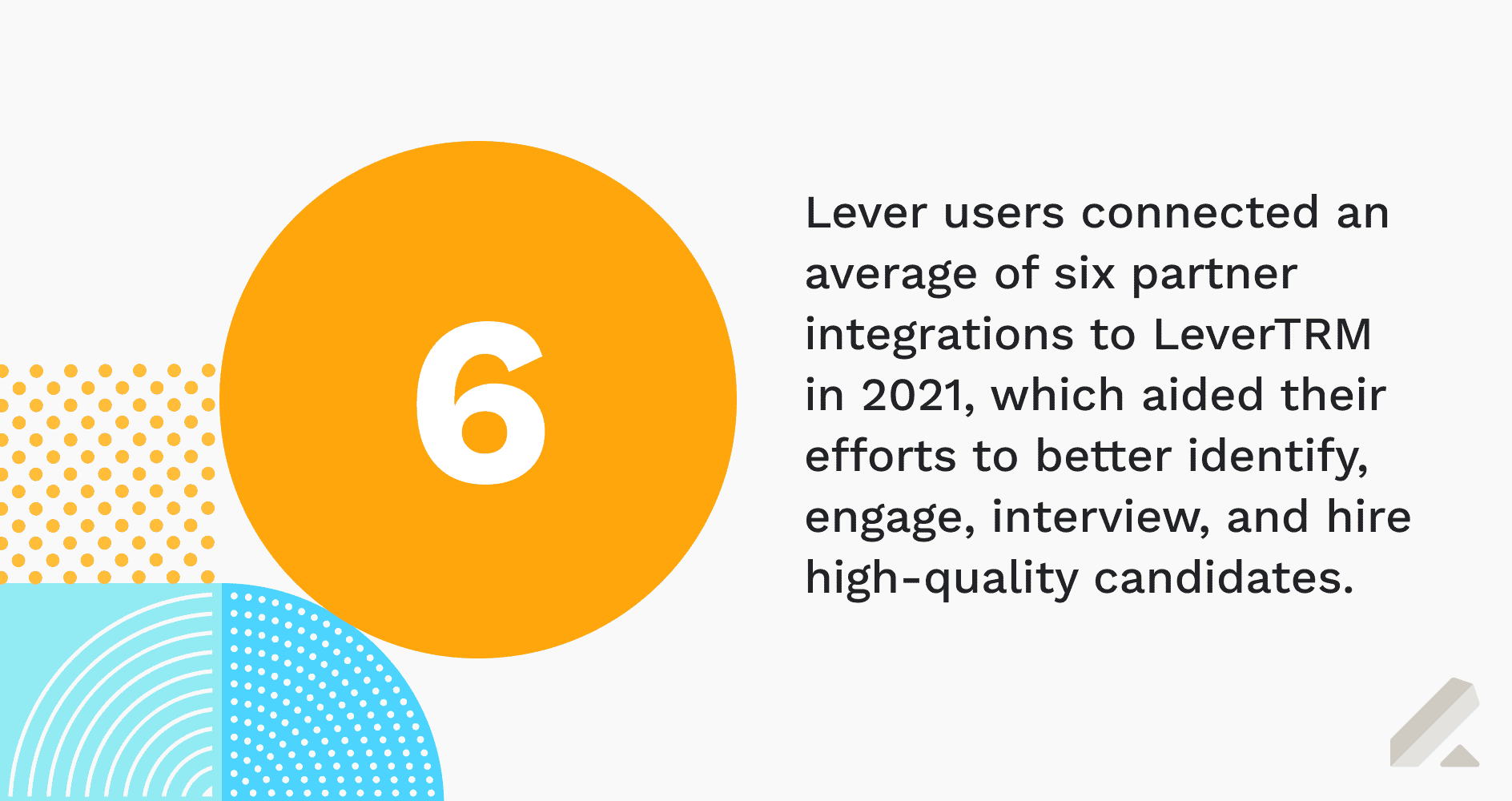 As a technology-first company, Checkr is 35% faster than the industry standard for background checks, making it simple for organizations to assess late-stage candidates.
If you don't want to let your background check vendor be the reason that you lose candidates or add days to your hiring process, you'd be wise to work with Checkr and integrate the robust solution with our native talent acquisition suite.
With the Adobe Sign integration, you can track the status of your offers and empower candidates to sign immediately with our new Adobe Sign (formerly Echosign) integration.
Our integration enables you to move faster, keep your team aligned, and improve the candidate experience by crafting, approving, and sending offers through a revamped offers workflow.
Without leaving Lever, you can also build compelling, customized offers in just a few clicks, streamline offer approvals to reach top candidates faster, increase acceptance rates by sending offers via DocuSign or Adobe Sign, and report on offer status and analyze trends.
The Lever Connector for ADP Workforce Now seamlessly sends newly hired employee information from Lever to ADP Workforce. Info from the candidate profile, requisition, offer, and profile form in Lever are pre-populated in the ADP new hire wizard.
This connection is a major time-saver for HR pros and improves their data entry quality.
You can manage the entire offer generation process from start to finish in Lever. Specifically, you can record essential offer details such as compensation, generate the offer letter, and send the offer directly to your candidate through Lever's DocuSign integration.
Lever and Zenefits are a great complement to one another. Lever supports your company's talent acquisition process from the moment a candidate is identified and sourced, all the way to the point at which they are hired.
Zenefits helps companies and their employees manage all of their HR — payroll, benefits, time and attendance, talent, compliance and more — from a single, free online dashboard.
Zenefits' leading platform automates the administrative HR tasks and empowers you to guide your growing business in the right direction. Connect your Zenefits account with Lever to import candidate information with one easy click.
Your key to TA success: A complete ATS + CRM that directly integrates with critical tools
With so many HRIS and other systems in place to track employees, we at Lever have worked hard to ensure your recruiting software integrates with all systems in your collective HR-TA tech stack so your hiring stakeholders and decision-makers can move quickly and efficiently and report on all headcount and people growth to your C-suite.
If your legacy ATS doesn't sync directly with the platforms you need to connect to work smarter, not harder, it's time to make a change to a more advanced solution that does.
Download our step-by-step ATS Buyer's Guide, which features a helpful applicant tracking system 'scorecard' you and your talent team can use to invest in the top platform.