Recruiters, HR specialists, and hiring managers work a lot together behind the scenes to prepare for each panel interview they conduct with candidates of interest. Notably, they:
Devise a defined list of distinct interview questions (and answers to prospective hires' questions
Liaise with one another on schedules for the initial interviews and timelines for subsequent ones
Determine what criteria should be used to ultimately make hiring decisions regarding candidates
That's all well and good for the planning phase of panel interviews.
But, it's just as important for these hiring stakeholders to ensure colleagues across their company — many of whom don't often take part in interviews (if ever) — to ensure they have the knowledge and confidence to aid with interviewing.
5 panel interview tips for your hiring team
There are certain "essentials" in the typical interview process today: Ask candidates why they're on a job search, share company culture details, maintain eye contact with leads.
Beyond these standard interview components, though, the top hiring teams ensure they prepare everyone who may eventually partake in panel interviews so they can answer questions that candidates ask and understand how to suitably assess those job seekers.
Here are a handful of expert panel interview tips for hiring teams on how to ensure they set fellow interviewers up for success when it's their turn to speak with prospects.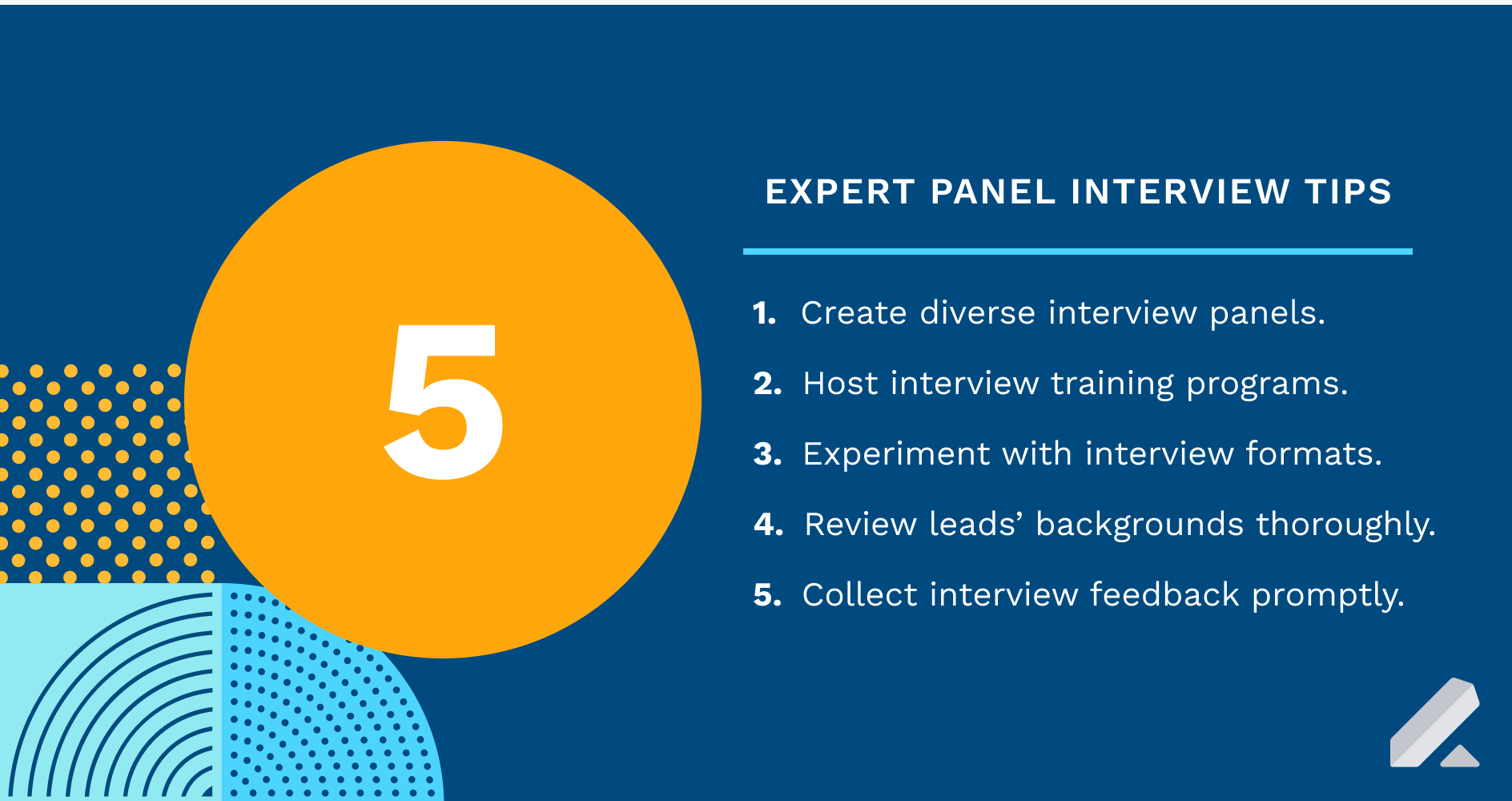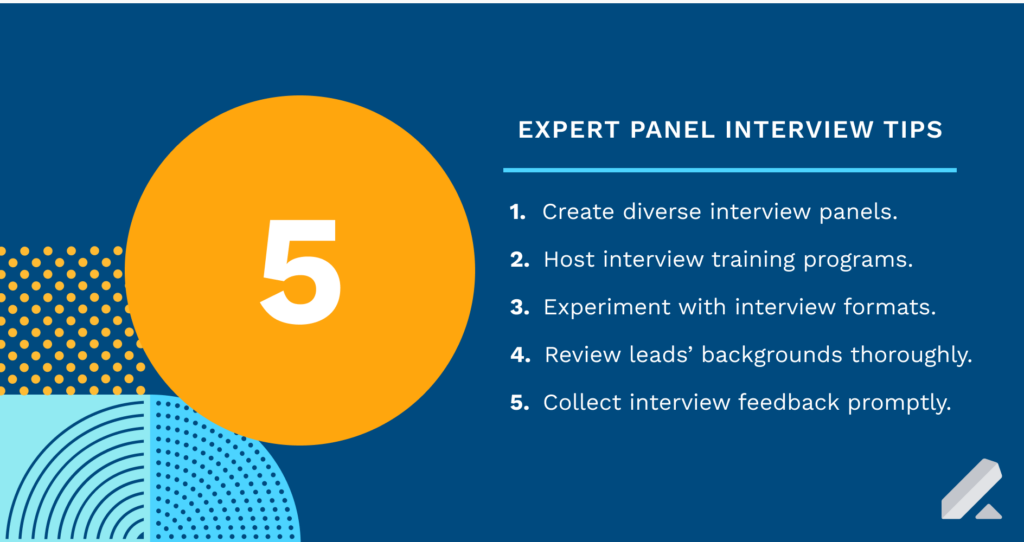 1) Ensure you have plenty of diverse interview panel members
Your ideal interview panel might include people from across your business — from mid-level employees to executive decision-makers — to bring different perspectives to interviewing.
And that's great. That said, it's equally vital to ensure you also factor diversity into your panel interview construction — and not just for some types of interviews, but rather all of them.
"Female candidates often go into an interview and get evaluated by a panel of men," HR and recruiting expert Marny Smith wrote for Forbes.
"Candidates of color are often evaluated by an all-white panel. A female candidate of color often encounters both. Include diverse interviewers in every interview to show your commitment to [DEI] and to gather other perspectives on candidates."
2) Train every team member assigned to a panel interview
It's easy enough for recruiters assigned to a new job requisition and the hiring manager that owns a given req to prepare for a panel interview, given they conduct interviews all the time.
However, there will obviously be other individuals at your org who will join one or more discussions with ideal candidates the aforementioned talent specialist sourced.
"It's advisable to train the team on the hiring process in your company and also on how they approach interviewing," UK-based interview coach Margaret Buj recently wrote on LinkedIn.
"Together, you can prepare an interview strategy that could include appropriate questions to ask specifically to the job description as well as focus areas for each interviewer."
Sharing role specs, providing specific interview scripts, detailing when (and when not) to interrupt candidates to get clarity: There are many layers of panel interview training to consider to make sure each colleague who assists with interviewing has the tools to succeed.


3) Experiment with interview formats to see what works best
The structured interviewing approach is the tried-and-true method large-scale employers implement today to ensure they can do apples-to-apples candidate comparisons and make the right hiring decisions based on the info available to them and feedback compiled.
That said, there are certain situations in which your panel interviews will look different.
For instance, your interviews for entry-level sales and marketing roles don't have to be nearly as intricate as interview processes for more technical roles.
That's because the latter interview type often requires giving assessments and discussing complex situations and projects with them to gauge their problem-solving approaches.
Similarly, play around with interview stages.
If you find there's a fair amount of candidate "drop-off" after two panel interviews (i.e., they tell you they're withdrawing consideration for a role or simply ghost the recruiting process altogether), eliminate these seemingly superfluous stages and/or consolidate stages.
4) Have all interview panelists review candidates' thoroughly
It's a no-brainer to give copies of resumes for job seekers to all members of your interview panel. They each need to know what qualifications, skills, and experience those they'll speak with regarding an open role have to effectively evaluate their fit for the job.
But, it's worth encouraging each panel interview member to go the extra mile by researching each leads in greater depth to get as complete a picture as possible of their work experience.
Think of it this way:
Candidates typically spend a lot of time researching the company that could be their potential employer even before their first call with a sourcer to be highly prepared for the hiring process. So, it's only right that hiring managers and other interviewers take the time to do the same.
Even the "small" details matter. For instance, knowing how to properly pronounce each prospect's name is critical today. Tell your panelists that, if they're ever unsure how to say a candidate's name, to simply ask the job seeker at the onset of the interview.
"Not only is this a baseline sign of respect, but it's also the first step in creating an inclusive workplace," said Forbes Human Resources Council member Ursula Mead. "You want potential employees to feel respected, valued and seen, and it's so easy to ask."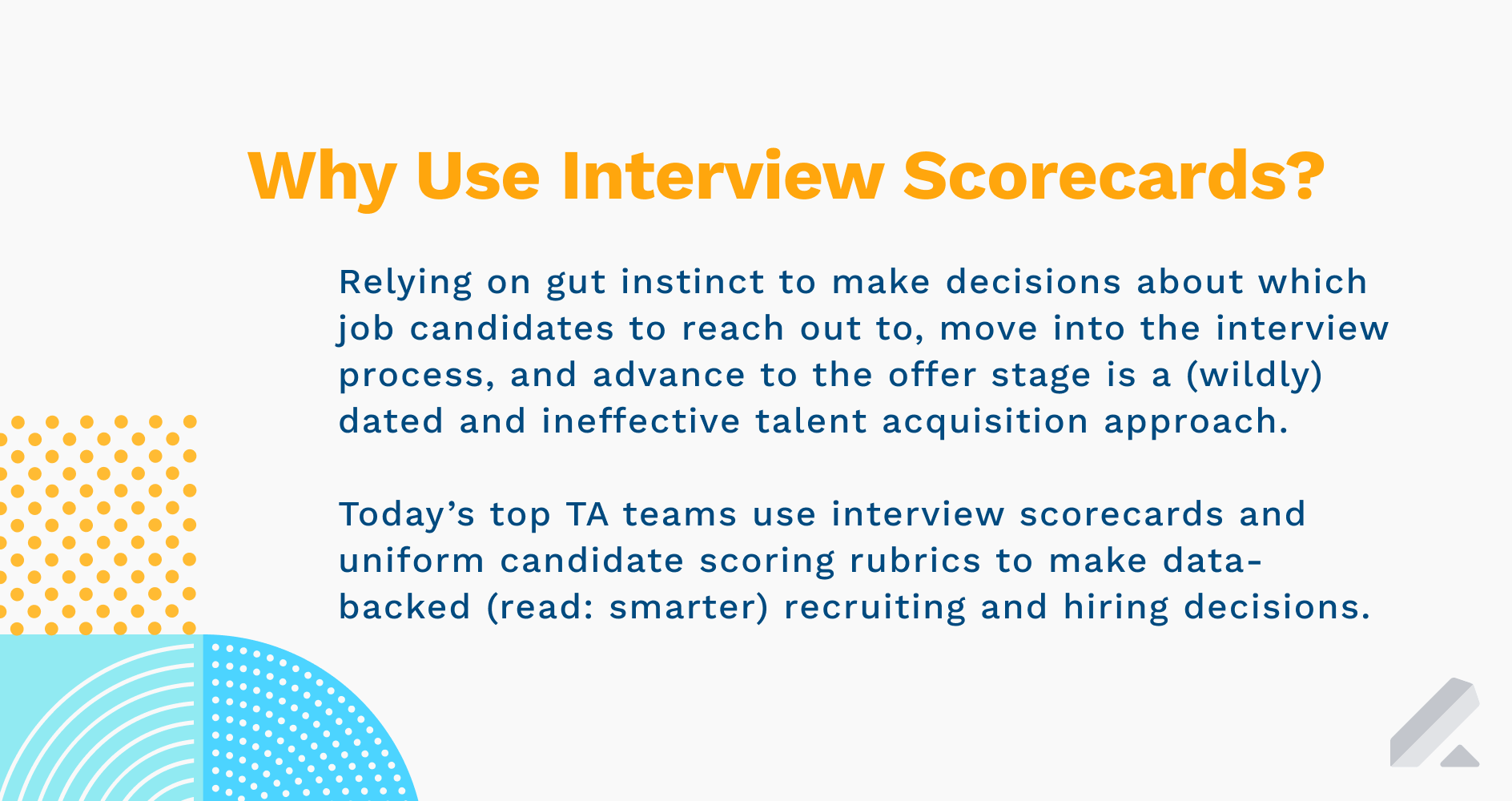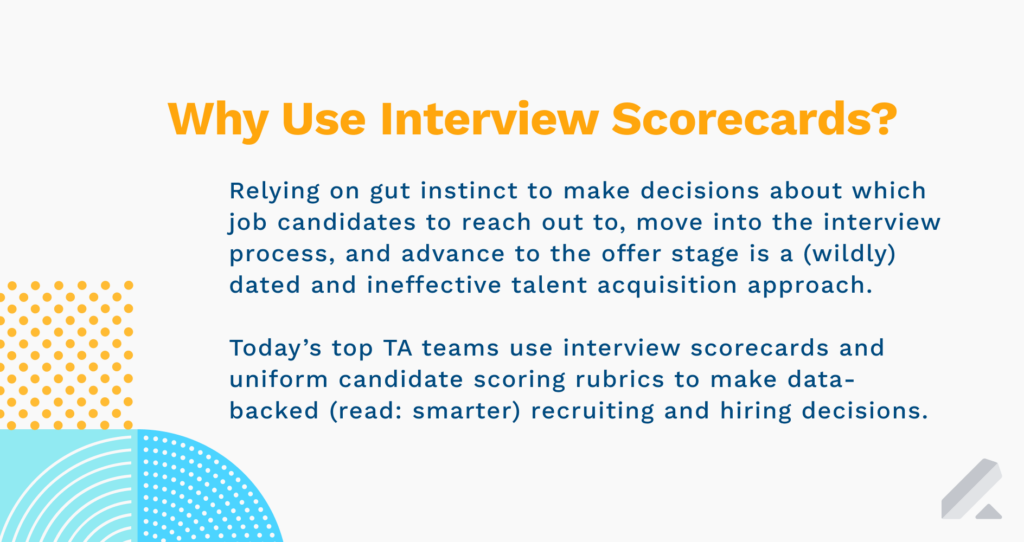 5) Collect candidate feedback from panelists — and promptly
This panel interview tip is short and sweet:
The second each discussion with a job seeker ends, it's on the recruiter assigned to the role in question to send reminders to panelists to provide feedback and scores for the candidate by a given date (ideally, within 24 hours after the interview ends).
Speed is the name of the game with recruiting today.
"Laggard" employers that lose out on top talent often do so because those who participate in their interview processes fail to share their thoughts and numeric ratings (e.g., 1-4 scale, with 1 being "Strong No Hire" and 4 being "Strong Hire") quickly.
"To help combat ghosting, employers need to put themselves in candidates' shoes and provide a clear picture of the role and organizational culture, a seamless recruitment process, and regular communication," said Robert Half Sr. Executive Director Paul McDonald.
Emphasis on "seamless recruitment process."
If you lack an advanced ATS in which you can collect candidate feedback and scores and analyze them quickly and efficiently to keep your recruiting cycle moving along swiftly — and, in turn, prevent prospective hires exiting your funnel outright — an upgrade is needed ASAP.
Learn how you can keep your interview panels on the same page regarding active opps and better collaborate with your hiring team using LeverTRM, our complete ATS + CRM.