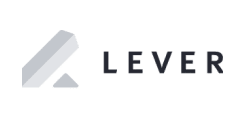 Already a customer? Sign in here →
Get a personalized demo of Lever from one of our experts.
Learn how top-tier talent teams hire better with LeverTRM. But first, tell us a little about yourself.
Request confirmed!
You will hear from us shortly!
In the meantime, hear from Lever's CEO, Sarah Nahm, about our Talent Acquisition Suite, or read the customer story featured on this page.
For questions, please contact us at info@lever.co.
5,000+ customers worldwide trust Lever









Previous
Next