Speed is essential in today's hiring landscape. Not only are the best candidates off the market in ten days, most aren't even on the market at all. Keeping up requires that you build strong relationships with right-fit talent and move them through your process as quickly as possible.
That's where recruiting metrics and talent analytics come into play, helping you pinpoint quick fixes (like where things are slowing down) and set long-term goals. So what does it take to transition into data-driven recruiting and make better decisions to move your company forward? 
To find out, we asked Christina Schmit, Director of Talent Acquisition at Esler Companies | Renewal by Andersen, to learn how the holding company for a fleet of top full-service window-replacement affiliates uses technology to anticipate strategic priorities and grow to new markets.
Here are three ways Renewal by Andersen uses recruiting data to navigate the evolving talent landscape.
#1: Benchmark recruiter performance
The company's talent transformation started with the decision to move away from an outdated process that was often inconsistent and yielded zero talent metrics to track. "We put a strategic initiative in place where we wanted to develop a talent acquisition team and get really smart about hiring and move into a recruiter model," Schmit says. "Lever was the perfect match."
Now armed with Lever's strong talent analytics and reporting, the company regularly benchmarks recruiter performance. Goals are set and tracked across each affiliate — Arizona, Colorado, Greater Philadelphia, and Southern New England — in one, centralized place.
"Every month, I'll create a dashboard and show hires for the month, total for the year, and the trend for the whole company," says Schmit. "We'll break it down by functional teams and groups to showcase how they're hiring. We're looking at metrics daily and we are able to drill down deeper if needed. We love that we now have internal benchmarks to compare over time and it allows us to set goals."
For instance, time-to-hire is a top statistic that Renewal by Andersen tracks year-over-year and month-over-month. The company has steadily seen this improve over 2019 and is able to dive into this metric by role and department to optimize their process when needed.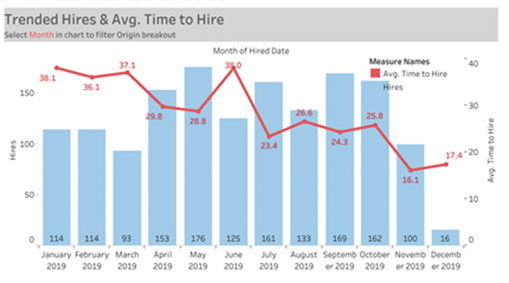 Renewal by Andersen decreased time-to-hire 45% on average across all roles in 2019.

#2: Sync business goals with hiring goals
In the window replacement industry, business success is based on having the right marketing campaigns, savvy sales reps doing their job, and friendly installers on the ground working with customers. So it's critical for Renewal by Andersen to know that each department is properly staffed at the optimal headcounts to ensure all these pieces fit together.
Moving from a "post and pray" method to a relationship-oriented approach within the business has made it possible for Schmit and her team to support this type of growth with smart hiring decisions. Syncing business goals with hiring goals has been equal parts learning new skills and working with the data coming in from different regions and departments.
"We've been able to run capacity planning for the first time and match it with our Lever planning," says Schmit. "So we've been strategically matching our hiring goals with what the business needs are. We're able to source and nurture people and find the right talent."
The best part? Schmit and her team can also innovate their communication. Lever along with Grayscale's Chrome extension allows Renewal by Andersen to follow up with candidates via text messaging all while tracking the communication to one source and system throughout the process.
#3: Locate holes in the candidate experience and fix them
Every touchpoint with a candidate is an opportunity to engage them and keep them interested in a role. But when you have a candidate black hole without a way to track drop offs, it can be very challenging figuring out how to improve the candidate experience.
Renewal by Andersen's candidate black hole was impacting its ability to recruit efficiently for a specific group of high turnover roles that generated the majority of their sales leads. People would apply and wouldn't even get a thank you email for their interest, so the first fix was to close the loop. Now, every candidate receives a phone call and text.
"We've improved candidate relationships by adding more interactions with candidates throughout the hiring process," says Schmit. "We highlight the benefits of joining the company, offer different perspectives on the opportunities available, and offer what's needed to be a successful hire."  
As a result, turnover has decreased, the show rate for interviews has increased, and the company has reduced the time spent getting the right people through the door.
>>Pro Tip: Leverage Grayscale's texting integration with Lever to text candidates, automate outreach, and save the transcript to the candidate record.
What's ahead for Renewal by Andersen
It's an exciting time for Renewal by Andersen as the company transforms its talent acquisition and its business. Driven by a mission to "make small decisions with love each day," and armed with a strong team of talent acquisition partners using Lever, the company is scaling at a faster pace than ever before.
"In order to take the business to the next level in today's talent-driven environment, technology is so important," says Schmit. "It has to be the central piece to scaling in the business. We're so happy with our choice in Lever."
Want to learn more about hiring at scale? Discover 5 Expert Tips to Create a High Growth Plan in 2020!