Practically overnight, enterprise technology organizations like Twitter, Slack, and Apple have had to relocate thousands of individuals from the corner office to the home office – and there's no clear sign it will be reversed any time soon. 
Fortunately for all of us, the freelance technology talent network Toptal is a pro at remote work. For over a decade, it's operated as a fully distributed global company, with more than 4,000 individuals working remotely in over 100 countries. 
Toptal is a freelancing platform that connects businesses with software engineers, designers, and business consultants. In an effort to share best practices for other companies navigating this semi-permanent transition, Toptal published a phenomenal, comprehensive suddenly remote playbook for sustaining an enterprise-grade remote work environment. 
Here are three important themes we've pulled from the full guide, which is a masterclass in building and sustaining culture at high-performance organizations: 
#1: Embrace a Limitless Talent Pool
When it comes to recruiting, Toptal considers a remote work environment to be an incredible advantage. Rather than being limited to a geographic locale, a company can now hire the ideal candidate for any role, regardless of where the candidate prefers to live. 
"We post most of our jobs in multiple countries to ensure that we target the best candidate—period," explains Michelle Labbe, Toptal's VP of People. "Hiring globally also allows us to attract very diverse individuals with a wide variety of experiences."
But recruiting globally does come with some limitations. Click here to learn more about Toptal's three important recommendations for putting appropriate parameters on your global recruiting strategy to maximize effectiveness. 
#2: Standardize the Interviewing and Hiring Process
Lever plays an important role in how Toptal recruits and organizes candidate data. Interviewers are trained extensively on the Lever platform to make sure they're sharing the best, most accurate reflection of the company with candidates. Then candidate data is tracked within the platform for a smooth recruiting experience.  
"Lever allows for tracking and managing the entire pipeline of applicants coming into the team," the Toptal team writes. "We can create interview paths, feedback forms specific to each role, and even include confidential fields for managed access. These features allow us to avoid the potential ambiguity that might naturally arise from needing to remotely track applicants. Training our team members how to use this tool is easy and fast, which is also beneficial for a fully distributed workforce."
Here's a look at Toptal's interviewing and hiring roadmap, which highlights the four stages of their remote recruitment process: recruiter screen, interviews, culture assessment, and evaluation. According to the team, the in-person and remote interview process is actually quite similar – it's just that the remote interview process can be faster and more efficient.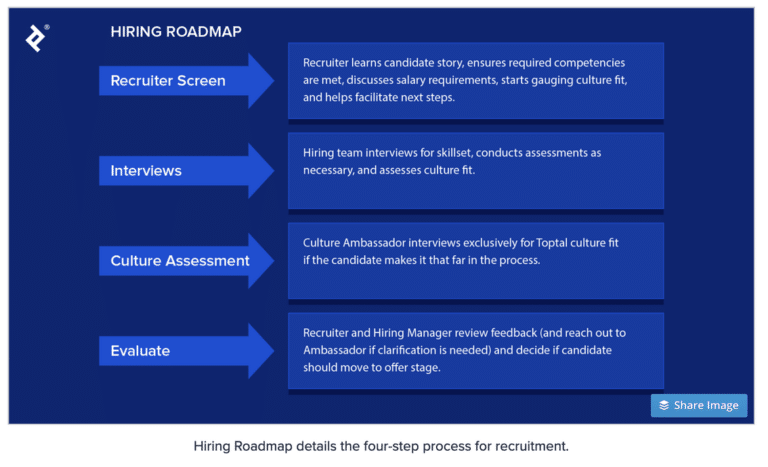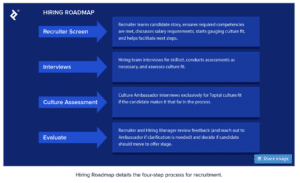 Click here to learn more about Toptal's approach to hiring and interviewing, including how the team approaches community and culture building when hiring remotely. 
#3: Monitor the Pulse of the Remote Employee Lifecycle 
Remote work moves employees apart. But it doesn't change the fundamental value of bringing people together. Toptal honors that connection by carefully planning the employee lifecycle to account for the expectations and requirements of employees as they navigate their career at Toptal. 
"Our people define our company," writers Michelle Labbe, Toptal's VP of People. "Being fully remote doesn't change that fundamental philosophy. If anything, it strengthens it by challenging us to constantly innovate how we motivate, teach, and evaluate our team members."
Here's a look at Toptal's People Framework shared within the remote work guide. This framework summarizes the team's approach to the employee lifecycle, ensuring the team takes a holistic approach to every new hire's career.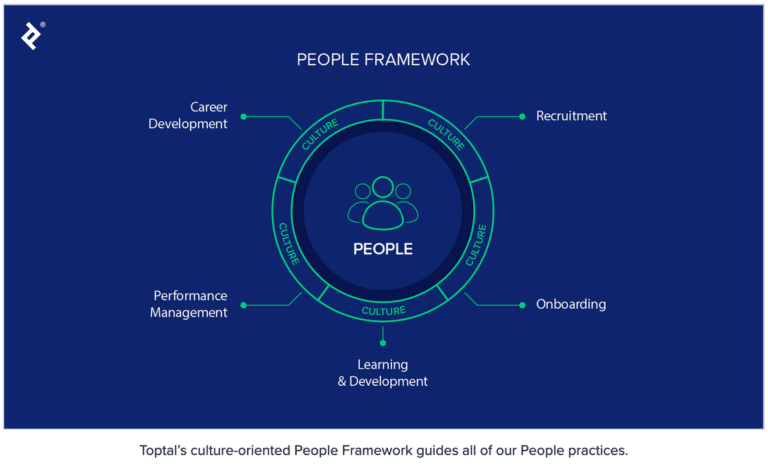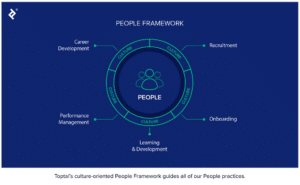 Click here to learn more about Toptal's approach to the employee lifecycle, especially performance management and goal-setting. 
Leveraging the Benefits of Remote Work 
Toptal's comprehensive guide to remote work is an impressive reminder that building a distributed team takes effort and intentionality. But if an organization carefully works to maximize the benefits and minimize the downsides, remote work can be a powerful advantage. If the tips we've shared today resonate with the challenges you're facing today, click here to explore the full guide from Toptal.