Building meaningful relationships with top talent always has been important to companies, but in such a high-turnover and robust economy, those relationships are more crucial than ever. A solid—or even above-par—relationship with quality talent can be the difference-maker in closing a desired candidate.
By taking a closer look at your company's current relationship-cultivating strategies, you may be able to improve upon or even supplement methods that will increase the odds of landing that next-great hire. Here are three such strategies to consider.
1. Tailor Your "Why" for Reaching Out
 Are you truly personalizing your online outreach? 
"As a recruiter, ask yourself: 'Am I giving them privileged information about my company that they in particular might find meaningful?'" suggests Aline Lerner, Founder and CEO, interviewing.io in Always be Selling: a Recruiter's Cheat Sheet. After examining 8,000 messages sent to candidates, recruiting expert Lerner "found that only ~0.8% were truly personalized."
And, the value to customizing your communications is measurably profound. According to a Yahoo recruiter, who invests considerable time researching candidates before reaching out, her "response rate jumps to 60-70%" when she demonstrates deep customization to the candidate vs. a 25% response rate when her emails are only mildly tailored.
Lars Schmidt, in Why Personalization Is the Key to Recruiting, agrees that customization is integral, and recommends including "at least one personalized element that demonstrates you've taken the time to explore their [the candidate's] background." 
These elements could include the candidate's experience, interests, education, location, etc. Schmidt also suggests specifying a call to action (CTA): "Why are you contacting this person? A referral? An application? General networking?" Clarifying your intent not only points the candidate in the right actionable direction but also demonstrates your appreciation for their time.
As well, be open to a bit of cleverness.
Mike Orrantia, who researches candidates through "simply-searchable, publicly available social media," works hard to stand out from other recruiters with "the most creative cold reach they've ever had" and to build a unique rapport. He provided a fun example of hyper-personalization after having uncovered a Javascript developer "who was also a poet and an active member in the local poetry community." Leveraging this information, Orrantia was inspired to write a Haiku for the candidate: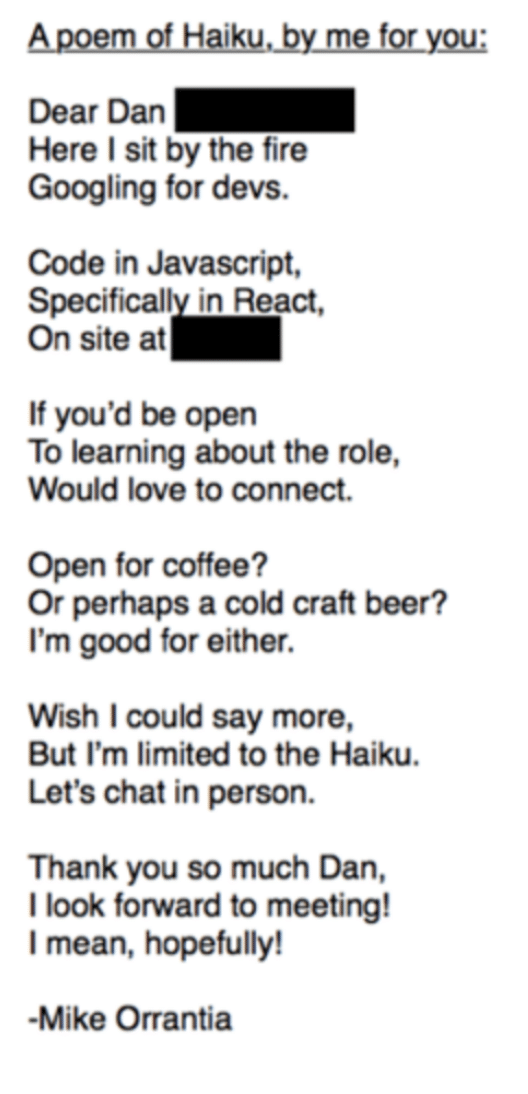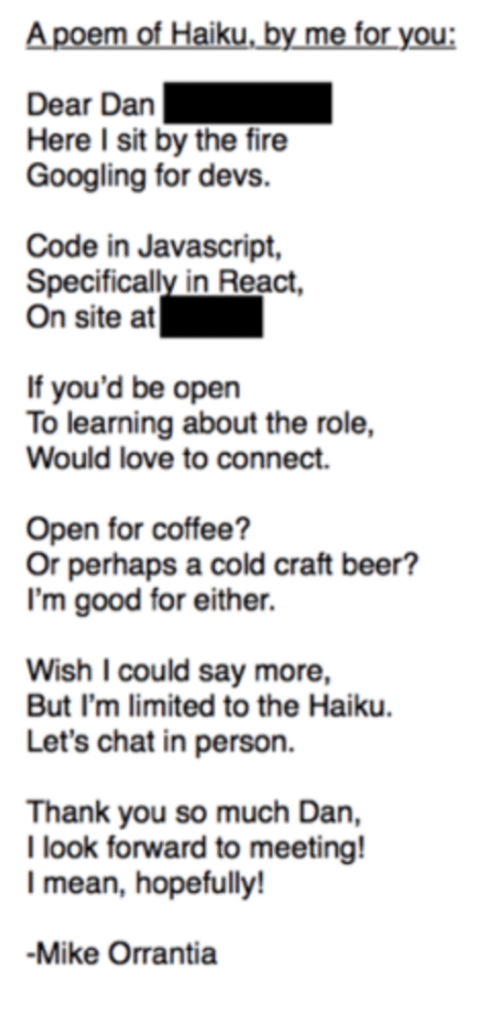 2.
Empower Your Employees to Give Access to Their Networks
Another candidate relationship-cementing strategy is to empower those on your team to don their recruiter hat.
"Talk to any recruiter, and they'll tell you that the best employees are often referrals," says Tyler Bell, Head of Talent, GoGuardian, in the aforementioned Cheat Sheet.
The value of employee referrals is further fortified by a CareerBuilder survey that reports,"82% of employers rated employee referrals above all other sources for generating the best return on investment (ROI)." Additionally, experts tend to agree that the ROI-value of referred candidates extends to culture fit, retention, speed to hire, lower cost per hire, etc.
"I find myself shocked by the large number of companies who underutilize the best and most efficient source of great candidates: employee referrals," asserts Jeff Hyman, CEO of Recruit Rockstars Executive Search and Former Forbes contributor in Let's Toast the Holy Grail of Hiring. Hyman explains that two-thirds of companies offer referral programs, with employee referrals ranking as the number-one source of new hires in American companies. Despite this fact, few companies actually encourage those referrals. 
He also describes many referral programs as "overly cumbersome and poorly run."  Instead, you should "keep it simple," says Hyman, who recommends a straightforward internal job description with a one-click referral process.
At the root of all good referral programs is positive word of mouth. The first thing candidates do is find someone within the organization to divulge the day-to-day work realities. Turn employees into your best brand advocates and identify those who do not refer your company to their network as a trigger to dig into why.
3. Network With Style
Networking doesn't stop once the interview is booked. In fact, some might say it is only just revving up; at the very least, the stakes increase, as relationships either shrink or multiply, depending upon the interview experience. "46% of candidates would sever a business relationship due to a poor candidate experience" while 74% of candidates who rated their experience highly say "they'll definitely increase their employer relationships by applying again and referring others," according to 5 Important Stats on Candidate Experience. 
One of the companies executing well on candidate experience is Infusionsoft. According to their manager of talent acquisition and programs, Kate McMillen, in the article, Recruiting Strategies, "Infusionsoft's strategy for recruiting is similar to its customer strategy. We make our candidate experience similar to our customer experience. Our candidate formula is Engage, Inform, and Transform, much like our customer formula: Attract, Sell and Wow." 
In order to accomplish an engaging, network-fortifying result, hiring companies and recruiters should consider embracing the following:
Empathetic Behavior:

If your hiring method requires candidates jump through numerous assessments and application form hoops, then behave empathetically, responsively and conversationally versus leaving them to simmer in automated, cold and/or standoffish processes.

Positive Communications:

Be involved, communicative and closure-minded. Whether the candidate experience leads to an offer or leads to a 'not now, maybe in the future' conversation, elucidate enough details to leave them feeling uplifted and enthused about the possibilities.

Humanistic Experience:

Consider adapting some of Yello's methods as articulated in

7 Tips on Creating a Memorable Candidate Experience

. According to Heather Redisch, Yello's VP of Talent, Yello creates a more humanized candidate experience by "treating every candidate with respect, transparency and incorporating our technology at every possible step." 
After the recruiter phone screen and meeting the hiring manager, Yello invites the candidate for an in-person tour of their office (including the Lake Michigan views) and to meet members of the team. Redisch describes how, "Through every step of the hiring process, the candidate is in touch with a member of the talent acquisition team who is available to answer questions, provide updates and share next steps." 
Bottom line: Do what you say you are going to do after having contacted the high-caliber lead, while treating them respectfully throughout each process iteration. Reaching out and peppering candidates with questions and indicating interest only to go silent afterward with nary a follow-up or closure leaves a bad experience aftertaste. A human approach, however, will go a long way to building candidate relationships that cultivate your supply chain network for the long haul.
Lever's nurture tools help you overachieve your goals networking goals with top  candidates, and build a long-term relationship. Download our eBook to learn how to get started.