Lever's 2019 Talent Benchmarks Report highlights the 18 most important metrics across every stage of the Talent Relationship Lifecycle. Now we're using those findings to help companies optimize their recruiting process and transform their talent strategies.
We wanted to summarize the report with a single blog, but we quickly realized that the 46-page report couldn't be so easily condensed. That's why we're creating a five-part blog series exploring the key metrics and providing recommendations for every stage of the Talent Relationship Lifecycle.
In this edition, we'll take a deep dive into the metrics of sourcing, often considered the first stage of the candidate lifecycle.
The first takeaway is simple but bears repeating: if you're not sourcing, you're at a severe disadvantage when it comes to talent acquisition. The most successful companies with the best talent brands all have sophisticated sourcing strategies. Why? Because the top talent isn't applying anymore, and sourcing is the best — and often only — way to reach them.
There are three main factors in play:
Unemployment is at a 50-year-low.

70% of the workforce is not looking for a new job.

But 87% is still open to new opportunities.
In other words, competition for the top talent is fierce, but they are open if recruiters come to them first. To gain an edge, recruiters need to proactively source candidates, become as efficient as possible, and provide candidates with a first-class candidate experience.
Our 2019 Talent Benchmarks Report underscores the power of sourcing. Most significantly, we found that sourcing is twice as efficient as relying on applicants. It takes an average of 43 sourced candidates compared to 109 applicants to make a single hire.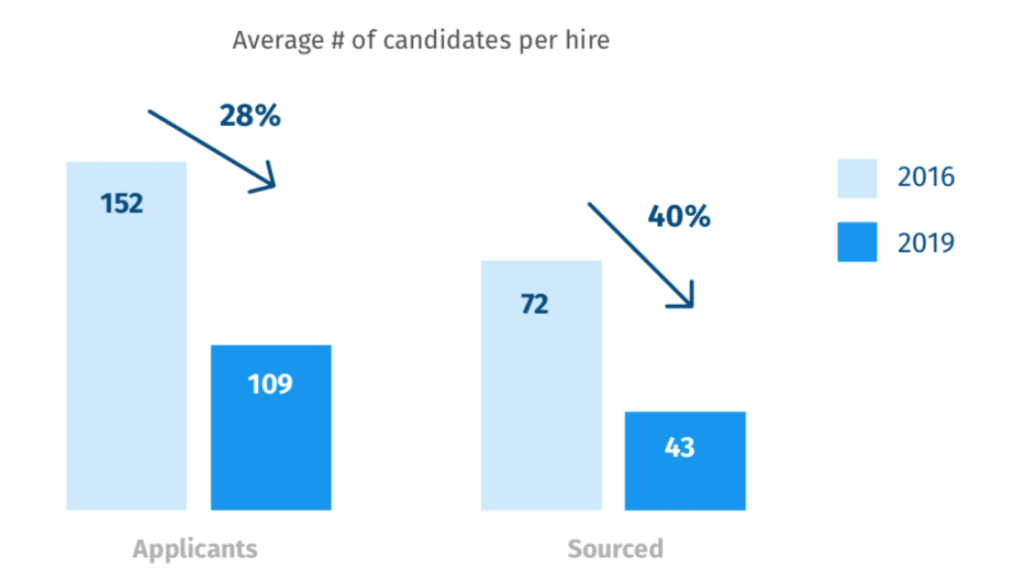 On top of that, sourcing has become 40% more efficient since 2016, thanks in no small part to the rise of powerful new sourcing tools and recruiting technology. Yet, only 24% of hires in 2019 are sourced. That leaves an incredible opportunity for companies to adopt a sourcing strategy that's faster and more efficient than their competitors'.
Given these findings, we've concluded that:
Sourcing is the best way to build, maintain, and expand your candidate database.

You need to establish a strong talent brand to improve your odds with an outbound sourcing strategy.

Sourcing needs to be reliable, easy, and predictable.
For an even deeper dive into the metrics of sourcing, download the full report or reach out to one of our experts to see how you can use Lever to establish a sophisticated and streamlined sourcing strategy.