Building a diverse team doesn't happen by accident. It takes a concerted effort, often over a long period of time.
But even if you're actively making a committed push for diversity, biases have a way of creeping into the recruiting process in subtle ways. Your application pipeline, for instance, is often impacted by selection bias. The applicants for a software engineer position in the Bay Area or an investment banking role on Wall Street are often a homogenous bunch. To build a more diverse workforce, recruiters have to go outbound and actively source candidates.
Unconscious Bias in Recruiting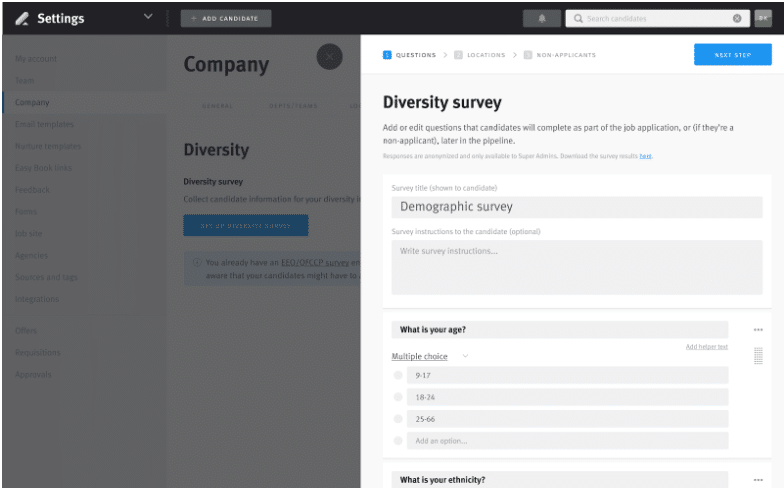 Unconscious bias can still inject itself into the process even with a thoughtful sourcing strategy. Perhaps younger candidates make better impressions during your interviews, or people of color — for one reason or another — don't make it past the screening stage at the same rate as white candidates.
The bottom line is, you can't be sure unless you have hard data, and you can't optimize for diversity unless you can pinpoint exactly where and how biases occur in your recruiting process.
How Lever Helps 
That's why we built Diversity Insights, a new feature to help you measure your demographic metrics, track your progress toward diversity goals, and create a more equitable recruiting process.
Diversity Insights equips you with  configurable surveys and granular reporting. You can craft the survey to ask questions that best reflect your company's values. The data collected can then easily be exported and analyzed to identify areas that need improvement. With that data in hand, you can begin tweaking your recruiting process to remove biases and build a more diverse pipeline.
Customization and Automation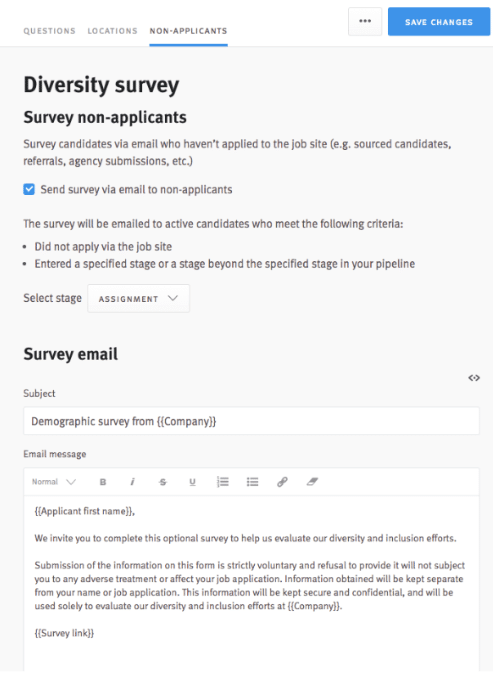 The default survey for Diversity Insights asks about gender, age, and ethnicity, but you can add questions about veteran status, college education, and any other demographic metrics that are important to your organization. Additionally, you can automate the process by setting an email to be sent to candidates at a specific stage in the process. 
These surveys are meant to augment the barebones and rigid EEO form that companies too often rely on. Instead, with Diversity Insights, they get access to a fully customizable and automated demographic surveys that collect and structure diversity metrics. This empowers them to make data-driven decisions about the best ways to eliminate bias and hit diversity goals with confidence.
Final Thoughts
At Lever, we're passionate about helping our customers on their diversity and inclusion journeys. It's an integral part of our mission here. That's why Diversity Insights is not an add-on product. It's part of the core Lever platform and is included in every Lever Hire plan. In fact — aside from our culture of inclusivity — Lever's greatest asset in hitting a 50:50 gender ratio has been our product.
To learn more, check out our video on Diversity and Inclusion, check out our guide on 5 Ways to Keep Your Diversity Goals on Track, or book a demo and one of our experts will walk you through the new feature.