We just wrapped our annual Summer of Sourcing webinar series. Our speakers had so many insightful things to say on this topic, we couldn't wait to share them with you.
Our first session, Attracting Talent That Stays, had so many incredible insights from our panelists:
Here's what they said about attracting talent that stays:
Create the best candidate experience
Brynna shares that the best candidates are expecting to have the best experience. This includes a streamlined, organized process, and great communication. She suggests collaborating with hiring managers in order to find top talent and create a strong experience for them. Remember, hiring managers have day jobs apart from recruiting, and can benefit from your expertise in this area. Here's an example map you can create with your hiring managers to guide them in delivering a streamlined experience: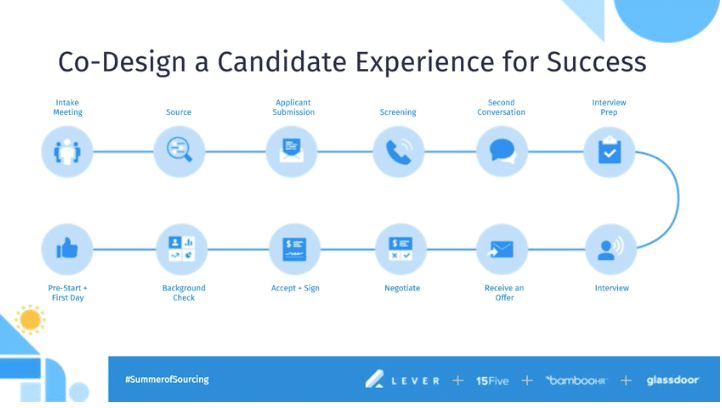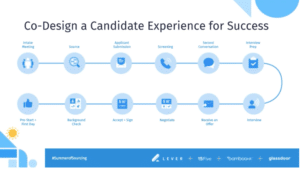 Theresa and JD agree that strong hiring manager collaboration is key to a successful recruiting process, and both utilize intake meetings to ensure alignment. The talent acquisition team at Glassdoor aligns with hiring managers on opening a requisition, sourcing, interviewing, reference checking, and creating an offer. Then the recruiter and hiring manager meet weekly to review progress and feedback, and adjust as needed. This empowers hiring managers to take ownership over their interview plan to create the best possible candidate experience. JD adds that BambooHR uses this opportunity to create a candidate persona so they have clear targets and expectations. This helps them achieve clarity of communication with candidates around the good and challenging aspects of the role, so candidates can self-select in or out of the process.
Both Glassdoor and BambooHR also hold hiring manager training to ensure a better candidate experience. Glassdoor holds regular, live training sessions, which are later hosted on their wiki for future reference. Their recruiters are also available to sit down with hiring managers one-on-one to help them feel comfortable and empowered. JD shares that BambooHR has created a hiring manager training wiki with slide decks and video tutorials. They entice hiring managers to complete training by asking them to imagine the endgame: a candidate experience so exceptional that their top candidate joins the company.
Finally, both companies continually monitor and improve their candidate experience with feedback. Glassdoor wants to know what they're doing well, so they can double down, as well as where they can improve. They collect feedback through interviewer scorecards, candidate surveys, and Glassdoor reviews. Then they work as a team to implement improvements. BambooHR does post-hire surveys to learn what they did well during the recruitment process, and how they could improve. He says these create engagement and referrals in addition to feedback, because they show BambooHR wanta to take care of people in the hiring process.
Rediscover talent within your organization
People are moving around more than ever. It's important to allow for internal mobility so your top performers don't have to leave in order to achieve professional growth. 
Glassdoor begins the discussion around internal mobility during the recruitment process. Their recruiters like to learn each candidate's career goals so they can continue the career path conversation throughout the interview process. Once hired, managers hold monthly accelerated meetings with each employee to discuss career goals and how Glassdoor can help them achieve those goals through an employee development plan. This ensures they have strong internal talent ready to go for future openings.
BambooHR has an internal wiki called Department Specific Learning, which allows employees to start learning about different groups and departments. Employees can express interest in another area with an application called Raise Your Hand, and enter into a learning path. Managers can then find internal talent for their open roles, creating better employee retention and tenure over time.
Implement 360 feedback and forward-looking views
Employer branding and reputation are essential to attracting and converting talent. You can better manage yours by gathering feedback and implementing changes.
Courtney shares how continuous feedback and performance management begin during onboarding at 15Five. During their "best self kickoff meeting," employees spend 90 minutes with their manager focused on two things. The first is role clarity. They'll go over the rules, their responsibilities, the reward structure, the pay, and the company mission, vision, and values. Research shows that role clarity is important for psychological safety (the belief that the team is safe for personal risk-taking, asking questions, and admitting mistakes). The second part of the meeting focuses on strengths discovery and alignment. Employees take strengths tests like VIA Character and Gallup Strengths Finder, gather feedback from others, and develop their strengths profile. This kickoff is followed up with biweekly check-ins, and 15Five uses their own platform to guide those meetings. They find that the kickoff meeting sets the tone for continuous feedback during regular check-ins.
JD agrees with how important it is to ensure that employees feel psychologically safe to be honest with each other through feedback. He's found that talent responds well to it, as people crave authentic leaders that care about employee success and aren't afraid to be vulnerable. Managers should be asking employees things like "How can I help you succeed?" and "How can I remove barriers and obstacles from your success?" He argues that this sort of servant leadership will help organizations attract and retain more people.
Theresa shares how gathering feedback is a three-step process at Glassdoor. They look at the individual level with role clarity and regular manager one-on-ones to provide feedback on progress. Then they look at the team level through team meetings so people can come together and create safety in numbers. Finally, they look for feedback at the company level through bi-annual voice surveys or spot surveys. They like to give people different avenues to provide feedback. Some prefer to share it directly with a manager, while others prefer to share it anonymously. 
Increase employee lifetime value at your company
Brynna discusses how attracting talent that stays has two main components. First, recruiting management, which consists of laying out role expectations, training interviewers to provide a great experience, and quick candidate follow up. Second, people management, which consists of managing employees properly, ensuring regular check-ins, and providing the opportunity to grow professionally.
Courtney shares that 15Five is ditching annual reviews because they don't work. They're replacing them with quarterly or semiannual "best self reviews." The new reviews will focus on deeper strengths-based development conversations, and will be kept separate from the compensation conversation. Decoupling development from compensation helps create psychological safety so you can focus on next steps and how employees want to have an impact on the company.
JD stresses the importance of getting managers on board with employee development, as a means of retaining talent. When he sees a lack of engagement from a manager, he reminds them that it's easier to retain talent than to continually backfill positions.
Thanks so much to everyone who joined us, and to our partners: BambooHR, Glassdoor, and 15Five. We hope to see you all on another webinar soon!