We just wrapped our annual Summer of Sourcing webinar series. Our third session, Getting Insights to Source the Best Talent, had so many incredible insights from our panelists:
Here's what they had to say:
Tips for getting insights into your hiring goals 
It's important to know where you're going at the beginning of any hiring cycle. Start by getting insights into your hiring goals.
Lauren shares 3 best practices to accomplish this:
Think about your organizational goals, and what talent you will need to reach them.

Hold bimonthly talent reviews with your leadership team to forecast hiring needs.

Discuss the impact and return on investment for each hire.
Lorna agrees, adding how important it is for sourcers and recruiters to spend time with business partners and talent development leads. This helps them understand where the company is going, as well as which mission-critical skills are accounted for and which are still needed.
Proving the value in your sourcing strategy 
It's important to go outbound and build relationships to source the best talent and build a diverse talent pool. Dionna says this requires an investment in things like:
sourcing tools

better job descriptions

employer branding platforms

local partnerships
Tracking key metrics can help justify these investments. Lever's 2019 Talent Benchmarks Report found that the median time-to-hire for most candidates is 29 days, but sourced candidates are hired 19% faster. This is crucial in our competitive talent landscape, where the best candidates are typically off the market in 10 days. She also shared that a typical cold outreach response rate is 16%, but that nurturing talent with an automated six-email campaign has tripled that response rate.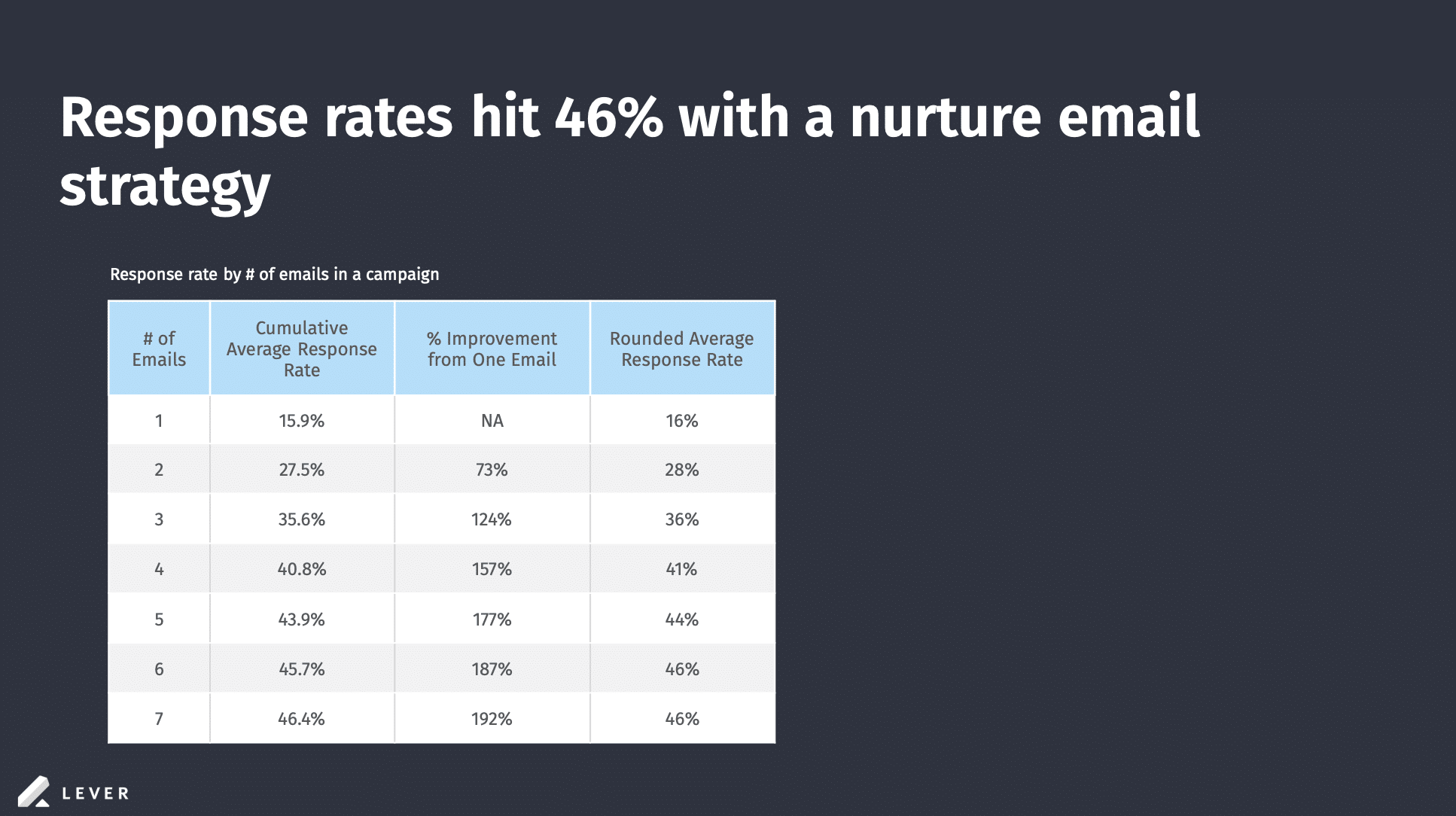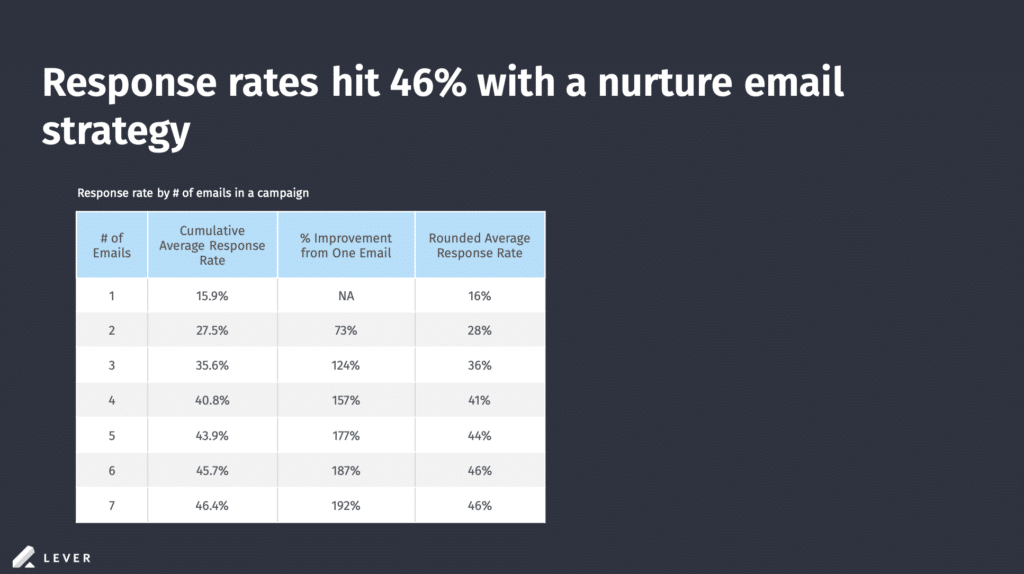 The right reporting capabilities allow you to get actionable insights into your recruiting processes, and support requests for additional resources.
Key recruiting benchmarks to think about
Benchmark data can be a powerful way to measure your organization's recruitment performance, and advocate for recruiting resources. The 2019 Talent Benchmarks Report also found that it takes 109 applicants, 43 sourced candidates, 12 referred candidates, or seven internal candidates to make a single hire.
Internal and referred candidates are the most efficient way to hire, but we can't always build large enough pipelines with referrals and internal candidates alone. On average, only 30 to 40% of onsite interviews will lead to an offer, and only 65% of those candidates will accept. Proactively sourcing candidates ensures you have enough quality talent in your pipeline to successfully make a hire.
Track internal metrics to optimize your organization's unique recruitment process. Lauren says The Muse tracks:
time-to-hire

source of hire

quality of hire

offer acceptance rate

candidate experience scores 
Lorna's team at Namely also tracks cold outreach response rates, open rates, and click through rates to see which messages and recruiters are most effective.
Ways to think through measuring team performance
Measuring team performance around sourcing isn't always straightforward. Caitlyn points out that a lower response rate for certain roles doesn't mean sourcing—or the recruiter doing the sourcing—is ineffective. For example, engineers have the lowest response rate, but they are the second most likely to be hired as a result of sourcing. If you know your response rate is going to be lower, you should plan to do more outreach in order to build a strong pipeline.
Lauren says The Muse focuses on quality over quantity. Rather than tracking time-to-fill from the moment a job opens up, the clock only starts ticking once the recruiter has all the necessary information from the hiring manager. This ensures the recruiting team won't be unfairly blamed for a role that is slow to fill. 
The Muse also measures quality of hire, tracking the reasons they thought a candidate would be a good hire, and looking at performance data to gauge the accuracy of that decision. For example, did that person match the hiring profile and the hiring manager's expectations? Lorna says Namely uses a tool called Reflektive to determine quality through performance feedback post hire.
Prioritizing diversity and inclusion
Diona shares that PowerToFly has a lens on diversity, and measures candidates from underrepresented groups at each stage of the interview process. They want to know how many people from each group:
apply

complete the

phone interview

get presented to the hiring manager

make it onsite

get hired
Identifying drop off points in the process help them make necessary adjustments.
Thanks so much to everyone who joined us, and to our partners: Namely, The Muse, and PowerToFly. We hope to see you all on another webinar soon!