It's no secret that the technology industry faces a wealth of challenges with diversity, equity, and inclusion (DEI) as many others do.
Tech professionals drive value by creating solutions to complex problems — from SaaS to product solutions and more — but many tech organizations are struggling to create solutions to discrimination, bias, and underrepresentation.
Eight in 10 tech executives are white, while just 37% of tech companies have at least one woman on their board.
As employers have a growing responsibility to improve upon DEI, it's key that technology companies set specific DEI goals.
However, progress in DEI in technology has a long way to go.
Our study shows that, while 24% of employees feel their orgs have done nothing to improve DEI, just 32% feel their employers are actively working towards a DEI strategy for their company.
What's more, a mere 29% of software and technology employers view improving DEI as a top priority for this year.
The COVID-19 pandemic has only exasperated this — 75% of software and tech employers feel the pandemic has impacted their DEI efforts. 
At the same time, only 18% of employers in software and tech are making DEI training mandatory; 42% are working to ensure fair consideration of all employees for promotions and pay increases, and 38% consider retention data when measuring the efficacy of their DEI initiatives.

Additionally, 28% of employers in this industry feel they have made some headway with DEI, but have a long way to go — and 24% of employees feel the same.

Thirty-four percent of software and technology employees feel that DEI at their organizations has only slightly increased, and 19% are somewhat confident their employers will achieve DEI their goals.
With 39% of tech employers aiming to achieve their DEI goals within the next two years, there are actionable steps employers can take to consistently improve upon DEI in their sectors.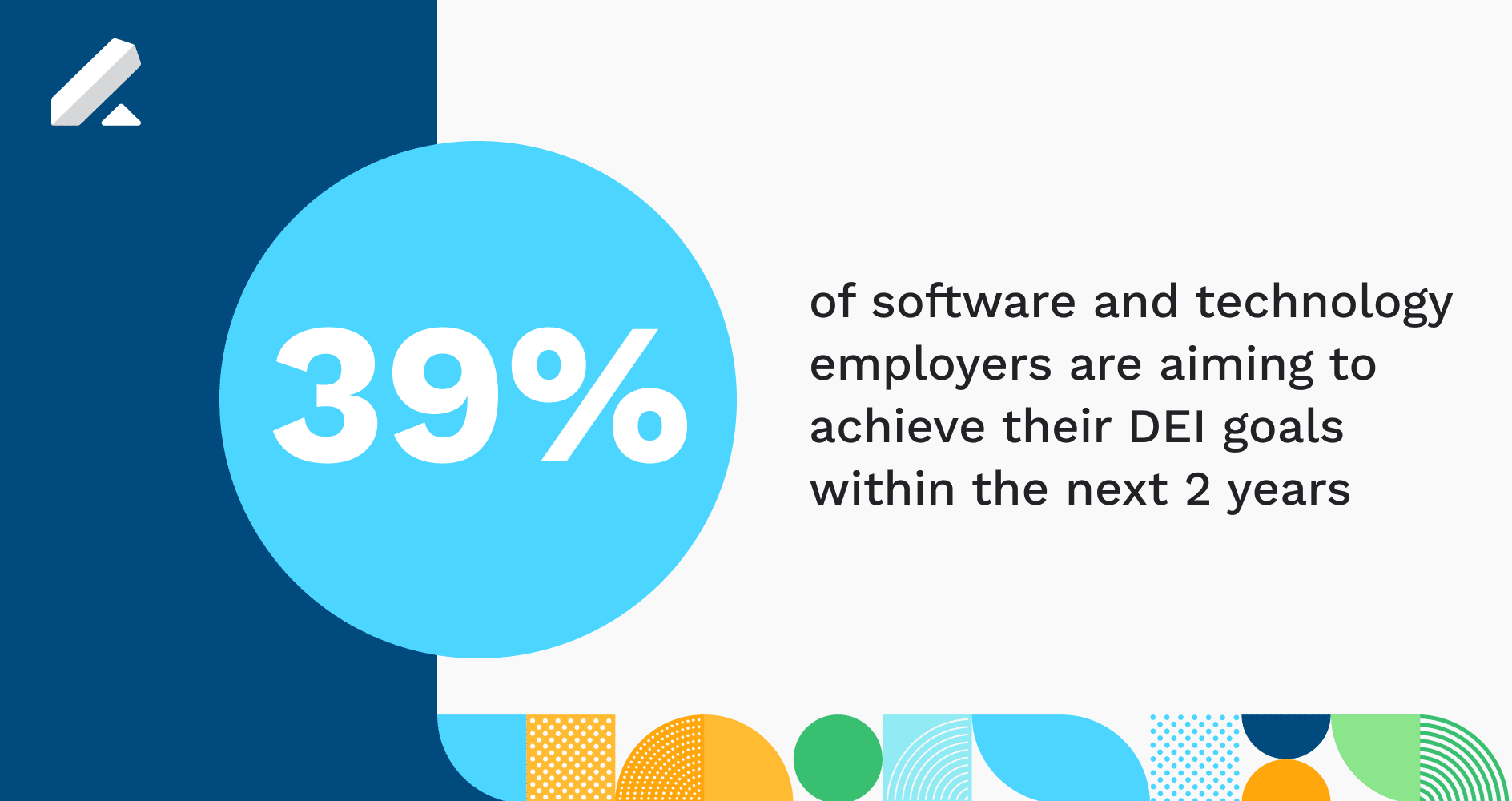 Communicate your DEI goals and initiatives
Your DEI strategy and any changes or improvements to it should be communicated not only to everyone across your organization but also to hiring candidates.
When employees understand the organization-wide reach of your DEI objectives, they're in a better position to help you achieve those goals, especially your recruiting teams.
Ensure that DEI policies, strategy updates, and resources are accessible to all and that they're integrated into your recruiting program. 
Forty percent of tech employers surveyed in our 2021 DEI Report say candidates are looking for more inclusive, diverse work cultures, while 60% of employers say existing employees ask for insights into their company's DEI strategy and 40% of employers say candidates request the same.

Fifty-five percent of software and tech employers share their DEI initiatives and resources across their organizations, and 64% share these same resources with candidates during recruitment; while 40% are updating their DEI policies and frameworks.

Thirteen percent of tech employees feel their employers don't provide enough internal communication about DEI efforts, and 31% believe there's higher priority given to other company goals.

With just 26% of software and tech employers prioritizing alignment between HR goals and organizational ones, communicating DEI efforts becomes more crucial than ever.
Sixty-one percent of employers in these industries feel communicating their DEI initiatives and progress to employees is the biggest area of improvement for them to work on
Meanwhile, just 22% of software and tech employers we surveyed say they proactively source candidates from less traditional backgrounds, which limits the opportunity to communicate DEI initiatives to candidates.
Measure the success of your DEI initiatives
Tracking the progress of your DEI initiatives is key to understanding both the success of your DEI strategy and the gaps or areas in need of improvement.
Though many employers and recruitment professionals recognize the need for measuring DEI goals, our 2021 Report shows that just 39% of employers plan to measure the success of ongoing DEI objectives.
Start by identifying a few key areas where DEI can be improved in your organization, then create goals your team can work towards over a set period and measure the progress of those goals as you go.
Thirty-nine percent of software and tech employers are leveraging data to uncover bias in their hiring and recruitment processes, while 42% are also using additional employee surveys to measure inclusion across their existing employee base.

When measuring the impact of their DEI initiatives, 49% of software and tech employers we surveyed use hiring results, 56% use employee experience surveys, and 48% use employee demographics. Interestingly, just 42% of employers also leverage regular check-ins or touch-points with existing employees.

Our survey also reveals that only 38% of these employers use retention rate data, and 42% use compensation increases and promotion rates, to measure the impact of DEI efforts.

Meanwhile, only 24% of software and tech employees believe their employers are using data to uncover and address potential biases in their company's recruiting process.

Twenty-two percent of employees say their employers are leveraging employee surveys to gather data and insights on inclusion.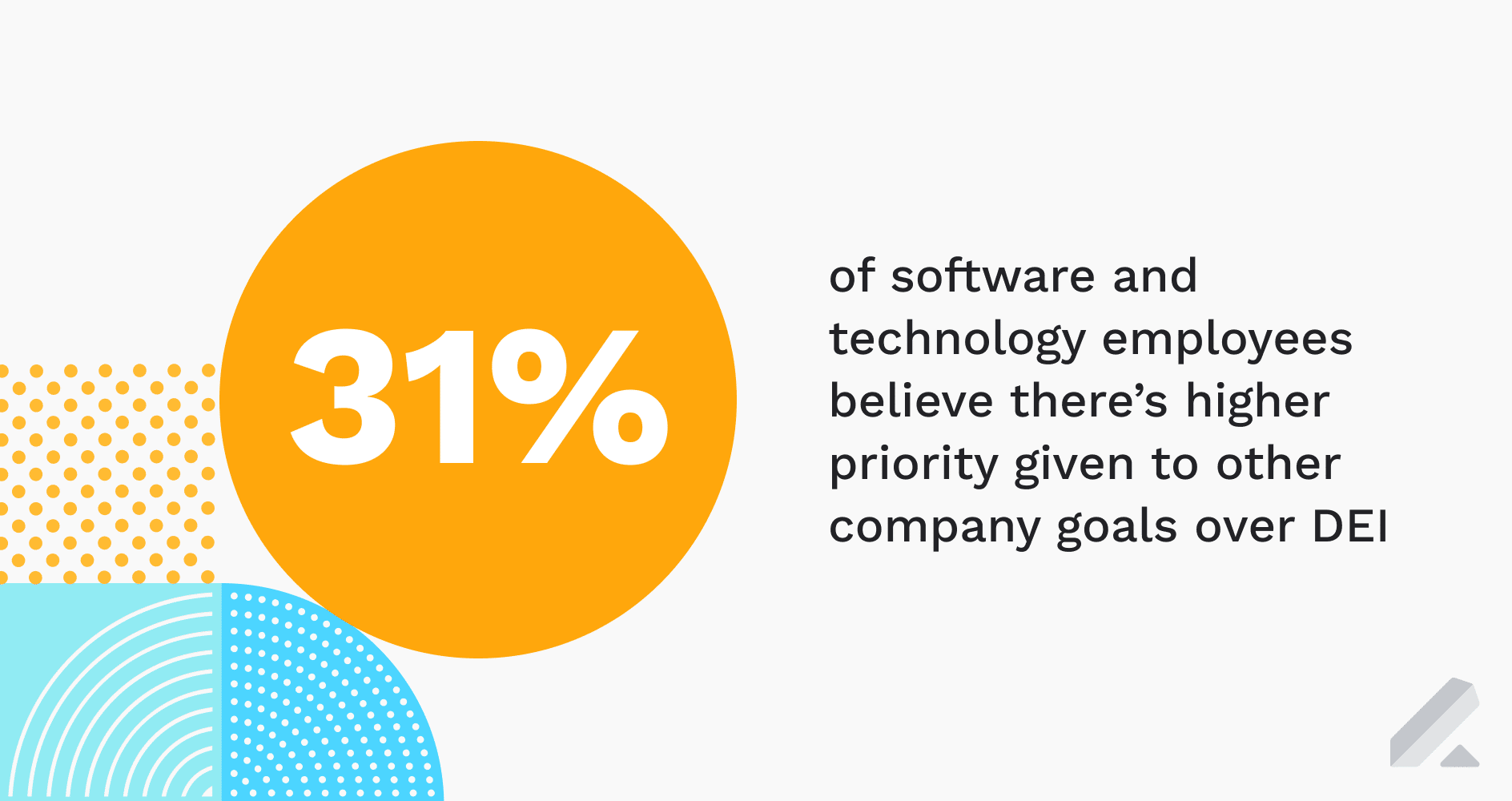 Audit your existing recruitment practices
In recruiting, DEI matters. And, in software and tech, ensuring that you integrate DEI practices into your hiring processes is crucial.
One of the first steps you can take towards improving DEI in your organization is to audit your existing recruitment practices and determine any gaps in your hiring practices so you can ensure they're both fair and inclusive.
To perform a baseline audit, look first at each element of your recruiting process — including job descriptions, candidate outreach, employee experience surveys, and more — and note any gaps or inconsistencies where DEI may be lacking.
Having this foundational understanding of your existing practices will help you choose the right areas to improve or work on to achieve DEI initiatives.
This is crucial, given 74% of tech employers surveyed are actively recruiting for new talent.
While only 29% of software and tech employers are prioritizing DEI this year, many are taking measures to improve DEI in their recruiting—45% are working to ensure the language they use in job postings are inclusive, and 32% are using anonymized resume reviews.

While 41% of software and tech employers feel DEI in their companies has greatly increased over the past 12 months, 64% of these employers feel that communicating their DEI strategies offers the largest room for improvement in DEI and 54% feel establishing internal alignment around DEI is crucial over the next 12 months.

When it comes to recruiting at large, 32% of software and tech employers are proactively including diverse stakeholders in recruitment tasks; 39% are leveraging data and insights to uncover potential biases in their hiring process; 36% are posting open roles on diverse platforms, 32% are standardizing interview questions and rubrics, and 39% are replacing educational requirements with core competencies or relevant skills.

Forty-two percent of software and tech employees feel the biggest room for improvement in DEI in their organizations includes changing hiring, onboarding, training, and other internal efforts to better align with DEI goals.

Thirty-one percent of software and tech employees would like to see their employers adopt more diverse hiring practices, while 30% would like their employers to collect more consistent feedback on ongoing DEI efforts.
Make your recruiting process a foundation for change
At Lever, we're committed to providing you with the tools you need to attract, nurture, and retain diverse talent in your organization.
We surveyed over 500 HR decision-makers and 1,000 employees to determine the state of DEI in 2021 — and we break down the results in our latest Report.
Explore new strategies for improving DEI in and across your organization today and beyond with our State of Diversity, Equity, and Inclusion Report.