An ongoing priority for our best-in-class ATS + CRM solution is continual enhancement and optimization based on customer feedback and technology needs.
The latest example of this can be found in our Fall 2023 release. Take a look at the new and updated LeverTRM features you and your hiring team will want to take advantage of.
Multi-location postings to streamline job publication and promotion and reach a wider audience of applicants
Publishing multiple versions of the same job posting across various locations is tedious, especially when you operate in separate markets or you have to cover all relevant places you are looking to hire.
But, thanks to Multi-Location Posting in LeverTRM, it's something you no longer have to do.
With just one click, you can post new positions to up to 15 total locations. Any locations in which your company promotes a particular opening will populate at the top of each posting.
This new automation feature means you and your talent team can drastically decrease the amount of time you have to manually publish listings on your career site and job boards — time you can allocate to other important hiring-related tasks.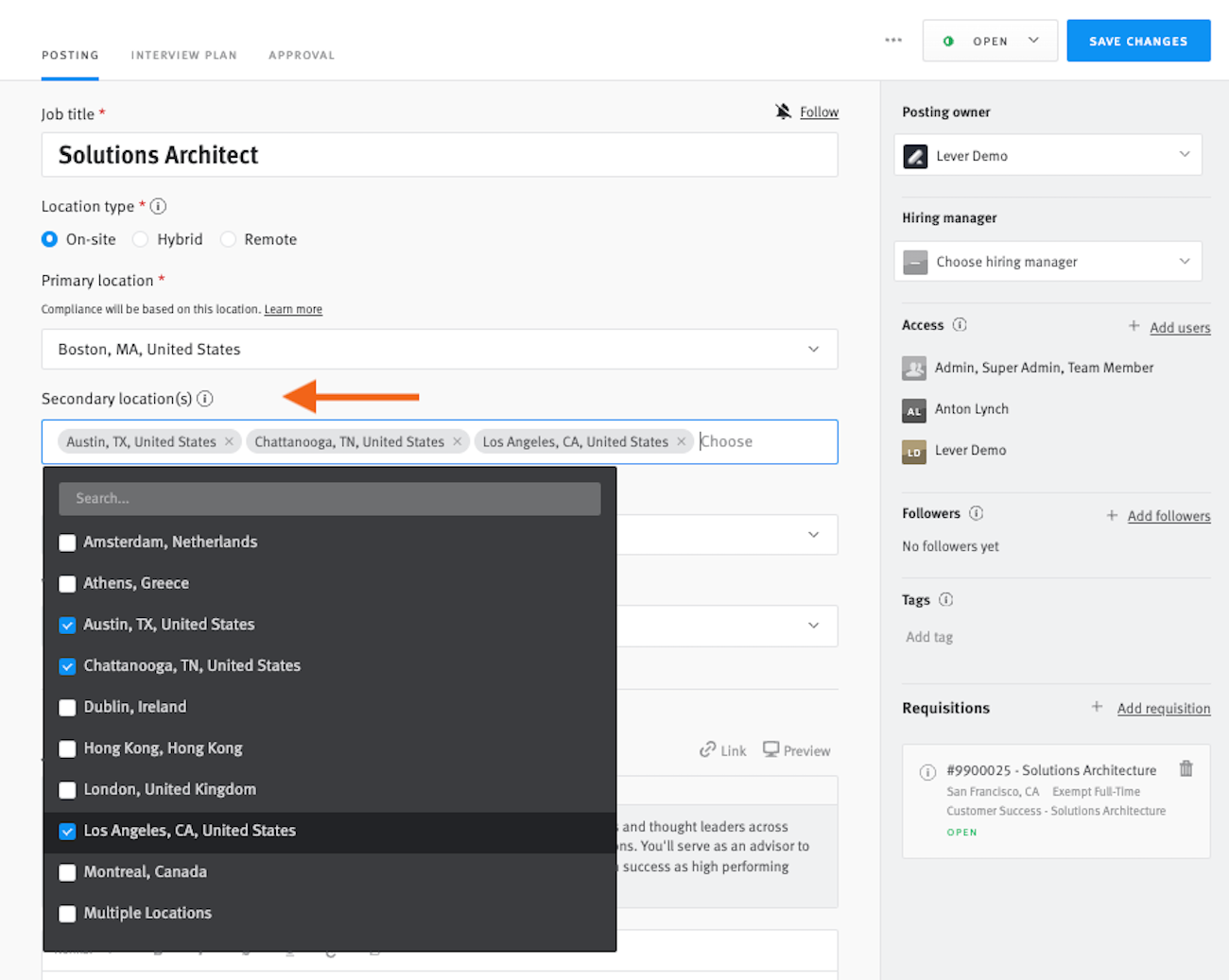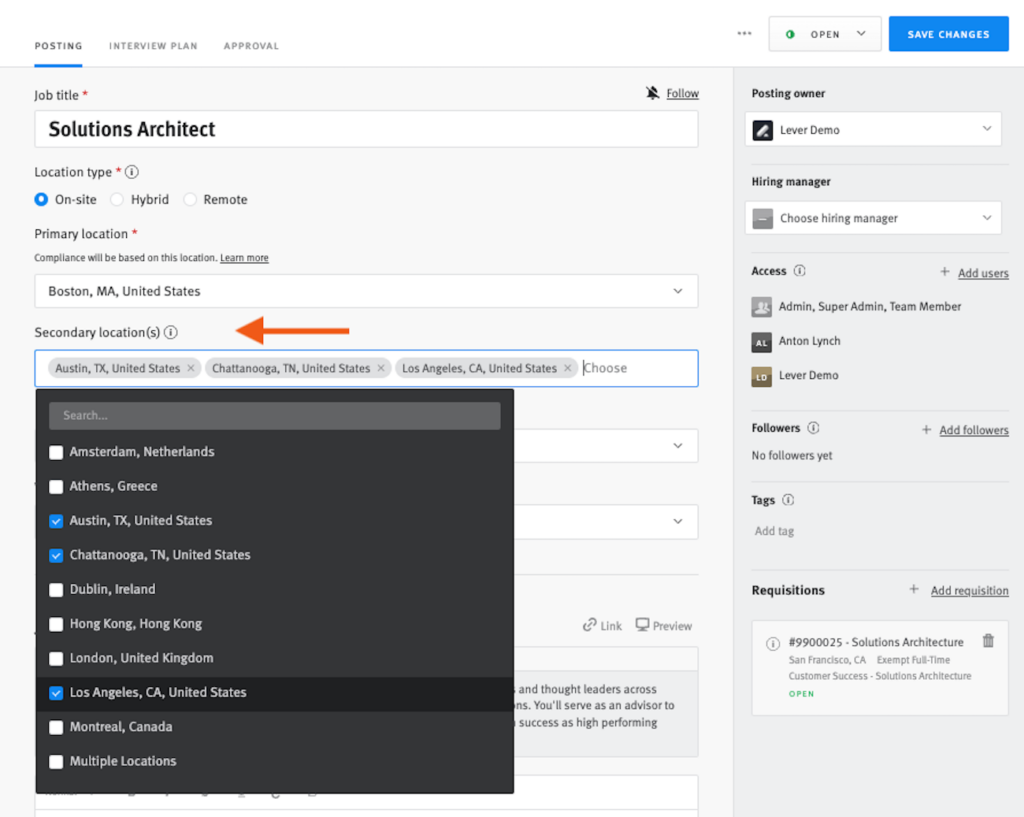 Additional search filters in LeverTRM to make it even easier to rediscover top talent in your candidate pool
We updated our ATS + CRM solution's searchable candidate database as part of our Summer 2023 release. This quarter, we've further strengthened our search functionality.
Four new filters — years of experience, company, job title, and education — have been added to LeverTRM to allow for more granular searches of existing candidates with profiles.
What's more, a "Select All" option has been added, enabling you to take bulk actions with a custom-tailored list of candidates you've created through a highly specific database search.
New ability to email referrers and referred candidates via Automation Hub to update them on hiring progress 
Another augmented capability are the employee referral submission and tracking features.
Keeping all stakeholders in the loop about hiring decision-making tied to referred candidates is now a much more streamlined and intuitive experience for LeverTRM users.
Now, you can send updates to all parties involved in a given hiring process tied to a job opening to notify them of candidates' recruiting funnel status.
For example, you can let referrers know you've advanced their referred prospect in your pipeline and inform referred candidates where your team is at in terms of a timeline.
Automation Hub can be used to set up rules that automatically email referrers and candidates as the latter's funnel stage changes. This is yet another example of how our team is focused on eliminating as many manual activities from recruiters' daily workloads as possible.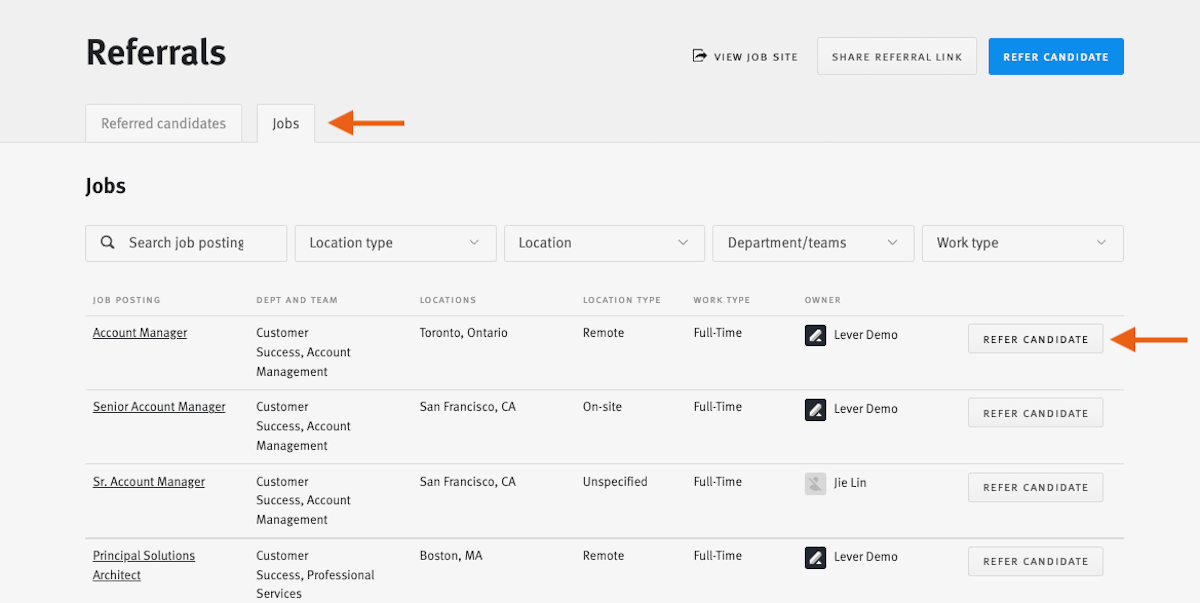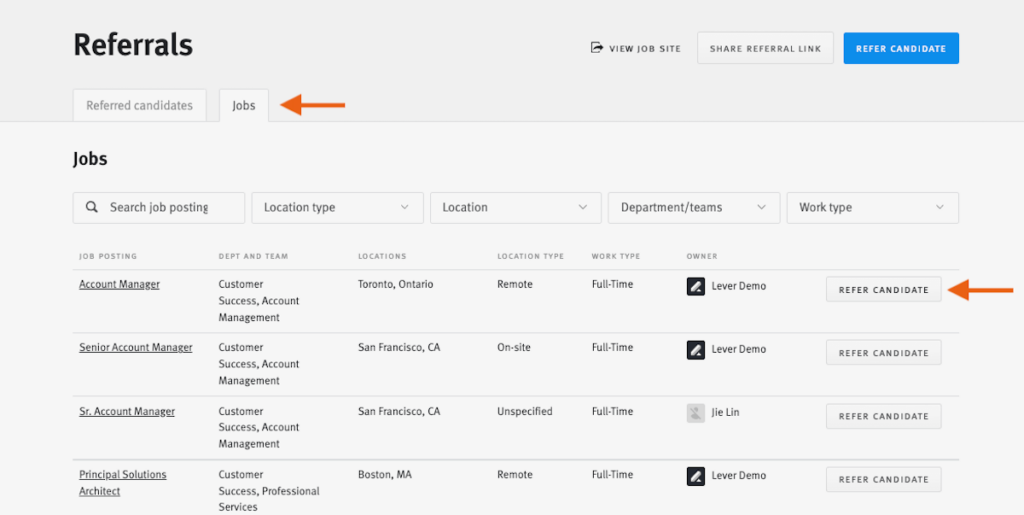 Feedback Dashboard provides an easy way to see candidate-centric comments and ratings provided by interviewers
The Interviews Dashboard in Visual Insights, Lever's out-of-the-box talent analytics, offers some data that reveals how hiring managers and interview panelists rate engaged candidates.
However, we recognized our customers needed a dedicated dashboard to identify patterns and trends related to candidate feedback and ratings for all roles, teams, and locations.
The new Feedback Dashboard now offers the average for the following areas:
As with all other Visual Insights dashboards, each Feedback Dashboard data visualization can be filtered by posting owner, requisition code, data range, and other attributes.
Share interactive Visual Insights dashboards with colleagues using our updated "schedule-and-send" functionality
Similar to the employee referral feature update, we've also refreshed the "schedule-and-send" functionality to empower customers to keep leadership, people managers, and other hiring stakeholders without direct Lever access up to speed regarding progress with filling key roles.
Previously, only static screens from Visual Reports could be shared with these individuals.
Now, interactive reports featuring the data LeverTRM users analyze and leverage in their day-to-day can be emailed on a daily, weekly, or monthly cadence to key stakeholders.
Any previously applied filters for a data view created by a talent team member or hiring manager in Visual Insights will carry over to the link in the email. This also includes a PDF attachment of the screen, in case recipients want to share data with others.
Several new integrations added to our (already robust) partner ecosystem featuring 300+ recruiting tools and HR systems 
You know the drill. Another quarterly feature release means even more popular talent acquisition and HR solutions have been added to our sizable integration ecosystem.
A few notable additions include: 
Connect with us today for more info about these new and updated capabilities — and discover how our complete ATS + CRM solution can elevate your talent acquisition efforts.