Have you ever purchased a tool at your local hardware store, only to discover you already owned that tool? Perhaps it was lying in some out-of-the-way corner of the garage or at the bottom of your toolbox. It was obviously important, or you would not have sought to purchase it … again.
Of course, when you discover your mistake, you want to kick yourself for wasting money you didn't need to spend and chastise yourself for not being more aware of your inventory. If you've kept your receipt, this situation is easily rectified by returning the new tool for a refund, even though there will be some associated inconvenience and time costs.
Challenges When Recruiting Externally
While the above scenario may only represent a minor inconvenience for most of us, there are situations when making this mistake may be very costly, especially as it applies to adding new members to your organization's team. When companies unintentionally (or worse, intentionally) overlook qualified internal talent for external candidates, the costs, both financially and culturally, can rapidly mount.

And, amid the COVID-induced economic uncertainty, more intentional recruitment and hiring decisions can make the difference between a company "just" surviving and instead thriving.
Doing a simple Google search reveals companies spend $4,000 and 24 days to hire and onboard a new worker on average. These numbers represent the actual cash outlay an employer can expect in just getting the new hire to the door. And, it also takes 2 years ramping time for that new hire to get up to speed, as cited in Lever's 2019 Talent Benchmarks Report.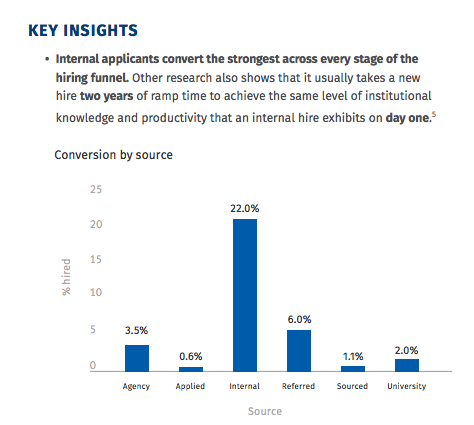 Other costs not included in the above average, include training, new equipment and tools that are required to achieve their tasks, and the cost of having current employees steal time away from their regular jobs to assist the new-hire in doing theirs.
According to a report by Training Magazine, companies invested an average of $1,286 per employee in training in 2019. And, depending upon the uniqueness or complexity of the role, the investment levels begin to climb. The costs (for both recruiting and training) to replace a nurse averages $40,000, and technology companies may anticipate more than $125,000 per vacancy, according to another study.
How Recruiting from Your Internal Toolbox Will Keep Your Business Humming 
The purpose of this article is not to discourage companies from hiring new employees but instead to offer an alternative to replacing or filling new positions with brand new employees when the talent they seek is already in their internal 'toolbox.' This will create stability for employees dealing with numerous challenges in and out of work. As well, demonstrating confidence in and care for your current employees reinforces your employer brand, which now is more important than ever.
While 4% of early March employer branding stories on LinkedIn reflected a COVID-19 focus, "just two weeks later, they were 24% of all (company) posts," according to Stephen Connaughton in Data Shows How Coronavirus Has Influenced Employer Branding. That number rose to 30% more engagement than the average post in North America and Asia Pacific.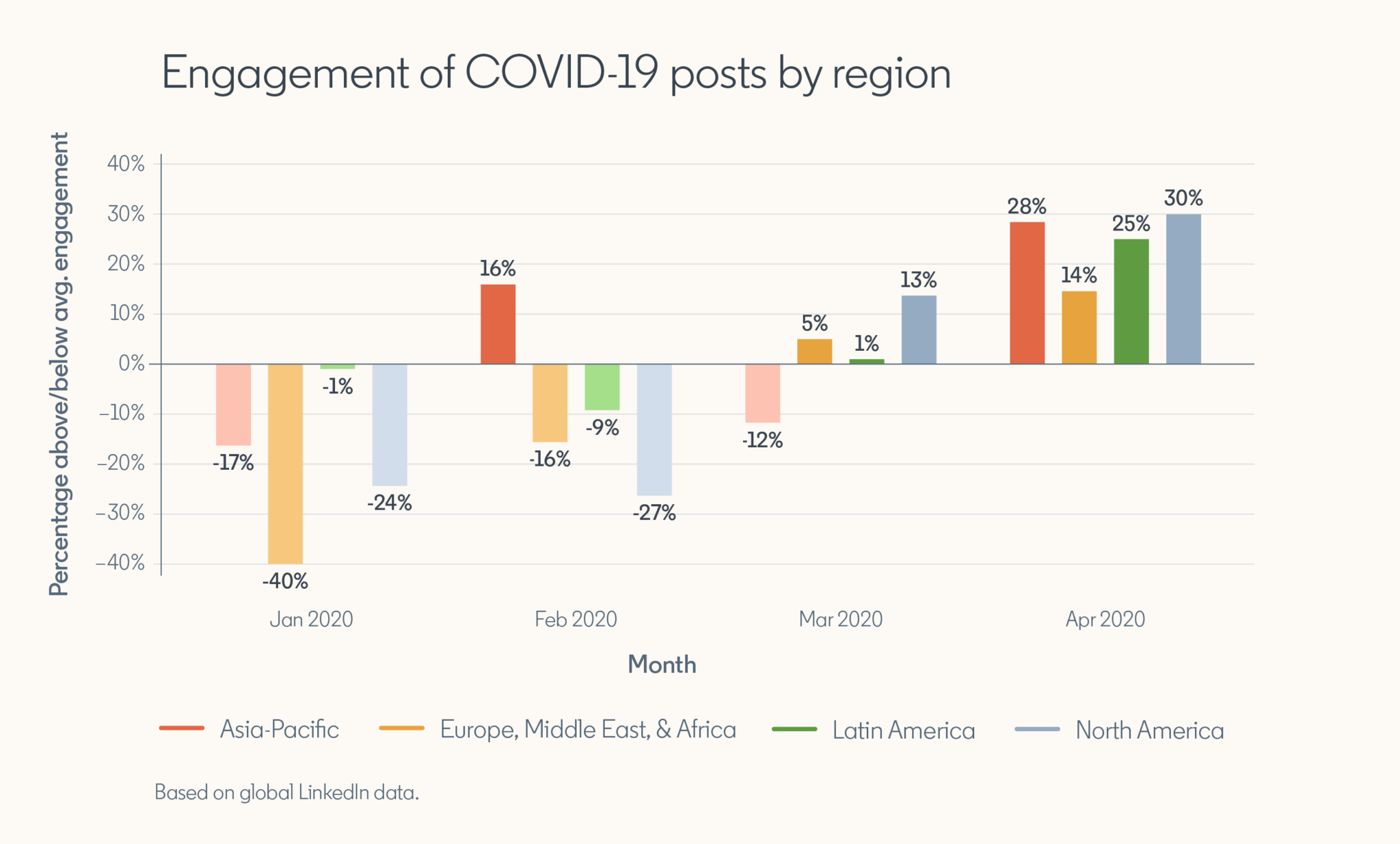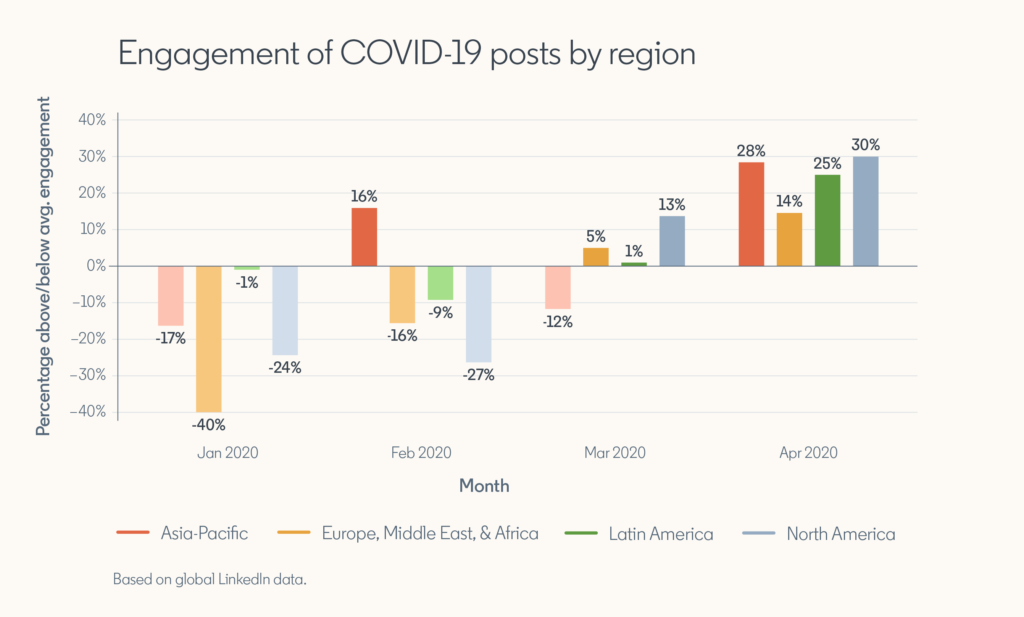 "Coronavirus-related posts are getting more engagement than other posts — especially those focusing on how companies are helping," continues Connaughton. People are closely attuned to companies' words and actionable responses to coronavirus, and in particular, how companies are putting people first to keep their businesses humming now and in a post-COVID environment.
"Whether it's honoring healthcare workers, supporting local communities, or caring for employees, posts that convey empathy and togetherness are getting most attention," concludes Connaughton.
How Companies Are Demonstrating Empathy for Their Employees
While daily face time with employees and employee access to water-cooler conversations has been impacted, "creating a daily check-in routine is an important way to set priorities and foster connections," according to Sean Ludwig in 6 Ways to Keep Your Team Productive While Working from Home, "A morning check-in via video chat, phone call or instant message can create a sense of normalcy," and can be done either through one-on-one or small-group interactions.
One of the companies implementing people-first measures is PepsiCo, who has boosted pay for front-line workers (an extra $100 per week to employees who produce, transport or deliver its products) and continues paying those unable to work because of COVID-19, according to Susan Ladika in Society of Human Resource Management's article, These Companies Put Employees First During Pandemic.
"Implementing such measures is important because employees 'are the backbone of our company,'" says Patrick McLaughlin, chief human resources officer of PepsiCo Foods North America.
Camille Lewis, Canopy's director of people operations, describes how their company's more than 100-employee workforce currently is working from home, counterintuitive to how this tax software accounting service typically works.

Lewis describes the new dynamics within the team, and how they are supporting employees to "bond and stay connected" through the COVID-19 challenge, including inviting employees to participate in a 30-day wellness program from The New York Times.
Facebook gave every employee a $1,000 bonus to support their working remotely during the coronavirus outbreak, according to Business Insider.
Mark Cuban, entrepreneur, NBA owner and Shark Tank investor is "keeping on his hourly employees even after the NBA suspended the regular season due to coronavirus," reports Alexander Vuocolo. "Nothing is going to happen unless workers feel confident when they go to work that they're going to be safe," asserts Cuban.
How to Prevent Employees from Seeking a Competing Employer for Shelter
"In these uncertain times, how you treat your employees will be remembered for years to come," says Alan Kohll in this Forbes article. "How businesses respond will have a lasting impact on employee behavior including engagement, productivity and loyalty."
Especially in the aftermath of a widespread crisis, employees become less tolerant of company cultures that treat team members as cogs versus human beings and that are dismissive of their unique value. Leadership who neglect employees this way will empower top talent to jump ship, eager to find more stability amid the roiling waters of our new normal.
However, when employees believe their leadership is making an intentional effort to show that they care and to help protect their well-being, they will be less likely to leave. Reacting with "care and generosity" toward their employees, Ally Financial "moved most of their workforce of 8,700 to work from home in just a few days, including hustling equipment to people who needed it," according to Kathie Patterson, chief human resources officer in a recent Forbes article. 
Ally also deployed a plethora of benefits, a sampling of which include:
100% coverage for diagnostic testing related to COVID-19

Expanded childcare support

An accounting for COVID-19 impacts to operations in regard to employees with monthly/quarterly incentive plans
The Benefits of a Strong Internal Mobility Program During COVID-19
Companies can proactively act on this intention by seeking out and offering white-glove treatment to loyal, internal high-performers. As a result, employees' confidence soars knowing their hard work positions them for the next promotion, project challenge and/or enterprise initiative. 
Moreover, initiating cross-training, coaching and/or other development programs can position internal candidates for the next open opportunity and/or to fill in the gaps when recessions or even explosive growth (each with their unique talent changes) require their unique skills. It also creates agility, enabling employees to pivot for your company's new normal and/or to feel more confident should they ultimately have to seek work elsewhere.
According to F. John Rey in The Balance Careers, the benefits of cross-training plans include:
Improved employee awareness of organization's roles and functions.

Increased scheduling flexibility.

Expanded opportunities for employee advancement.

Opportunity to strengthen customer support with more knowledgeable employees.

Ability to keep employees motivated and vital.

Reduced absenteeism and turnover.

Increased ability for managers to evaluate employees across various roles.
The Bottom Line: How to Continually Nurture Internal Talent 
Cultivating talent relationships with those employees who have proven their loyalty and willingness to stay the course has become an increasingly important way to manage the bottom line. Little is as disheartening for employers as watching a team member you have spent thousands of dollars to train and given years of valuable experience take all of that institutional knowledge to another business, or worse, a competitor. 
Especially sad about this situation, is the fact that you could be taking advantage of your investment by simply not giving this employee enough room to grow and putting those valuable skills to good use. By continually nurturing and tapping into an internal talent pipeline you can help inoculate your organization from the deeper impacts of economic disruptions and uncertainties, including sudden contractions, recessions and even, explosive recoveries. You can discover how to set up your internal hiring for success in Lever's eBook, The Ultimate Guide to Internal Hiring.
—
Lever's internal hiring functionalities allow recruiters to provide white-glove treatment for current employees interviewing for other roles inside your company. It's also built on top of Lever's custom access controls, which allows for granular granting of sensitive information privileges, meaning the hiring team involved will get to see everything they're supposed to — and nothing more. Internal Mobility is available so you can open jobs to your employees first and it will not require any additional purchase. Learn more about Lever's complete recruiting solution by requesting a custom quote.