Intelligent sourcing automation software for game-changing relationships with top talent
Double your response rates from passive candidates
Nurture is the perfect addition to Lever Hire.
Engage candidates at scale through personalized email campaigns
Kickstart your hiring with smart recommendations of past candidates
Track and optimize all of your campaigns  with powerful analytics
How it works: From source to nurture in 15 seconds
Find new candidates or Review recommendations of candidates already in Lever
Add them to campaign with customized timing and senders

to craft a path that's right for each candidate

Personalize messages and send, automating the manual tasks so you never drop the ball

Turbocharge your response rates
boost in response rates using sending for an executive
increase response rates by 96% by sending three follow up emails
Engage at scale with personalized email campaigns
Turbocharge Response Rates


Dramatically increase response rates with email personalization sent from hiring managers or leaders so your messages stand out

Save hundreds of hours


Never miss a follow up with customizable email campaigns that automatically send over time

Reduce your costs


Rely less on expensive agencies to fill critical hires by boosting the productivity of your current sourcing efforts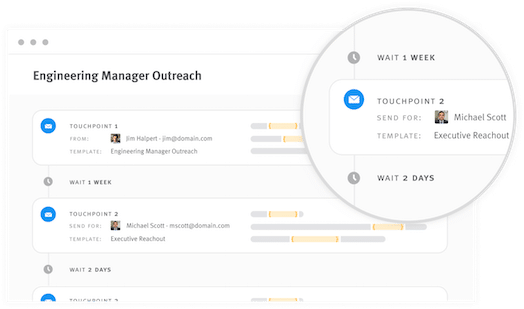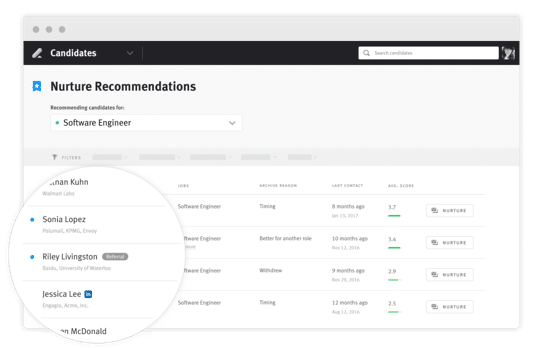 Kickstart hiring with smart candidate recommendations
Maximize your existing relationships
Leverage our intelligent technology to resurface past candidates who fit your open roles
Immediately reconnect with candidates


Re-open conversations with personalized Nurture Campaigns that follow up automatically

Refine candidate recommendations


Expand and narrow your recommended candidates
Track and optimize all sourcing activity
Easily prove sourcing success


Get a high-level overview of all your sourcing results

Replicate best practices


Gain complete visibility into what's working to improve results with reports by campaign, sender, role, and more

Drill down to what's most relevant to you
Find the insights that matter most to you with powerful drill-downs that answer your most specific questions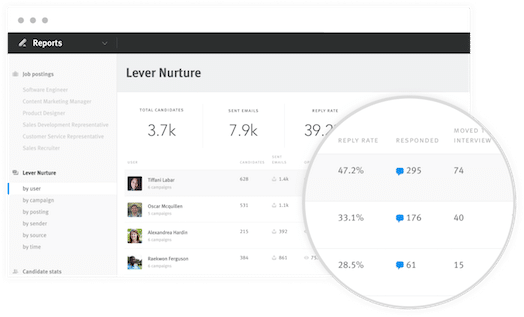 "Sourcing before Lever Nurture took a lot of manual work that was prone to human error. Now, the process is way faster and easier to personalize. All I have to do is set up a Nurture campaign with my candidates and let it run"
Sarah Eastman
Recruiting Research Lead at Shopify
Learn how Lever Nurture can help you develop meaningful relationships with the right talent, at scale.
Lever's CEO Sarah Nahm globally announces Lever Nurture at the 2016 Talent Innovation Summit.
See our products and pick the perfect plan.