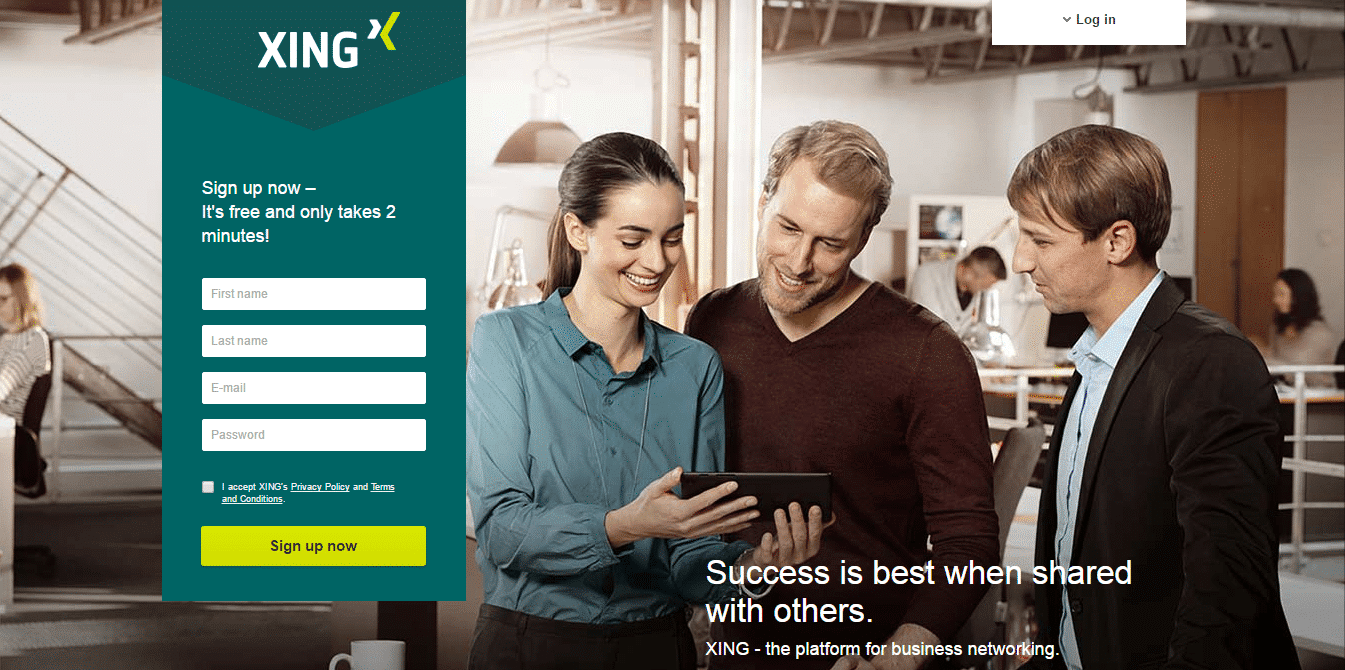 Strategic candidate sourcing gives you the upper hand in today's competitive candidate market. While only 25% of the workforce is actively looking for a new job, 85% is willing to talk and learn more. Actively looking for the top performers you want on your team helps you grow the talent pool in your applicant tracking system and reach candidates who are not yet on your competitor's radars. If you're hiring internationally, Xing is an excellent place to begin your candidate search.
Recruiting on Xing
Xing is the most popular professional social network in Europe, particularly for German-speaking candidates. They have 15 million candidates worldwide, with 9.2 million of those in German-speaking countries. Xing says 65% of their users are currently looking for a job or are open to offers, but those only include candidates who have specified so on their profiles — and the number of people you can recruit is actually higher.
Sourcing candidates on Xing
With a basic profile, you can source candidates by keyword, and filter by contact level. If you want advanced search and filter options, you can run an X-ray search or sign up for a premium Xing account.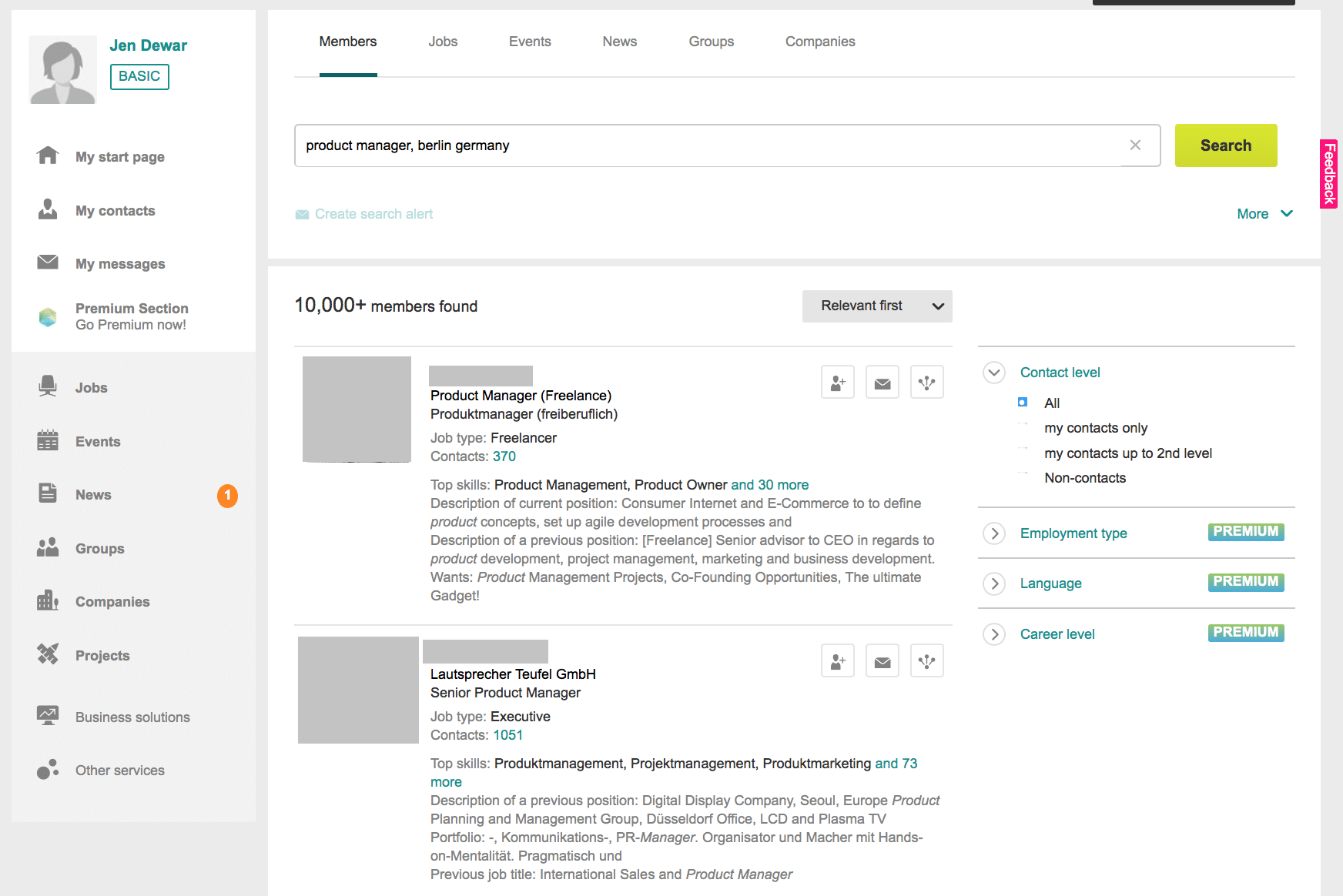 Talent profiles are robust, and tell you if the candidate is actively looking for a job or open to offers. You can see the candidate's professional experience, location, skills, educational background, and languages. Then you can discover their portfolio, additional web profiles, contact, groups and events.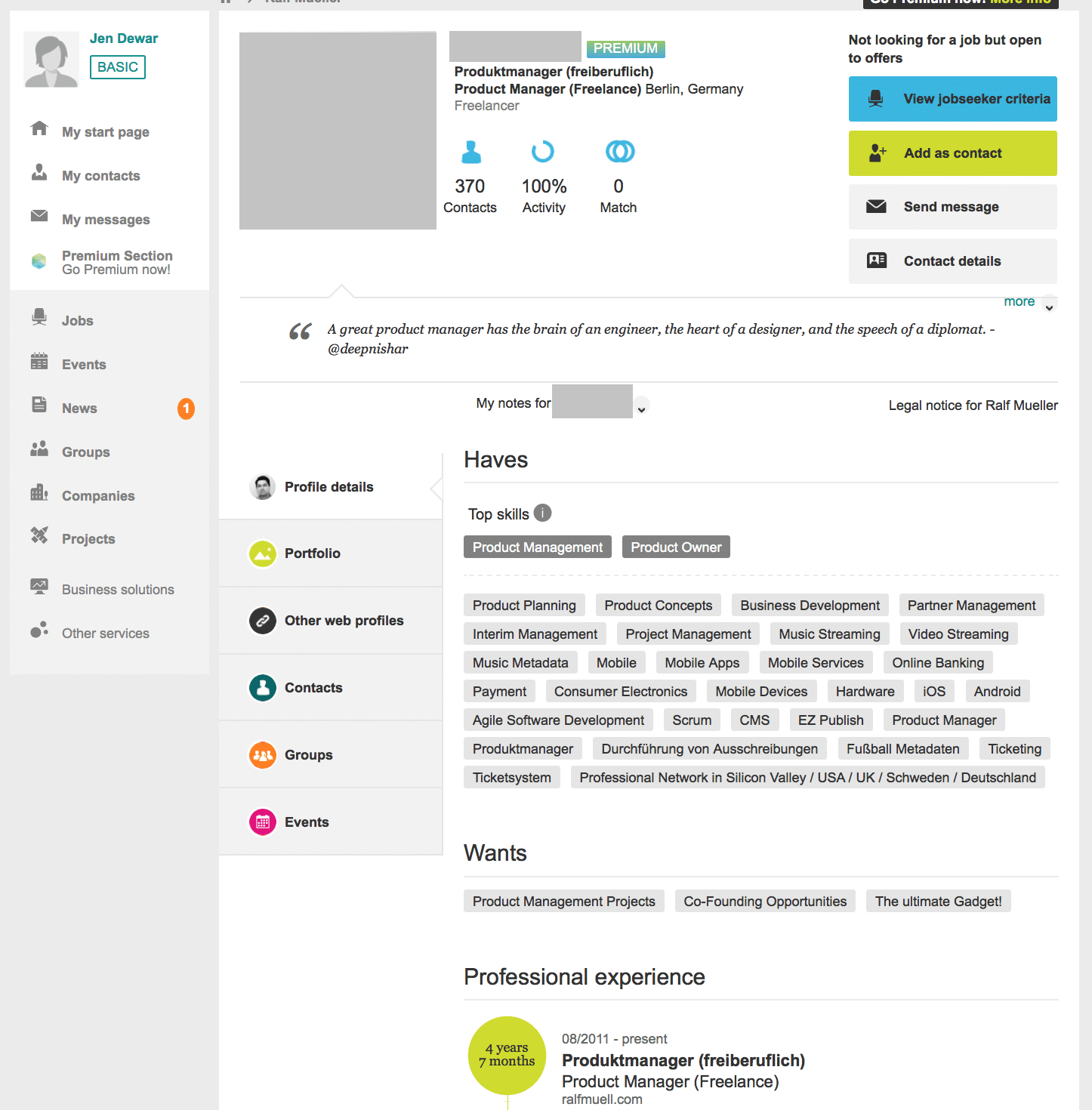 Engaging talent
Once you've found great candidates, engage them with a candidate-first recruiting mentality. Xing does not allow you to message contacts whom you are not connected with, but you have a few options for reaching out. First, you can add your potential candidate as a contact on Xing, and either add a message to your invitation, or message the candidate once they accept. You may also choose to find the candidate on another channel, such as LinkedIn, Twitter, or Google Plus (all of which may be included on the candidate's profile, under Other Web Profiles) and contact them there. Finally, Xing shows you the candidate's business address in the Contact Details pop-out, which may offer you a more novel way to reach candidates.
Regardless of your medium of communication, your goal should be to sell the candidate on your opportunity as soon as possible. Tell them about the vision of the company, the mission, and the team, and ask if they'd be open to a conversation so you can learn more about their career motivations. Every communication thereafter should be personalized, and centered around the candidate's motivations. If you think the candidate would be successful on your team, tell them why and explain to them how they would make an impact at your organization.
If there's not a good fit for the candidate in the immediate future, keep in touch with them. Stay up to date on changes in their career, and keep them in the loop about company news and job openings. When the time is right, you want them to be sold on your opportunity above all others.
Conclusion: recruiting on Xing
If you want to win the best international talent for your team, a proactive Xing recruiting strategy will help you accomplish that. Top talent is in such high demand that it's become necessary to be more strategic and build long-term relationships with candidates. Strategically sourcing and engaging talent allows you to give your candidates the personalized attention they need to choose your company, so you can reduce time to fill and raise your hiring bar.
Learn more about sourcing and engaging top-tier candidates in our eBook: How to Source a Quality Candidate Pipeline.