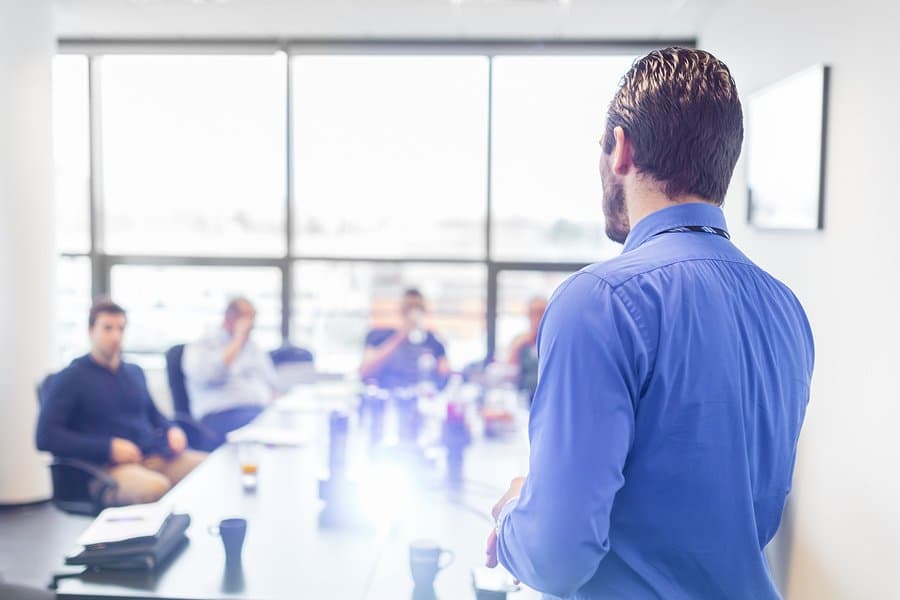 Of all the players in the hiring process for any single requisition, the hiring manager is the most important one. The hiring manager is the person who knows what kind of candidate they're looking for, who has the best understanding of the role, and who the candidate really wants to meet. After all, everyone wants to see if they get along with their future boss.
That's why last week in our blog series, How To Make Recruiting Your Company's Top Strategic Priority in 2016, we reviewed four ways to incentivize hiring managers to get involved in the recruitment process. Unfortunately, though, sometimes true incentives have to come from the top down. If the executive team doesn't emphasize the importance of recruiting, will anyone else?
That's why this week, we're focusing on the C-suite – how to get buy-in from the folks up top.
So how do you get their support if you feel like it could be stronger? By building a winning business case to earn your function the budget and resources it deserves. In a recent Lever webinar, Kara Yarnot – who's successfully lobbied for more resources at a whole slew of companies including SAIC, Boeing, and Intel – showed us how.
Here are her six steps to building a winning business case for resources wherever you need them – from increasing headcount, to buying new technology, investing in branding and advertising, bringing on consultants, and more.
For the purposes of the webinar, Kara used lobbying for an employee referral technology solution as her example.
Step 1. Document the problem
Kara outlines four sub-steps to defining the problem.
1. First, state the problem. What is the challenge you are trying to solve? If employee referrals only generate about 10 percent of your hires, but you get about 1,000 referrals a year, there is room for improvement. You can also do some external research to help benchmark your company against others. For example, Kara references studies showing that referrals at best-in-class companies account for 40 percent of hires.
2. Next, document the pain points. In this example, the recruiters need to review hundreds of resumes in order to find qualified candidates, so there's a lot of wasted time.
3. Document the bigger picture, qualitative issues as well. If employees are referring 1,000 candidates per year, but very few are getting hired, they might be getting frustrated and feel like their referrals are going into a black hole.
4. Finally, highlight the quantitative issues, in this case, by illustrating how much money per year you're losing in recruiter productivity. If you have a 10-person recruiter team and each spends about two hours per week reviewing unqualified resumes and responding to candidates, that's 1,040 hours per year. If the average recruiter salary is $50 per hour, that equals $52K in annual losses in productivity.
Step 2. Explain the solution
Explain the solution you've found. In Kara's example, it's a third-party referral management solution that matches employees' professional networks with a company's open positions and recommends qualified candidates for them to refer. It can integrate with the company's applicant tracking system and update employees about the status of their referrals.
Along with the solution, talk about the outcomes you expect, like reducing the number of unqualified resumes you see, more time for recruiters to focus on creating a great experience for qualified candidates, and employees being more satisfied with the program.
Step 3. Outline the resources required
Step three, says Kara, takes the most amount of time. You have three areas to cover, labor, tools and technology, and marketing. See a breakdown of Kara's expected costs for each area, below.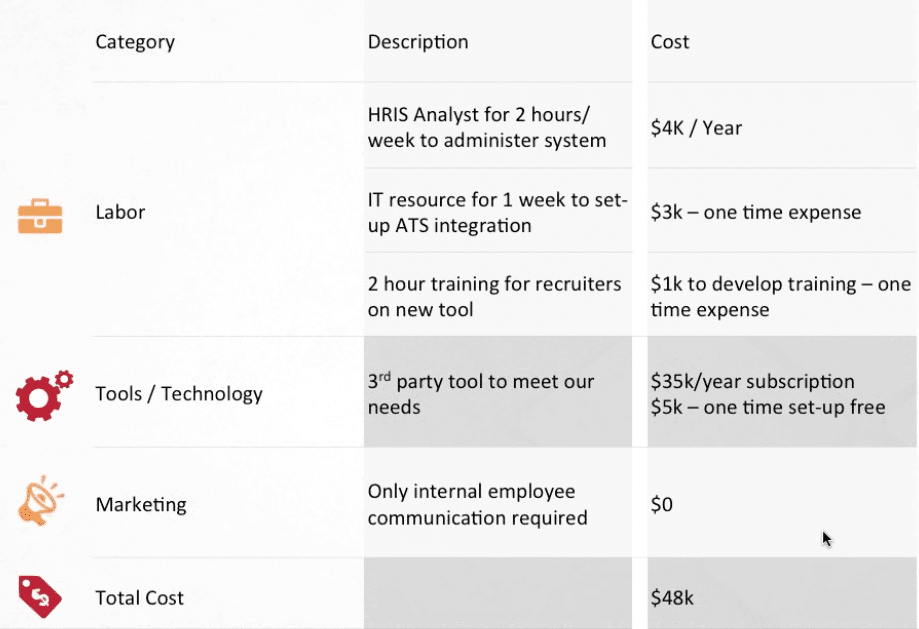 According to Kara, calculating the cost of the problem and the cost of the solution is where most people stop, including where she stopped for many years. "I would say here's the problem, here's how I'm going to solve it, here's what it costs. Can I please have 48 thousand dollars?" It wasn't enough, says Kara, to get her the money she wanted. That's where the next step comes in.

Step 4. Capture gains
Step four, says Kara is the most important part of the process. Your executives have to understand what they will get back for their $48K.
In addition to the gain of $52K in recruiter productivity you've already calculated, search for other quantitative gains as well. In Kara's example, she calculates the gains from hypothetically reducing overall employee time to fill by one day through her improved technology. To make this calculation, multiply the number of positions filled per year by the average revenue the average employee generates per day (your finance department should be able to help you).

Step 5. Calculate your return on investment (ROI)

In addition to raw gains, leadership will be interested in your expected ROI, or return on investment, as well. The equation for calculating your ROI is simple: Total gains / total costs x 100. In Kara's example, the gains from her referral technology are clear:

Note that every company will have different ROI thresholds. Again, Kara recommends working with finance to see what threshold HR at your company is expected to meet.
Step 6. Offer a comparison cost
In the final step, go above and beyond proving the gains of your program by drawing your executives' attention to where else the company has comparative costs to your proposed solution, such as a contingent search firm.
If, for example, a typical new hire salary is $100K and your company pays a firm 20 percent of the first year of every employee's salary that the firm helps you hire, that's $20K per hire. If you make even three more hires through referrals than you otherwise would have without the referral technology, that's $60,000 saved.
Conclusion
When you go through these six steps, says Kara, "it really does add to the conversation." You're not HR asking for more overhead, you're a strategic business function who understands and is helping to contribute to your company's goals. If the executive team hasn't prioritized talent by themselves, persuasive business case like this can help you get their buy-in.
To listen to the full webinar and download Kara's step-by-step worksheet to guide you through the process, click here.