How to Hire People for the Long Term
During Lever's webcast tomorrow, I'll be looking across the most common sources of hire – including proactively sourced talent, applicants and employee referrals – and describing what it really takes to make good hiring decisions. As you'll discover, the best way is to first understand how the wrong hiring decisions are made – then do the exact opposite.
Collectively, this entire concept is summarized in this 2X2 matrix comparing how motivation and competency impacts hiring results. Understanding becomes very clear by starting with the "best case": someone who is both competent and motivated to do the work.
Fully Competent and Highly Motivated
These are your best hires, the people who wind up in the top third of their peer group simply because they produce more high quality work on a consistent basis.
To hire people like this, you need to help them see the job as a true career move. This is a high-touch process that involves a number of meetings spread over a few weeks. This takes extra time, but few hiring managers are willing to do this despite the obvious advantages.
During the webcast I'll describe how this is done. It starts by defining the job as career move and then proving it. In this case, a career move needs to offer a minimum 30% non-monetary increase. This is the sum of a bigger job combined with more satisfying work and faster growth.
Fully Competent but Not Highly Motivated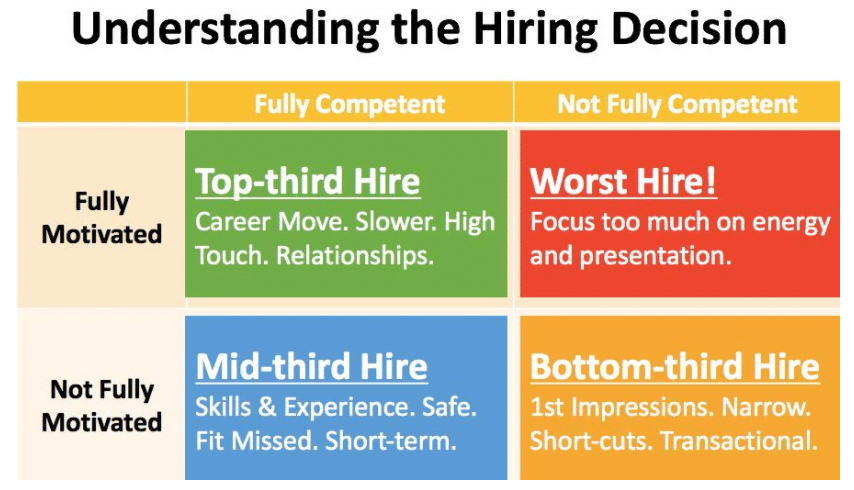 People who are fully competent but not highly motivated represent the typical average hire. These people are frequently hired when the filtering system is largely based on skills and experiences and the interviewing process is rushed.
It's important to recognize that fit is what drives motivation – but when this critical aspect is only superficially assessed, motivation to do the actual work is problematic. In this case fit is defined as fit with the job, fit with the company and fit with the hiring manager.
Not Fully Competent and Not Highly Motivated
There is no question that people who are neither competent nor motivated are bad hires. The cause is obvious: Usually the process is rushed and the assessment was based on a very narrow set of skill-based criteria. In many cases the people hired under these hectic conditions are those who make the best presentation, not the people who are the best performers. The problem is worsened since the candidate accepted the offer largely for short-term reasons based on compensation and which company could move the fastest.
Not Competent but Highly Motivated
Highly motivated incompetent people are the worst of all hires. These are the people who mess up things so quickly that you don't have the chance to recover. Avoid these hires at all costs! Typically these people are hired since they have lots of enthusiasm and make great presentations. This is a sure recipe for making a bad hiring decision.
Hiring the top third talent starts by knowing the job and finding people who are both competent and motivated to do this work [Read: Competency Based Interview Questions]. However, the real work is not a laundry list of skills and experiences. Instead it's five or six basic performance objectives that describe what a person needs to do in order to be considered successful.
When combined with a go-slower interviewing and recruiting process it's possible to determine if the job offers a true career move – a 30% non-monetary increase. Without this, you'll hire a lot of people who looks good in the short term but will quickly underperform in the long term.
At the webcast you'll find out how to hire people for the long term, and how to modify your technique for proactively sourced, referred and applying talent. Join us tomorrow!