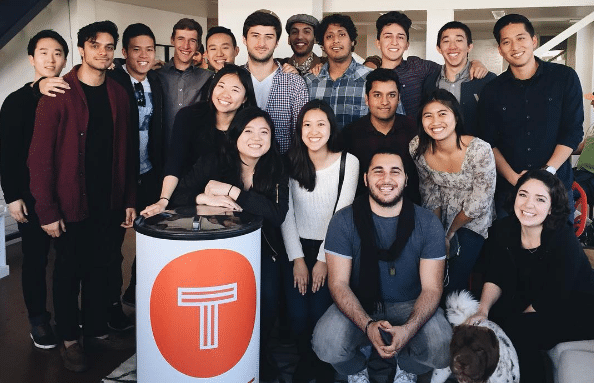 Faced with objectives like a product to build, sales deals to close, and consumers to captivate, some companies take a laidback approach to hiring with the intention of prioritizing it later. The team at TINT, a content display technology company headquartered in San Francisco, left that attitude behind long ago.
Today, the first line of TINT's Hiring Process Guide reads "Unlike many things at our company, hiring is not an activity that we can afford to do 'just good enough'". After stumbling through their share of hiring mistakes, they began to see the need for a more cohesive hiring process. Eventually, finding the right talent became their number one priority. We talked to Ryo Chiba, TINT's Chief Operations Officer, who helped to create their Hiring Process Guide around 9 months ago. Ryo told us why hiring is the most important activity at TINT, and how his team is working to get it right.
Who does the majority of your recruiting at TINT?
On each team, the hiring manager is the main recruiter. They are accountable for sourcing. They're also responsible for asking their team to reach out to their networks and for managing our Hired.com account. We expect hiring managers to spend 50% of their time at work managing the hiring process. I remember that when we were hiring our first engineers, we didn't know how to balance our time. To get our hires right, we realized we needed hiring managers to devote 50% of their time to finding them.
Can you tell me about your TINT Hiring Process Guide? Why did you decide it was necessary?
I put together the hiring guide with the engineering team back when I was Co-CTO because we were wasting a lot of time coordinating recruiting and hiring without a shared process. Having a process saved us time, and also allowed us to learn from our mistakes by baking lessons learned into our guide.
There are just so many mistakes that can be made at each step of the funnel. It's easy to forget that sourcing is important, for example, and that you're a salesperson when you're sourcing. When we were a 3-person company and we didn't have our own office, we'd hear companies next to us recruit and sound dead or unenthusiastic during their call. If you're talking to a quality candidate, take advantage of the opportunity to really sell yourself. Now, we go through our Hiring Process Guide each time we kick off hiring for an open position to try to prevent those mistakes.
Can you tell me about a particular mistake you made and what you learned from it?
Our first big mistake was that when we would interview candidates, we wouldn't write down our individual feedback before talking about it as a team. It was awful because the results would get all muddled. Candidates were making it through our process simply because they had the most convincing person make a case for them. Everyone was influencing each other way too much.
Also, when we let people write their notes down an hour or day later, we found that the notes were lower quality. People would make more generalizations, or they had fewer examples in their actual notes. They were going off of biases rather than evidence.
Now, we make sure that immediately after any panel interview, we keep ourselves from discussing the candidate (which is very tempting), split up, and for the next 15 minutes we write down our evaluation of the candidate using as many details from the interview as possible. Finally, when we meet after those 15 minutes, the discussion centers around the written evaluations, which are not contaminated by groupthink. Lever's recruiting software has helped us with that because it is the centralized portal that collects these evaluations.
I've seen other companies make mistakes in their processes too. In our old coworking space, this guy at another company who conducted phone screens would ask the same questions every day. He would ask specific questions like: "Which language is Unix written in?". That drove me mad because he didn't give the person on the phone a chance, and his question wasn't always relevant to the role he was hiring for. First of all, you've got to pitch yourself and second of all, you have to pick questions that actually tie into the role. At TINT, we spend time writing up our standard screening questions, but we revise them every time we open a new role. The most relevant questions for every role are different.
In your hiring guide, you say "Hiring is the most important activity to get right at TINT." Why is that?
Hiring is the highest leverage activity that you can do at a company in terms of time vs. impact. It's easy to make it an afterthought, and it's not something that people are generally trained upon. But the time you spend on hiring will greatly impact the success you have as a company.
Think about all the activities you do at a startup: engineers building out a feature, the sales team reaching out to a prospect. There's nothing that can change your organization more than the right hire; they can make your organization a better place to work. A bad hire, on the other hand, can have a huge catastrophic impact on your company. Any hire is a big commitment financially and emotionally, and they will be very hard to let go.
What other changes did you make in your process once you realized that hiring was so important?
We started to limit the size of our panel interview. We used to have everyone on the team in the room with the candidate. Then, when we reached around 15 people, one candidate told us it was intimidating. And we were like 'Wow', we hadn't even considered that it might be. Now, we use Google Hangouts so that the whole team can see the interview, but they aren't in the room so candidates aren't intimidated. Today, only 5 to 6 people are actually in the room.
How has Lever helped you with your mission to get talent right?
We transitioned to Lever around 2 years ago, and I remember feeling like it was immediately so easy to do everything I wanted. I liked the automation capabilities and modern interface. Also, all of the ATSes at the time had such outdated job portals, so Lever's self- hosted job portal was refreshing.
Now, Lever is so seamlessly integrated into the hiring process that it's invisible. It's such an important software to us that it doesn't even stand out. But it's helped us make talent a priority by allowing every team member to be part of the process. Because of its ease of use, we can get the whole team involved in screening, panel, or culture interviews. In fact, since Lever is so easy for the whole team to learn and use, we don't even need an onboarding session.
On a scale of 1-10, how easy was it for you to switch to Lever?
Before Lever, we were using our old tool mainly to see if we could get good candidates using their integrations with job boards like Monster and Indeed. However, we found that all of the candidates coming in from the integrations were very low quality, which was disappointing. Because we didn't hire anyone through our old system, it was 10/10 easy to switch to Lever. The interface was easy to learn, and the features that we needed were easily accessible without having to dig through layers of configuration.
If a recruiter was having trouble convincing their team that hiring is an essential part of every company, what would you suggest they do?
I would tell them to find the best negotiator to support their opinion, and then partner with them to walk their team through the financial impact of a good and bad hire. In front of the team, they could weigh that impact against that of rebranding the website or closing a big sale. Also, figure out how your executives makes a decision. If you're talking to a more emotional leader, for example, you could explain how a bad hire could harm the culture of the entire company.
Conclusion
We couldn't agree more that hiring is the most important function to get right at any company. We were thrilled to learn that the team at TINT doesn't simply have that philosophy; they've made concrete changes in their processes to prioritize hiring. And on that note, they are currently hiring! You can take a look at their jobs page here.
It's safe to say we love shedding light on our customers' best practices, and we think we're getting the hang of it. Email us at marketing@lever.co if you'd like to share your story!