Mary Meeker's Internet Trends 2018 is out, and it is chock-full of amazing insights—including many that relate to recruiting. Mary is a prominent venture capitalist at Kleiner Perkins and produces this report each year to highlight the biggest trends impacting technology and the economy. In this year's report, she shares that the unemployment rate is 3.9 percent, well below the 70 year average of 5.8 percent. She also shares that job openings are at a 17 year high. While it's certainly no surprise that there is a lot of competition for talent, the data in the report points to some plausible solutions.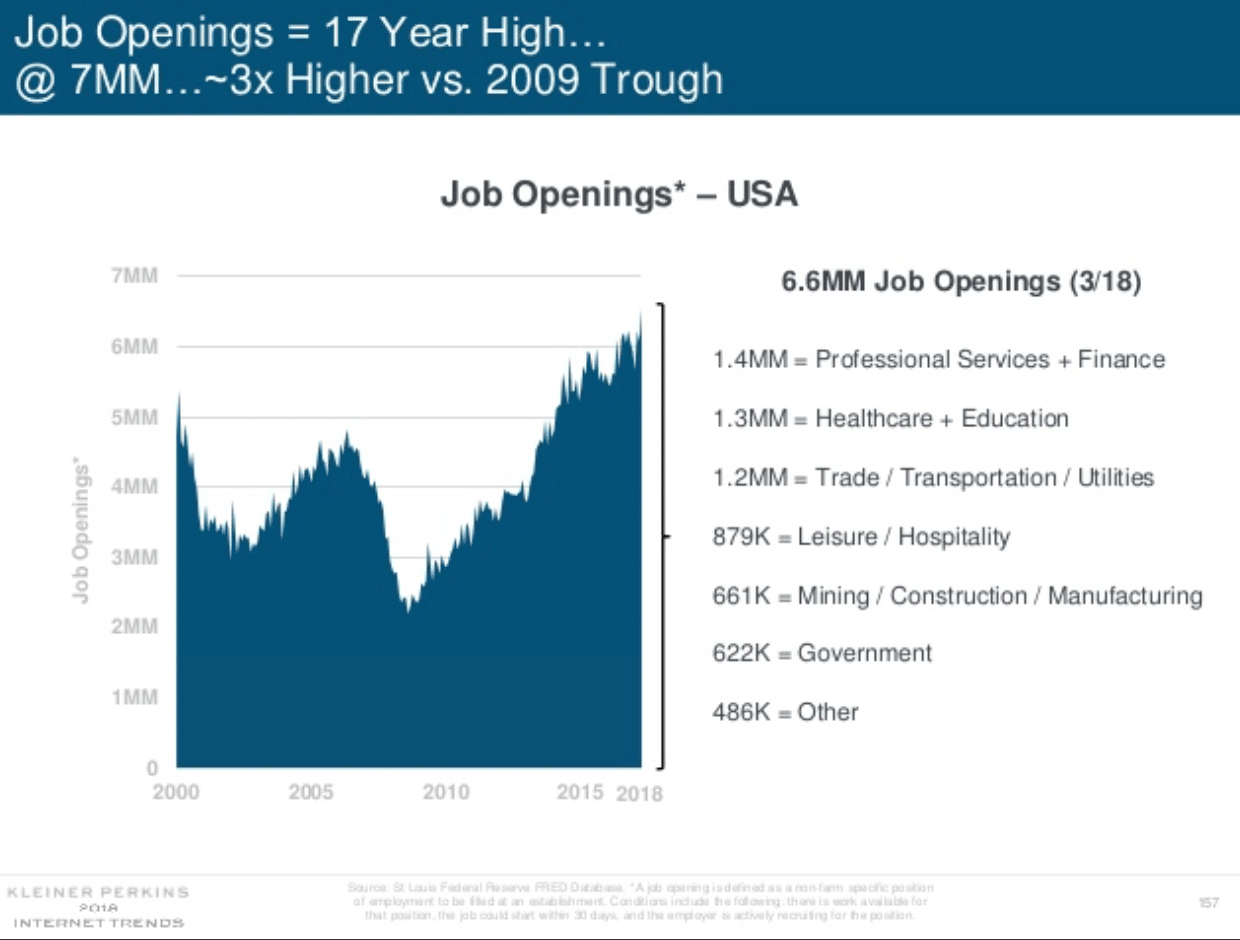 Develop the talent you need
If you're having a difficult time finding the talent you need, you may benefit from a talent development program. Mary points out that technology creates new roles, while rendering others obsolete. As an example, she shares how aircraft jobs replaced locomotive jobs. At the time, you could not simply hire airline pilots, mechanics, and engineers because those roles were relatively new and skilled talent was in high demand. You could, however, find people with some transferrable skills, and help them develop the remaining skills they need.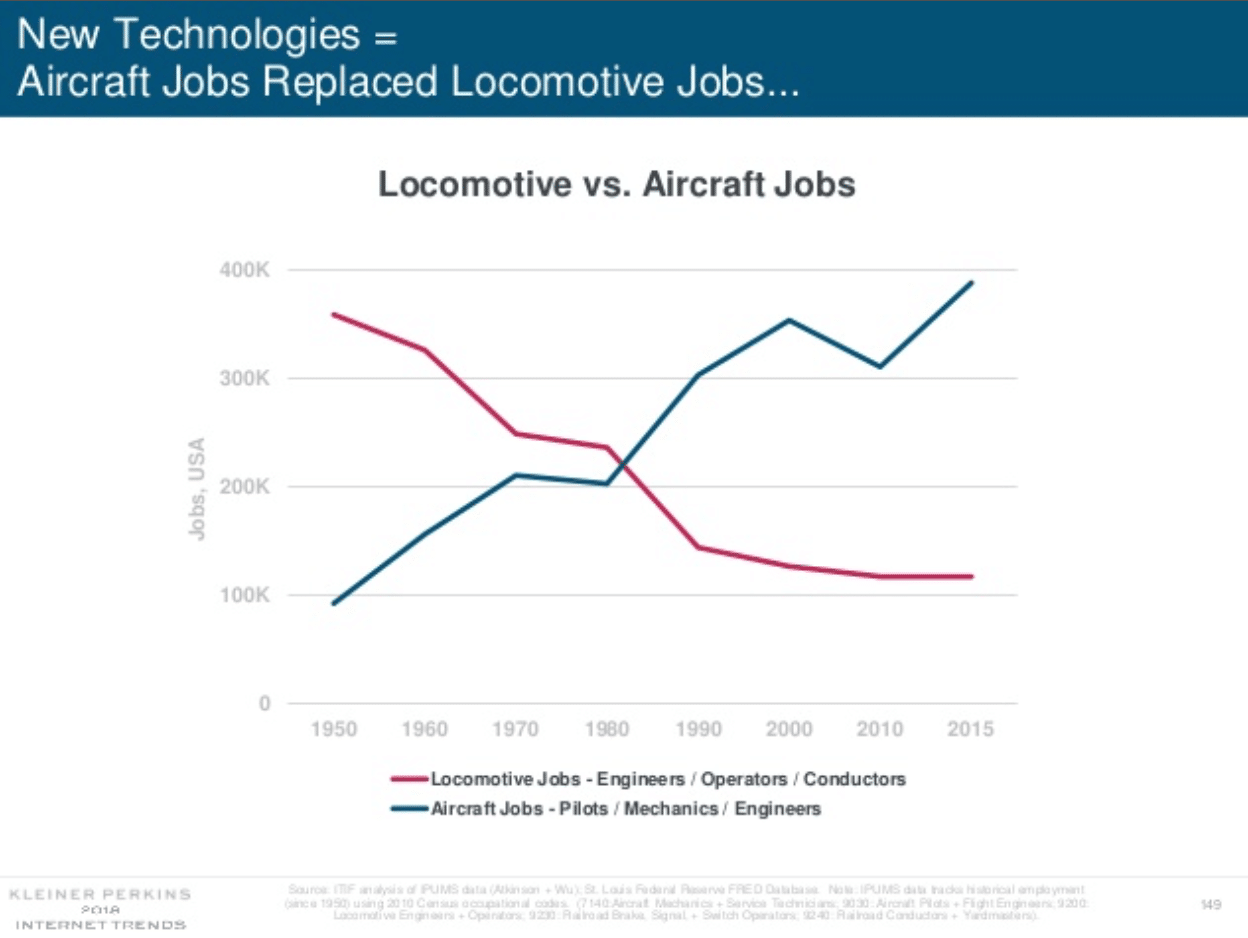 This is happening today with new roles created, such as data scientists, computer engineers, and customer success representatives. These roles are relatively new, and the demand simply exceeds the supply of people who currently hold those titles. You can overcome this challenge by filling your pipeline with strong internal talent that can be trained with the necessary skills. The report shows that machine learning was one of the top courses for 2017, as many employers were struggling to fill this skill gap.
The report shares how AT&T allocated $1B for their employee re-training program through Coursera, Udacity, and universities. A full 77 percent of their workforce is engaged in the re-training program, and 61 percent of promotions are received by re-trained employees. While this is great for employee retention, it likely also helps AT&T attract great candidates who want to stay at the top of their game.
Offer the right benefits to attract talent
In addition to a development program, other employee benefits may help you attract and retain the talent you need. If you offer some of these programs, make sure you're promoting them throughout your employer branding materials, and during your recruitment process. If not, consider adding them to your arsenal so you can more easily win the competition for talent.
Great healthcare plans: The report showed that the relative cost of healthcare is up. People spend 7 percent of their income on healthcare, and employee premium contributions have increased from 14 percent in 1999 to 18 percent in 2017. Furthermore, employees with a deductible over $2000 has increased from 7 percent in 2009, to 22 percent in 2017. Offering better healthcare plans and footing more of the bill can help you build a stronger offer to woo candidates.
Flexible work: After health insurance, bonuses, and paid vacation time, the most-desired benefit is a flexible schedule. In fact, the report shares that 51 percent of people would change jobs for a flexible schedule, and 35 percent would do so to be able to work from home. If you want to attract great talent, and keep your employees from jumping ship, this non-monetary benefit is worth considering.
Financial wellness programs: The report shows that the personal savings rate is falling. It was 12 percent 50 years ago, but is only 3 percent now. The debt to annual income ratio has also risen from 15 percent to 22 percent over the past 50 years. Offering a financial wellness program can help your employees meet their financial goals, and reduce finance-related stress—helping them focus more on the job.
Transportation benefits: Relative household spending for public transportation is up 30 percent since 1995, and rideshare rides doubled in 2017. While some organizations offer free parking to employees, many may prefer employer-sponsored or pre-tax public transit benefits, or ride sharing benefits.
Student loan repayment: The report points out that student loan debt is up 126 percent since 2008. However, SHRM's 2017 employee benefits survey reports that only 4 percent of companies offer student loan repayment assistance. This can be a huge differentiator to help you attract talent. Yet another option is to offer a loan refinancing benefit.
Improve your recruitment tech stack
Mary's report mentions the consumerization of the enterprise, as software usability and usage is improving—because tech has to be easy to use. The report quotes Slack Founder and CEO, Stewart Butterfield, saying, "When you want something really bad, you will put up with a lot of flaws. But if you do not yet know you want something, your tolerance will be much lower. That's why it is especially important for us to build a beautiful, elegant and considerate piece of software. Every bit of grace, refinement, and thoughtfulness on our part will pull people along. Every petty irritation will stop them and give the impression that it is not worth it."
Consider the legacy applicant tracking system. Recruiting teams have learned to work around the "flaws" because they have to. Hiring managers and interviewers, on the other hand, are less likely to put up with "every petty irritation" and will simply not adopt the software. Candidates, too, will abandon the clunky application processes many of these systems force them into.
The Internet Trends report points out that enterprise software needs to transform collaboration and increase productivity. Modern, consumer-like recruiting tools, like Lever, are built to do just that. If your technology is holding you back, it's time to consider new tools. Everyone—recruiting professionals, hiring managers, interviewers, and candidates—demand software that's easier to use. With it, comes the opportunity to improve your recruitment process so you have a better chance of winning top-tier talent.
Get serious about mobile recruiting
Tech doesn't only need to be easy to use, it's needs to be just as easy to use on mobile as it is on desktop. Daily hours spent on mobile devices rose to 3.3 hours last year, while hours spent on desktop and laptop devices decreased to 2.1 hours.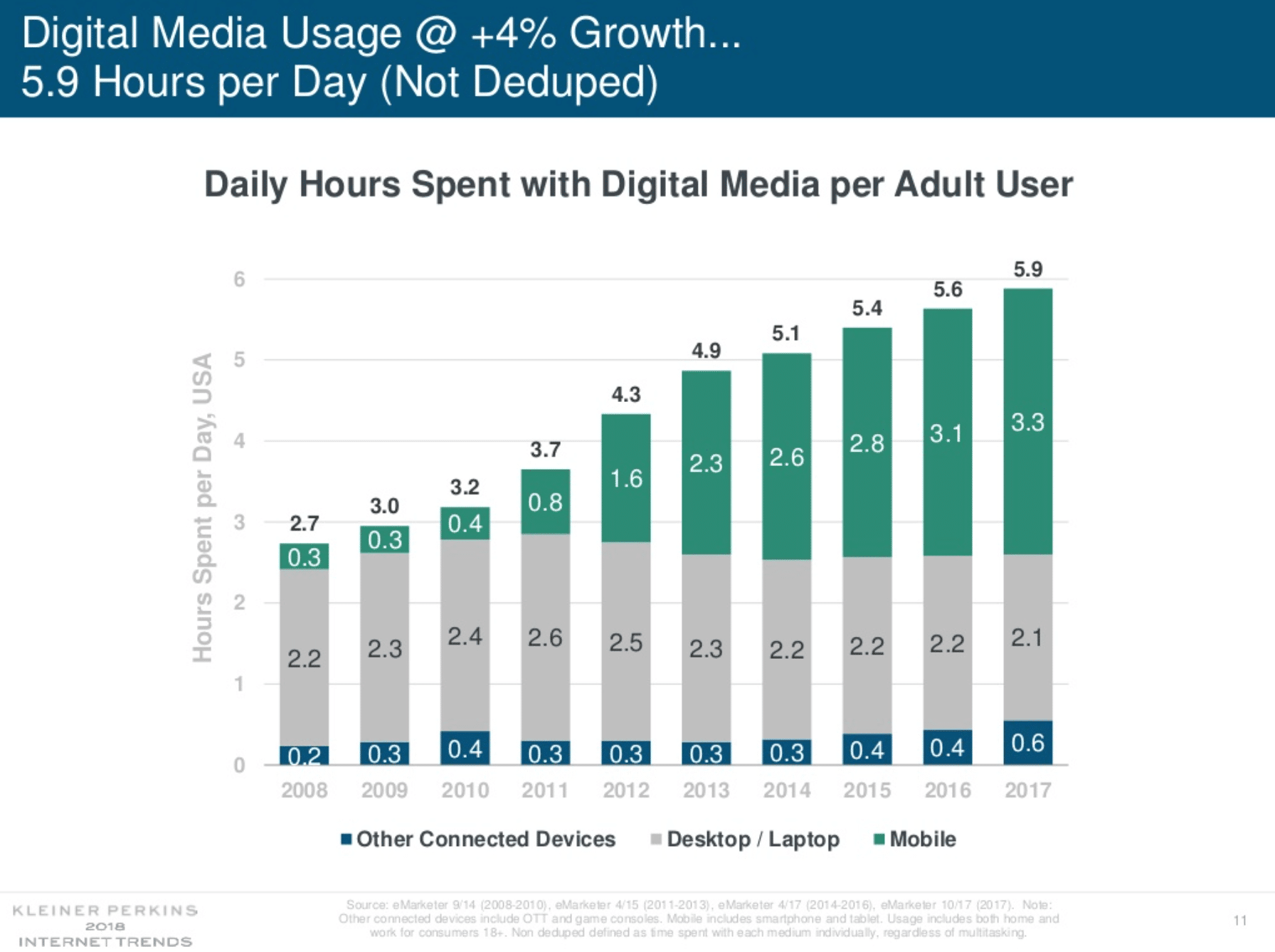 Mobile recruiting capabilities allow your team to engage in your recruitment process anytime, anywhere (anywhere with Internet access, that is). So, if an interviewer needs to prepare for an interview on the way to the office, or forgets to submit feedback before leaving, they can.
It's also more important than ever to build a mobile-optimized career site and application process for candidates. If you haven't done so already, take a walk in the shoes of a candidate to see what everything looks like on desktop versus mobile. The Internet Trends report also points out that mobile video usage has been climbing, so you may benefit from including video (or video links) on your career site, in your job descriptions, and in outreach emails. For example, you could put together a general video where you tour your office and interview a few employees, or do a role-specific interview with the hiring manager.
Final thoughts
Between the low unemployment rate and the high number of job openings, the competition for talent is staggering. It's no longer enough to post a job advertisement and wait for the applications to roll in. Employers need to take a more proactive approach to attract, engage, and retain the talent they need. While there are many different approaches to do so, the data in the Internet Trends 2018 report provides some great food for thought. If you have the opportunity, take a look at the full deck.