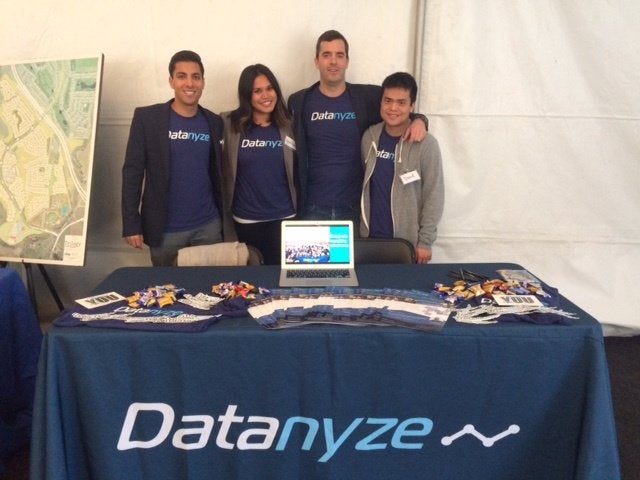 Katrina and her Datanyze teammates at a recruiting event
Here at Lever, we think about how to make hiring seamless for the recruiter, hiring manager, and candidate. As we help companies reshape their recruiting processes, we look for insight into the steps they take to hire the best candidates in the market. How and why are these companies strong in talent acquisition?
A couple of weeks ago, we talked to Katrina Durant, the first recruiter to join Datanyze, a startup in the sales intelligence and lead generation space in the Bay Area. Through Katrina's lens, we learned about Datanyze's approach to the often grueling search for top talent. Katrina is currently the only recruiter on Datanyze's team, and she manages candidates from the moment they apply to the moment they sign their offer letter. Since Katrina joined the team six months ago, they have grown their team from 40 to 60 people.
What attracted you to Datanyze in the first place?
At that time, there was no internal recruiting team, and candidates were talking directly to hiring managers. I saw the opportunity as a challenge and a huge chance to grow. Once I joined, I fought tooth and nail to loosen up their pockets and invest more in the recruiting process.
What was Datanyze's recruiting process like when you first began there?
When I first began at Datanyze, I looked like a crazy person because there was so much clutter surrounding me. I was going back and forth between Excel spreadsheets, my email, post-its, and notes scattered around. We weren't tracking candidates, and because we weren't moving quickly with them, they were falling out of the pipeline.
How has your process evolved?
I took hold of recruiting at Datanyze by the reins; I wanted to show them that our process could be so much easier. Some of our employees had used Lever to apply to jobs before, and they said that Lever created the simplest, most user-friendly application process. You never want to make it difficult for someone to apply to a certain requisition. Now that we've started using it, so much has improved.
I've quadrupled the amount of candidates who make it to phone screen. It's easier to schedule interviews, and Lever has fundamentally changed the way we interview. My relationship with hiring managers has also improved because there's more transparency – everyone can see what the process looks like. We move more quickly and more efficiently.
What tools do you use to contact candidates?
We know that the best talent is usually passive. We reach out to candidates on LinkedIn and AngelList. We've also been using our referral network a lot more recently. Before, a referral would come through and sit in my inbox until I had time to look at it. Now, we immediately upload the referral's resume into Lever and make sure it's at the top of our inbox. We want to take referrals more seriously.
How do you get candidates to respond to your reach-outs?
Initially, we tried to determine which method was more effective – spray and pray, or more contoured emails. I personally think that more contoured emails really touch the candidate and show them that you're interested.
When we've prospected the right way, we've had candidates come back to us and reach out. You have to take the time to look at each candidate's background, where they've worked, and what they've worked on.
What is your strategy for attracting top talent?
We look for education-driven candidates who say "there's more that I want to learn." We don't just look for a skill fit when it comes to hiring.
Good talent doesn't just materialize. It's very hard to find a perfect fit. There's a huge value in proactively searching for the best candidate and fit for the team. We spend a ton of time on outbound reach-outs, looking for like-minded people to work on things that not everyone is interested in doing. At a lot of companies, SDRs, for example, are pre-packaged. I don't think that's true for us. We look for like-minded reps who want to grow and be a part of a team that works hard and plays hard.
How do you create a world-class experience for candidates?

I very rarely have a candidate leave a negative review on Glassdoor. A part of that is that we know how to customize messages. Mostly though, it's about how quickly we're able to get candidates in the door. We never want a candidate experience to be drawn out, period. We want to hit the ground running, and allow candidates to make a quick and informed decision. When we move quickly, we show that we are investing in the candidate.

When we hired our VP of Customer Success, I was truly excited! I remember the many email exchanges during his hiring process as we searched to fill this role. We were talking to multiple candidates and Lever really helped to keep our candidates engaged and informed throughout the process. I remember in one of our exchanges he wrote to me: "Whether or not I get the job, I owe you a coffee." He still hasn't gotten me that coffee, so I actually need to check up on that. When you're working with a candidate, you have to remember that you are their point of contact from the moment they submit their email to the first time they walk through the door. They value your relationship.
What is your favorite part of your role?
Finding candidates that can make it through the entire process. It's never easy. I love watching the feedback roll in. It's always so amazing and heartwarming to see positive reviews.
What do you think you can still work on moving forward?
I want to get to know my team better, especially the hiring managers, so that I can understand the core skills for each role. If I know how the team succeeds, I'll know how candidates can do the same. My question is always: "What does the team need?"
I also want to understand the market better. I'm constantly trying to read articles – on TechCrunch, VentureBeat, Medium – so that I can stay up to date in the recruiting world.
Conclusion
We want to thank Katrina for allowing us to share her story. We love profiling our customers on the Lever blog. If you'd like to be featured, email us at marketing@lever.co.