The photo above says it all. The countdown is over, and we're stoked for Day 1 of our Talent Innovation Summit!
Throughout the last few weeks, we've previewed much of what's in store over the next two days. We geeked out when Hot Topic gave us a peek at how they apply machine learning to recruiting, threw down the gauntlet when Lou Adler said he could find any top-tier passive candidate, went behind the scenes of GoDaddy's diversity transformation story, and much more. Along the way, we hope you decided to either join us at the Summit or register for our free live stream. But even if you haven't yet, you can still tune in here!
Thankfully, we know we're not the only excited ones. Over the last couple weeks, our speakers have taken to social media to share how they've been preparing for this day. So before the action commences in a few hours, we wanted to look back at how they've been gearing up:
For starters, Johnny Sanchez and the Hot Topic team have clearly been jamming to the tunes of #talentinnovation. So yes Johnny, we're holding you all to a dance party: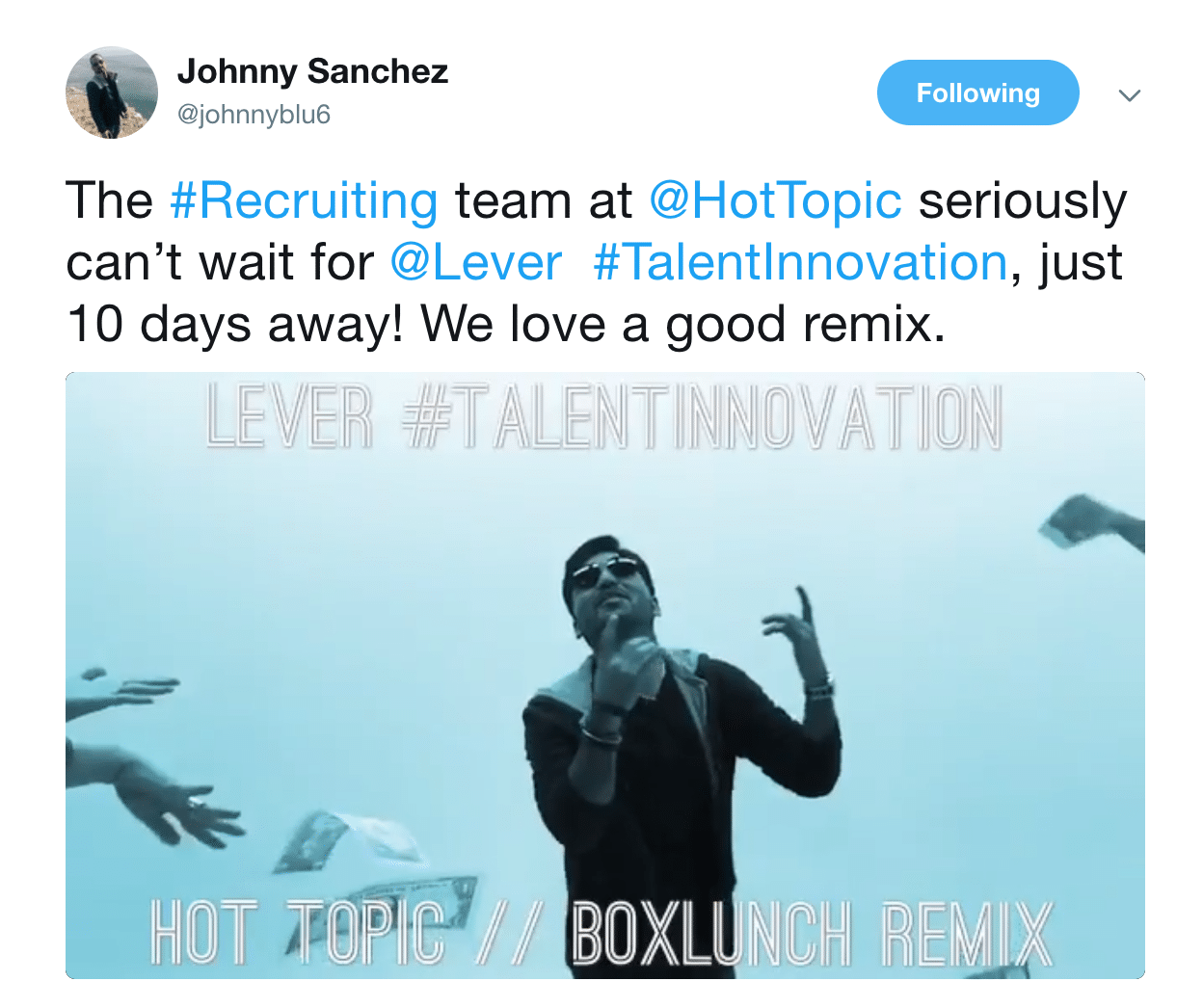 Shopify's Anna Lambert has been having just as much fun as Ace Ventura (and his three friends in the background) had in this moment: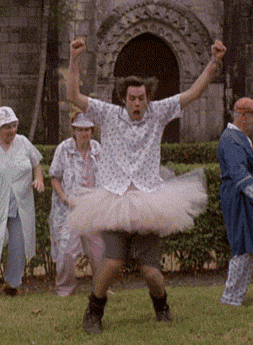 Katee Van Horn of GoDaddy started asking the hard questions…but Katie, how does one decide when the lineup looks like this?

Affirm's Ragini Holloway gave Cirque du Soleil a run for their money with this impressive move: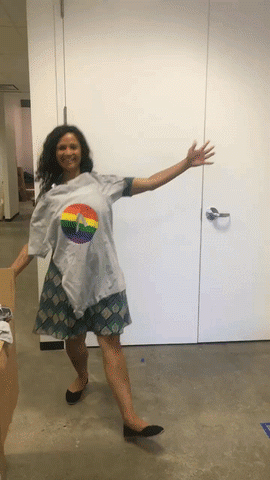 Matt Charney made an important discovery. So arrrr you going to don some pirate gear, Matt?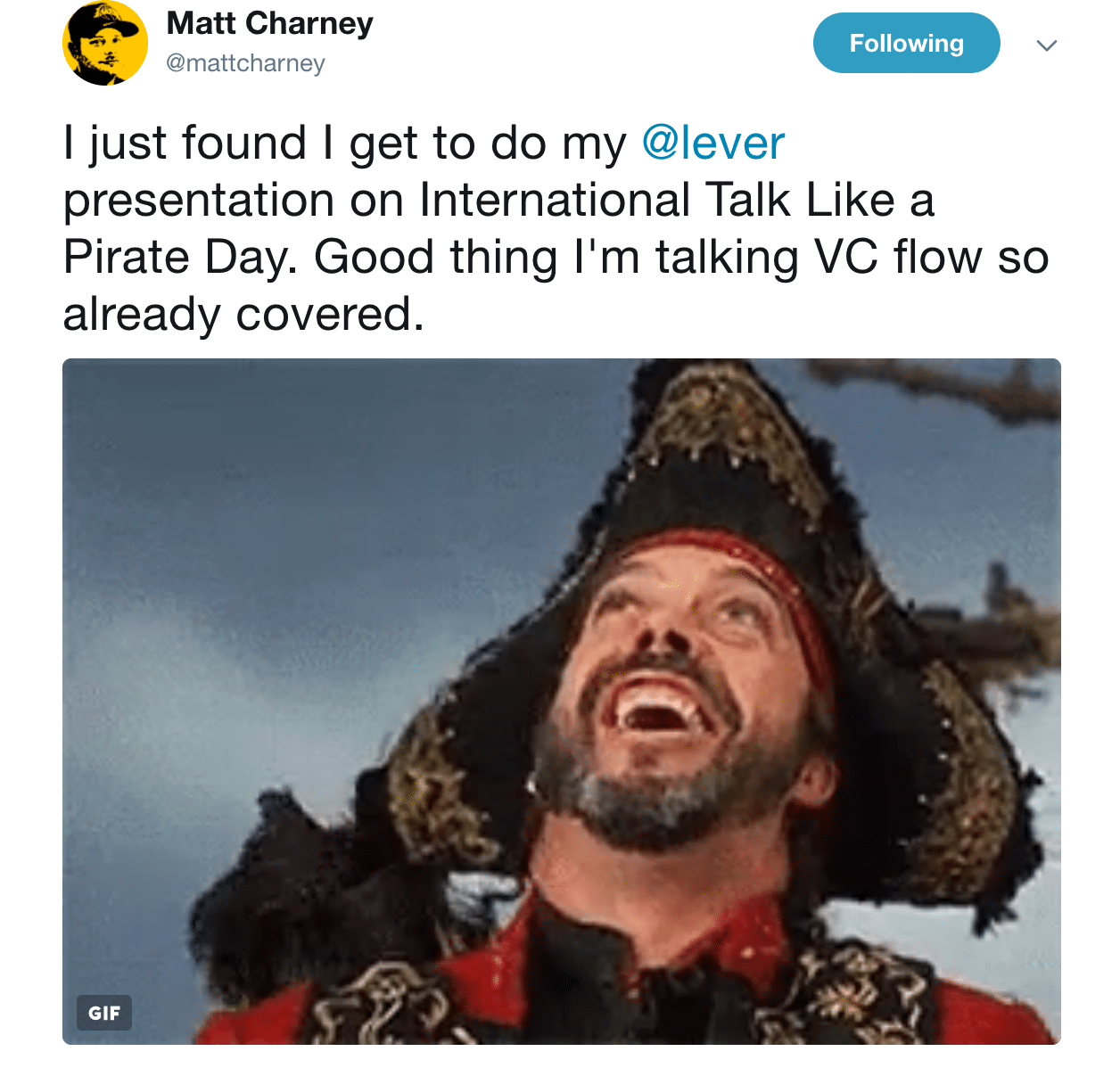 Adam Binks of KPMG New Zealand taught us what marmite was when he began packing his bags for San Francisco: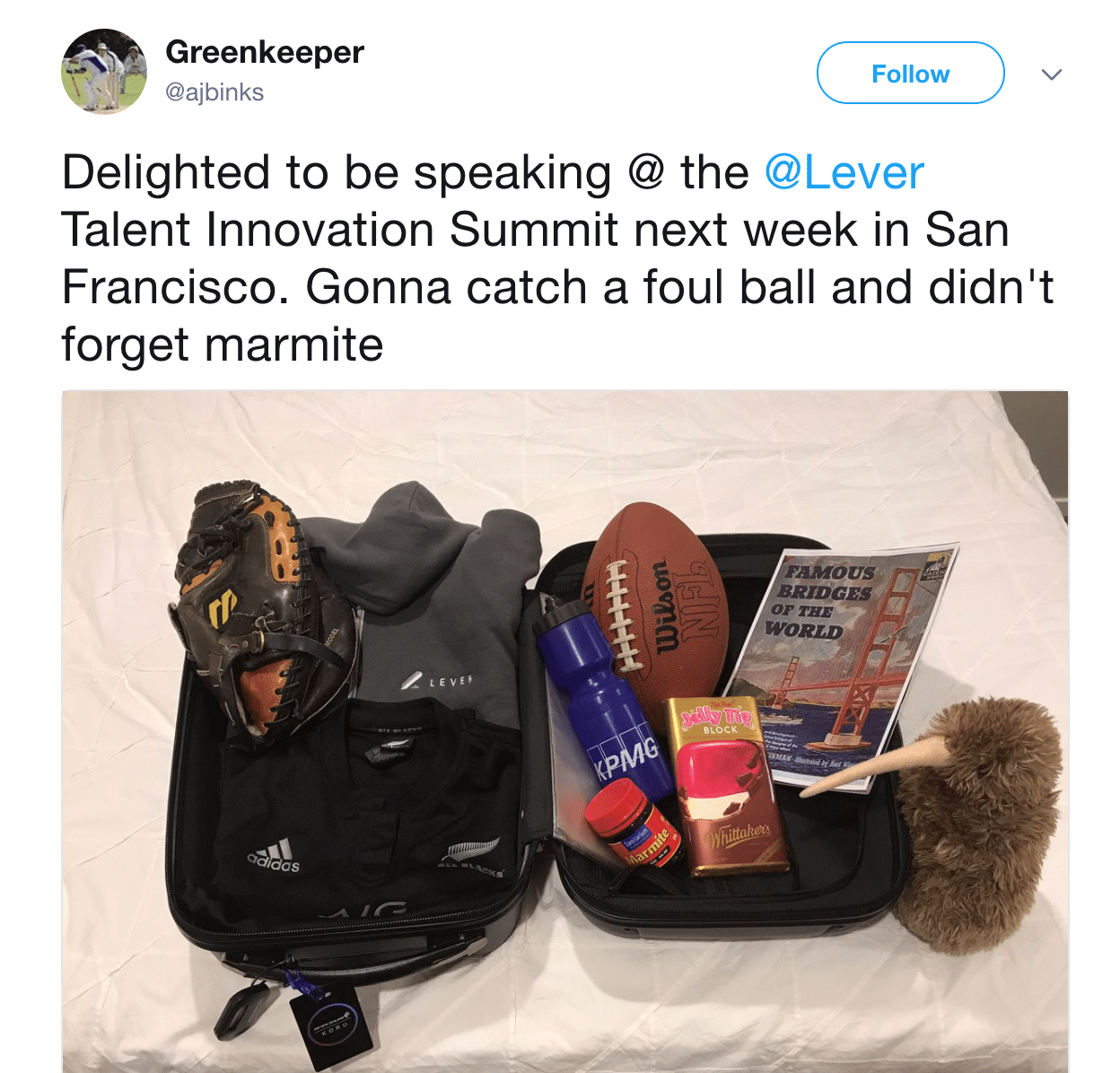 Alison Mann brought When Harry Met Sally back into our lives, and we cancelled all our plans so we could have a movie night instead: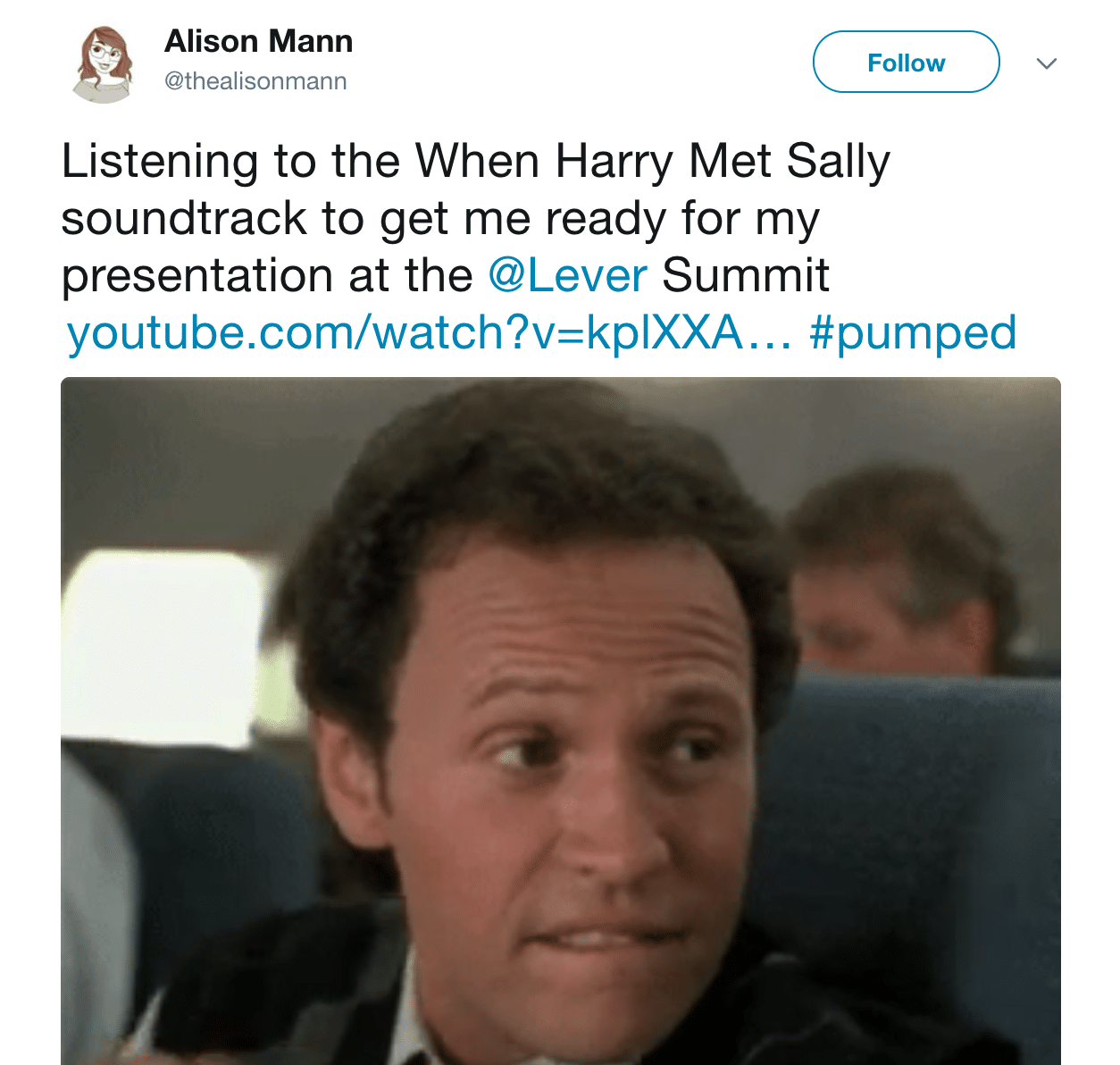 Whisper's Michelle Hart made it very clear why candidates fall in love with her team. Just look at this crew: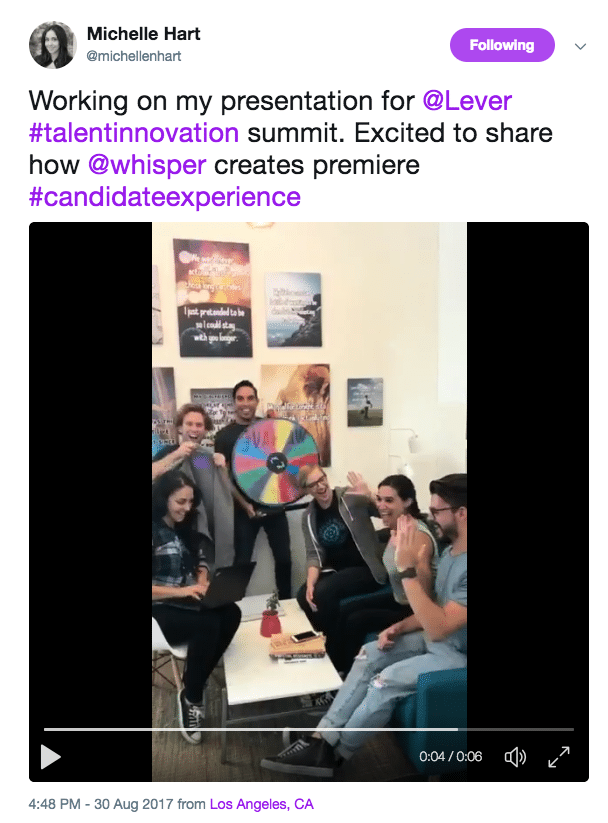 Martin Hauck of StackAdapt told us how he was preparing for the Summit, and our entire office became instantly ravenous: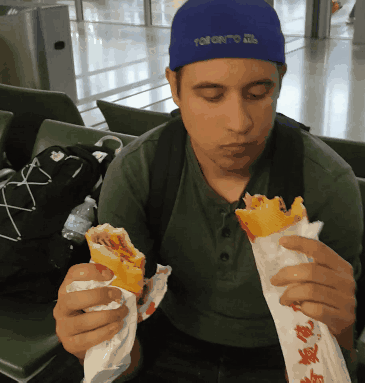 But actually, we couldn't stop eating…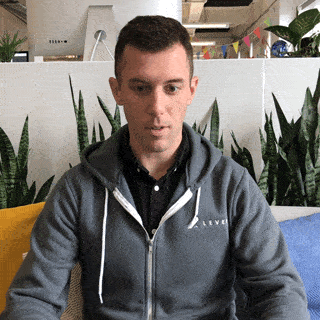 —-
We've loved seeing all these tweets from our speakers – it's hard to believe we finally get to hear from them. Don't forget that you can too, as long as you tune in to our free live stream. Hope you'll join us!