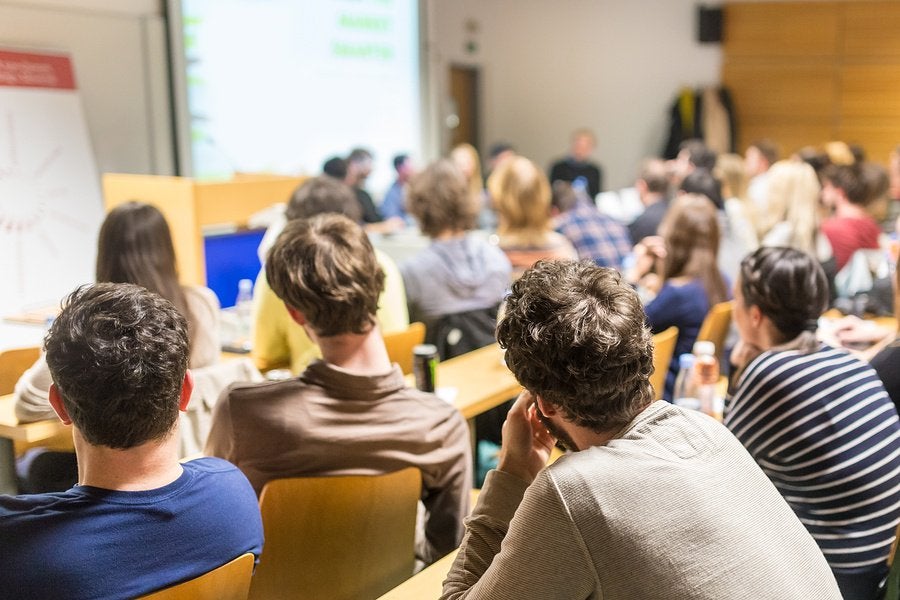 With the help of recruiters and talent acquisition gurus, we've talked to you about how to source, interview and retain millennials. We've told you stories about millennials that said 'yes' and those that got away. We've focused on how their early access to technology has led to their different approach to the job search.
Now there's a new generation in town, and they go by the name of "Generation Z". Researchers dispute their current age, but many agree that they were born between 1996 and 2010. For this final piece in our series on "How to Recruit Millennials in 2016," we've decided to look forward at the generation that is soon to enter the workforce. After chatting with Brittony Keller, University Recruiter at Quora, and Amanda Bell, Director of Recruiting at Lever, we gathered a few best practices for recruiting students.
Stand out, don't just show up, during peak university recruiting time
The most competitive candidates will begin looking for jobs early in the year, which is why fall is the time to set your sights on university career fairs. Amanda Bell, who worked in University Recruiting for 4 1/2 years before becoming Lever's Director of Recruiting, would target 15 to 25 schools each fall and search for top candidates at each career fair. It's easy to set up your company booth, lay out your t-shirts, and sit back in each university's main quad. Problem is, that tactic won't attract anyone's attention."Stand in front of your booth instead of behind it," says Amanda. "Don't wait for students to come to you." She and her team saw every student as a potential teammate, and so they would actively engage all passersby.
Career fairs can be gold mines for candidates, but Brittony has figured out other ways to differentiate her team. This fall, she'll attend a three-day long conference at one university, and she won't actually attend any of the career fairs. Instead, her team plans to devote their energy to an engineering-focused mixer the night before. With so much competition at career fairs and limited opportunities on her own team, she seeks more in-depth conversations with fewer students. At this conference in particular, Brittony wants her team's engineers and university alumni to come along with her. When non-recruiters set aside their day-to-day responsibilities to come to campus, students see how much the entire company values their skills and experiences.
Partner with on-campus organizations
The fall may be peak university recruiting time, but recruiting is a year-long process. To maintain brand awareness on campus even when she's not heavily recruiting students, Brittony likes to send thank-you gifts to the student groups that helped her organize on-campus recruiting events. That way, those groups are more willing to invite her team in particular to meet students in the future.
On top of working directly with students, Brittony builds a strong partnership with career services. Throughout her time in university recruiting, Brittony has noticed that career centers and employers want the same thing: to tell students about new, exciting opportunities. With that in mind, she works with campus administrators to organize events outside of career fairs and information sessions. In the past, she has sponsored career center resume workshops, for example, to equip students with the tools they need to join her team. These intimate gatherings are the perfect opportunity to build deeper relationships with students.
Tune in to what students love
College students love free food, and Brittony is never shy about using that knowledge to her advantage. Frenzied students may be rushing off to class or frantically scribbling answers to homework, but can they turn down free cookies? To capture students' attention, Brittony will post in high traffic areas around campus armed with cookies and a few other team members. Students are more comfortable when you sit unassumingly in their own space than when you approach them at a career fair anyway, Brittony says. Recently, Brittony also planned an event in one university's most beloved ice cream shop. Often, she'll scope out each university's popular shops and restaurants, then center her recruiting events around them.
When Amanda brought food trucks to one university's Alumni Day, her motivations mirrored Brittony's. Stationing your team in a place with hundreds of students, then offering them something they love is always a surefire strategy. For this event in particular, Amanda organized a mixer for 50 students in the center of campus. It was a hit, she remembers. In the midst of mingling, her team offered raffle tickets for a quadcopter (drone) to any student who would give them their resume. Her goal was to find a unique way to show students that yes, we want to recruit you, but we are going to do so in a thoughtful, special way.
Rethink your go-to recruiting strategy
The timeline of a student differs from that of an industry candidate. Students tend to have a schedule packed with various classes and extracurriculars, while employed candidates are likely to have a more structured schedule. On top of that, Amanda found that the most qualified students were always talking to several companies. In order to reach a decision more quickly and work with students' schedules, she aimed to bring them on-site for one full day of interviews. This strategy showed them that she respected their time.
When Brittony creates each candidate experience, she remembers that many college students see an internship and even their first full-time job as a time for deep exploration. Often, their ultimate goal is to figure out which field they want to specialize in. So while it's necessary to connect with any candidate about the skills they want to gain, students in particular crave exposure to different sectors of your company. Tell students about the dynamics of several teams within your company. With little to no experience as a job-seeker, they seek all the detailed context you can give them.
Take off your recruiter hat
If you are new to university recruiting, note that this job may be your candidates' first foray into the workforce. "Industry candidates know how to conduct themselves in interviews, how to prepare, and generally what to expect in their process," says Amanda. "Students have not done a full time job search yet, and so they are taking all their cues from you. They are looking to you to see what is normal." During her time in university recruiting, Amanda has morphed into a therapist, guide and confidante. When she encounters a student who is nervous about their future, she does everything she can to guide them to a decision. "I say: 'I'm gonna take my recruiter hat off. Don't think about your friends, parents, or loved ones'", says Amanda. "I want to make sure this is the right place for them, so I set the company and offer conversation to the side."
In Amanda's experience, the key to every relationship with a student is patience, patience, patience. She remembers how her gentle, empathetic approach was useful with one candidate in particular. When Amanda met Kim, a masters student from a top 5 Computer Science university, she immediately knew how smart and special she was. Kim seemed like the perfect fit for one role, but she needed space to realize that herself. Kim's energy level was naturally lower than mine, recalls Amanda, and she was considering a few other companies at the time. "So I took it very slow, giving her 6 weeks of thinking time. I connected her to her potential new manager, future teammates, and I made sure to check in with her constantly." When Kim ultimately said yes, Amanda knew it was because she gave her room to think deliberately and calmly about her future.
Conclusion
In many ways, this new generation of workers comes equipped with more resources to assess every job opportunity than ever before. At the same time, students are likely more naive than most candidates you interact with. That's why a balance between transparency and guidance is key. Moving forward, we hope you use the tips above to cater to the unique experiences and motivations of our future workers.
Thank you to everyone who has filled our series on millennials with so many actionable tips! If you'd like to read all the posts in the series, start with our How to Recruit Millennials quiz.