Too often, we mistake a high volume pipeline for a high quality one. It's easy to post a job advertisement and wait for the applications to flow in, but identifying the exceptional candidates among the droves of average and mediocre applicants is onerous. Proactive candidate sourcing allows you find fewer, but more qualified, candidates to fill your talent pipeline, freeing up your time to provide each of them with an experience that makes your company stand out as a place they'd like to work.
Candidate Sourcing and Recruiting on Twitter
Why source candidates on Twitter? Twitter is the third-largest social network, behind Facebook and LinkedIn, and has a powerful search engine to help you discover candidates who use their profile for personal branding. You can find a variety of candidates based on topics and location, but Twitter recruiting is particularly great for identifying sales and marketing talent. Despite the concise nature of the tool, there's a wealth of data to be found – if you know where and how to look.
Getting started with Twitter sourcing
Twitter's advanced search allows you to search profiles and tweets for keywords related to your open positions. Let's say you're sourcing candidates for your customer success team in San Francisco. Use the search fields to input keywords, location, language — and even sentiment — to search both profiles and tweets. Alternatively, you can type customer success near:"San Francisco, CA" within:15mi into the search bar at the top.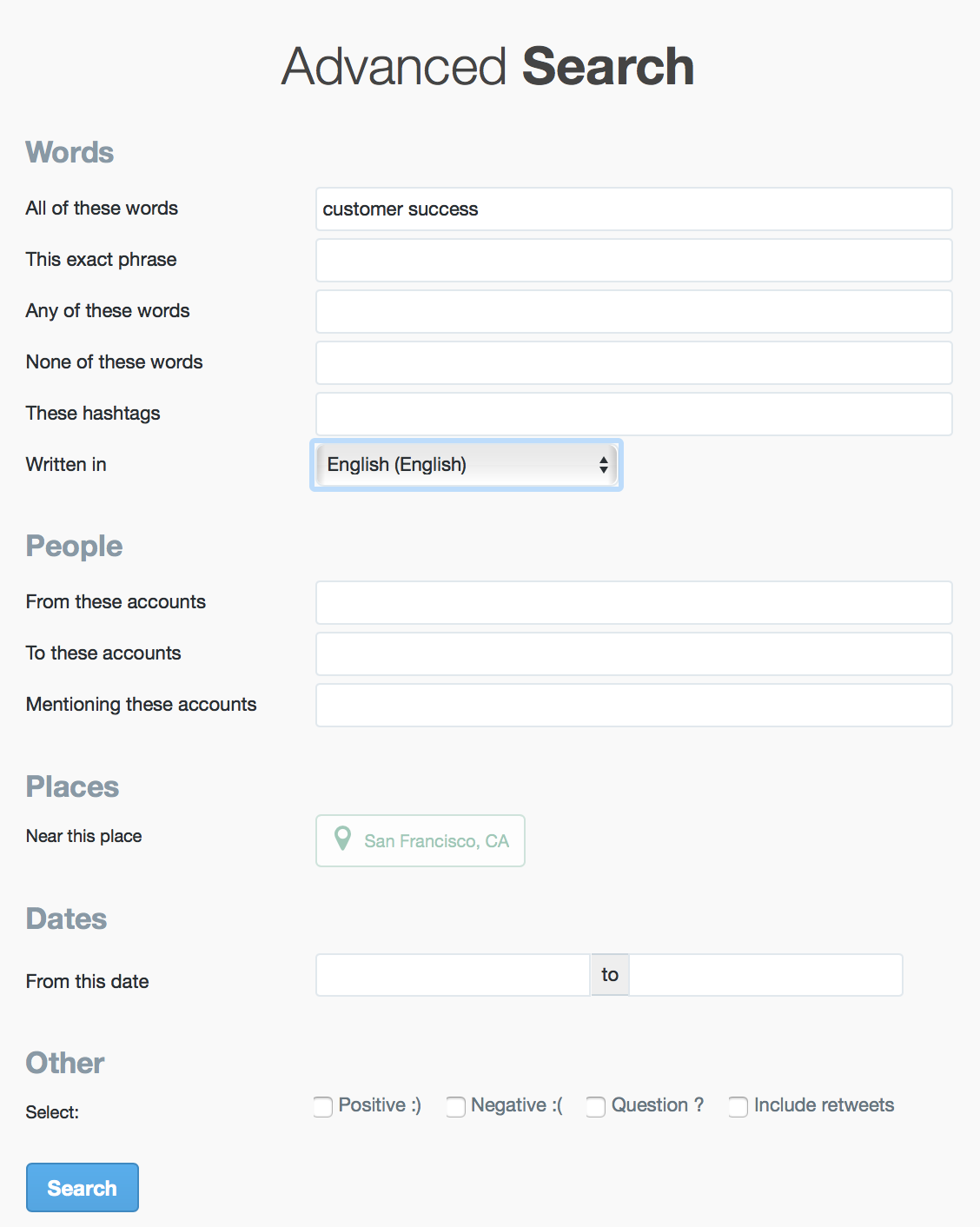 The search results can be filtered by profiles, tweets, photos, videos and news. In the above search, we found a tweet from the Vice President of Customer Success at a company that makes customer success software. The fact that she is sharing content related to her area of expertise shows that she's engaged in what she does — a sign of a high-quality candidate. Even if she's not interested in making a move, she is a stellar person to add to your network because she's bound to know countless other customer success professionals.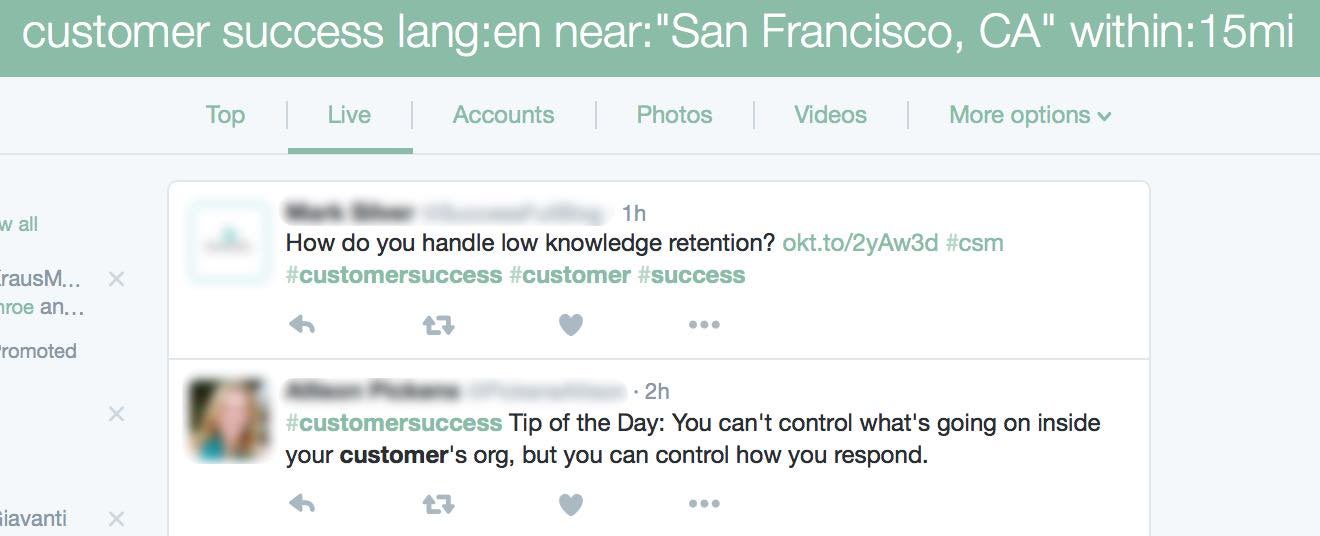 Clicking the accounts tab uncovers additional people who are currently in customer success roles.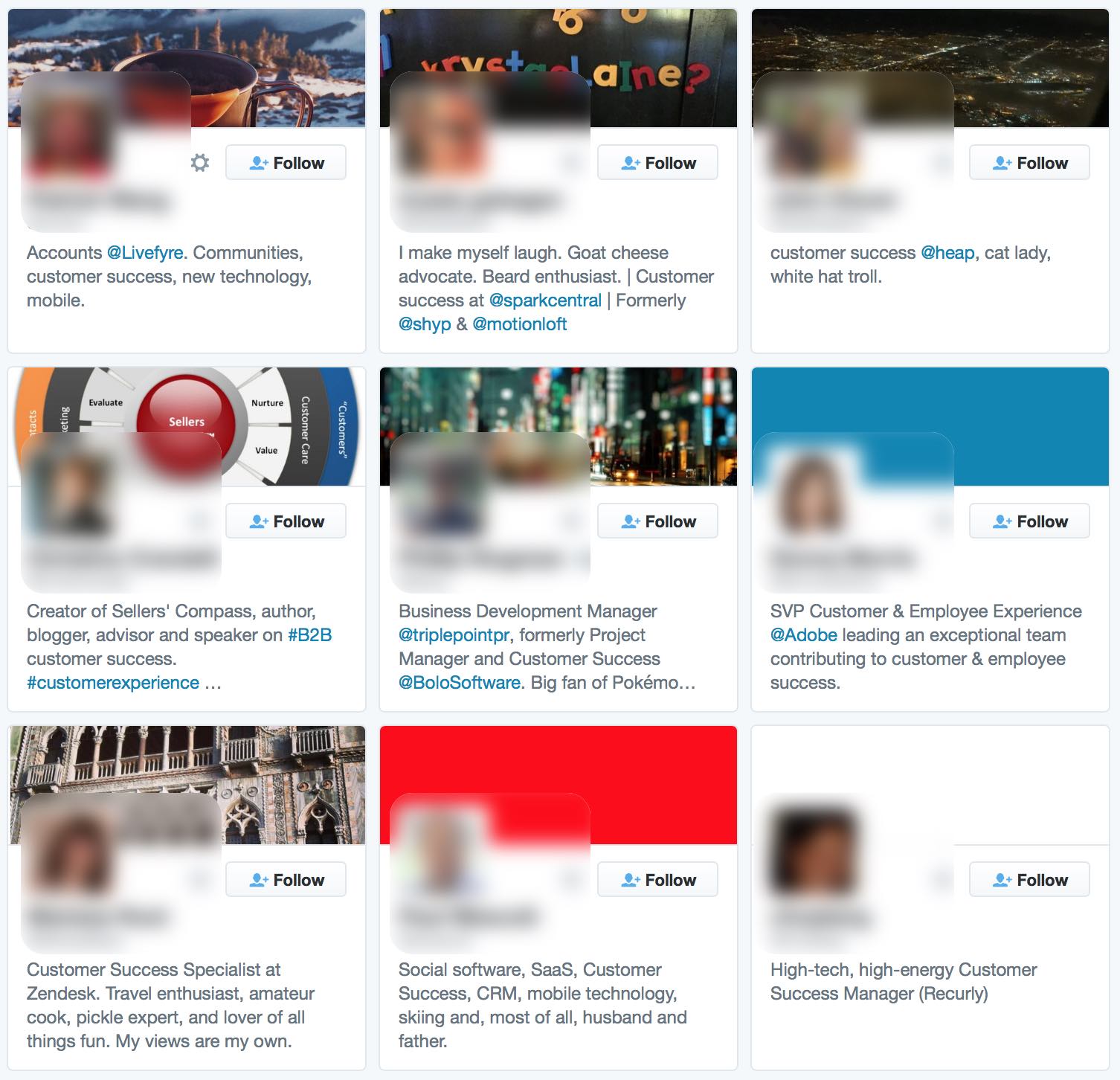 Engaging candidates sourced on Twitter
Once you find a great candidate, engage them. Like or reply to a few of their tweets you found interesting, then reach out to see if you can network over coffee or a quick phone call. Twitter isn't commonly used for recruiting, which can help your message stand out. On the other hand, candidates may not check their messages as frequently as they would on other channels, and your message may go undetected. If you don't hear back, try contacting them on a different channel – such as email or LinkedIn – and reference your original tweet.
Keep your initial conversation exploratory to learn more about the candidate's professional life, and their career motivations. Only 25% of the workforce is actively looking for a new opportunity at any given time, but 85% is willing to talk and learn more. With a smaller pipeline of high quality candidates, you can give each the personalized attention they need to have a great experience. Even if you don't have a role for a candidate in the immediate future, you want to earn their interest, keep them engaged, and build a strong relationship with them so you can hire them when the time is right.
Conclusion: how to source candidates on twitter
Sourcing and engaging candidates on Twitter can help you build a healthy talent pipeline. You can find candidates who are engaged in their work, and get to know them so you can send a personalized message that will pique their interest. The very nature of the platform also makes it easy to keep in touch, so you can continue building relationships with each candidate. By building a network around the people you want to recruit, you can find passive candidates who are interested in hearing more about your opportunity, as well as talent that can refer other candidates your way. With ongoing sourcing and nurturing, you will have a candidate pipeline full of qualified talent to choose from when you have a position to fill.
For more best practices on how to source candidates and build a high quality pipeline, download our free sourcing e-book.